Euphoria dropped the first phase of their lineup for 2017 and it is pretty diverse!
---
As one of the last remaining independent festivals, Euphoria will be celebrating it's 6th year in Austin. Recently featured by the Austin Business Journal for it's economic impact, this year's diverse, genre-crossing lineup will definitely add to its continued success. Last year Euphoria was able to attract over 52,000 fans for its 3-day camping festival. It attracted talent from all over the globe including Stockholm, Vancouver, Colorado, New York, Jamaica, and Kansas.
Operating as an independent festival has allowed us to focus on building community and unique experiences. Our diverse roster of artists, new initiatives with Ecophoria, and commitment as Austin natives underscore that.

– Mitch Morales, Festival Producer
Conveniently located just minutes from Downtown, Austin, this multi-stage and camping festival will take place at Carson Creek Ranch right on the banks of the Colorado River. It will feature world-class visuals, artist workshops, and interactive experiential installations. With 3-day GA passes starting at $129 and 3-day + Camping starting at $229 this is the kind of transformative experience you should be looking for.
Festival passes for the 4-day camping festival (April 6-9, 2017), or 3-day GA with or without camping (April 7-9, 2017) are all on sale now HERE. Payment plans are available through Affirm, don't sleep on this one as more artists will be announced!
Euphoria 2017 Phase 1 Lineup: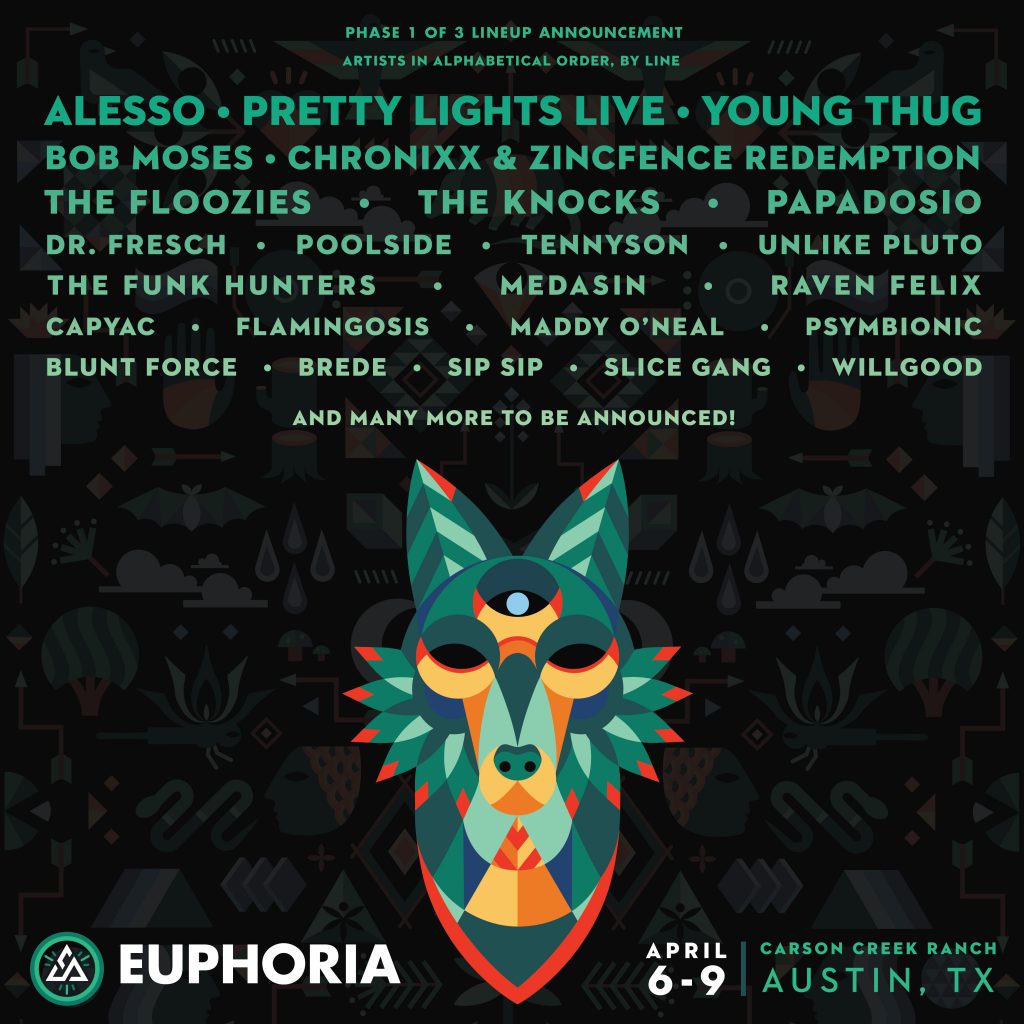 Euphoria 2017 Phase 1 Artist Lineup (in alphabetical order)
Blunt Force
Bob Moses
Brede
Capyac
Chronixx & Zincfence Redemption
Flamingosis
Maddy O'Neal
Medasin
Papadosio
Poolside
Psymbionic
Raven Felix
Sip Sip
Slice Gang
Tennyson
The Floozies
The Funk Hunters
The Knocks
Willgood
Young Thug
---
The Euphoria Festival Manifesto:
We're curious creatures, constantly seeking better ways to connect with people; constantly seeking better ways to add value to their lives and give back. We think about how people devour music, information, and new ideas and then go out into the world and plant the seeds of change. We are fans. Pure and simple. We're deeply enriched by the transformative effects of music and community. We belong to and live in the musical moment. We belong to a community who, through music, seek a deeper, richer,  more inspired experience. We belong to Austin, to its freedom and vibe. We belong to those who doubt the conventional and create the exceptional. We belong to each other, one family camping and laughing and loving and sharing in the joy of music. We belong here, in this place, which is far more than a music venue; far more than a festival, it's a completely immersive experience, a place where you listen, create, feel and literally — live in the moment. #FindYourEuphoria
---
Connect with Euphoria on Social Media:
Website | Facebook | Twitter | Instagram | SoundCloud