Based out of Vancouver, Canada, Young Bombs is the name of duo Martin Kottmeier and Tristan Norton. Entering this year on many lists of artists to watch, it is no surprise that they have seen quite a bit of success. Their remixes are both upbeat and all around fun, bringing a sweet future vibe to some genres outside of the EDM realm. Still fairly new to the scene, Young Bombs has already received support from artists like Tiesto and The Chainsmokers. Creating massive remixes of other tracks by fellow rising stars like Alan Walker's "Faded", or tunes we already know and love like Secondcity's "I Wanna Feel", their music will get you on the dance floor and grooving to the beat. We sat down with these rising stars to get the lowdown on them, check it out below!
---
Most recently you remixed a track for Evvy, what was it like working on this project and why did you choose to remix this song?
We actually received this track from our manager, Enes Kolenovic, who lives in Williamsburg Brooklyn and comes from a family of four brothers. We'd  never heard it, but it had us bouncing in our chairs. So we were like. LET'S DO IT! And then we bounced some more.
You've worked on a few remixes between: Evvy, Leon, Tryoe Sivan, Jesper Jensen, Rozes, Alan Walker, Kiki Rowe and Selena Gomez? Out of these remixes which means the most to you and why?
That's really a tough question. Our "Ocean Eyes" remix is probably the most special to us, as we dedicated it to Martin's father who passed away recently from cancer. The song took on a whole new meaning following that. When we finally released it, we really had no idea how many people it was going to impact in a positive way. It is such a rewarding feeling to be able to help people with music.
How are you branding yourselves differently than other artists within the electronic market right now and what's the overall goal within the music you play?
We think what really sets us apart from the others is our hair. nah just kidding, we really try to interact with our fans. They are as much a part of Young Bombs as we are, so we are constantly  talking to them and being  there for them just as much as they are there for us. We are also just two best friends who happen to click when it comes to making music together. Our fans on snapchat are often surprised how often we reply to them.
Do you feel that you're finding your sound and branding yourself within the remixes you are currently creating?
I mean, we hope so! there are certain things we try to keep as congruent as possible, like artwork and things like that. But we never want to stick to one sound too long and let it get stale, so we continuously switch it up. After writing together for a few years now, we think our DNA is imprinted in whatever we do musically.
What have you learned from the other artists that you surround yourself and play shows with? What are some cool experiences you've had with other artists?
We recently had the opportunity to perform at Hakkasan in Vegas, and got to meet one of our long time heroes Tiesto. Early this year when Martin's dad passed away, Tiesto actually dedicated a section of his Club Life radio show to him and played our "Ocean Eyes" remix. So when we met Tiesto in Vegas we thanked him for that, and he was just the most humble genuine guy, and it really stood out to us.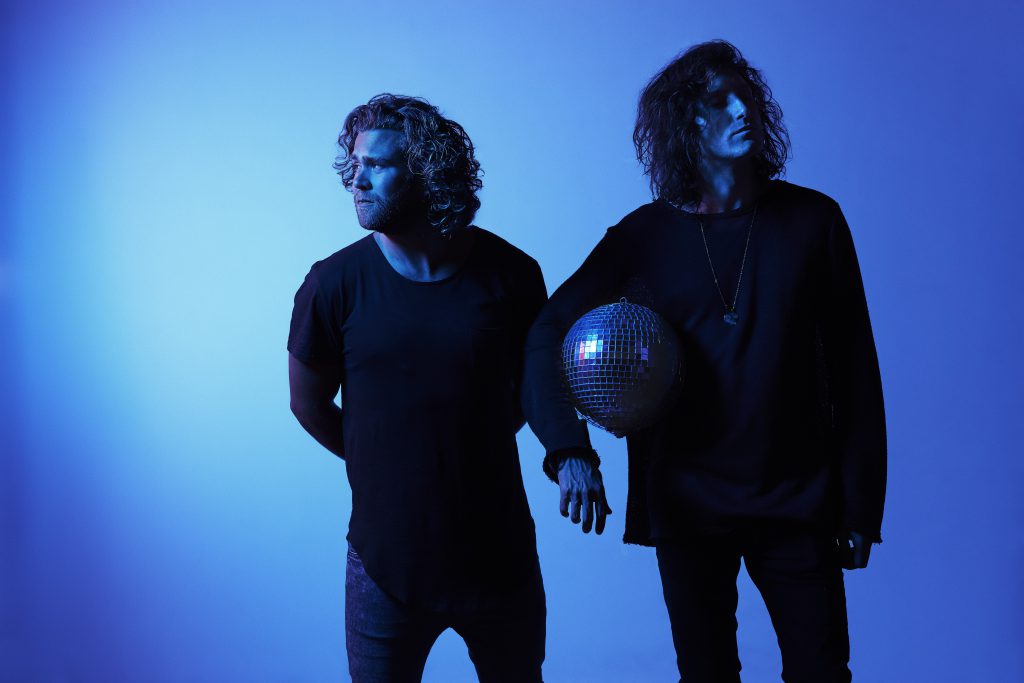 Do you think that your personalities play a role within your sound or the overall vibe of your music and the live shows you play?
*Laughs* We definitely like to fuck around with each other on stage. I swear Tristan is trying to body check me off the stage most of the time. We are equally as fun and crazy as we are emotional, that's why we have remixes that vary so much. for example our Work From Home remix which is high energy and crazy to our Wild remix which is much more tender and heart felt.
Do you think that being from Vancouver has given you an edge as performers? What are your thoughts on the electronic scene in Canada?
Um oddly enough, it's probably made us hungrier to get recognized. The scene is still growing here, but it's getting better.
If you could replay any show that you'd previously played before what would it be? And why?
We would probably have to replay New City Gas in Montreal. It was probably our first show ever, and we got asked to open for The Chainsmokers to a sold out crowd. It was literally one of our first times DJing. It was fucking terrifying, but after we got on stage and started playing the alcohol kicked in and we were golden.  That crowd knows how to turn up, wow.
What shows coming up are you most excited for and what do you have in store for fans for the rest of 2016?
We are going to be headlining Haven in NJ in November, that should be rowdy! We are mostly just excited to start dropping our originals and show our fans we aren't just remixers!
You're at a bar in Montreal and you walk in what do each of you order?
Last time we were there we had this one stout from this one bar and we don't know exactly where it was either. We think it was good. was it good? ah can't remember.
---
Connect with Young Bombs on Social Media:
Website | Facebook | Twitter | Instagram | SoundCloud | YouTube