Whether you love him or hate him, there is no denying that Borgore is truly one of the kingpins of the bass music scene.
Born in Israel as Asaf Borger, Borgore has already amassed a career that has been dotted with crazy stories and amazing releases. The founder of Buygore Records, he has built a label that has claimed its spot among the most powerful in the world. His style, appropriately labeled Gorestep, has been the destroyer of dance floors since it's inception. Coming up in the game, his association with Dim Mak and Spinnin Records helped launch his career and push it to spectacular heights. After a series of successful releases, his debut album #NEWGOREORDER secured his spot as one of the top producers in the game. Tracks like "Unicorn Zombie Apocalypse", "Ratchet", "Forbes", and "Decisions" still make his fans dizzy with excitement but most recently, his releases "Daddy" and "100s", have been causing quite the frenzy. After coming off of an intense set at Imagine Music Festival this past August in Atlanta, it was just natural that we would want to catch up with this beloved yet controversial producer, get into his brain and find out what makes this man a force to be reckoned with. Check out our interview with the man himself, Borgore!

---
For our readers who aren't familiar with your style, "gorestep", how did you create your own unique genre classification?
The thing is that I started making dubstep in the really early stage. It was still very elastic, you know? You could shape it whatever way you wanted it because it was in the very, very beginning. So myself and a bunch of other producers started making what used to be more to the reggae and more to the deep end of dubstep. We started making more of a Metal sounding dubstep you know, Datsik, myself, and Excision. And I also mixed a lot of my vocals, I took it pretty far, I took it super metal sounding, so I guess that's how I did it.
Did the metal influence come from your band?
A lot of it, yes.
Since starting your own label, Buygore, how has your life and career been affected? What new doors or opportunities opened up for you that wouldn't have if you hadn't started your own label?
What I love about having my own label is that it keeps me up to date with what is going on with music. When you're out there trying to find what's next, it helps you keep your own music always in the mix. Also, a great benefit of having your own label is the fact that you can explore in music. No one is telling you "This is what we want to release" or "This is what you should make" because you're in full control of whatever you're going to release. So if you want to write a Concerto for 24 vacuum cleaners, you'll release it.
You came off a thrilling performance at Imagine Music Festival in Atlanta that reminded us why you're one of the electronic dance music kingpins. How did you choose the tracks for that set and what kind of vibes were you trying to express in that performance?
So, honestly I think Imagine was my first big festival after a while. I haven't done anything in the states, I've been in Europe for a while now. I was really excited to come back to the states, especially after talking to my friends and seeing what was going on. It seems like, over here, dubstep is making a comeback. People are super into the whole 150 bpm right now. So I was super excited to come back and play a really heavy dubstep set. I think that this is what I get at, at Imagine. I also, I don't know, I like to be a crowd pleaser at the end of the day so I played some more mainstream stuff for the general public but I tried to go as heavy as I can pretty much.
As someone who has been in the scene for years, do you still feel the same excitement when the crowd responds so positively to a set?
My excitement was, is, and will always be, writing a new record. I love dropping my new record and seeing how people react, because that's the final test basically. I don't think that excitement will ever go away because every new song is like a new experience I think.
You actually dropped "Daddy" last week, and I know you're on the Safe In Sound Tour right now, so were you able to play that out yet live?
Yeah I have played it live, it goes off. I've played it live for the past two weeks pretty much. Whenever I write a new song I like to drop it before it releases because I make tweaks according to how it sounds live. The thing with music, it's basically…its waves, you know? When you play at a festival you can actually not just hear the music, you can also feel it. So a lot of times it is important for me to test how music feels rather than how it sounds, and change things accordingly. It's something that I can't test by myself in the studio.
Totally, I listened to the track and it brought me back to that heavy dubstep sound that I loved from that era.
Just everything I work on right now is more that direction. This specific track I told myself strictly use massive, don't use serum. I was really going for the older sound. All my new stuff, yeah it's more serum-y, its more "up to date", but everything is super heavy.
What drives you to stay active in both production and performance, what keeps you motivated?
Honestly, what keeps me motivated more than anything is the fact that I really, genuinely love writing music. That's like, that's my way of doing what I love, writing songs and performing. It makes it possible for me to sit on my piano and write weird stuff.
How do you keep from burning out with such a grueling tour schedule?
I am very passionate about what I'm doing. I'll be honest with you, sometimes you feel like this is a bargain, going through this amount of traveling. But in general I love what I'm doing, so when I take a plane and show up somewhere, I'm glad that I'm able to do it.
Let's talk about your remix package of "Forbes". What was the process in selecting the artists to remix the track, and how do you like hearing your work in a different light?
I love it. I love it because people take songs that you wrote in directions you never thought about. It is super interesting to see how other people hear the same song, so I love it. The process [in selecting] is pretty easy. My label manager, who is also my manager, he helps me reach out to these artists that I really like. All of us work with Buygore anyway, and we made it happen. It took a little bit of time but in general it was good.
You're currently on the Safe In Sound Tour, and the Borgore Fans that we asked are dying to know if you have any surprises in store for the event in their city and what type of set you plan on delivering for fans?
If I have a surprise…unfortunately I cannot bring Miley Cyrus to every show. *laughs* I'll be honest with you, usually the surprises happen as a surprise to the artist too. It's like "Yo this artist is in town, do you want them to come over?" and you go "Yeah, Fuck Yeah", it's usually like that, it's not planned. If there will be surprises, I'll be surprised too, it will be sick. But other than that, what I played in the first shows so far was pretty aggressive. And I heard a lot of people, they came to me after the show and they said "We weren't sure what you were gonna play, we were kinda worried you were gonna go mainstream and its more of a bassy night" and I went super bassy. This is what you expect from Safe In Sound, and I'm definitely going to deliver.
I think that for me this tour is super exciting because I'm touring with all these other artists that I really love. And it's a bit of a challenge when you go on the stage after 'so and so' and they just killed it, you kind of want to do as good as them at least. The tour is fun, it's going to be super fun.
Is there sort of a competitive aspect to the tour with the other artists?
It's never competition because we are not playing Tennis, it's not who is beating who. But there is definitely like "yo check this new tune I just found" or "yo check this new tune that I just made"…it's more like you're feeding from each other.
That's awesome, I always wondered about that…
I mean, I'm sure there are people who don't get together, but in general it's very supportive, fun, like we all enjoy each other's company and sets. I always describe it as, doctors go to doctor's conventions, and DJs play festivals together.
We all know your life must be full of insane stories, so what is the craziest thing that has happened to you while on tour?
Craziest, I don't know, a lot of really crazy shit happens. *laughs*
Is there a memorable story?
Oh there are a lot of memorable stories, I could literally write a book. I'll totally write a book the second my grandkids would already be in college so I cannot ruin their lives. *laughs* But yeah there are a lot of stories, but one specific that I want to share, I don't know it's more of like, it jumps at the moment. More of like a "oh this happened to you, check what happened to me" type of deal. I can't think of anything right now, I mean I can think of a lot of things but nothing specific.
Has anything happened on the Safe In Sound Tour so far?
Hmm, I cannot tell you because I cannot remember too much *laughs*
Well that in its own must have been crazy.
Oh okay, here is one from one of my last tours. Must Die! and I we were partying in Sweden, and both of partied after the show. Both of us missed our flights, I think he broke his hand or something, it's all so blurry though. *laughs* It's pretty good.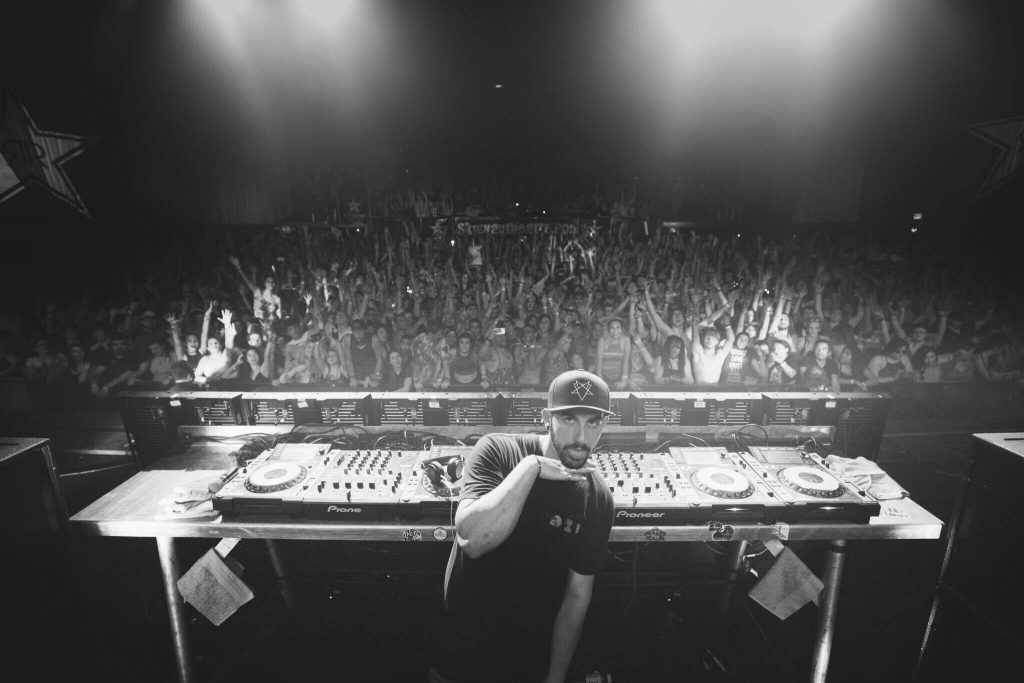 Let's change topics really quick and talk about something you've become an advocate for that also hits home with millions of people around the world, and that is Breast Cancer Awareness. What led to your advocacy and how can people get involved with supporting these causes?
It's something that we did last year, this year we haven't followed it yet. During Christmas last year we did a toy drive and we donated so many toys that the hospital didn't accept any more toys that year. So we're working on something like that for this year. Last year I wanted to support Breast Cancer simply because I feel like it's a problem that is going to happen to most of us. Cancer affects like one out of four people, I think, in the world. We have to start somewhere, and I think that Breast Cancer is one of the more popular ones because it can be curable. Imagine if someone told you they had to chop off a part of your body and make you feel not as good about yourself…I don't know, I want to support anything that can help people.
Cancer is a huge problem for us, another disease that really scares me and that I used to help a lot when I was younger was ALS. Before the whole water thing, my trainer on the climbing team got ALS. It was crazy to see how a guy went from doing pull ups with his pinkies to being unable to tie his shoes. If we can help, we should help, with anything.
That actually seems to be a pretty common theme with other artists as well. Everyone wants to help give back to the world and it's great to here artists pushing that forward.
Oh and I lost 10 grand to Steve Aoki's charity for brain research, so there's another cause I've supported. I try to help wherever I can!
Finally, let's rewind back to the year 2012 with a track that to this day brings a huge response when dropped at a show. Of course I'm talking about "Decisions". What was the inspiration that led to the production of that track, and did you expect it to be as beloved as it became?
Well the inspiration was simple. I moved to Los Angeles and it was weird, you know? To sum it up it was really tense. Did I really like this life better or do I miss my old life? At the same time I wanted it all, I wanted to enjoy both worlds. That is what the song was about. We released it first without saying who was actually singing on it and it was doing pretty well. I was pretty content, I was happy. It was pretty successful and I was happy with it, and then Miley decided she wanted to just tweet it that she was singing on it. I didn't realize…well, you have to understand that I grew up in Israel…I didn't know much about what was going on here. I had just moved to Los Angeles and I had no idea that the second Miley was going to tweet it, it was going to become way bigger. So I was like, okay the song is doing so sick, I'm happy, and then she tweets it. You asked what I think, if it was going to blow up or not, I was pretty content in the beginning of it and then it just went out of hand, I love it. I did not expect it to get that crazy.
---
Follow Borgore on Social Media:
Website | Facebook | Twitter | Instagram | SoundCloud | YouTube