Imagine Music Festival was one of the most challenging, yet wildly invigorating weekends of my life
The time had arrived to set out on my five hour journey to Atlanta, Georgia to immerse myself in the fast expanding and highly anticipated Imagine Music Festival; a festival that had more of a buzz behind it than I had seen since TommorrowWorld announced that it would be no more. Imagine Music Festival held so much promise for those of us looking for hope in a slim southeastern festival scene…and boy did they promise the world! From a new venue, to camping options, to bigger and better performances, interactive workshops, art, and activities, Imagine Music Festival promised to deliver. With a lineup that ranged from the electronic dance music elite as well us up and comers looking to put their name on the map, I was prepared for quite a smorgasbord of beats. With my camping/festival pass, rave gear, lots of sun block, and my girls in tow, we set off to embark on a journey of highs and lows, struggles and triumphs. Before we get into the review, I would love for you to press play on the recorded performance below from one of my favorite sets of the weekend. Enjoy the beats as you embark on my Imagine Music Festival journey with me.
Stream Reliquary's set from Imagine Music Festival on SoundCloud:
Arrival at Camp.
The excitement was at a fever pitch as cars piled into Atlanta Motor Speedway, all anxious to get a prime camping spot and begin the party. After about a two hour wait (I expected the wait to be much longer) to get through car security checks, we were in! It was in this moment that I realized that my worst enemy of the weekend and the one thing that would bring the most challenge to survival was the southern August heat. As we set up camp, the sun blared down, bullying us with its mighty rays. But, like true festival champions, we pushed through and when all was said and done it was time to grab some cold water and a snack. Now, let me just say that there were a few things about Imagine Music Festival that had a lot of room for improvement. I am going to touch on these issues, but I also want to make it clear that with a little TLC and assessment, these issues can easily be remedied for future Imagine events. With that being said, a pang of fear rushed through me as I realized that the closest food and beverage vendor was a far hike all the way to the main festival gates. In heat that reached well into the 100's with the heat index, that walk easily sucked every last bit of energy out of us. Our only solace was in the $10 bags of ice that were being sold by a mobile ice truck that would periodically drive up and down the main camping drag. Room for improvement? Sure. Maybe add a couple of drink vendors or food vendors inside the camp grounds and boom, campers are happy and less stressed about falling out from the heat.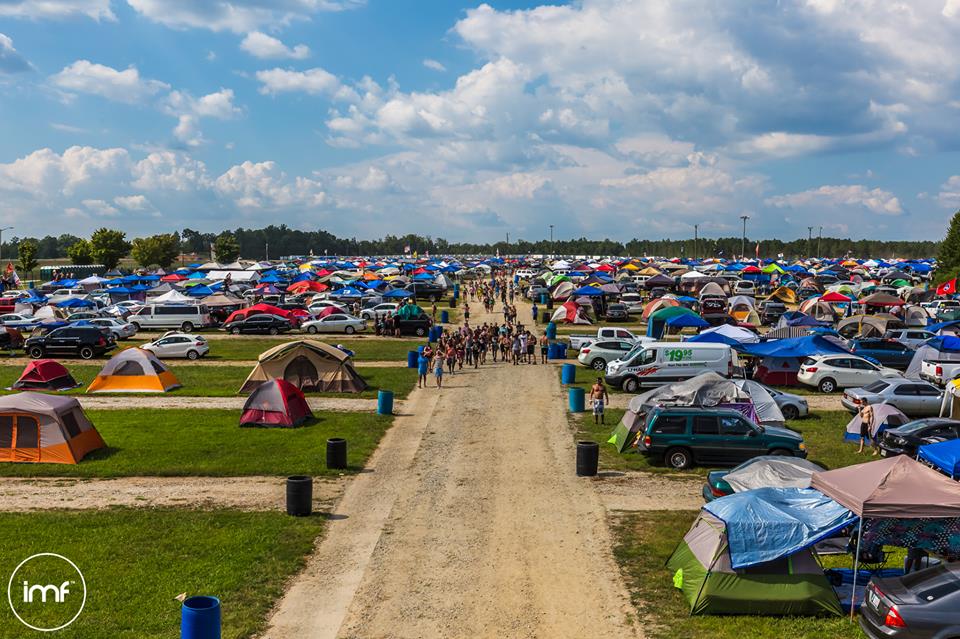 The Venue.
It had now come time to get the party started and after practically melting away to oblivion trying to erect our campsite, we were ready to get our dance on! Day one delivered a quick wait in the security line and we were in. Unfortunately, days two and three we were not so lucky. Basically, there was a hold up with opening the festival on the second two days so as we arrived at the gates we were welcomed with confusion and a long wait.  It would have been great to have someone passing out water as we stood on the hot pavement wondering when they would let us in, and this is an area that should be high on the priority list. Hydration is key when it comes to the heat and when you are in need of water and there is none to be found and you didn't bring any beverage with you because of the rule about no outside drinks being allowed to pass through the gates, it can get very intimidating and frustrating. However, once again, we pulled through and once we were in it was time to explore everything that Imagine had to offer.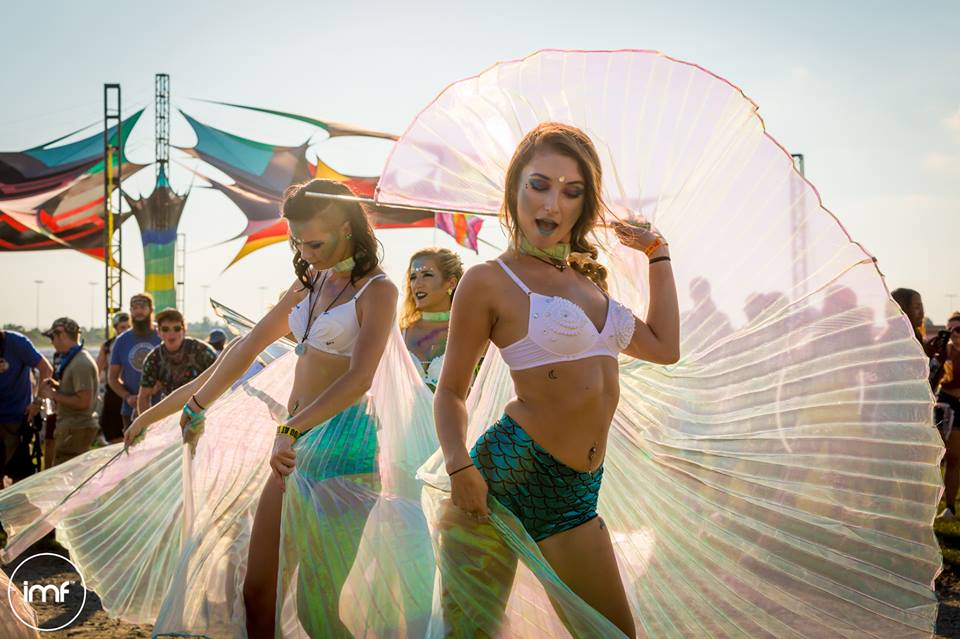 Day one was quite the laid-back day for Imagine Music Festival as it had only two stages running. Days two and three would see the entire venue come to life but for day one, I was totally fine with the lack of set choices because honestly, who likes set conflicts anyway! I had my own special plans anyway. My good friend James E Gotnew, aka #PARTYSLUT, had received the green light to set up his own stage in partnership with 6FEATHERS and Encore Productions. So, as we gathered at his stage and I listened to #PARTYSLUT deliver a bass set like none other, I took everything in and assessed my plans for the weekend.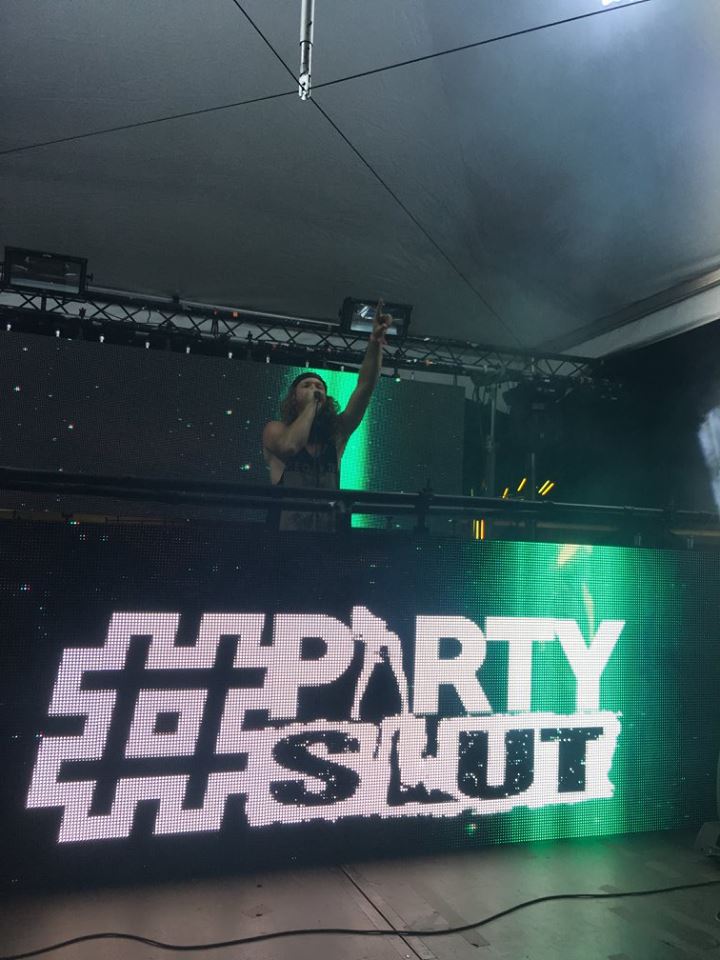 As I scanned the grounds, I noticed that the stage placements were almost perfect. There were also food vendors and drink vendors everywhere so my fears of withering away were out the window. There were multiple pods of porto potties as well as access to real bathrooms for both the GA and VIP.  Oh, the glorious water! Right smack in the middle of the venue was a wading pool! A glorious floaty filled wading pool! Dipping in this pool became everyones favorite activity throughout the weekend and I don't know how many would have survived without it! It doesn't stop there. The main stage had misting tents! These glorious tents offered a spritz of cool water as you kick back and relaxed close enough to the main stage action, yet far enough away to have some breathing room. I spent quite a bit of time at these tents. They were my pick me up when the heat would become a little too much to handle.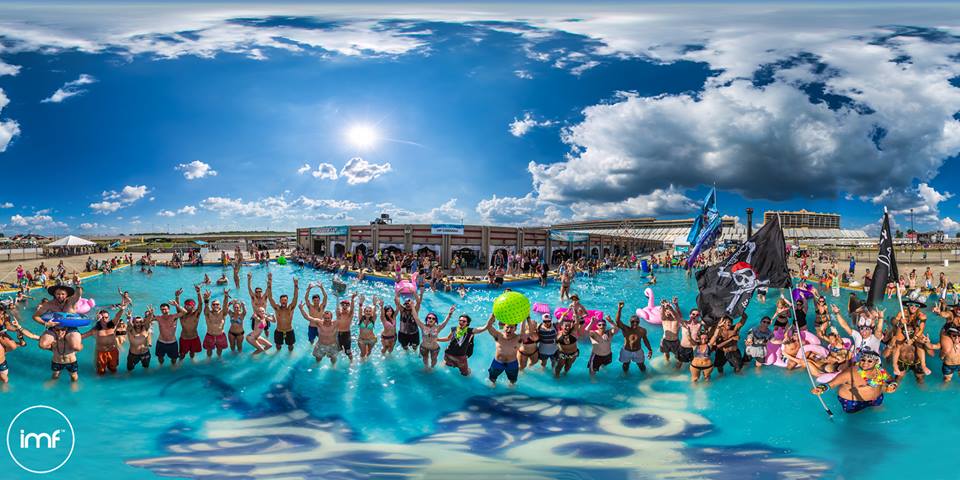 Sprinkled throughout the rest of the grounds were all sorts of art and acrobatic displays (some of which were interactive like the tight rope walking), rides that to my dismay did cost money to ride, stilts performers, gorgeous go go dancers, insane cirque style shows at main stage, a free water slide, flow craft everywhere you turn, and stages that were unique from anything I have ever seen before. There was a stage in the center of the venue that looked like a scaffolding dome and at night the ceiling would be lit up with fire. The fire danced above the crowd, clinging to the ceiling in a way that confused me and blew my mind all at the same time! Just when it would get a bit hot, misters would offer sweet relief for the crowd below and all would be right in the world again. Then, there was the disco stage. This stages focal point was a giant metal disco ball which looked like it was blooming under the summer sun. It was at this stage that I got a healthy dose of trance and techno. This stage was my happy place. The third stage was a typical tent stage, nothing too out of the ordinary but with DnB pumping through those speakers all weekend, suddenly you forgot about the simplicity of it. Finally, there were two main stages, both on opposite ends of the speedway. They were dubbed Amazonia and Oceana. Honestly, I didn't spend too much time at Amazonia, so I truly don't know what type of production elements it brought once the sun went down. What I do know is that the Oceana stage had some of the most electrifying lasers I have ever seen! What a show! In combination with the cirque stunts, mermaids, go-go dancers, fireworks, world-class lighting effects, AQUA water show whose company helps aid in the clean drinking water mission in 3rd world countries, and creative performers, I was highly impressed. Oceana stage rocked my world! There was also a little bonus in store for us. Imagine Music Festival set up a silent after-hours disco in the camp grounds for those who just weren't ready to end the party. Unfortunately, exhaustion seemed to get the best of me every night so I only partook in the festivities on the second night. It was an incredibly different experience and one that I am glad I checked out.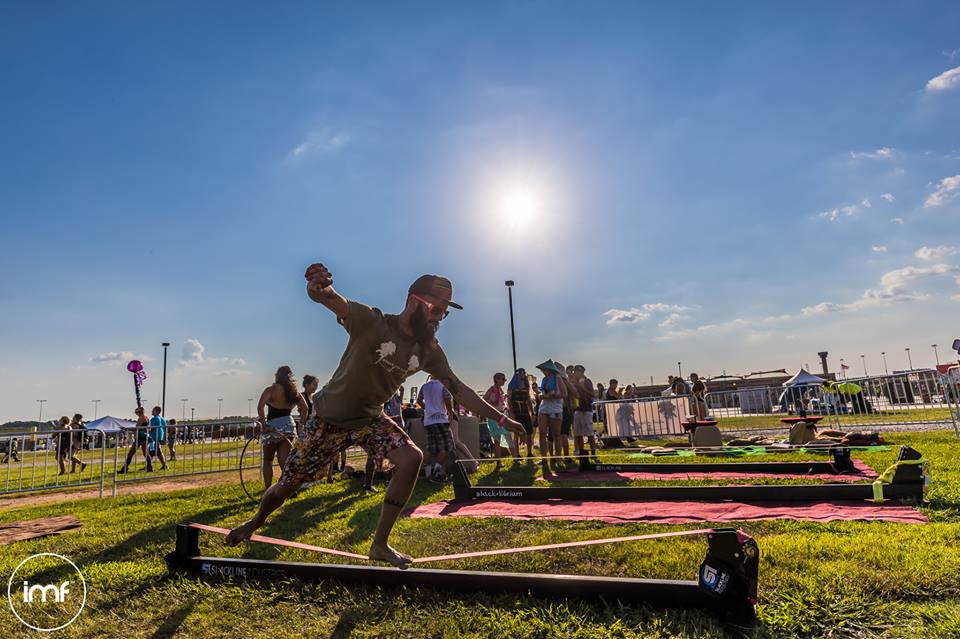 For the most part, the venue was on point. The only suggestion that I may give for future events is that a medical tent should have been present somewhere inside the festival itself. There was only one that I could find and it was outside the gates near the camping area. This was a bit concerning because if an attendee was in need of aid, they would have to rely on finding a mobile medic, not ever knowing where they would be at any given time. Also, the medical tent that was present outside of the gates was very limited to what they could handle. It seemed like unless you needed a band-aid or aspirin, there wasn't much that they could do for you. When I visited the booth to get something as simple as eye wash, I had to wait for a long period of time for the attendant to call for help because she was unsure about how to aid my burning and irritated eye. This certainly needs to be changed for the future. Update: Since returning home from the festival I learned that there were actually 3 medical stations in the in-field, along with the main station that accepted life flights on an existing area that was part of the infrastructure for Atlanta Motor Speedway. Unfortunately, we were given incorrect information while at the festival and were unable to locate the medical tents that were present.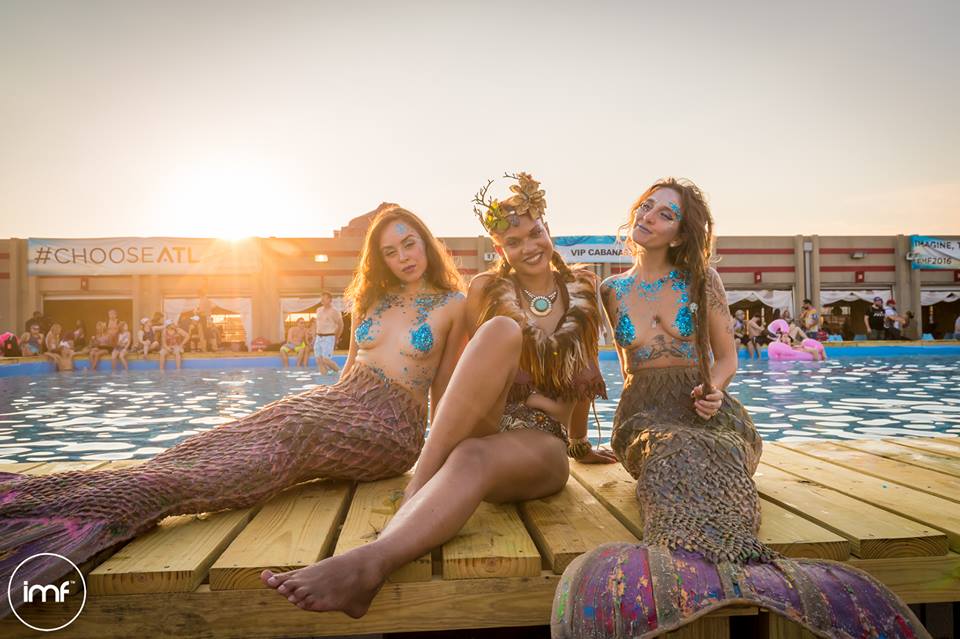 The Music.
Now, let's get into the meat and potatoes of the festival experience! Atlanta sure does loves its bass music and for a girl like me whose passion comes in the form of trance and techno, I wasn't sure if I would be satisfied with what the talent had to offer. I was proven wrong! After beginning my day over at my friends stage, jamming out to some filthy dubstep and bass, it was time to cleanse the palate and head over for a little uplift. Friday truly began for me once I stepped under the center dome stage for what would become three hours of incredible trance insanity. The Unity Atlanta boys came out in full force and laid every inch of their souls out on that stage. Bryson Taylor, Reliquary, and Nhexis were our trance maestro's for the evening and in those three hours, I was taken to a place where my troubles just melted away. They were technically divine and artistically stunning. As the stage was lit ablaze during Reliquary's set, he dished out a set to rival any big name in the industry. My passion for trance was reborn. To wrap up the evening, I was able to catch two incredibly exciting sets from Steve Angello and Borgeous over at the Oceana main stage. Steve Angello brought all the feels packed with a whole lot of lasers and intensity. It had been quite some time since I saw him last and he was everything I remember and more — a true electronic dance music staple. The highlight of his set was when he dropped 'Opus' by Eric Prydz. The crowd went crazy!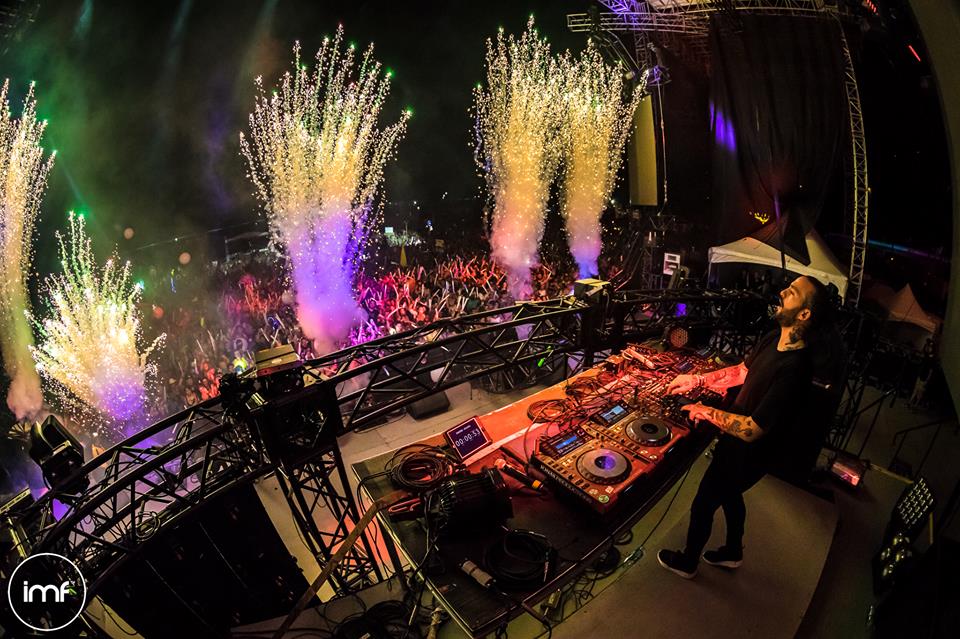 Day two began with…more trance! Yes, the trance takeover was in full swing over at the disco stage and that's where I made my home for the first half of the afternoon. Ncturnal and Bryson Taylor locked me in for a sweaty, yet incredibly fulfilling ride as my fellow trancers and I danced our hearts away under the scorching sun. I didn't want it to end! Alas, all good things must come to an end and with Bryson Taylor's final track I said goodbye to the UNITY takeover and hello to Stellar Shores, Robbie Rivera, G Jones, and Keys N Krates. Each of these sets were very different from the other and I was pleased with the musical feast that had been laid out before me. Suddenly, it was time for the set that I had been anticipating the most out of all who would play that weekend. Cosmic Gate! Honestly, words cannot express the feelings I felt during their set. With my friends on my arm, we shared in an hour-long journey full of emotion, power and beauty. Cosmic Gate was for a lack of a better term….stunning. Capping off the night, I decided to stayed perched up at main stage and enjoy the musical stylings of Adventure Club, Dillon Francis, and finally, Zedd's Dead. Out of that lot, I would say that Zedd's Dead destroyed all competition.
Day three became our day of rest. Most of the afternoon was spent lying under the misting tent, sliding down the water slide, and wading in the magnificent pool. As the sun drooped low on the horizon, we found ourselves at the disco stage grooving to a fantastic house set dished out by SNBRN. There couldn't have been a better set to usher in the sunset than what he offered up. It was just right. Now, this is where things got a little intense and my world was flipped upside down, with four sets that were arguably the heaviest sets I have ever experienced in my life! Here is the order in which the destruction of my body and mind took place: Benny Benassi.…Borgore…..Nero…..Excision. To explain it the easiest way I can, it was almost like with each set the volume, intensity of the lights and visuals, and the musical style got heavier, crunchier, grimier, filthier, and down right nastier than I have ever had the honor to experience ever in my life. By the end of the night, as Excision melted our faces and shook us to the core, I was finally ready to crash. What a hell of a way to end the weekend. I was extremely impressed.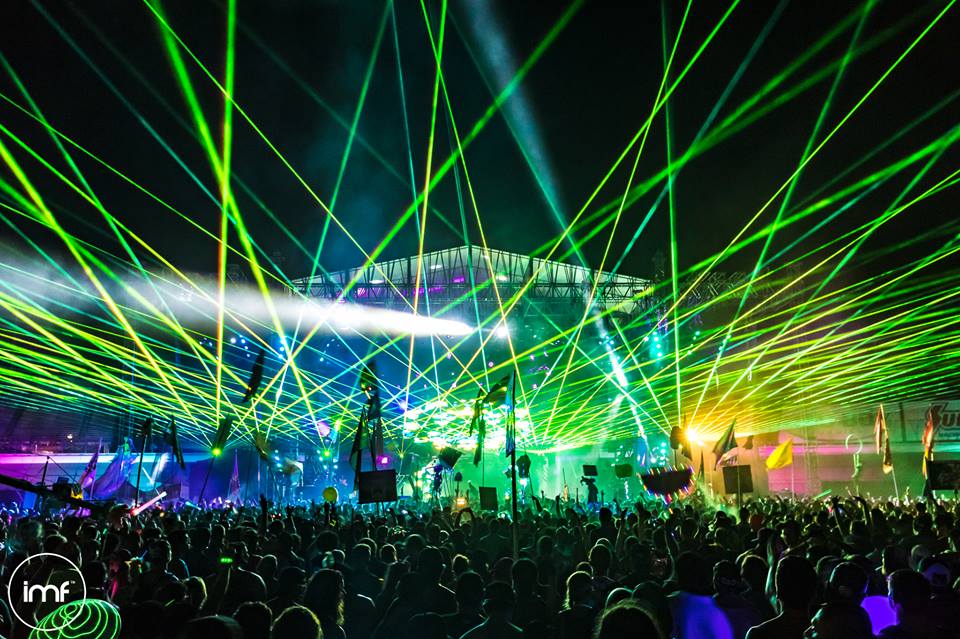 Conclusion.
As I wrapped up my three day musical journey, I was left with a feeling of strength, happiness, exhaustion, and clarity. It was the most difficult, yet the most rewarding experience I have had in a while, without question. Imagine Music Festival brought their A-game even with a few things in need of improvement. But, if there is no room for improvement, then how can you possibly grow? A big congratulations to IRIS and everyone behind Imagine Music Festival 2016. Also, a big congratulations to the amazing festival community who shared in the experience with me. Thank you for the immense amount of responsibility that was shown throughout the weekend when it came to keeping the grounds clean and free of trash! It was stunning to see how we all bonded together to throw our trash away consistently and appropriately. Imagine Music Festival was the cleanest festival I have ever attended. Let's keep that momentum going at every festival we attend in the future!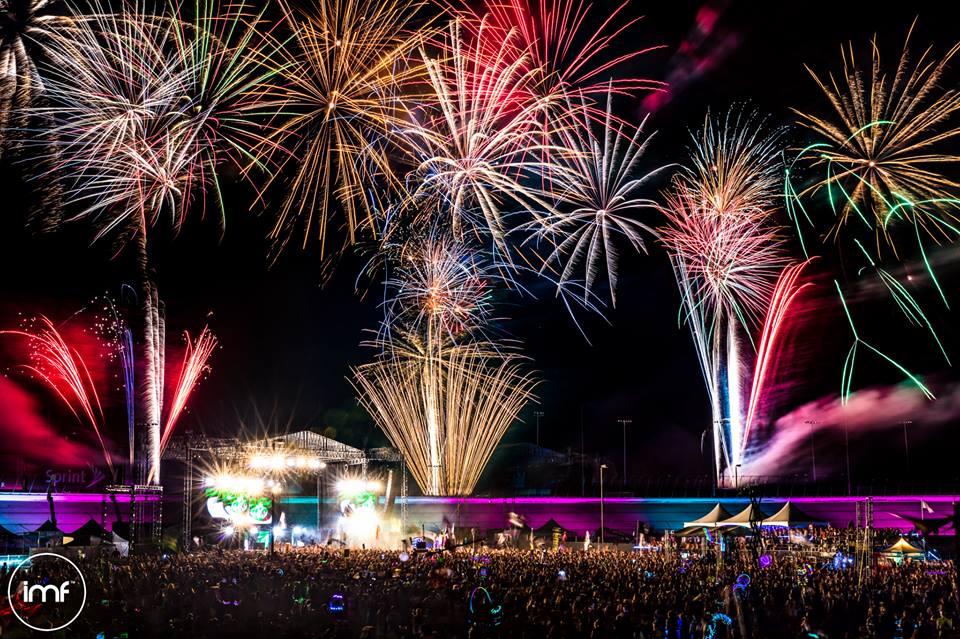 ---
I would love to share some photos of my own personal experience with you. Hope you enjoy!
---
Follow Imagine Music Festival 2016 on Social Media: