Even though I had spent the first night dancing the night away at We Are NRG 2016, I had some business to attend to on day two of the event. Chocolate Puma was playing the second night and they agreed to chat with me about their music and more. I approached the security guard to head back to chat with them after their set, he checked my credentials and let me pass. As I gathered my notes, I saw Rene walk past me and into one of the rooms. I quickly followed, knocking on the door. Rene answered with a smile, I told him I was there to interview Chocolate Puma and he said, "you've come to the right place." After some laughter, I shook his hand and immediately saw Gaston sitting on a couch behind the door. I introduced myself and asked when they'd be ready to proceed with the interview. I can't lie, I was pretty excited to be chatting with these two, who have been making house music for longer than I had been alive. Although my heart was racing, they were laid back and casually offered me a red bull or some water. Here is how the interview went down!
---
When did you guys first meet?
Rene: I think it was before you were born. It was 25 years ago.
How did you both meet?
R: I did a radio show, like one of the first radio shows that plays house music and Gaston was one of the listeners. And then I asked for demos because I was already trying to make house music and he sent in a demo and from that day we are never separate. The first thing we did was a jingle for the radio. Turned out to be "Give It Up" back when we called ourselves the Good Men.
Laidback Luke describes you as the Godfathers of Dutch house music…
R: Yeah, that's because we're so old.
How do you feel about that nickname?
Gaston: We've been around for a while, I guess. We weren't the first wave of producers but just the second wave of house producers. We've made a lot of records that a lot of people like, a lot of producers seem to like our records also and they always say, 'their records inspire us' and that's a huge honor. We're just guys making music because it's what we like to do, and all of a sudden other people like it, that's the best.
Do you think most DJs/producers today are too focused on getting a top track?
R: I don't know. I think a few will be, but that's OK, why not?
G: I mean before we were here, we were in the studio thinking about this gig, and you get inspired by the idea of playing such a big, energetic crowd and that reflects what's going on in the studio.
You played a role in Holland's acid house scene. How did you first get into acid house?
R: I don't think we played a big role in acid house. We both like acid house, but actually we did one record but much later. We both love acid house but we don't really make it.
What was it like being a DJ/producer during the rise of house music?
G: It's totally different than now. Because back in the day being a DJ was totally separate from being a producer. We happen to like both. I like to be a DJ but also liked producing music or playing piano or playing drums. Later it became a mixture. Now it's like if you're a DJ you have to release records to get gigs. If you're a producer you cannot make money just producing, you have to get out and play. So back in the day that wasn't the case. You had typical DJs and you had producers, some guys like us did both, but it's different.
Your audio setup is very simplistic. You basically have a computer with two speakers, a keyboard, logic, and some plugins. Why do you opt for a more simplistic approach?
G: Because you don't get lost in all the possibilities. If you limit your choice you get more creative. Of course it's cool to have a new plugin or a new synthesizer to get inspiration but I think it's cool to really learn what you have. I think you can compare to like a chef. A chef only needs a knife and a cutting board and fire and a pan. He doesn't need all the machines to cook, it's really cool to have it and maybe use it sometimes, but you don't need it. We like it that way.
Do you think your way of producing house music differs from a lot of the other house producers?
G: Yeah, I guess. That's our identity and the identity of other producers. Everybody has their own method, everybody has their own baggage, their own history, their own record collection, and their own memories, and from there you produce your music. Everybody has their own story.
I like that you played "Space Sheep" tonight, how was your collaboration?
R: Well actually, we've known Oliver for a while now and he's a really nice guy and we get along very well. So obviously, we went into the studio but sometimes we go in the studio with someone to collab and then the first day, the first attempt we make a record. But with Oliver we did four records. We threw away two because we were not satisfied. It was kind of funny and now we have Space Sheep. And there's another one coming out with Oliver in his Hi-Lo suite. It's always fun to see Oliver, so making music is also fun and I think you can hear and see that in the video. We are doing it for fun!
Will we see more collaborations in the future?
R: Yeah we have a few on the table. Actually we have a new one with Thomas Sunshine.
Where are you going from here?
R: Actually tomorrow we are going to Amsterdam. Home, then we have some time to go into the studio, and then the next one I guess is…
G: Italy
How do you work with the jet lag and find work-life balance?
G: I just try to stay on Dutch time. Like my watch right now is still on Dutch time, right now it's 8 o'clock in the morning and I'm still awake. I'm like OK, I'm ready for bed now.
R: Once I get in a different time zone, then I'm just in that time zone. When we go to different time zones we have a long flight, then we have to play a gig, and then the next day another flight and a gig and another flight and a gig. So every hour we have, we try to rest and we try to eat healthy food, vegetables and fruit and stuff. But it never works. It's difficult. But on the other hand, being DJs, we get so much energy, "We Are NRG" – we get so much energy from a crowd, I feel like 18 years old again.
How do you choose the festivals you go to, are they handpicked?
G: No it doesn't work that way, it works the other way around actually. What we always see online is, like when we post a new tour schedule, people always say, "why don't you come to our city, please come to my city" and people think that we choose the cities that we go, but it's more like a puzzle. Agents try to book us to certain places, book us to the right places. In this case, Insomniac asked us to play here and we said "of course." But sometimes our booker has to pitch us. Play the little game. Yeah so it's not that easy.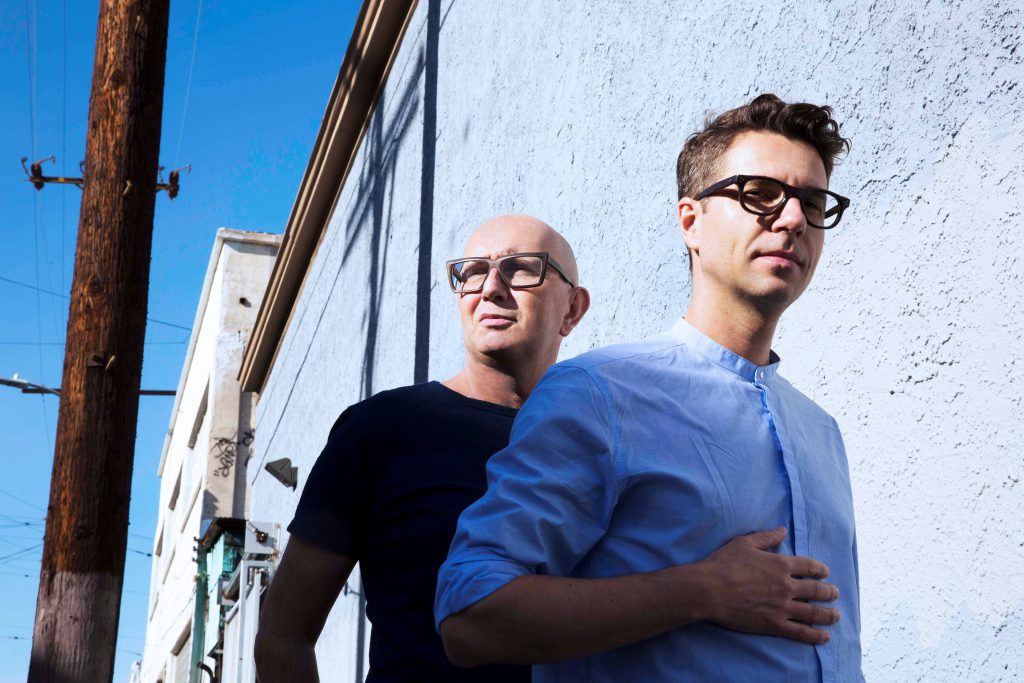 Do you prefer playing music festivals or clubs better?
R: We like both. Yesterday we were at a club, I think with a thousand people. So it was very intimate. So that's nice but we like this also. So if it's in balance then it's nice to do a festival one hour, give all your effort for one hour or doing a club, sometimes we play in a club and we're booked for one hour and a half and sometimes we play like three hours because the atmosphere is nice.
Who were some of your early influences in house music?
G: Well it was like in the 80's, so we had producers like, Al Rogers who produced for Madonna. The first house producers came like ToTerry, DJ Pierre. But it doesn't end, there's always producers who inspire us. It could be a six year old kid or a guy from the old days. As long as it fits.
Who are some producers that you see as up and coming or that we should be following?
G: Actually one of the guys who played here, Matroda. He's from Croatia. Yeah he's going to do big things. A really good producer. Actually, two years ago we played in Croatia and were headlining in a club and he was the local warm up DJ. We were sitting in the green room and were like, 'wow this guy is really good…'
R: 'he's playing a lot of records we also have in our set, it's going to be a hard time'
G: So he was killing it. So we had to bring our A game.
R: Turns out that they played four hours over there. It was really nice. Yeah, he's a nice guy. He's going to be big.
G: We love Wiwek too. There's also this new serious guy who sent me some demo through SoundCloud, his name is Scuba Casa. He made this wobbly, really slow, kind of bassy house tracks. Super dope, it doesn't sound like anything. We played his track, we always play it.
What's one thing you like to do in your free time, when you're not producing?
R: I like traveling. But I also love to stay at home, being in Amsterdam, going to the city with my wife. I love to cook. Just doing homey stuff. It's being with the family, enjoying life, and making music all the time actually.
G: For me it's pretty much the same. You travel so much so, when you're free, it's nice to be at home and do homey stuff. Cooking or driving my motorcycle, just relaxing stuff, video gaming.
Arriving at the end of the interview, I stood up from the couch and thanked them both for taking the time to meet with me. Chocolate Puma, two of the godfathers of house music, were extremely calming and very down to earth. They exhibited a broad range of appreciation for artists that just want to make a hit single and artists who just want to make music for people who will appreciate it. Playing music and going to festivals like We Are NRG keeps them young at heart and if you haven't had a chance to see them yet, I'd highly recommend it to experience their timelessness first hand.
---
Connect with Chocolate Puma on Social Media:
Website | Facebook | Twitter | Instagram | SoundCloud