EDC Las Vegas 2016 is less than two weeks away. Are you ready? Here are 20 Tips For #EDC20 that will help you have an amazing time under the electric sky!
20 Tips For #EDC20 – Tips 1 – 10
---
1) Wear Comfortable Shoes.
Vegas is exhausting, in an amazingly good way. Depending on when you get to Las Vegas, you may have already walked more miles before you even get to the speedway than in a normal week at home. Once you are at the speedway, you will be spending time exploring, dancing, and bouncing from stage to stage to see your favorite artists. We're talking about many hours of moving around. It's crucial to have comfortable shoes. In my opinion, this is arguably one of the best things you can do for yourself. I recommend a good pair of sneakers. Definitely do not think that you'll be comfortable all night in heels! You don't want to end up with blisters and extremely sore feet if you're looking to have the best time possible! Don't let it ruin your time… just wear comfortable shoes.
2) Help People In Need.
If you are inside the festival and see someone having a problem, medical or otherwise, do not hesitate to ask if that person is alright and find someone who can help if need be. Ground Control and the EMTs who are on site are there for your safety and to help you. If someone is having a medical emergency, find someone to help! You never know if someone is in a life-threatening situation, and you might be the only person there that can get them the help they need. If you're walking by someone and see them sitting and they don't look well, ask if they are okay… it doesn't hurt for you to take a minute to make sure a fellow attendee doesn't need help.
3) Read The FAQ!
It never hurts to check out Insomniac's EDC FAQ or our own Essentials post here at EDM Identity. There is nothing more frustrating than arriving at the gates, realizing you brought something you can't take in and watching it go to the trash. It's not like you can easily take it back to your hotel, and if you did you would be wasting lots of valuable time. Glance over the accepted and prohibited items — you might be surprised what you see on there. It also never hurts to look at the festival policies, totem guidelines (if you're bringing or making one), and acceptable forms of ID to make sure you can gain entry into the event. Remember that if you encounter any issues at security you can always speak to an Insomniac Events representative about the problem.
4) Hydrate, Hydrate, Hydrate!
Hydration is extremely important, especially at EDC Las Vegas. It's normally 100 degrees+ in Las Vegas during the month of June… that's hot. Your adventure from your hotel to the Las Vegas speedway, dancing for up to 12 hours a night, all the walking that you'll do throughout the event will add up, and the heat only intensifies all of it. It is definitely important to stay properly hydrated. There are free water stations throughout the event, so you have multiple options to keep yourself safe. Insomniac sells branded, metal water bottles that you can refill near every water refill station and at merchandise booths. Another option is to bring a Camelbak (keep in mind, Camelbaks must have no more than two main compartments and one smaller compartment and must be empty upon entry). You can also just buy a water bottle at a food tent and refill that throughout the night as well.
Check out some Camelbak picks over at the EDM Identity Store!
5) Meet People And Be Outgoing.
EDC is a place to express yourself in every way! Every attendee is there to experience the epicness and make memories they will cherish for a lifetime. You never know what kind of amazing connections and relationships you could form by just talking to someone you've never met before. EDC brings everyone together in one big electronic dance music community/family Don't miss your chance to meet someone else just as amazing as you are.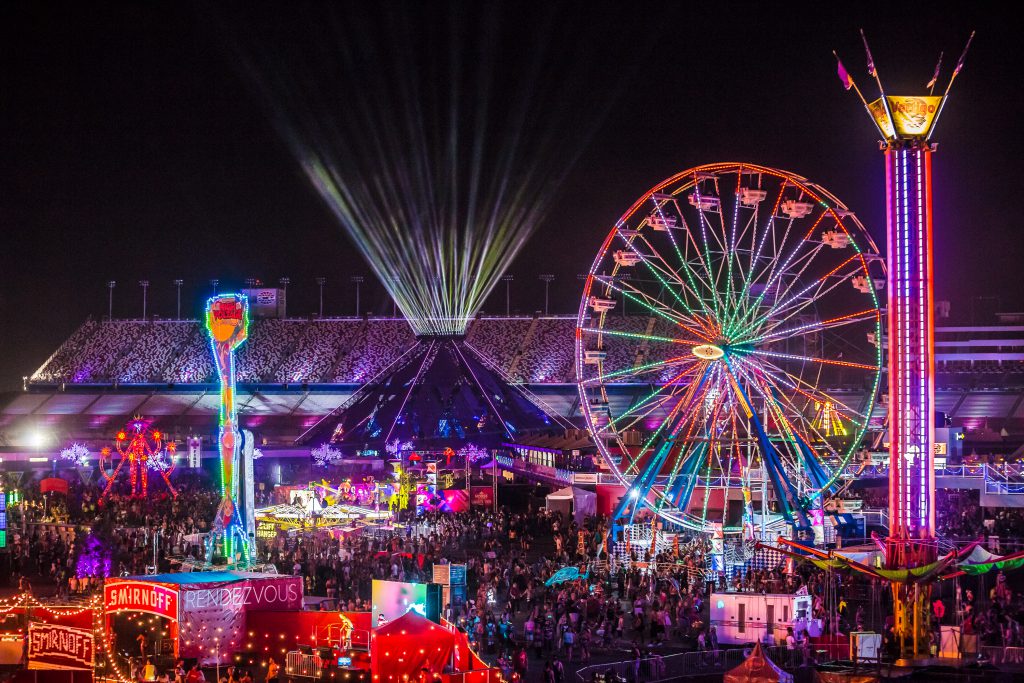 6) Buy A Portable Phone Charger.
Who's phone actually lasts long enough on one battery anymore? This especially adheres to an event such as EDC. You will probably be taking plenty of photos or videos at the event. Cell service doesn't always work the best in a crowd with that many people either, so a phone constantly trying to send text messages, chats, and more definitely gets drained pretty quickly. I know that it's great for everyone to put down their phones so that you can enjoy the experience, and I definitely recommend that. However, you never know when you (or a friend) might have an emergency. If you aren't going to purchase a locker (there are some with charging capabilities), a great option is definitely a small, portable charger.
Click HERE to see some recommended external batteries and other festival gear!
7) Don't Forget Your Earplugs
Buy earplugs before the event. You do not have to buy the most expensive or best product out there to protect your ears. Downbeats are affordable and great quality and are my personal preference. I used to hate using earplugs due to the degradation of sound quality they caused, but I promise that the music still sounds great when using them. You'll thank yourself later in life when you can actually hear. If you're interested in purchasing a hearing aid later, ignore this advice.
Foam earplugs are ALWAYS available at first aid stations and the ADA areas for free if you forget them at home. Check out Grant's article on earplugs for more suggestions on a pair to use!
8) Only Bring What You Really Need.
As you grab your wallet before you leave your hotel, take a peak inside. You might have multiple credit and/or debit cards, business cards, random receipts, and more. What if you lost your wallet and everything in it? Would you even remember what all was in there? I definitely wouldn't. Before I head out to any event, I always bring only what I absolutely need. In this scenario, it would be some cash, credit card, ID, and my ticket to the event. Everything else can most likely stay at the hotel where you won't risk losing it! Plus, a smaller wallet = less weight to carry around.
9) Pick A Meeting Spot And Time Stamp Texts.
If you've been to EDC before, you know that cell phone service isn't always the greatest. It's gotten better every year, but for some providers, it has not worked at all in the past. It can't be helped — that many people in one place all trying to connect just doesn't work that well. When you get to the festival (or before), check out the map. Pick a "meetup location". This meetup location can be used for a variety of things. Most importantly, it provides a central location for you and your friends to meet if you get split up. If you're feeling tired, it can be your place to rest. Another friend who needs rest too might end up heading there and you can rest together!
10) Live In The Moment.
If you're like me, then you're a planner…but sometimes being spontaneous is when you have the best times and experiences of your life. My advice is to grab the EDC Las Vegas 2016 Festival Map when it becomes available and take a quick look to see where the stages, restrooms, stands, and other various things will be. When Insomniac graces us with the artist set times, see what times your top artists are playing, and make sure that you arrive at the appropriate times that work best for you. More than likely you won't make every set, so I would suggest picking some "must sees" for the weekend and going from there. Don't sweat the small stuff. If you're a planner and things don't go as planned, go with the flow. If you aren't a planner and you forgot something at the hotel (as long as it isn't critical), forget about it! You get three days of one of the best festivals that exists on the planet — three days of a magical, alternative reality with beautiful people and your favorite music. Each day will be unique and special, so live it to the fullest and experience everything that EDC has to offer!
Check out the epic #EDC20 lineup, or other EDC Las Vegas and #EDC20 related content, click HERE!
Stay tuned for 20 Tips For #EDC20 (Part 2)!
Click HERE to check out Part 2 (Tips 11-20).
---
Connect with EDC Las Vegas 2016 on Social Media: