If you're looking for a high energy event, you should have definitely been at We Are NRG 2016!
My crew and I arrived shortly after gates had opened for We Are NRG 2016, driving up to the NOS Events Center like we have for many other Insomniac Events over the past few years. Fifteen dollars was the fee to park each day, we found a spot and started gathering our things for the evening. I headed over to the small trailer that had a sign reading "Will Call" to pick up my ticket for the event. As the attendant began looking up my name to check for my ticket, I took note of the variety of kandi she had on her arm. It is definitely something that is cool to see those who are working these events also getting into the spirit. I asked her about it and she told me they were having a contest between the will call attendants to see who could get the most kandi. Of course I gave her a piece of mine to help her cause and turned around to get into the entrance line.
Security was a breeze and we had our tickets scanned in a matter of minutes. The line experience for me has never been overly complicated at Insomniac Events. Upon entering the venue we saw a four pillared tower straight ahead and a water station to the right of the warehouse entrance. The pillared tower had alternating lights on top, creating colorful hues for great pictures and an easy to see meetup spot. Further past the entrance to the stage there were a couple of carnival games set up to our left, two food trucks to our right, and a bar straight ahead. It seems to be a fixture at the NOS Events Center for their bars to be "Cash Only", but at least there are ATMs provided close by. It didn't take long for everyone to fill up on water, use the bathroom, and buy a drink before we headed inside to enjoy the music.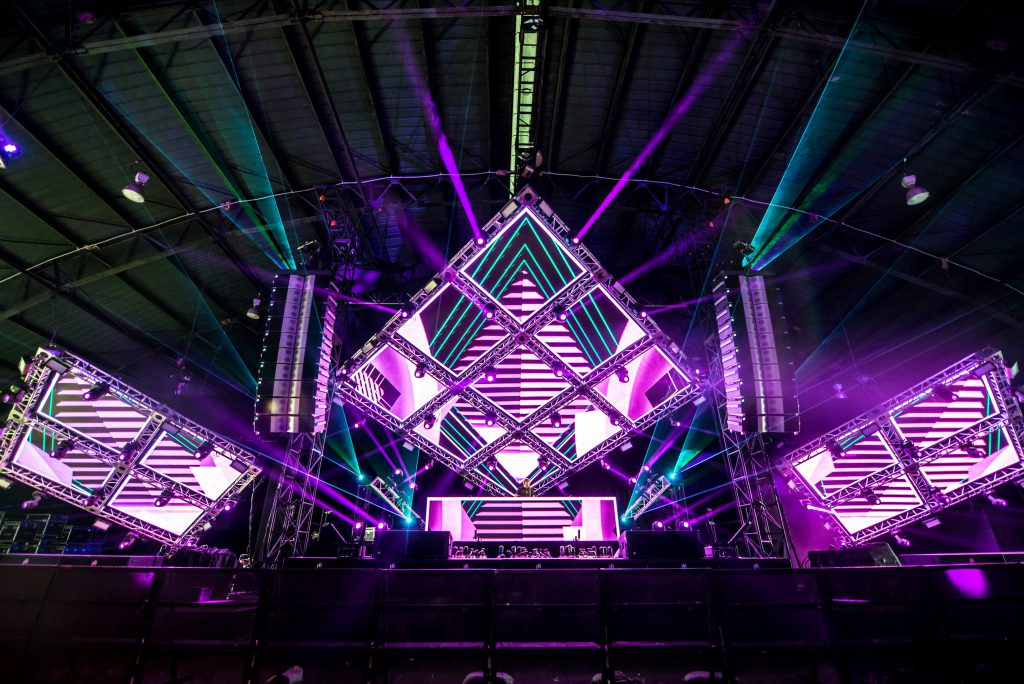 Three rhombus/diamond shapes separated out the screens behind the DJ booth, while high above us the trusses formed diamonds. I had never seen No Mana or Throttle play before, but both of their sets were great. They are both young DJs that show promise and were great lead-ins for Pierce Fulton. His set, as always, brought the feels and dance moves to the audience. The whole crowd was moving as the sets continued throughout the night. Instead of posting up at one spot, I spent some time wandering through the crowd and bonding with various attendees. I met a friend named Maria and her boyfriend Billy shortly before W&W started. During our chat, we connected with each other in that we were both from San Diego and loved Marshmello. After that, I met another raver named Travis who introduced me to his whole crew. They all were from LA area and I had a blast grooving out with them for a bit. As W&W began their mix of Adele's "Hello" (which can only be appropriately described as a rager), the crowd went wild. The duo played a great set, and was definitely a highlight of my evening.
The final DJ of the night, Ummet Ozcan, took the stage and continued the rise of energy. Positive vibes and the amount of "NRG" that was going on left us in disbelief that the event would eventually be ending. Streamers and confetti exploded everywhere and the lasers and lights were overwhelming in the best way. As the first night ended, I was happy with the evening but excited for what was to come on day two. We walked to our cars and headed back to rest our legs for the next night.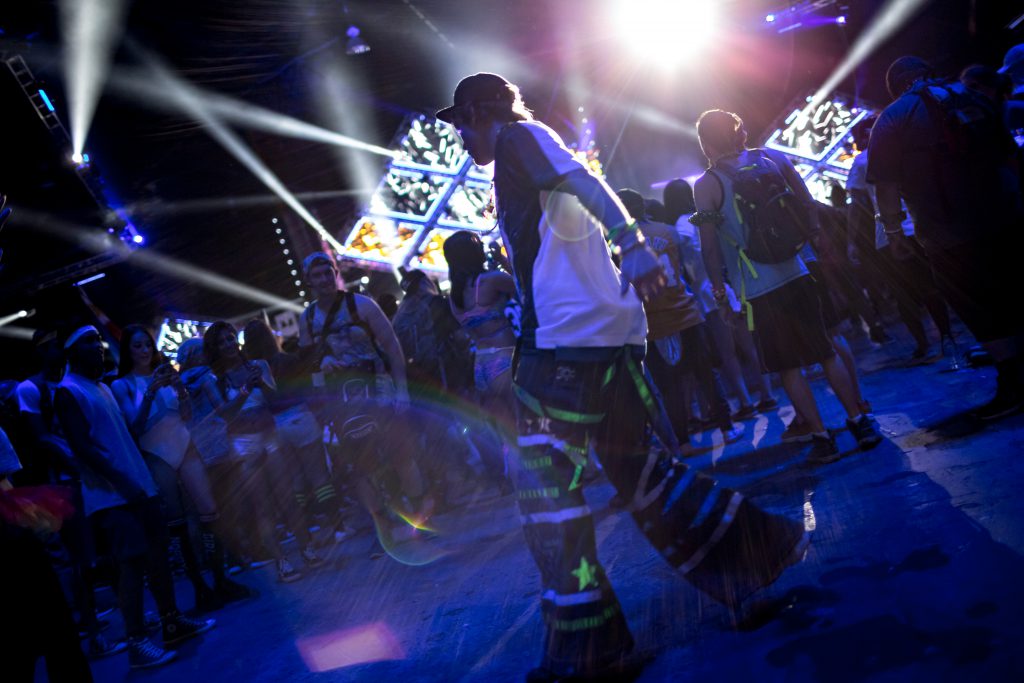 The second night was stocked full of bass, trap, and house music. My group arrived around the same time as we had the day before, still running off the energy we experienced on day one. I had never seen CID play before, so I was very excited for his set which did not disappoint. Another artist that I had never seen before either was Matroda, although it didn't take me long to see that he really knew how to throw down as well! When Dr. Fresch began I felt that it was a good time to find some old friends of mine. I met up with Breanna, a girl that I had met during my Crush Experience a few months ago near the front. Considering the size of the venue, I tried to get a feel for how packed it was. We Are NRG was definitely sold out but never felt overly crowded. You could easily move along the line to get to the side of the stage — an important note I took to myself considering I would be interviewing Chocolate Puma later that night after their set. The interview took place right after they played an amazing house set including their latest collaboration with Oliver Heldens, "Space Sheep."
After I rejoined my group I met a new friend, Evan, who had actually come to the event alone. None of his friends wanted to go but he didn't want to miss out on the energy either. He was rocking an Ephwurd shirt, who's set and production quality that night made me never want to leave the event. However all good things must come to an end, and as Laidback Luke and GTA brought us into the early hours of the morning, it was time to head home.
The whole event had us moving from the time we arrived till the last song on both days. The play on words seemed extremely fitting; we arrived ready, raged with all our energy, and left to restore our batteries until the next event.
---
Connect with We Are NRG 2016 and Insomniac Events on Social Media: