Prior to Phoenix Lights Festival this past April, I was given the opportunity to chat with Bakermat. Loving the music he produces I agreed immediately to chat with him at the fest. Fast forward to the day of the interview, as I approached there were a number of tents and a fence separating the artist area from the venue. Lodewijk Fluttert (Bakermat) was just finishing up with the interviewer before me as I arrived. I was able to chat with his manager in the meantime, learning about the small break they would have after the Phoenix Lights Festival and what the tour had been like so far. After his manager gave a brief introduction, Lodewijk shook my hand as we began. He seemed cool and collected considering his set would begin in 20 minutes. Bakermat's energy was calming and any nervousness I had dissipated with his very down to earth personality.
---
How would you describe your hometown?
It's a miraculous city full of canals and great people, great food, great drinks. Shitty weather. But I'll take that for granted because of the charm, you know its Amsterdam. It has a certain charm to it. And I miss it constantly when I'm on tour.
Many times the roughest travel is over the holidays. How do you manage your time and sleep schedule?
You have to be cool with not sleeping a lot and flying a lot. That's the worst part of the job but I can't complain about that because it's worth it. I'm in Phoenix, Arizona right now, I've never been here. I'm happy to be here! It's all worth it. How I deal with it? I have a lot of shows on my laptop.
What kinds of shows?
I'm a big fan of the office and a big fan of stand-up comedy. Louis C.K. and Ricky Gervais. I have to say, I don't want to sound obnoxious but I do think the U.K. version is better but the U.S. version is really good as well and I love it. There's nothing wrong with The Office West, but the U.K. version is just sublime – like I could watch that like five times in a row and it doesn't bore me.
How would you classify your music specifically?
Fusion, melodic house
What were some of your early influences? You were part-time DJing while attending university?
I was just doing it for fun in a student bar. I was not serious at all. I was mostly drunk and it was not very good mixing, but it was for fun. My last semester I took the whole semester off, like I cancelled all the courses because I thought, like, is this it? Is this all I'm going to do, have this psychology major and that's it? Then I started doing standup comedy, I made a movie, I took photos and I made a song and that song became a hit in Europe. So that's crazy and then suddenly I had a musical career. Very random.
Will you ever go back and finish your degree?
It's still on pause though, I can catch up on it, but I don't think I will.
Who were some of your early influences, what other DJs did you listen to?
Early influences, well when I was sixteen I was already into dance music but I come from a very small town in Holland, where people think that dance music is stupid but I just didn't care what people thought. I really loved it and actually I started watching videos from Laidback Luke, David Guetta when he was in his early days. They were my examples, like I wanted that lifestyle. And also the boys like Ingrosso. They were all doing that, at that moment when it was not hot – like 2007 or something like that, back then they were just doing house music in Europe. I followed them, I watched every video, every video and I loved it so much. That was my dream and then I forgot about the dream because I went to college and you do your thing and your parents say, study. And I forgot about it for a couple of years and then I picked it up again and I'm very thankful for that.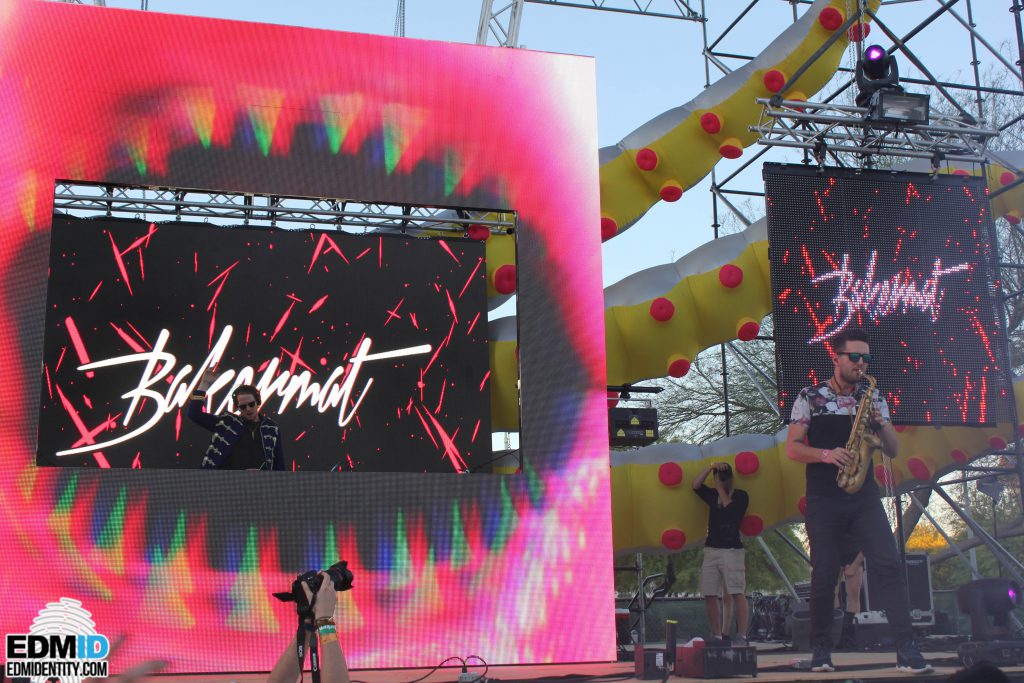 Since this is your first time in Phoenix, what do you think about festivals like Phoenix Lights – they were a single stage festival and now they've gone to two days, two stages and will continue to grow, how do you view this as a part of the EDM scene development?
I'm very happy and thankful actually for people like Tiesto and David Guetta to bring EDM to the United States. They brought dance music to the United States and its big now and people are actually exploring more genres in EDM or dance music, which is a great thing! So I'm very happy with the development here and especially this year, you see that people are more interested in sub-genres like deep house and tropical.
Who would you say are your influences today? Who do you listen to or who do you like to emulate when you're DJing or mixing?
Well not particularly dance acts. I'm living a bit in the past here. I love Moby's old stuff and Fat Boy Slim's old stuff. I mean those albums are still for me a guideline, like I want to make that kind of dance music. And I listen to Chopin, classical music a lot, Schubert, and all kinds of stuff. Rock music, even metal and shit, all kinds of genres.
Out of the other genres what is your favorite? Or is it just that, a broad range of everything?
No, it's old uncomplicated jazz music. Like the old stuff, like just in a bar, easy, it's not complicated. I actually went to New Orleans on this tour and I had the best time ever because I was in an actual bar, like an old bar, smoking, having whiskey, looking at some dudes playing jazz – killing it. Like 20's jazz, that's my dream, I love that, I love the romance of that.
Do you play any instruments?
I used to play saxophone. Piano and yeah that's it… and the computer.
You played Tomorrowland last year and you're returning again this year. Do you prefer smaller festivals or do you prefer ones that are larger?
Well Tomorrowland is a special thing because I have my own stage. I invite all my friends that I meet on tour and DJ's that I really like and that I think are inspiring. So that's my home, that stage. So that's obviously a really good festival for me. But I do love these kinds of festivals, it's sunny it's good, it's perfect.
Do you ever see yourself playing EDC Las Vegas this year?
I hand-pick all my bookings. It depends on certain things like, the things I like most are really intimate kinds of things. The contact with the crowd, because that's the most important thing – that's why I enjoy this. It's going to be hard for me to play at a very big crowd. I just like to look people in the eye and celebrate with them. And share my passion with them – yeah, party together like that's the most important thing to me.
Will we be seeing any collaborations from you this year?
No.
So all originals – all yours?
Yes.
When you have time off, what do you like to do to unwind or chill out?
This might sound really nerdy, but I actually like taking a hike and listening to classical music. And, what I really love is drinking wine and eating great Italian food and having smokes with my friends.
---
Bakermat was very laid back and the interview was over faster than I even realized. He asked if I was sure that those were all my questions, stood up and shook my hand again. His story was incredible, going from a college student mixing in his spare time to having his own stage at Tomorrowland and hand picking festivals to attend. I could tell he was thankful for everything that had happened and loved what he did because of the community and the people who make it possible.
It was a humbling experience to meet a DJ up close that had such a connection to not just the music but the audience he was performing for. Here was a man who at sixteen had these role models in music, had a dream of doing it one day and forgot about that dream for a while. Yet today has made that dream into a reality. It was a great reminder that it's OK to put a dream on hold while you pursue other things, test out what paths might work for you, and you never know if it might lead you back to your original goal. As Bakermat took his place behind the decks in the booth at the Invasion stage I saw him looking down at the crowd and he smiled. Here at the Phoenix Lights Festival, he was at home with the music and connected to all of us.
---
Follow Bakermat on Social Media:
Facebook | Twitter | Instagram | SoundCloud