Gareth Emery's newest album '100 Reasons to Live' was released yesterday, April 1st, and it is already following the success of previous studio albums, 'Northern Lights' and 'Drive'. The album, which is released on Garuda Music/Armada hit #1 on iTunes Dance Album chart in the US and at least 17 other countries. '100 Reasons to Live' includes collaborations with fellow electronic artists Ben Gold and Ashley Wallbridge, as well a range of vocals from Lawson, vocal trance favorite, Christina Novelli and recent X Factor USA winners Alex and Sierra.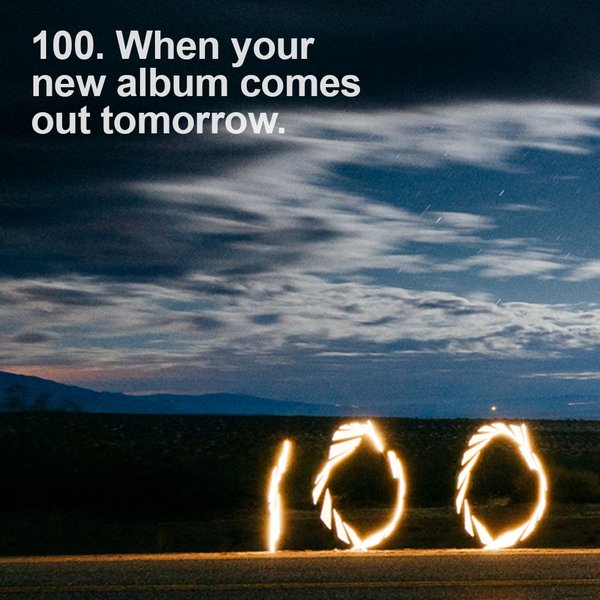 Stream Gareth Emery – 100 Reasons to Live on Spotify:
Purchase or stream '100 Reasons to Live' HERE!
To top off his heavy album campaign, Emery posted on Facebook about the inspiration behind the title reason behind his photo-fueled countdown:
"Strange but true fact: about two years ago, I was f**king miserable.

I didn't have any reason to be. I was reasonably successful, in a job that I loved, was married to a beautiful wife, lived in an amazing house, had no recent major tragedy in my life, or any of the other things that make people unhappy, yet I was pretty much constantly annoyed.

Why? Because a festival I wanted to play wouldn't book me. Because I wanted to stay in a suite, but the promoter would only book me a standard room. Because my brand-new Lamborghini was going to take nine months to be delivered from the factory, when I wanted it in six.

You probably hate me reading that. I don't blame you. Reading this back, I hate me, too.

However, there is a depressing trend that I have noticed amongst famous + successful DJs: just how many of them are really fucking unhappy. They're traveling the world, living a lifelong dream that took decades of work to accomplish, and yet they're constantly pissed because they were given Moet instead of Cristal, or because one person on social media said their new record sucked. Boo f**king hoo. Bring out the violins.

Short story long, that was how 100 Reasons To Live got its name.

I saw myself turning into an archetypal miserable DJ and decided that was not the person I wanted to be.

I figured out that happiness and a love of life doesn't come from career success or material wealth; in fact, some of the happiest people I knew were, on paper, some of the less successful.

Now, I'm not saying 'don't make money' or 'don't be successful.' I happen to be a fan of both. But I learned that those things alone don't make me happy.

What does make me happy? Many things. Sunshine. Walking outside. Beers at the pub with friends. Taking my daughter to music class. Lazy Sundays. Sunsets. Swimming.

Turning off my phone, logging out of emails, getting off the social media hamster wheel and engaging the world around me–something which I'd totally lost the ability to do.

In short, I rediscovered what made me happy, or in other words, figured out my 'Reasons To Live', and then stuck '100' in the front for no other reason than it sounded better."
Along with the new release, fans can look forward to Emery embarking on a special "100 Reasons to Live" North American mini-tour throughout the month. Check HERE for a list of tour dates.
---
Follow Gareth Emery on Social Media:
Website | Facebook | Soundcloud | Instagram