Beyond Wonderland SoCal 2016 is coming to San Manuel next month to bring attendees to a state of happiness once again. Whether you are planning on camping or staying at a hotel, there will be plenty of things to do and some serious amazing music to dance to all night long! This year will include stage takeovers by the blossoming Insomniac brand, Dreamstate, and a Bassrush stage that will legitimately leave you looking for you face after all is said and done.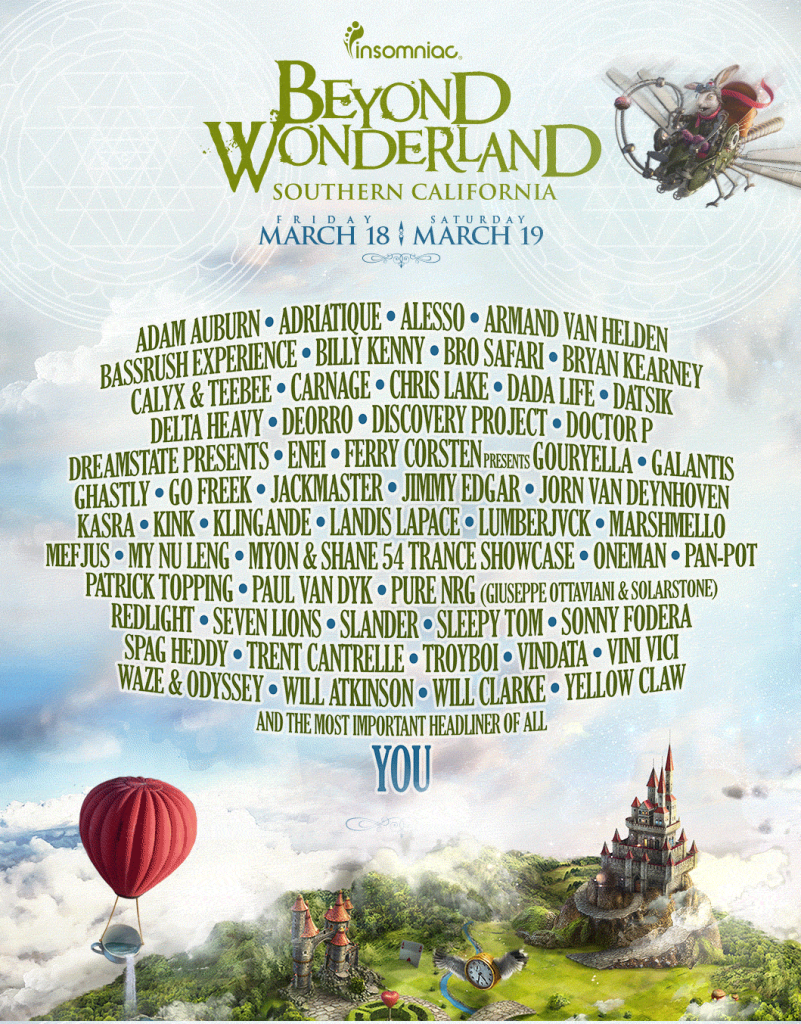 There have been some past performances at Beyond Wonderland that I would truly consider to be some of the most epic sets I've seen. While the event has moved away from the NOS Events Center and towards the mountainous San Manuel, the quality music persists this event. Based on the lineup above, here are my top five must see artists at Beyond Wonderland SoCal 2016!
Grant's Beyond Wonderland SoCal 2016 Top 5 Must See Artists!
---
Armand Van Helden
If you don't know who Armand Van Helden is then I'm not sure if you've been in this scene long enough. You probably have heard his music through one of his side projects, Duck Sauce. He's been DJing since the age of 15 and probably longer than many of the people who are listening to electronic music have been alive. He's well-known for his track's "My My My", "Bonkers" and "Barbara Streisand". With a career spanning this long he is truly a legend in the scene. Don't miss him.
https://soundcloud.com/armandvanhelden/dizzee-rascal-armand-van
Ferry Corsten Presents Gouryella
As if Ferry Corsten alone isn't good enough, he has breathed life back into one of the most revered names in trance, "Gouryella". Originally consisting of Ferry and Tiesto, the project shifted into Ferry's complete control. While everyone who truly loves trance knows the tracks "Gouryella" and "Ligaya", the brand has come back around with the release of new track "Anahera". If you love trance, there is absolutely no reason to miss this set.
Will Atkinson
What can I say about Will Atkinson? He blew me away at Dreamstate and I've definitely fallen in love with this amazing trance producer. If you love trance then his beats will make you catch the feels and move your body at the same time. He has garnered massive support from some of the elite DJs in trance ranging from the likes of Armin van Buuren to Aly & Fila and everyone in between. Check out his latest teaser for track "Subconscious".
https://soundcloud.com/willatkinson/will-atkinson-tba-official-numb-the-pain-follow-up
Ghastly
Bitch you Ghastly. I'm not talking about the Pokemon though, this artist has been blowing up over the past year. Whether he's teaming up with Mija, Getter (suh), Brillz or anyone else from this rising bass/house influenced genre. A fan favorite among people who love OWSLA, his set is going to not only be one of the best parts of the weekend but he'll hopefully have some surprises in store too!
Delta Heavy
If you love bass music then you better be at Delta Heavy's set! Signed to Andy C's RAM Records, they have been on a string of hot releases in 2015 reaching into this year. I personally love their unique tracks and "heavy" bass sets and enjoyed them immensely last year at Beyond SoCal 2015. Definitely don't sleep on this duo, and check out their latest track "Oscillator" which will be released on their album 'Paradise Lost' on March 18th…what a coincidence that just happens to be surrounding the event itself.
https://soundcloud.com/deltaheavy/oscillator