Spring is near and you know what that means – it's time for a bit of madness with Alice and her nemesis, the Queen of Hearts!
Beyond Wonderland SoCal 2016 is just through the looking-glass for the sixth annual installment. On the whimsical weekend of March 18th and 19th, Insomniac will bring back the imaginative world of Wonderland to the San Manuel Amphitheater & Grounds in San Bernardino, CA. This two-day music festival is truly a magical getaway on behalf of the animated superstructures, neon-lit architecture, camping under the stars, and performers roaming and interacting with attendees. In the heart of it all is the well-known mascot of Wonderland – a giant caterpillar who sits atop the main stage while curiously smoking hookah.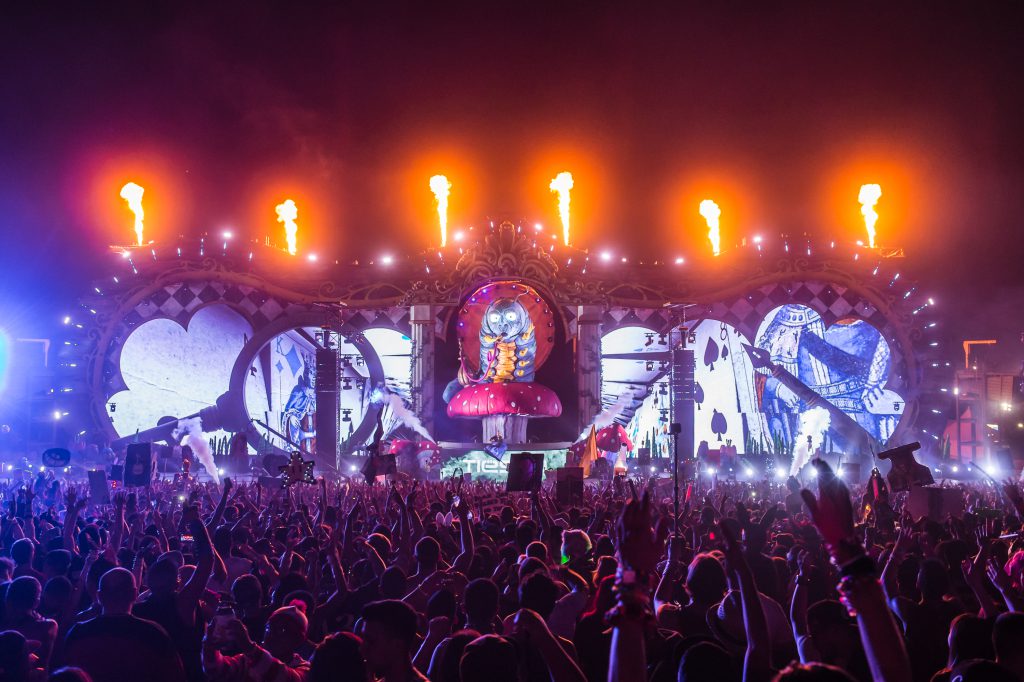 Insomniac Events will be providing a wide variety of musical performances tactfully divided into four stages this year: Queen's Domain, Mad Hatter's Castle, Cheshire Woods, and The Funk House. Multiple new headliners are enlisted with more than 15 making their Insomniac festival debut. Dreamstate will host the trance spotlight over an outdoor stage on day one, while day two will experience an onslaught of heavier beats from Bassrush. Amidst the two genre takeovers is a lineup of new and familiar names across the weekend. Seventeen year-old Landis LaPace and UK's fresh Redlight bring quality house mixes to Cheshire Woods, while Slander and Alesso prevail at Queen's Domain, joined by Dada Life, Carnage, and Marshmello.
Beyond Wonderland SoCal 2016 Lineup: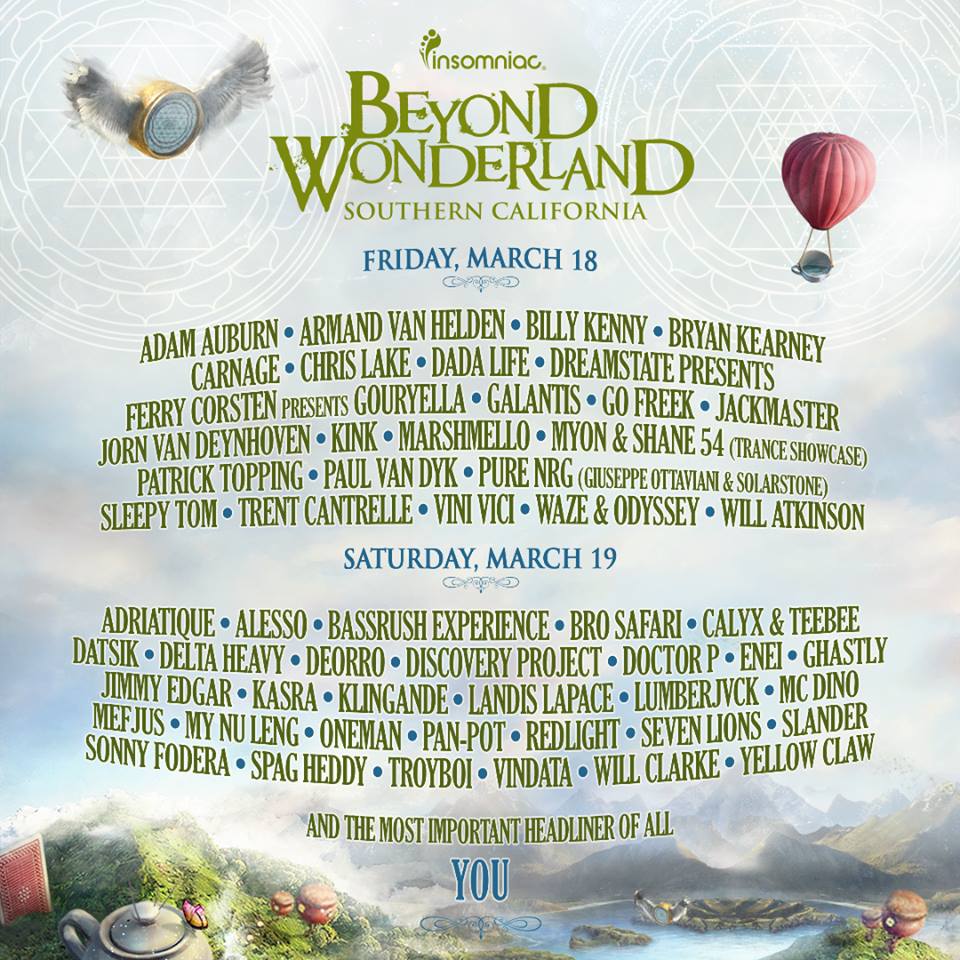 One of the most anticipated US debuts on the Dreamstate lineup is for the trance devotees. Ferry Corsten is making a return under his uplifting trance alias known as Gouryella and will be headlining. Ferry is historically known as a staple in the trance community, so the rebirth of this project is an exciting act for his fans. Additionally, psychedelic trance DJ and producers Vini Vici are headlining as well. The Israeli duo are most known for their epic track  'The Tribe' and newest hit remix 'Free Tibet'. If you attended any of the Dreamstate events, it's no secret that the 'Free Tibet' remix was one of the most talked about of the weekend. The stage will also play host to a special trance showcase from duo Myon & Shane 54 and more.
Bassrush will take over the following day with some of the best in drum & bass, trap, and dubstep. Bassheads are anticipating the Insomniac debut for Troyboi, Ghastly, Lumberjvck and more.
Beyond Wonderland SoCal 2016 Teaser:
Sleep under the stars with your friends alongside thousands of others at the designated campgrounds. Here you'll have the opportunity to continue the festivities with pre/after-parties with tent, RV, or car camping. The grounds will also include several other fun activities, such as morning yoga, arts and crafts, a silent disco, fishing, and a water park. Beyond also offers a premier VIP camping experience at an additional cost that includes fully furnished safari style tents with an air conditioned lounge area, memory foam mattresses, private showers and restrooms, snacks, cash bar, and more. Camping prices for the entire festival duration range from $125 to $1,599 depending on your desires. More information here.
GA 2-Day: $179 + Fees
GA Single-Day: $99 + Fees.
Weekend and single-day passes are for sale here.
---
Follow Beyond Wonderland SoCal 2016 on Social Media:
Official Website | Facebook | Twitter | Instagram