The dynamic duo Pegboard Nerds is back at it again to bring the madness with the announcement of their highly anticipated tour for 2016. They are ready to hit the road and drop some serious bass on their fans in an all new tour dubbed "Nerds By Nature" featuring GRABBITZ(on specific stops). The tour kicks off on March 24th in Vancouver and spreads though the United States and up to Ottawa. To get you pumped the Pegboard Nerds also just released the track "Heartbit" on Valentine's Day to get you prepped to go hard with them. We had a chat with the nerds about their upcoming tour and latest releases, check it out after the tour details below!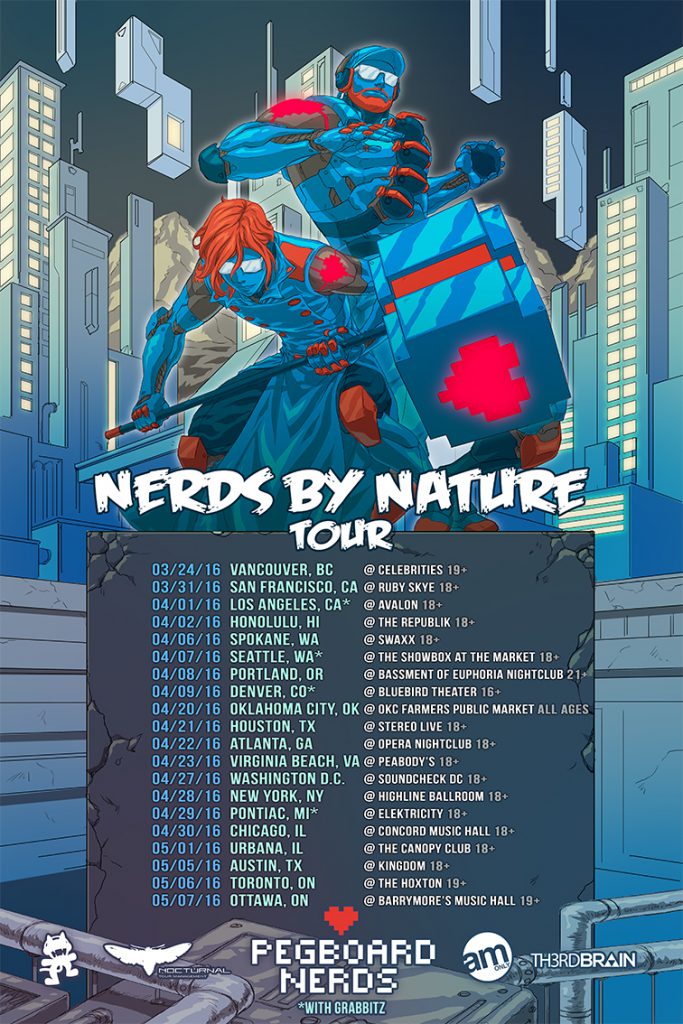 Get "Nerdy" with them on tour by purchasing tickets HERE.
---
What aspect of going on the "Nerds By Nature Tour" are you most excited about?
Getting to play all our new music out!
Which stop was the best show to play on your last tour?
We can't remember.
What is the "rowdiest" thing that has happened while on tour?
Too rowdy for this interview, haha.
Which track off the Pink Cloud EP has been your favorite?
They are all very special to us!
What was your inspiration behind the track and video for "Emoji"?
That it's okay to let your emotions show even if it's happiness, anger or sadness. Don't lock it all up and keep it inside. It's also a tongue-in-cheek poke at the way emoticons are playing such a big part in our "e-social" life in this day and age. In case that wasn't obvious.
What tracks are you most excited to play on the "Nerds By Nature Tour"?
Our new ones! We have too much unreleased music right now. <3
Who are some of your favorite artists you've collaborated with recently?
The Grabbitz collaboration was fun to do, because we could be in the session together and it really felt like a dynamic relationship where the track grew because of the contributions from everyone. Also getting in the studio with NGHTMRE and the Krewella girls is always awesome!
What are you currently working on right now in the studio and what can we expect to see from you in the near future?
New songs, and new songs!
---
Follow the Pegboard Nerds on Social Media:
Website | Facebook | Twitter | SoundCloud