San Diego always has something going on for New Years, from the bars and clubs to house parties and hotel parties. Infinity NYE 2016 had a plan to merge them all together and create a one stop venue to kick off the new years. The masterminds at Eventvibe rented out the entire Town and Country Resort & Convention Center to maximize the space available for the guests attending.
Pre-Event
If you have seen my recent articles, I've been pretty busy covering the other San Diego event OMFG! 2016 at the Valley View Casino Center. Day One and Day Two recaps here. So after a few hours of rest, I made my way to Mission Valley to meet up with the people getting the room for the night. When I left (5:15pm), they were in line to check in. When I arrived (6:15pm), they were still in line to check in. They still weren't even close to being inside the building to check in. There was an estimated three hour wait time from where we were standing, and the line went quite a ways back. There were people in line that likely wouldn't be getting to their room until after midnight. Hours later, we get our room keys and our hotel location to make our way there. The rooms were quaint but had all the accommodations needed. We didn't bother re-parking our cars because we knew the entire venue was full. So we walked all of our bags to our room and pretty much had time for one drink as a group before needing to rush down to the venue.
Getting In to Infinity
From the hotel to the venue was really not that far, relatively speaking. The resort and convention center are adjacent to each other. From our room it was approximately a 5-10 minute walk, so we arrived at the venue quickly. Hotel guests had a separate line that allowed for re-entry if desired. As I personally wasn't a guest, I made my way over to the GA line entrance. The General Admittance line was quite long, but moved pretty quickly. There were also restrooms available partway through the line, just in case. Infinity NYE 2016 had many of these little conveniences through out that showed good foresight for the guests' experience. Just as it was starting to get chilly, the line was already through.
After the standard ID check, we were inside the building. Coat check was available for $5 before you go through the security line. There was a secondary ID check inside, then a security pat down comparable to most other large events in San Diego. After the ticket scan, we received our wristbands and headed inside.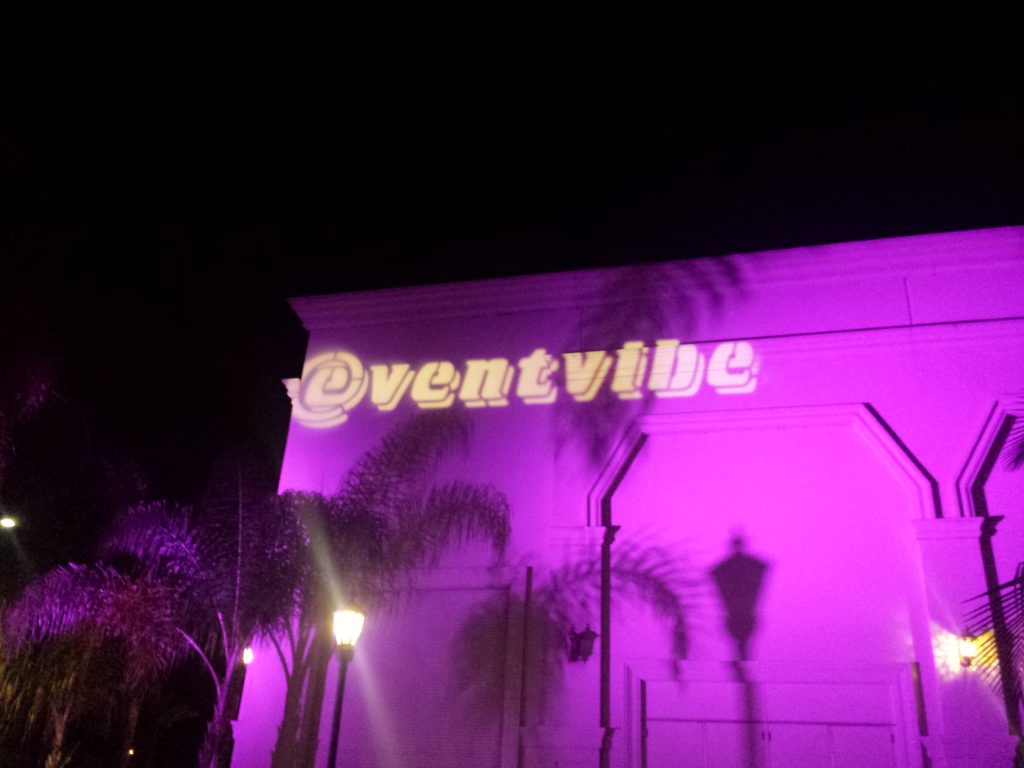 First Walkthrough of Infinity NYE 2016
The "entrance" ballroom area had a quite a few tables and chairs in case you had wanted to sit down or talk to somebody without having to yell over the music. After an immediate right turn, there was a very small dark lobby that had small signs that pointed out which way was each stage. We had been told to all meet at the Infinite Stage right away. Unfortunately, the stages were such a maze to navigate at first. We found ourselves right in the center of what was the Deep Space Stage. Alex B was on the decks and welcomed us in. As we realized how big this stage was, we got really excited as to what the rest had to offer. We walked through a set of doors and was now in a massive lobby area with multiple bars, another lobby staging area, etc. There was a mass of people walking through these two hallways. We followed the crowd and out of the corner of my eye, I was able to catch a glimpse of the Galactic Bass Stage. As we made our way through the mob, I could tell everyone was very excited to see Michael Woods for the countdown to 2016. We entered into yet another lobby. 2016 balloons and gold tinsel was decorum everywhere. We made our way through the massive crowd into the very large Infinite Stage. Once our group had converged together, I made a quick look for the Outer Space Stage. Outside, there was yet another crowd for Casa Nuova. After him, Strmtrooper was closing out the night. He is pictured below.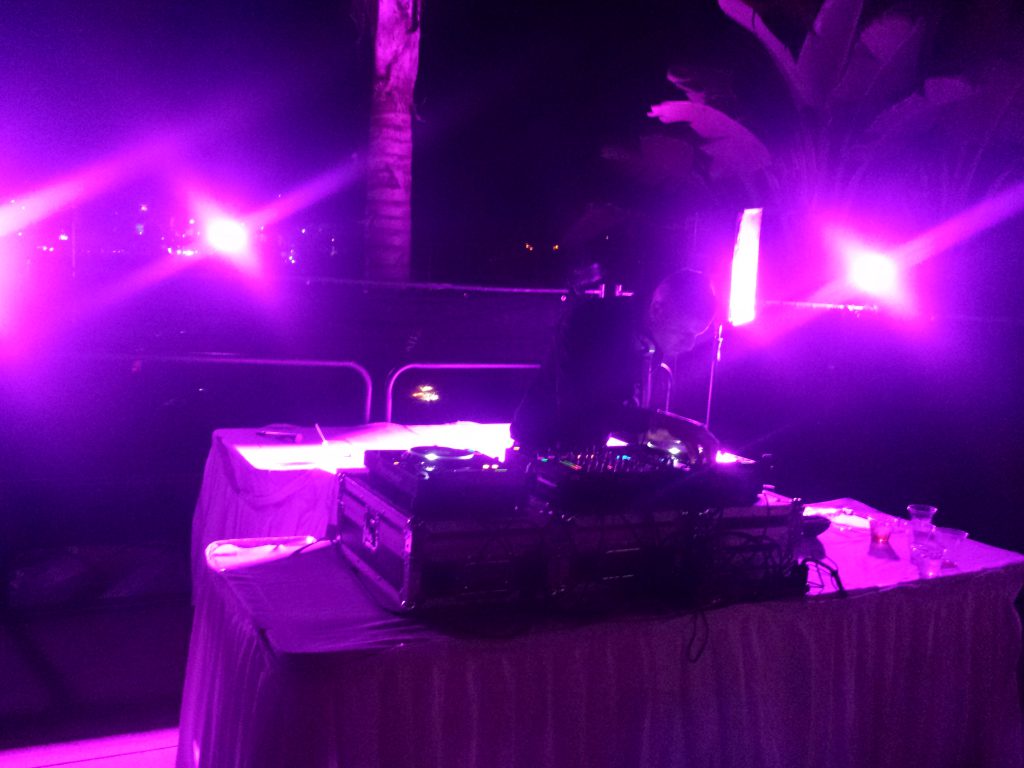 Countdown to 2016!
Intraphonic was finishing up the last 20 minutes of his set once we all got settled into the Infinite Stage. He was throwing it down pretty well and definitely set the stage for Michael Woods.  I spent a bit of time catching up with old friends, new friends and getting excited for the countdown. Michael Woods took the stage when a very large, "5 minutes" appeared on the screens much to the audience's delight. Track after track just flowed on by as countdowns continued. We were all dancing, jumping around, and loosing our minds. Michael gets onto the mic and starts the timer. "30 seconds!" Everyone in the crowd is on their feet! "15 seconds!" Every starts screaming. "5…4…3…2..1..Happy New Year!" The cheers go on, people are hugging, first kisses of the new year, and nothing but the best vibes.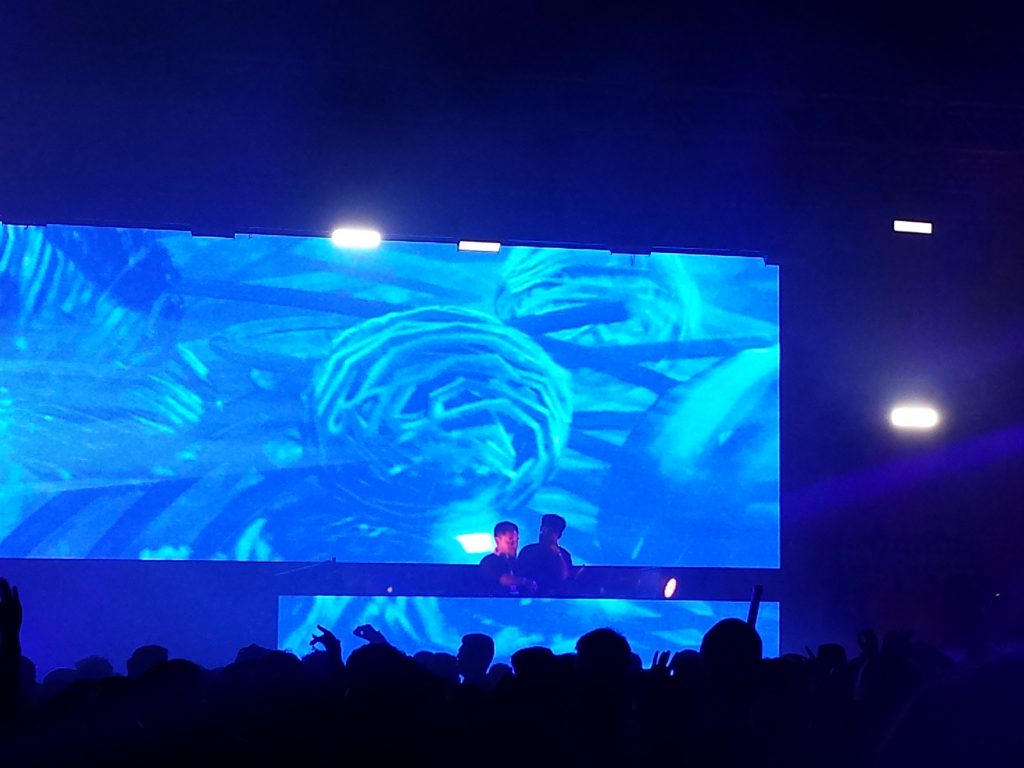 Infinity NYE 2016 Post-Countdown
Once we came to terms with the euphoric atmosphere of the new year, I had a friend of mine join me in exploring the other stages. Others were also in an exploring mood, so we all meandered through the labyrinth of the venue. Even with maps, it was still quite the adventure going from stage to stage. There were many hallways that didn't go to another room, staircases that weren't utilized, and areas that were completely open except for a single sign pointing to the general direction of other stages. After consulting one of the maps, I was able to make my way into the Galactic Bass Stage finally. Crizzly was up on stage, playing his remix to Chain Hang Low. It was a great track to walk into, because the drop for that track is amazing and very heavy. After that song, we made our way to the Deep Space Stage again. We were a bit early for Silent Riot, so we made our way back to the Infinite Stage after grabbing some drinks. I went out to the Deep Space stage to show some support, take some pictures and get some fresh air at the outdoor area. After catching my breath, I made my way inside and put on my gloves. And prepared to finish out my night here at the infinite stage. Above and Beyond was going to be on at 1am and I knew that their set was one not to be missed.
Above and Beyond at Infinity NYE 2016
The legendary Above and Beyond was here in San Diego, my home town. They must spared no expense getting to San Diego because they had also played their set at Decadence AZ from 10:00 to 11:30pm. Seeing the crowd so excited was so inspiring. As many will tell, I am not a big fan of trance; as I prefer the much bassier genres. Of  course, I have heard of these guys and I have nothing but the utmost respect for them and their abilities. I also know that so many of my friends are fanatics for them and I knew that this meant the world for them. I knew that it was also perfect for me to be there. As one of the few people among my group that enjoys the front, I was able to take lots of photos from up at the front as well.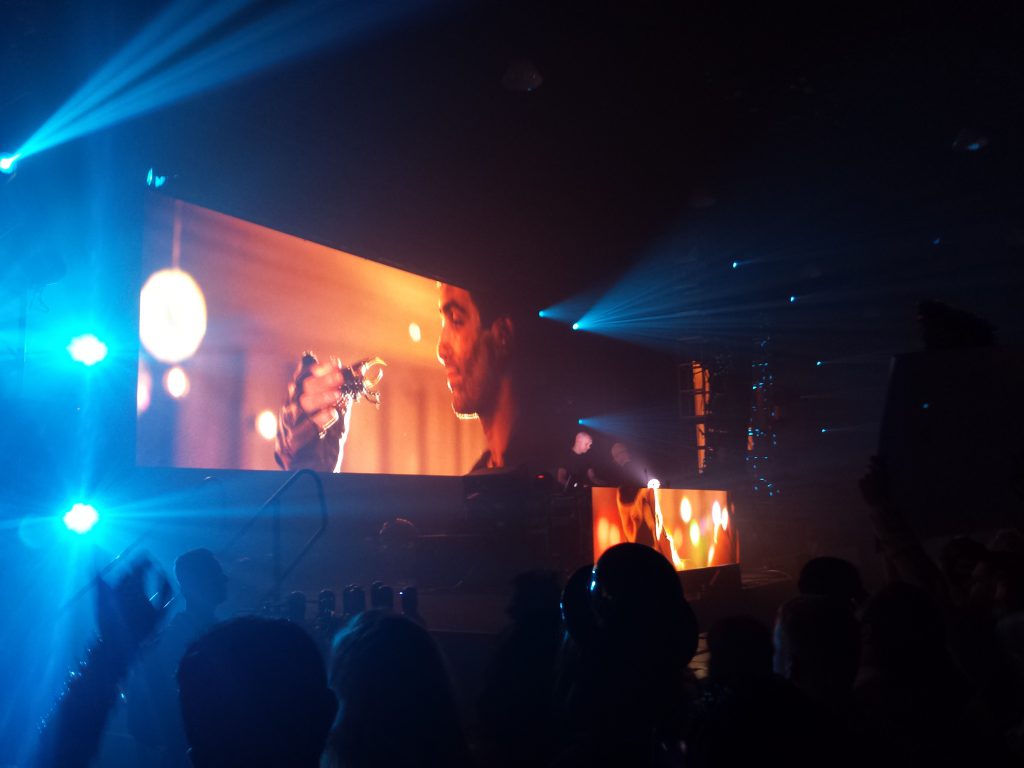 The familiar trance beats began to echo through the room, and the crowd was loving it. I was rejuvenated by the crowd reaction and began shouting the lyrics in unison. Just then, someone tapped me on my shoulder and asked for a light show. I obliged obviously, despite not being all to familiar with the track playing. For those familiar with gloves and lightshows, you know know most events discourage or forbid their usage at most events. At Infinity NYE 2016, that is not the case. Gloves, poi, orbits, and all LED flow arts are permitted! So I sat the person down near the back of the venue and I began my show. As I began to perform, another couple joined the show. The longer I performed, more people joined the crowd. This group just kept growing and before I knew it, there were a dozen people that I was melting face for. It was a magical moment for me. Just as I finished that set, Grant said that he was going to record my set for the next song. As soon as he began to record, he said that this was Above and Beyond's most popular song, so no pressure. It was 'Sun and Moon'. So I just let the lyrics and the tones just carry my lightshow across. People just marveled at what was created before their eyes to their favorite song. Afterwards, I thanked everyone that sat with me and excused myself to take a break. Just as I sat down, they dropped an amazing remix to 'Sweet Dreams (Are Made of This)'. This immediately boosted my view of the set, as I really do love this track and every cover that I come across.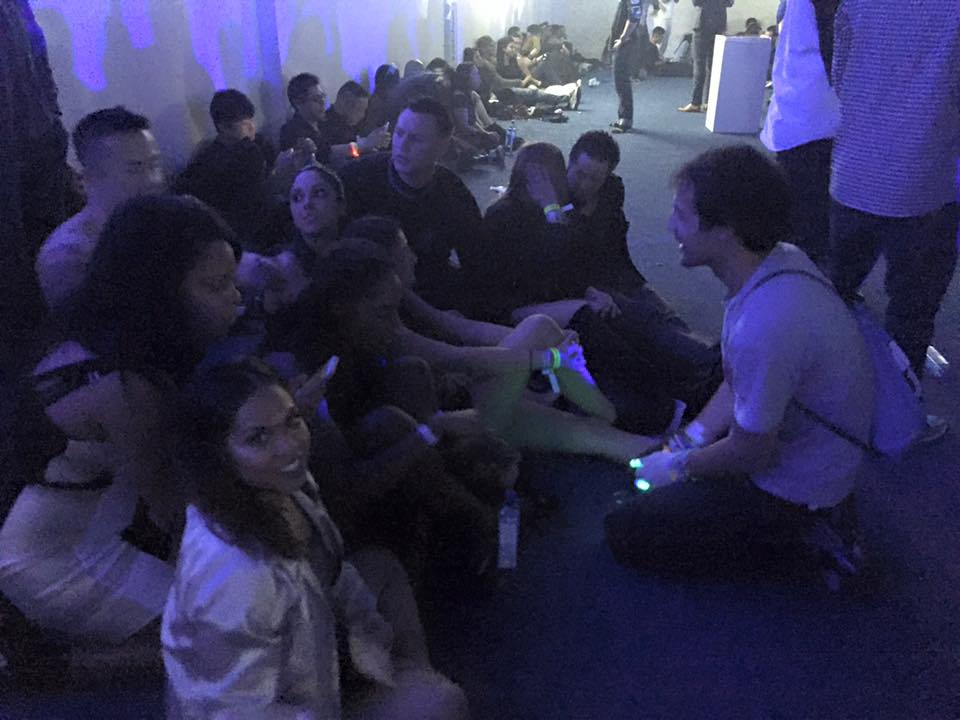 I told another friend that I was going to the front and invited her to join me. She agreed, obviously. As we made our way through the crowd, you could hear every person; singing along to the words of every track, cheering, crying, and loving the set all around. The crowd was massive, but were also so polite whenever we asked to pass on by. There was enough space for everyone that nobody was smashed together. Once we got to the front, they were playing 'Blue Sky Action'. The music got real low, and the DJ's got in front of the decks. Their manager had just chosen someone for their acclaimed "Push the Button" segment of their show. The couple had a sign of a finger pushing a big red button that they had been holding up the entire night. They hugged and danced up on stage, and kicked off the next track for the gigantic crowd. As we made our way back, our group was still just marveling at the set. The songs just seamlessly took us on a journey and before I knew it, it was almost two-thirty. There was only a half hour left. I had no idea where the time went. So I rushed around, grabbing as many photos as possible, visiting a few of the other stages and getting in touch with everyone that was still there.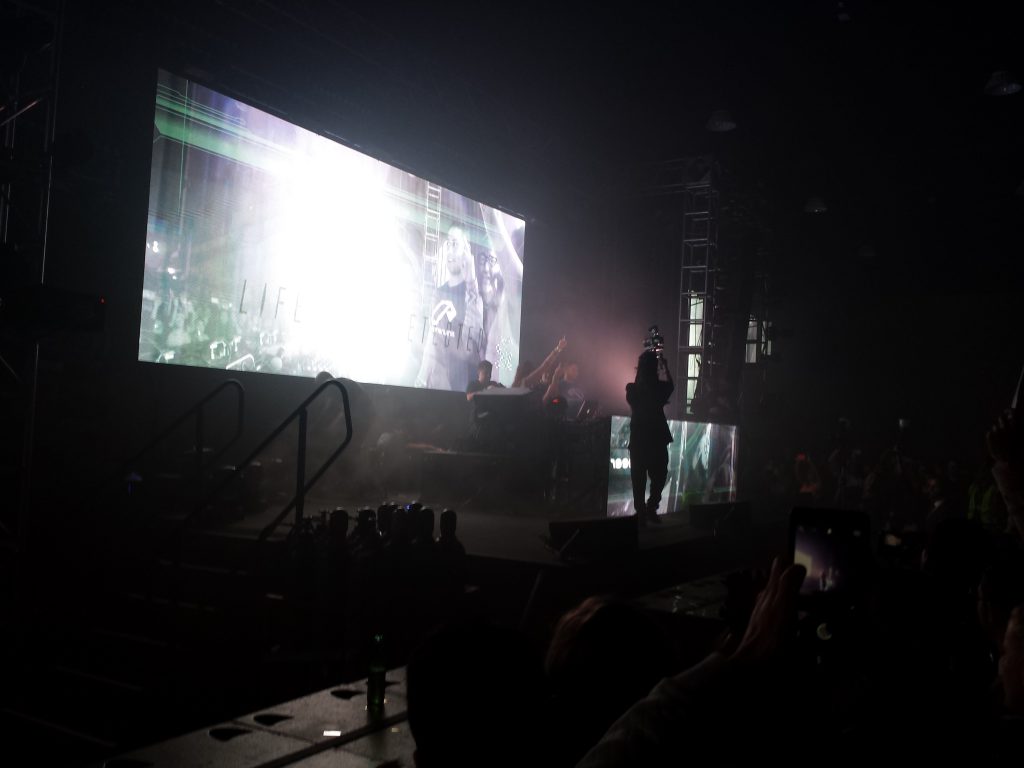 We all stayed until Infinity NYE 2016 was complete. The house lights were on, and we were all being escorted out of the building. It seemed over just like that; a sudden realization that Infinity NYE 2016 was over. There are not many sets that you just blink and realize an event is over. It was an outstanding experience after all. Thank you to Eventvibe and Luded inc. for this opportunity to let EDM Identity to be a part of all this and starting the new years off right!