On February 27th, the world renowned event concept is bringing their larger than life production to the impressive Royal Highland Centre. None other than Swedish superstar Steve Angello is set to headline the event with support from an all star line-up during the night.
Within a three year timeframe, the Ibiza promotion has touched down in – and laid waste to – arenas and venues in Amsterdam, Hong Kong, Santiago, Manchester, Antwerp and Istanbul. The Ibiza event marks the first stop of the DLDK world tour in 2016, the second stop will be Amsterdam. Steve Angello is already set to
headline the Amsterdam event
. The date for the third stop on the world tour; Mumbai, India will be announced soon. Expect cutting-edge productions, breathtaking decor and some of those trademark DLDK
gadgets and surprises. Guests are invited to bring a flag to represent their country to help build a colorful, global crowd tapestry and to bring the party's 'one big family' vibe to life. #DLDKSCOTLAND #DLDK2016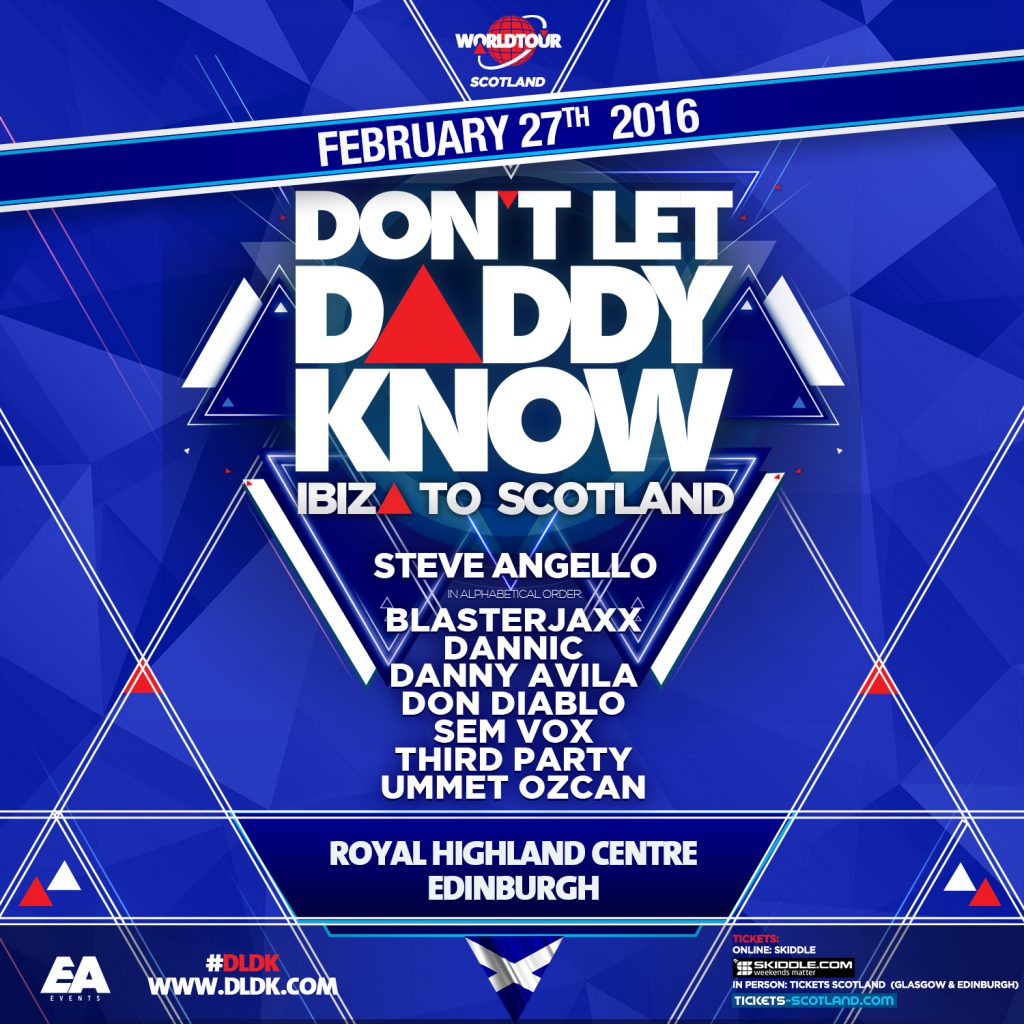 Not sure what to expect from just the poster? Check out DLDK Amsterdam's 2015 Aftermovie!
Ticket info for DLDK 2016:
We advise only buy tickets from 
www.dldk.com
All unofficial sources could be selling fake tickets & will not guarantee you entry. If you already did, we can't guarantee this is a real ticket. Since every sold (e)-ticket needs to be scanned at the entrance, bring a printed version of it with you. Access will be only granted with a valid, printed E-ticket. Confirmation mails or anything else do not function as an entrance ticket.
Find out more about Don't Let Daddy Know on Social Media:
Website || Facebook || Twitter || Instagram
So if you find yourself in Scotland in February, DON'T LET DADDY KNOW!