Long story short: What a way to kick off a three day event! Day One of OMFG! NYE 2016 has had one of the hardest lineups I have ever gone to (on a Tuesday no less)! Headlining with Borgore and a recently added Snails, this lineup was what I considered the bassiest lineup among the three days. Looking to get a sample of what LED events are about, was curious about your pending experience over the next two days, or just wanted to revisit the experiences of Day One once again? Allow me to share my experience and my gallery of photos throughout the event to get you excited for finishing out your 2015 in style!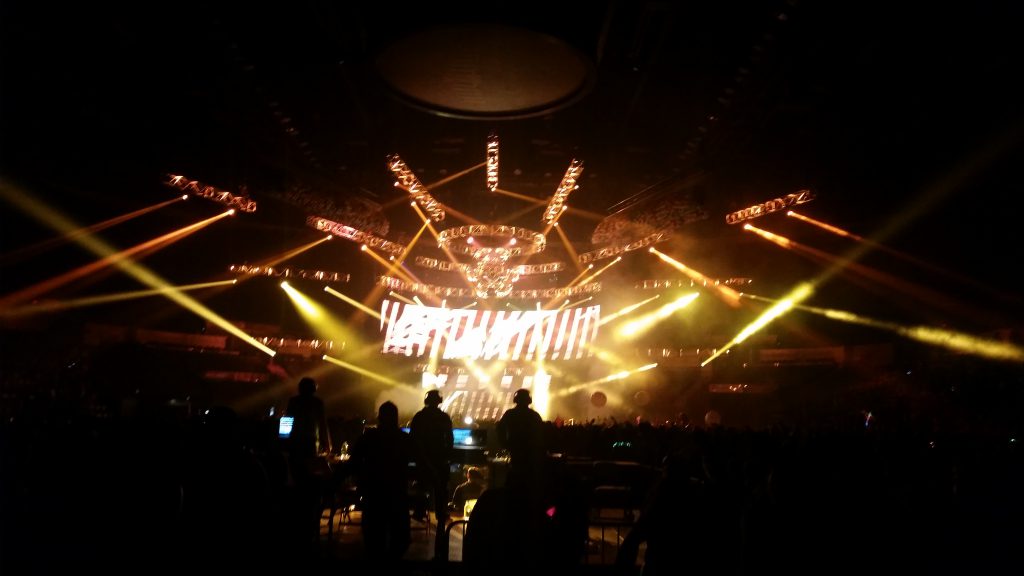 Pre-Event
After meeting up with EDMID staff Grant and Angel at the venue, we spent some time coordinating our entrance and game plan. My friend Morgan joined me at this event, as it was her second event ever and wasn't comfortable going alone. So after we all had our tickets, we entered with very little delay. The staff and security has greatly improved both in numbers and efficiency. Compared to prior LED events 20+ minute wait times, we were though in less than 10 minutes. Even though we started our night later than the doors opening, we still had a lot to prepare for tonight.
First Impression for OMFG!
In case you are not familiar with Valley View Casino Center during LED events, traditionally there is a horse shoe style seating area and a very large floor standing area that accommodates the majority of patrons. It's fairly dark inside and aside from the the stage lights/LED screens, the main source of lights are the LED tubes that are given out to everyone as they walk in. The crowd was already settled in, with the majority of the guest dancing and jumping everywhere from the seats to the front row. Overall, the vibe was very positive and in good spirits. There was also the glimmers from a few glovers visible throughout the stands.
Lookas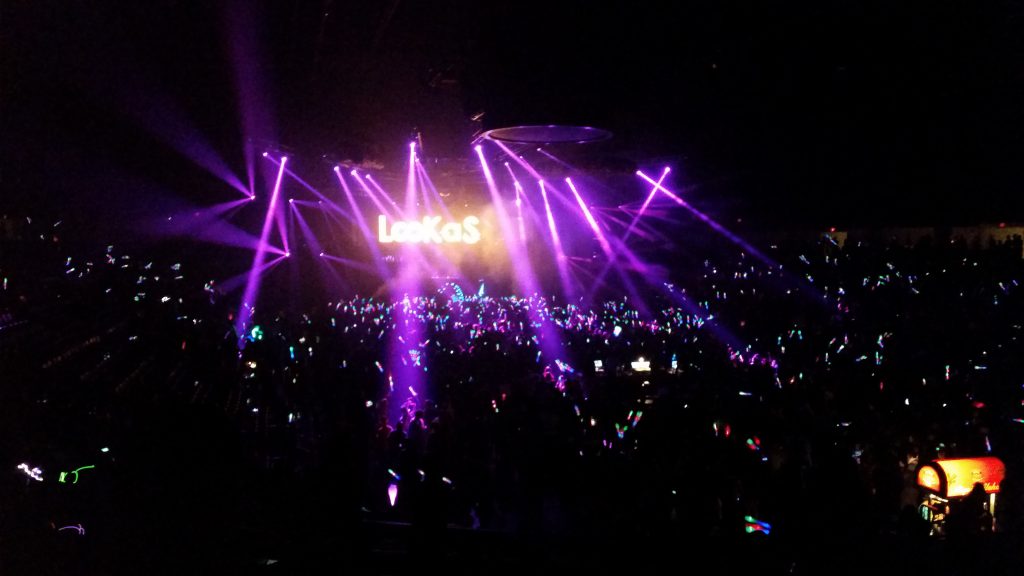 Unfortunately we arrived in the latter half of Lookas' set, however it seemed like he was performing quite well based on crowd reaction. He has a solid trap and future bass sound that resonates very well with the LED regulars, keeping the energy high throughout the entire set. This was my first time seeing him perform, but he definitely blew away my expectations. Most notably from him, his remix for Strangers is one to definitely one of my favorites.
Jai Wolf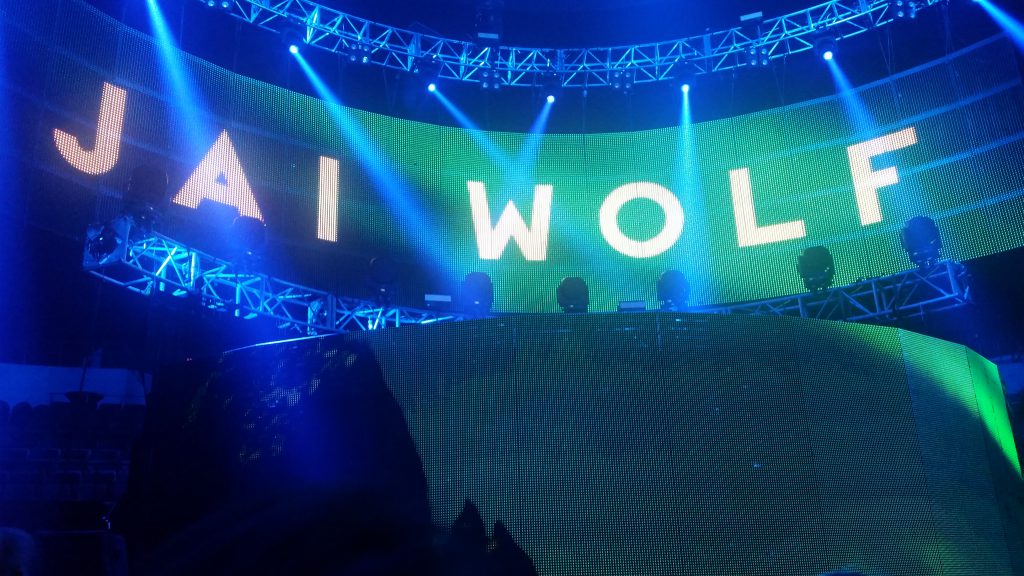 Jai Wolf ended up playing before Party Favor tonight, despite the posted set times. I personally thought that this was a positive switch, because Jai plays a more uplifting set to give the crowd a chance to catch their breath after Lookas took it right out from them. Jai Wolf was one of my Top 10 for OMFG! because I really enjoyed his set over at Bang Bang in September. He played quite a few of his hits tonight, including Indian Summer, his remix to Wonder and closing out with an amazing remix to Satisfaction. It was wonderful to see so many people dancing in unison, holding their loved one's close, all feeling the music together.
Party Favor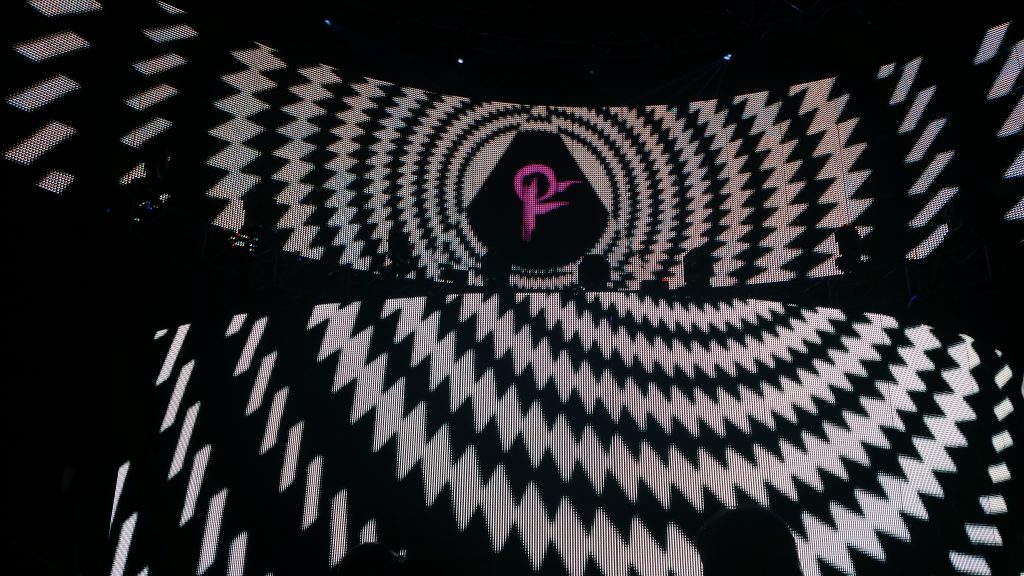 If you have ever seen Party Favor before, you know that he knows how to throw a party. Kicking off the Dubstep series of OMFG!, he came in loud and fast with some thumping hardstyle and ultra realistic skull visuals. Bonus points to him for later rocking some great Patrick Stuart visuals outlined with hypnotizing spirals. The audience responded in kind. People jumping into each other, Girls were getting put up on shoulders, people being generally unruly in the crowd; it was almost out of control. Being up in the front rows of standing area, I could see all sorts of shenanigans. People spilling drinks, small mosh pits forming, lots of incidental (with some intentional)  bumping into each other. It was a frenzy.
Shortly after those near us noticed the chaos surrounding us, we started to do anything we could to protect the others. Suddenly, a guy carrying a girl on his shoulders came barreling through. Their charge into us doubled over one of us and broke another's glasses! Normally, I would consider something like this as an accident, except this was the second time they specifically had be told by security to stop. After we recovered, we all introduced each other. Briana and Anthony are the kind of people that I hope to meet at and event. We learned that we had quite a lot in common, that we shared many of the same beliefs, and that we now had a little bonding moment. I look forward to seeing these two at a future event someday!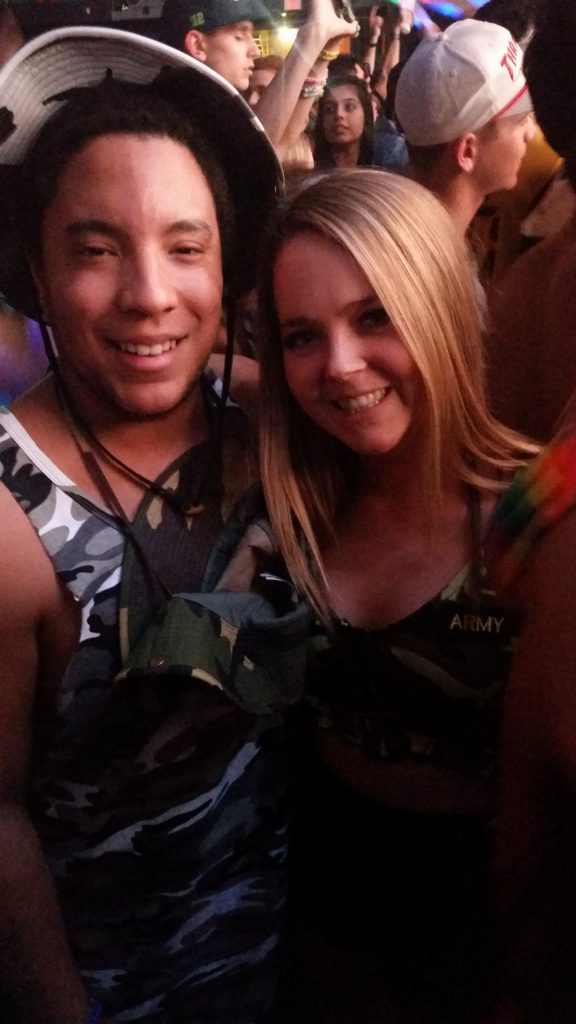 Tchami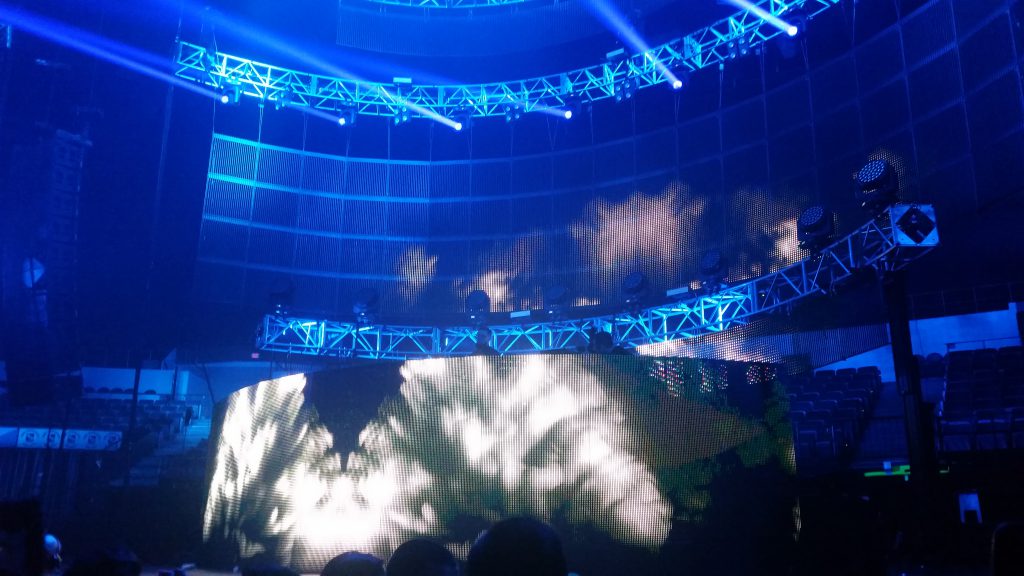 Tchami fits a very interesting niche in my EDM tastes. While I usually find my self listening to bassier Dubstep or Hardstyle or Trap artists, Tchami is the perfect change of pace that allows me to groove within a new genre I don't normally listen to. I had discovered this clergy shirt wearing performer back at CRSSD festival, and he was one of my favorite sets from that whole weekend! His set was pleasant, delivering a good mix of recognizable tracks and keeping the tempo up for the amped up crowd. What should one play if they are opening for the one of a kind, Borgore? You play your heart out! Tchami did just that with style! When Tchami throws it down, he gets the crowd going. His throwback remixes are phenomenal, and his sound reinvents so many classics.
Borgore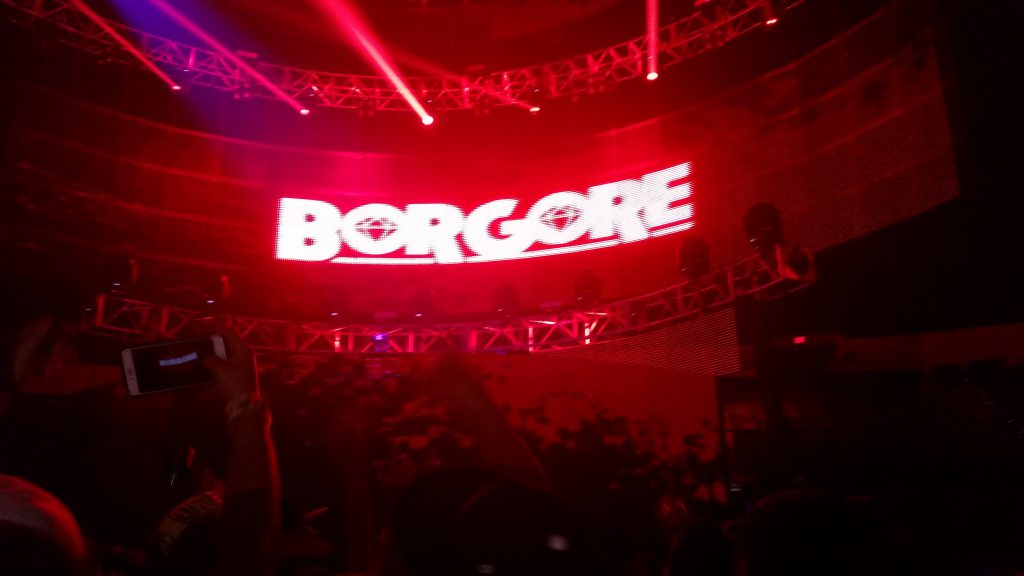 If you follow @EDMIdentity on Instagram, you may have seen my impression live. "Dubstep [is] dead. @Borgore killed it. Broke the decks and everything…" I cannot think of a performer today that has a more ridiculous set than Borgore. Your eyes and ears are glued to his every action as you never know what's going to come next. I can't even explain everything that they played on those giant LED screens behind him during his set. It's mostly a blur between kittens shooting rainbows out of gems on their heads and girls twerking behind his logo. The light production team also upped their game during his sets  by including lasers into the already vertigo-inducing spotlights. It was a great surprise and very, very well received. He played pretty much anything you'd hope he'd play during his set (except Decisions, but I don't think many people really miss that track nowadays). The only negative I have to say about his set was the dancer that must have disconnected a wire or something when she had jumped onto the decks during his set, cause a short delay. Otherwise, Borgore can play all the Nympho or Unicorn Zombie Apocalypse he wants. Because he will, and who are we to stop him.
Snails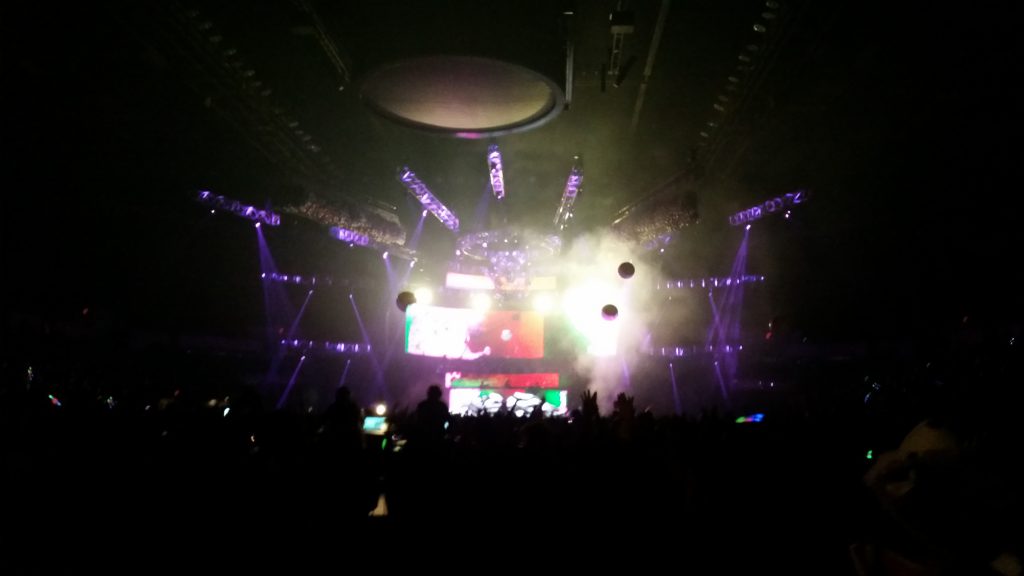 Snails was one of my top sets to see this year. As mentioned in my Top 10, I had been hyped on this guy all year and I was finally getting the chance to see his set live! In my hometown, no less. His set was fantastic, I felt like I spent all night listening to him, and I couldn't have been happier. I was just so absorbed into his set, I didn't realize how fast his set went by, as 'Frogbass' became 'VMPR' became an unexpected 'Sweet Dreams (Are Made of These)' remix then off to whatever else his "Vomitstep" genre could incorporate. It feels terrible as a writer to have so little about my favorite set for Day One, but I am (for lack of a better word) speechless. Visuals were on point, the crowd was eating it up, sound was filthy, slimy and I honestly got lost in his set.
Henry Fong
Henry Fong is another familiar face from previous on of my previous LED events (Anniversary III) , and was curious as to what he was going to play following  a set like Snails just did. We are talking about a DJ playing for the last 45 minutes of the event and people start getting restless around that time. But LED crowds are some of the most loyal I have seen, as many are there till the bitter end and usually stick around for a few minutes afterwards to get their photos, get reunited, and get planned out for the rest of the morning. Henry Fong totally dropped some different tracks than I remember him playing last time, including a hardstyle encore track. I commend him for taking his set in a whole new direction, playing with heavier beats than those from his more recognized tracks like Velocity,Wine Dem, etc. He did an amazing job, and the crowd was completely devastated that his set had to end after one encore track. Everyone that I asked afterwards said that Henry Fong was actually their favorites set of the night, although they didn't go in thinking that he'd be that top spot.
What were your thoughts on OMFG! NYE 2016 Day One? Are you more excited for the two remaining days of the event? Would you like to add your favorite experience of OMFG!? Let us know in the comments!
Check out my previous coverage for OMFG! events: