Opiuo embarked on a massive project when he brought The Opulent Orchestra to Red Rocks, and now fans can experience it for themselves.
---
Funky fresh sounds in the electronic music scene have arrived from all over the planet, but few artists have embraced the bass-fueled funk quite like Opiuo has. This New Zealander, who now resides in Australia, has made a mark on the community since first breaking onto the scene with impressive releases like A Shape Of Sound, SYZYGY, and more, while also taking his performances to the next level with jaw-dropping live sets.
One of those performances was at Red Rocks, where Opiuo brought The Opulent Orchestra, which featured members from the Colorado Symphony Orchestra, to give his fans a memorable experience at the iconic venue earlier this year. While the sold-out show in May was remarkable, Opiuo also knew only a select number of his fans would be able to witness the magic live. So, to bring it to those around the world who have fallen in love with his funkified bass style, he recorded the show and created a live album for everyone to feast their ears on, Opiuo & The Opulent Orchestra.
Listeners will be able to experience the feel-good vibes that Opiuo and The Opulent Orchestra brought to Red Rocks that night from the moment they press play. Tracks like "Conduct-A-Disco," "Candy" with Ashez, and "Bam Bam" with CloZee lead the way, but there are other gems, including "What A Wonderful World," "Jelly," and his collaboration with Big Gigantic, The Funk Hunters, and Eric Benny Bloom, "Higher." Three bonus tracks grace the end of the tracklist to give fans another added treat, so make sure to give this album a spin.
Listen to Opiuo & The Opulent Orchestra on Spotify or your preferred platform, and stay tuned for the performance video to drop on November 20 via YouTube.
Stream Opiuo & The Opulent Orchestra on Spotify:
---
Opiuo & The Opulent Orchestra – Tracklist:
Live From Red Rocks Amphitheatre:
Conduct-A-Disco
Candy (with Ashez)
Bam Bam (with CloZee)
Flapjack
Higher (with Big Gigantic, The Funk Hunters, and Eric Benny Bloom)
Jelly
Dalmations
On Your Side (with Russ Liquid)
What A Wonderful World
Sneakers
Dusty Bugs (with Vorso)
Bash Plate (with Ashez)
Endless Dream (with Z.I.V & MOONZz)
Falling (with Deathpact)
Snorkle
Robo Booty
Bonus Tracks
Conduct-A-Disco (Bonus Track)
Candy (with Ashez) (Bonus Track)
Bash Plate (with Ashez) (Bonus Track)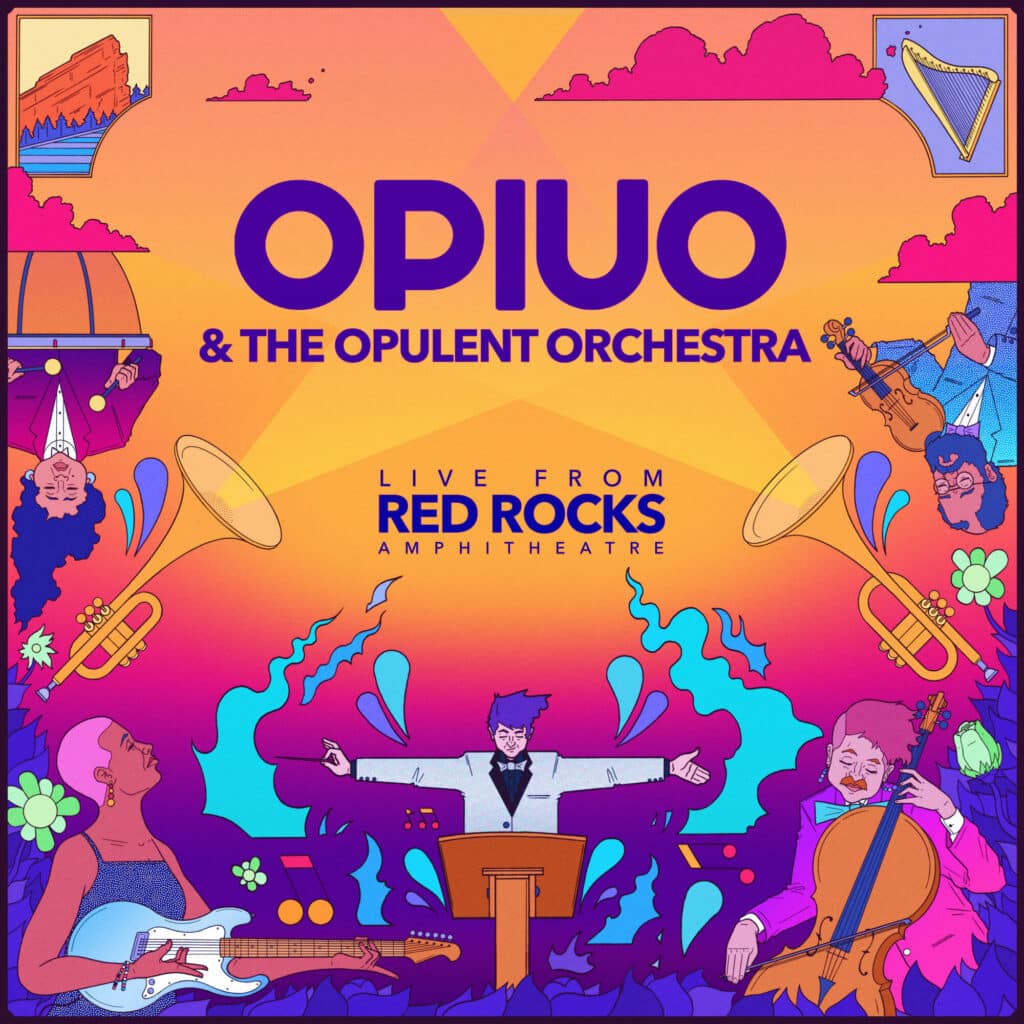 ---
Follow Opiuo:
Website | Facebook | Twitter | Instagram | SoundCloud