John Summit staked his claim at the first Experts Only label takeover in Stanford's Frost Amphitheater.
---
Right on the campus of Stanford University sits the Frost Amphitheater, a seemingly hidden gem that, despite being in the middle of suburbia, transports you to the woods. The venue is surrounded by large trees upon which production lights bounce off to create a magical atmosphere. This was the setting for John Summit's first takeover of his newly minted Experts Only imprint.
On Friday, November 3, we made our way to Frost just in time to see Walker & Royce. Their set brought the heat with funky house beats. While enjoying the music, I took notice of the surroundings: neon signs with "Experts Only" or "Caution: Bumps Ahead," the double diamond logo that adorned the stage and visuals, the trees placed across the stage, the dancers in winter gear, and it hit me. Experts Only was obviously inspired by ski culture and mountains.
Frost was the perfect venue for this event. Realizing this made the night all the more enjoyable because it felt like we were somewhere on a forested mountaintop, dancing away.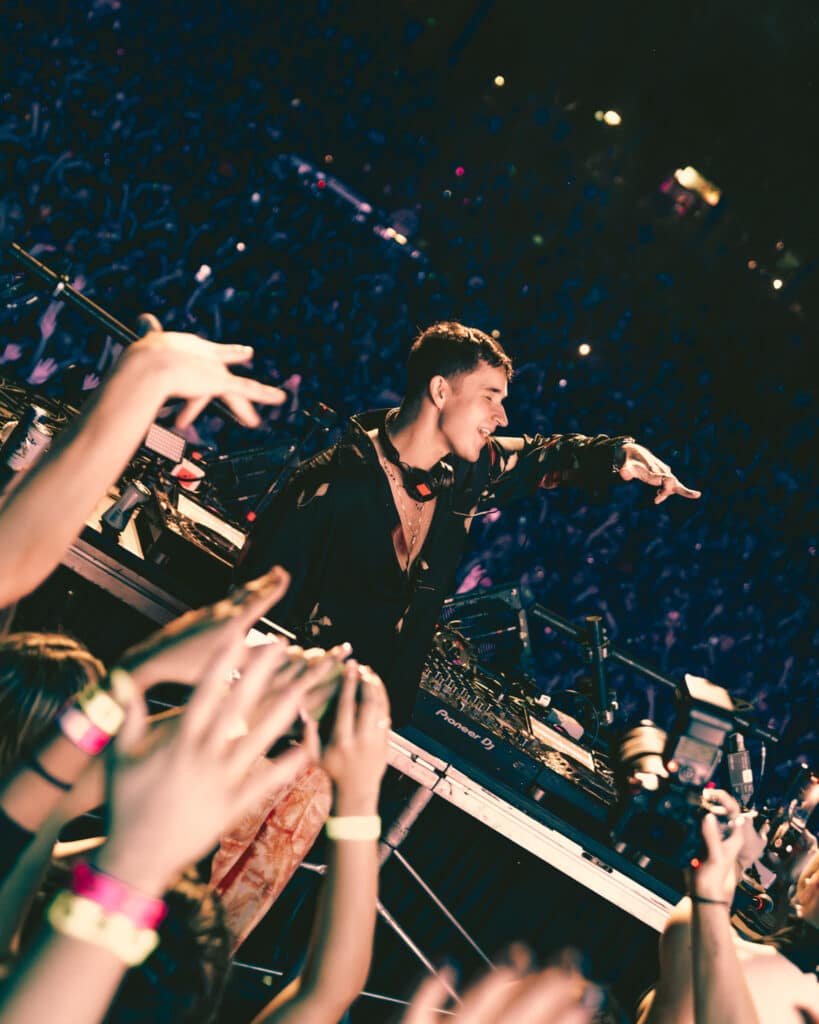 By 8pm it was time for the man of the hour to take the stage for his two-hour set.
When we say we were taken on a journey, it's not an exaggeration. His high-energy performance moved the massive, sold-out crowd. People were jumping and dancing the entire time. John Summit took in the energy and gave it right back to everyone as he sang along and danced. From our vantage point on stage, he radiated joy. You could tell he loves what he does, and that's infectious.
His set featured a mix of unreleased IDs and originals, including his latest single, "Legacy," as well as fan favorites "La Danza," "Human," his remix of "Escape," and Gorgon City's remix of "Where You Are." We also heard tracks from Mau P, Kx5, Dom Dolla's GRAMMY-nominated remix of "New Gold," and he closed it all with a rousing remix of "Ghosts 'n' Stuff" from JAUZ.
It was impossible not to have fun and understand the wide appeal John Summit has.
The crowd spanned all age ranges, including veterans and those new to the scene. We overheard conversations from people who had never been to a dance music event and had so much fun. Even my non-raver boyfriend, who often calls that stuff I listen to funny things like "dungeon music," really enjoyed the night.
John Summit is having his moment right now, and what makes him stand out is the strong branding and persona he's created for himself and for the new label. You 100% know when you're at an Experts Only show, and we're so lucky to have witnessed it for the first time ever. On top of all that, it was cool to be part of the night that won back some points for the West Coast in his book.
---
Follow John Summit:
Website | Facebook | Twitter | Instagram | SoundCloud | Spotify | YouTube
Follow Experts Only Records:
Website | Facebook | Twitter | Instagram | SoundCloud | YouTube