Dreamstate SoCal is upon us. As you prepare to step on the grounds of the Queen Mary, we have the beats to put you in a trance state of mind!
---
Dreamstate SoCal has begun rolling out the stage lineups for its inaugural Queen Mary edition in Long Beach, California. As the trance family prepares to unite under the lasers and lights, the pre-fest anticipation is percolating. Why not put that energy into movement and have a dance party in your living room with our curated playlist, featuring The Void and The Sequence? Here's what to expect when it comes to the vibe:
The Void stage promises to catapult attendees into a deep, dark realm not meant for the faint of heart.
Welcome to the future as Talla 2XLC rinses out his RRAW! project, Sneijder presses down on Alt_1, and Rinaly takes her Rina Mirai alias for a spin. You can expect techno to reign supreme in all of these performances. But don't get too comfortable. Soon you'll be riding a wormhole back to the beginning of existence when Yoshi & Razner pull out their Genesis project, and when Ruben de Ronde and Estiva introduce you to Ebenezer.
This is also the spot to catch the legendary Key4050, which bonds together the edgy, jaw-dropping styles of John O'Callaghan and Bryan Kearney. Want more? Dreamstate is serving up the smoldering stylings of Tech Energy presented by MaRLo, Down Under's finest. Be there or be square, and make sure to strap on comfortable dancing shoes!
Moving on to The Sequence stage — a space where attendees are encouraged to go feral on planet psytrance.
The first act to jump off the page is Electric Universe [Laser Harp]. You'd be a fool to miss out on this thrilling performance, where sound is created with the pluck of a laser beam. Equally as electric is the industry-leading talent taking turns behind the decks, including Ace Ventura, Astrix, Infected Mushroom, Liquid Soul, and Vini Vici!
No matter where your feet take you at Dreamstate, you're promised to have the time of your life. But if you want to uncover specific artists with whom you'll resonate, then dig into the beats we predict will make an appearance at these two unique stages. Stay tuned for a playlist based on The Vision and The Dream to follow!
Tickets for Dreamstate SoCal are still available, but they're 90% sold out, so don't hesitate! Secure your spot at the Queen Mary Waterfront and then smash play on our Spotify playlist!
Stream our Dreamstate SoCal 2023 (The Void and The Sequence) Playlist on Spotify:
---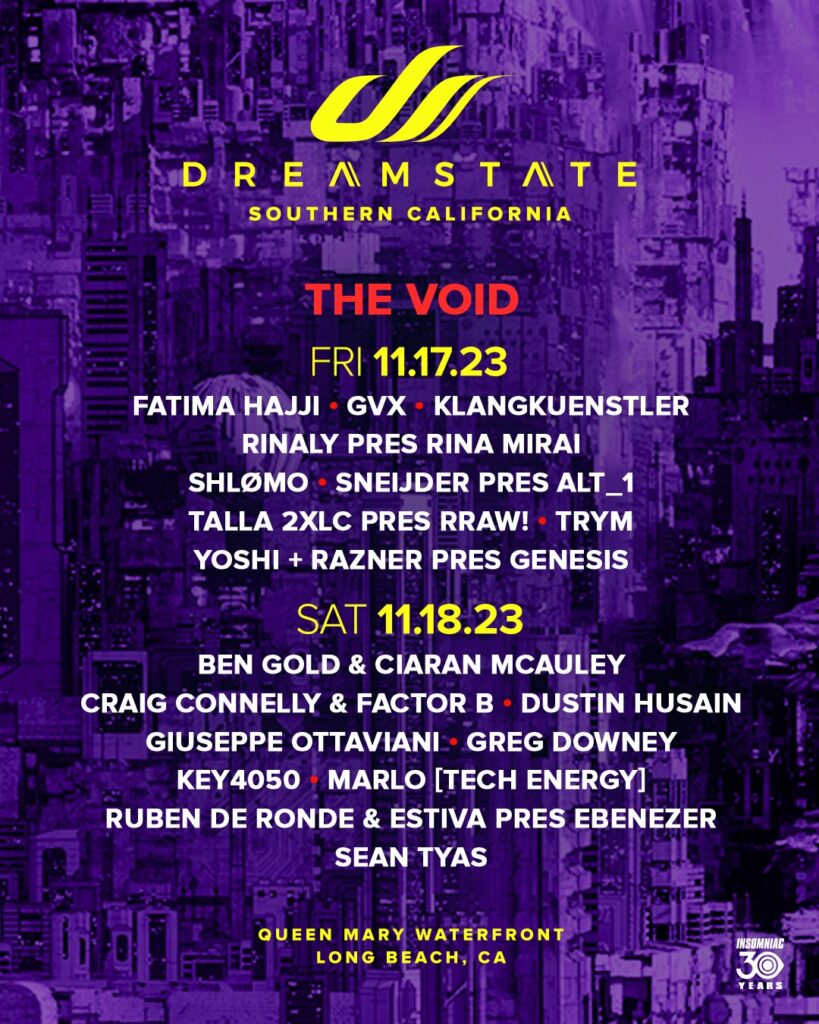 ---
Follow Dreamstate: