AfterTraxx has been booming forward with shows and a new imprint. Mark Lizaola swung by to chat about its growth in 2023.
---
There are more brands in Southern California's vast dance music scene than you can count, but a few have made significant leaps forward to win over hearts and cultivate a faithful following. One that has done just that is AfterTraxx. With Mark Lizaola at the helm, this multi-faceted brand has gone from throwing small shows before the pandemic to hosting stage takeovers at festivals and cultivating talent along the way.
This year saw AfterTraxx return to Escape Halloween on the second day with a takeover of the silent disco, Danse Macabre. It was there that house and techno lovers could groove out to the sounds of curated artists, including some from their own ranks like Spency Be, Carlo Key, $coe, and of course, Mark Lizaola himself. But this takeover and their other shows weren't the only major thing that AfterTraxx was up to this year. They also fully launched the label side of the brand.
Since the launch of AfterTraxx Records in June, the imprint has hosted releases from Art of Soul and Bry Ortega, Neuro Dimension and Classic Tom, Kharachi, DI SUN, and Spency Be. Mark also dropped two tunes on the label to help mark its first year: "Broken" and "Release the Dawn," both in collaboration with label manager Who Is Hush.
As 2023 begins to wind down, we caught up with Mark Lizaola to dive into his latest tracks, AfterTraxx's recent successes, and where he plans to take the brand as they set off into 2024. Give his two fresh tunes a spin and read on for the full conversation.
Stream Mark Lizaola and Who Is Hush – Broken on Spotify:
---
Hi Mark, thanks so much for chatting with us today. Last month saw you take the stage at Escape Halloween during the AfterTraxx takeover of Danse Macabre. As this was the third year hosting the takeover, what's your favorite aspect of playing this festival, and how do you curate the lineup?
My favorite part of playing Escape Halloween is the energy everyone brings. The patrons of this particular show really come out ready to party, let loose, and dance. I also have a great appreciation for the support AfterTraxx receives when we show up!  
Our curation of the selectors we choose is fun and interesting. We try our best to ensure we're not only bringing out great performers but also parts of the scene who can really drive a creative and energetic style for our guests.
Just a few months ago, you teamed up with Who Is Hush to release two bangin' techno tracks, "Release the Dawn" and "Broken." What's the story behind these tunes?
Personally, there was quite a bit of emotion going through this. I had a rough few months working events and had to break my ego before doing a factory reset in order to step outside of myself, which is the first track, "Broken." I would say that with life changes in Who Is Hush's life and mine, we came together and created something special.
This release landed on your label, AfterTraxx Records, which got into a groove after launching in the summer. While AfterTraxx has become known for throwing down epic shows, what prompted you to explore the sonic side of the spectrum?
Honestly, it's always been an idea in the back of our heads along with a natural progression, but it didn't form until the suggestion of a close friend, colleague, and fellow musician that this should be a reality. We sat on the idea for about a year while we prepped this, knowing the work that came with it.
In the end, we pulled together, brought in our label manager Stu aka Who Is Hush, and started bringing together some amazing talent in order to create what's looking to be a special part of our brand as a whole experience. 
There's been a range of techno styles that have landed on AfterTraxx Records from Spency Be, Art of Soul and Bry Ortega, Neuro Dimension and Classic Tom, and most recently, Karachi. What was it about these artists' tracks that spoke to you the most?
The eclecticism speaks the truth within AfterTraxx Records. We're not a one-size-fits-all type of brand; we take pride in letting the brand speak for itself and letting the artist create what they feel. The underground wasn't created for the gatekeepers; we're here to create music in a true underground fashion regardless of it being techno, minimal tech, breaks, or house.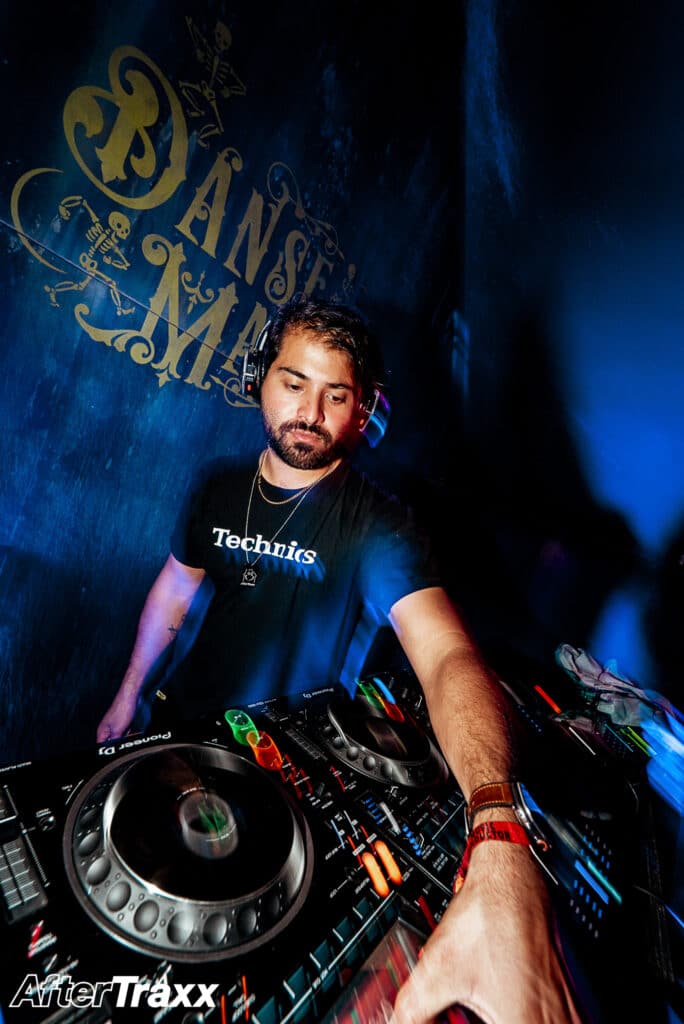 What does the future look like for AfterTraxx Records in the coming months and early 2024? Are there more releases or showcases planned? I heard you guys were teasing some new merch that would be coming soon as well!
2024 is looking to be our biggest year yet! We took some of 2023 to focus on the creation of the label, and took previous years to create the parties and lifestyle around it. This year, we're looking to bring it all together and create something special both domestically and internationally. 
If you love the brand and appreciate the merchandise, order it! If you want to submit releases and join the family, send them, and if you are interested in what we do, hit us up.  We're here to grow together as a community. 
Some labels are wide open to submissions, while others are a bit more curated. What's your process of digging through demos, and how can hopeful producers submit their tunes to Aftertraxx Records?
We stand in a perfect place as we are both particular with our curation and open to submissions and ideas. We've reached this point in the industry by working with new artists who want a chance, and with some of the most successful and world-renowned names through this process. Send demos to [email protected].
Finally, it's pretty clear the underground is flourishing in Los Angeles right now. Can you share your thoughts on the current state of the scene and how it's changed since you first began to DJ years ago? Do you feel the future is bright?
That's a great question! I think this scene here really changed around COVID with people needing a release, and with clubs and bars closed, the underground scene boomed! The listeners of cheese grew and matured through the availability of warehouse parties and desert parties. The usual suspects found new styles of music that weren't always appreciated till now.
I know not all of the underground community sees this as a positive, but I think it's important for things to grow and change — and for us to find comfort in the underground, middle ground, and mainstream that is accepted at any given time, by anyone, with no hate, only appreciation.  
---
Follow Mark Lizaola:
Facebook | Twitter | Instagram | SoundCloud
Follow AfterTraxx:
Website | Facebook | Twitter | Instagram | SoundCloud | YouTube