Los Angeles-based DJ and producer Spency Be digs into his past, present, and future ahead of his set at EDC Las Vegas.
---
There are many reasons that people from near and far flock to Los Angeles to make the city in Southern California their new home. For Spency Be, that reason has been his calling to the sounds of the underground. Originally hailing from Texas but now residing in the City of Angels, this DJ and producer might be in his most formative years as an artist, but if you catch one of his sets, you'd be surprised that he only picked up DJing just a few short years ago.
In the midst of the pandemic, Spency Be began to teach himself how to DJ after being pushed by another artist, Mark Lizaola, and from the moment he first touched the decks, it was off to the races. Since then, this Los Angeles-based artist has built a reputation for himself with impressive sets that have seen him touch festivals like EDC Las Vegas and Escape Halloween, along with a hearty offering of underground performances that have kept crowds dancing deep into the night. Beyond that, Spency Be has also taken a lead role in the growth of Aftertraxx, a multi-faceted brand that does everything from host events to showcase sounds on its label.
Producing original tunes was the obvious next step in Spency Be's career, and this year has seen him make good on the goal he set for himself over two years ago. At the beginning of 2023, he dropped off a wicked remix of The Weeknd's "Blinding Lights," and in March, he dropped his debut single, "Feel Something," both of which showcased his twist on techno. More recently, Spency Be unveiled his latest tune, "Façade," another proper techno tune that is sure to put your mind in a tailspin.
Ahead of his set at EDC Las Vegas, where he'll take the stage at the Passport Lounge on Friday at 10pm, Spency Be swung by to take a dive into his roots, recent releases, and where he plans to take his career next. Check out his exclusive guest mix for a taste of his style, and read on for the full conversation.
Stream EDMID Guest Mix 372 || Spency Be on SoundCloud:
---
Hi Spency. Thanks so much for sitting down with us today. Before we dive into your recent work, let's dig back into the past. Who were some of your earliest influences in the music realm? What got you into electronic music specifically?
Thanks for having me and taking the time to highlight upcoming artists such as myself. I love what y'all do to help push the scene forward.
When I was a kid, I was really into southern hip hop, like Outkast and UGK. Being born and raised in Texas, that sound was around a lot in the early 2000s. I first got into Electronic music around the same time when I would visit my uncle in Oakland, and he would play me Mark Farina's Mushroom Jazz mixes. But I really fell in love with the genre when Disclosure came out with their first album, Settle, in 2012. I feel like that album caused a paradigm shift in my music taste. My uncle put me on to house music when I was so young, and it definitely influenced the instant hook I felt when I heard Disclosure for the first time.
You spent a few years honing your skills behind the decks and learning how to DJ. Can you share what the initial draw was to learning how to spin and curate tracks? What has this journey been like for you so far?
I first got into DJ during the lockdown. When the lockdown first started, I had a lot of free time, so I posted on my IG story that if anyone wanted a mixtape to hit me up, I would curate a burnt CD of songs I'd thought they'd like. Mark Lizaola then heard one of them and was like, "Yo, you should try to actually DJ." I started going to [his place] to use his CDJs and mix and mess around. Eventually, I taught myself how to mix, and I've been hooked ever since. It came to me really easily. It just made sense to me.
The journey has been crazy. I can't believe I've already gotten to play festivals like EDC, Escape, and in front of 2,000 people in packed warehouses. But I still feel like I've only just started. I know I can take this way further. I'm not even three years into DJing. I didn't even start learning how to make music until January 2022. I have much to do and much to learn still.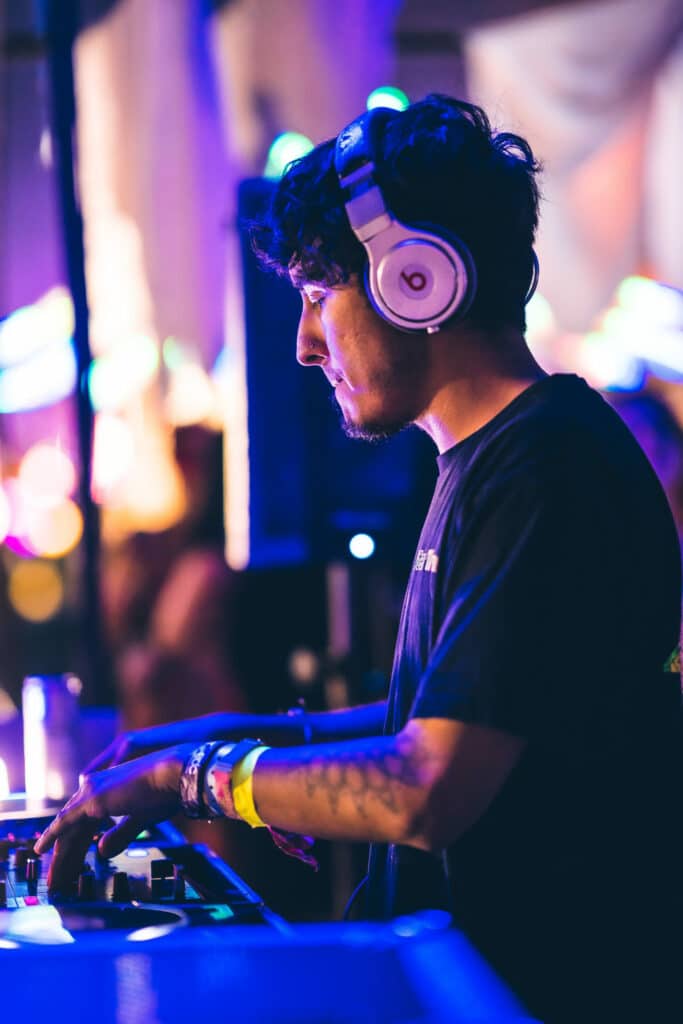 What's been the biggest struggle that you've faced as an artist so far in your career? Have you been able to overcome it?
Getting booked for shows constantly. There's a lot of competition in LA, and it's hard to really stick out and get yourself on lineups consistently. I'm still trying to get to a place where I DJ local undergrounds on a consistent basis. I'm trying to do what I can to stick out, like actually releasing my own original music.
Back in March, you finally released your debut single, "Feel Something." Can you share what the production process was like on this tune and why you chose it to be your first-ever track?
It was kind of inspired by Enrico Sanguliano's song "Sound of Space." I love how in that song, he has this female robot voice saying little one-liners. I remember when I first heard it at EDC last year, I was like, "Yeah, I wanna do something like that." My friends and I have this saying "I just wanna feel something." So I thought it would be funny and cool to flip that into an actual song.
I chose this song as my first release because I like how it isn't too hard or melodic because I have unreleased songs on both sides of that spectrum. I have this ARTBAT/Tale Of Us sound going, but then there's this hard Sara Landry-type sound too. I wanted the first one to be in the middle. Something all techno fans can enjoy.
Do you have more releases in the pipeline that we can anticipate hearing in the coming months?
Yeah, I have a lot of music I've been gatekeeping keeping in the vault. [Laughs] Some for over a year. I also released a remix to The Weeknd's song "Blinding Lights" a couple of months ago that got a lot of love at the shows I played in the last year. I have a song that just came out this week called "Facade." It's on the melodic side. I want to go down this melodic journey for a bit before I go into the harder stuff.
The next one is called "Demon Daisy." It has some great vocals and lyrics that my good friend Josh (Team IDK) helped me with. It's a journey of a song. It's very energetic but has sad lyrics. I'm really excited to release this one. After that, I'm gonna start releasing more of the harder sounds I've been making. I have this one with a vocal sample from an old-school Texas rap song that BANGS. So yeah, I have quite a bit, plus more in the vault I'll be putting out the rest of the year.
Beyond your work as a DJ, you're also one of the minds behind Aftertraxx. What's the story behind how this brand came to be, and where do you hope to take it in the future?
This was a brand Mark Lizaola started. He's my good friend. During the lockdown, I was like we can take this branding and image to another level. Let me take that side over, and let's elevate the brand. Since then, I have been overseeing all branding and marketing and social media for the brand.
We have Aftertraxx Records launching in a few months (producers send us your demos). We want to make this a global underground lifestyle brand we can take to Europe, South America, and Asia to bring quality underground experiences to foreign places. Also, [we want to] throw a festival in SoCal sometime down the line. The sky's the limit with this brand. We don't wanna be put in a box. We can take it wherever we want to go.
Just for fun, if you could go b2b with any artist in the scene, who would it be and why?
I love Clawz. Her sound, her style. There are not many DJs or artists in the local scene I feel can keep up with me BPM-wise, but I know she can, and I know the sounds we both play would mesh well.
I also love going b2b with my boi Tykni. he can always keep up with me too.
When we come to Los Angeles to hang out in the near future, where are you taking us for a night out on the town?
For dinner, we're hitting a local taco truck. Especially the one on Alameda and 4th. We're drinking at the show! And we're going to a Factory 93 show followed by a local underground show.
Finally, what goals do you hope to achieve in the rest of 2023 and beyond?
I want to get AfterTraxx to a major city outside of SoCal and throw a massive party. I want one of my songs to get picked up by one of my dream labels (KNTXT, Exhale, Possession). I hope to play on a Factory 93 stage in Los Angeles in front of all my friends. And, of course, I want to play overseas. Especially at Fabrik in Madrid. The way they appreciate techno there is different. To be able to play there one day would be a dream come true.
But I hope I can keep doing this for fun, enjoying it, and reaching new people as I release more music and play new shows. That's what it's all about in the end: music enjoyed by the people.
---
Follow Spency Be: