On the heels of their energetic remix of Energy 52's "Café Del Mar," Cosmic Boys gave us some insight into their live sets, record labels, and more.
---
There's a certain je ne sais quoi about French duo Cosmic Boys and their eclectic techno atmospheres. The two producers have developed a unique style of techno that incorporates sounds from all ends of the sonic spectrum, and their discography continues to take on a new life with each release. Venture back to some of the earlier moments in their catalog, and you'll hear more minimal, simplistic sound design. At other points, you'll find them keeping things fresh by tapping into bigger and livelier melodic sensibilities.
Whether you're hitting the dancefloor at the club or getting lost in the music at a festival, Cosmic Boys' captivating techno soundscapes provide the ideal soundtrack for any setting. They've had a solid run of releases this year, with tunes like "Miracle," "All Eyes On Me," and "Laser Bolt" with T78 all quickly becoming listener favorites. Last month, the duo put their spin on Energy 52's classic track "Café Del Mar," adding a vivacious build and larger-than-life instrumentation that will make you want to throw your hands in the air.
When they're not pushing out hard-hitting releases or running their Scander and Legend record labels, Cosmic Boys are throwing down engaging live sets that put their talents on full display. The duo sat down with us to chat about their multifaceted approach to live mixing and gave us their perspective on their recent remix, their thoughts on the state of techno in France, and so much more. Make sure to stream or download the Café Del Mar remix on Spotify or your preferred listening platform, and keep reading for a look into their musical minds.
Stream "Café Del Mar" (Cosmic Boys Remix) on Spotify:
---
Hi Cosmic Boys, thank you so much for speaking with us today! First and foremost, let's discuss your most recent release. You remixed Energy 52's classic dance hit from 1993, "Café del Mar," and added your own techno touch to it. Do you have any special memories associated with the original song?
Hi, guys. Thanks for the invitation! Our earliest memories of the original song are from our teenage years when there was a radio station in the south of France that played a lot of electronic music, including this one. It also played a significant role when we were young ravers starting out. This track has always been closely connected to each of us, I guess. Remixing such a legendary track 30 years after the original remix was an opportunity we couldn't miss!
You two hail from France, which has long been a pivotal hub for dance music and a place where some noteworthy techno artists have emerged. What are your thoughts on the current state of techno in France, and what is your personal perspective on how it has evolved over the years?
It's true that France has always been a hub for electronic music in all genres. From Daft Punk, Laurent Garnier, Jean Michel Jarre, and David Guetta in the past to current artists like Dj Snake, I Hate Models, Polo & Pan, or the phenomenon Creeds, the French music scene has always been rich and diverse. In recent years, it has taken a more intense turn in terms of rhythm, but the French scene remains vibrant. There are many quality promoters, clubs, festivals, and more that encourage the audience to explore new acts, giving new artists a chance to be heard.
You two have consistently received a lot of love and attention for tracks like "Evolution" with UMEK and "Dark Places" with AKKI (DE), which have gained significant traction. What's your secret formula for creating tracks that can attract new listeners and keep your long-time fans coming back?
Yes, we've had great success with these songs, among others. We believe that the foundation is our passion for what we create. We always strive for high-quality sound and, above all, maintain our musical identity!
Take this moment to describe what you appreciate about working with each other. What is it about your work ethic and creative processes as individuals that allows you to collaborate so effectively, as opposed to operating as separate artists?
Working as a pair is incredibly stimulating. We have two completely different personalities, but when it comes to music, our minds merge, and we become one. Another great aspect of working as a duo is that when we go on tour, whether for a few days or several weeks, the time spent in planes, transports, and hotels becomes much more enjoyable and less tedious!
You both have somewhat different roles in your live sets, with Sebastien mixing in live tunes while Gaby works his magic on the pad and synchronizes the tunes. How did you arrive at the point where you decided this method worked best for you?
We initially started with vinyl and later transitioned to CDJs, where we played two tracks, each in turn like a back-to-back set. However, we found this configuration a bit monotonous for our taste. We were inspired by what Richie Hawtin and Dubfire were doing at the time as they were incorporating the Push controller into their sets. We saw the immense possibilities this equipment offered and decided to include it in our setup to experiment. Everything changed from there! The possibilities became endless, and each snare, FX, vocal, and other elements in the Push are from our tracks, giving them a unique sound. It also demands a high level of concentration throughout our performance, making the experience far from boring!
Playing live is a significant part of your career as Cosmic Boys. What is the key to getting a crowd to vibe with your live sets? Can you share some places you've performed where the crowds were exceptionally energetic?
We make sure our live sets are full of energy! The Push controller mentioned earlier plays a crucial role because we never leave a track "naked." We try to add rhythms or other elements based on the inspiration of the moment, and Seb rarely sticks to one track. He typically incorporates loops from other tracks to add groove and new dimensions to the music and the live experience.
As for energetic crowds, we've experienced strong energy in many places! For example, in Cordoba, Argentina, during our last performance, the crowd reacted enthusiastically to every single track, and it was an incredible experience. Germany also has a very electric atmosphere, and we particularly enjoy performing in dark, underground venues like Rakete.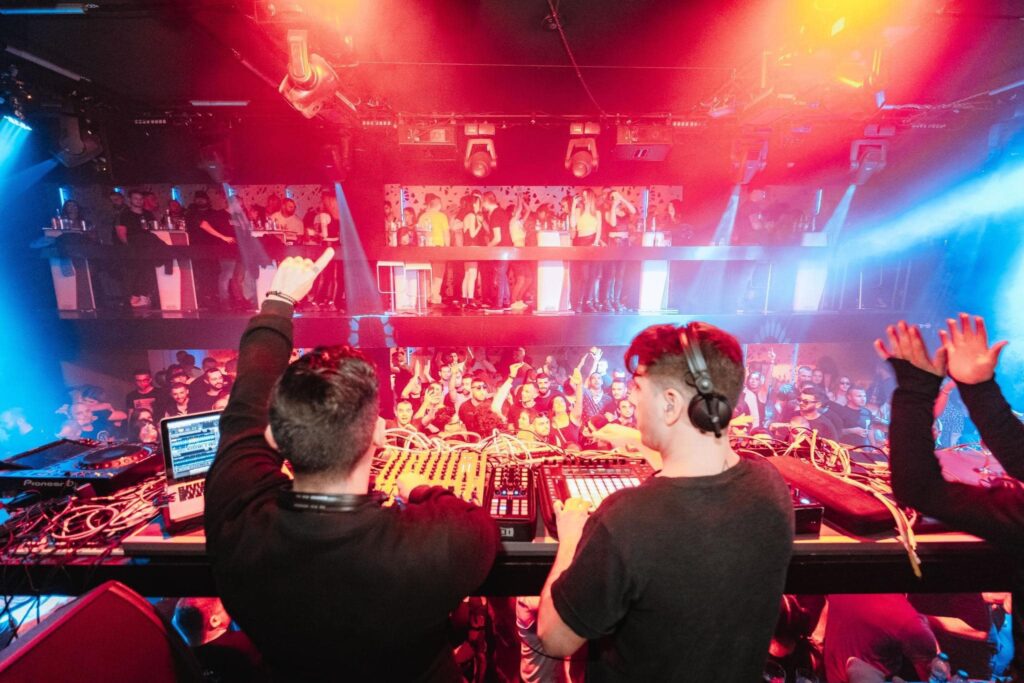 Your record labels, Scander and Legend, feature a wide range of captivating releases from both yourselves and emerging artists. How do your visions for each of these labels differ, and what inspired you to establish two separate labels?
Scander and Legend have distinct identities. Scander, our oldest label, focuses more on minimal pumping techno. We honed our skills with this label for many years. However, we desired to venture into a techno sound that was both harder and more melodic. That's when we founded our new label, Legend, in 2018, which has a more techno-oriented image.
Continuing from the previous question, can you highlight some of your favorite releases on each of your labels, and are there any artists you are interested in signing in the future?
Releases from AKKI, Demon Noise, and NoNameLeft are tracks that we absolutely love. These are talented artists who deserve recognition. One artist we would love to sign is Enrico Sangiuliano. His productions are consistently incredible.
Just for fun, can you share the story behind choosing the name 'Cosmic Boys' for your duo?
The story is quite simple. At the beginning of our collaboration, Seb had a dream about the name 'Cosmic Boys.' He woke up in the middle of the night and immediately called Gaby to share the idea. For Gaby, it was also a clear choice, and so it became our name!
Lastly, can you give us a glimpse of your future plans for the remainder of 2023 and beyond?
In terms of music, we have a collaboration with an Argentinean producer named Franco Smith set to be released in October on our label, Legend. Franco is an artist we strongly believe in, and we met him during our previous tour in Argentina. He has already released on our label.
Regarding shows, we are returning for our second tour this year in North America in September, followed by a full month of shows across Europe, including an eagerly anticipated performance at Spazio900 in Rome. After that, we'll be embarking on a three-week tour in Latin America and Argentina. Many shows are already planned until next year, and we can't wait for them!
On a more personal note, Gaby has recently become a father, which is probably the most significant highlight of his life!
---
Follow Cosmic Boys:
Website | Facebook | Twitter | Instagram | SoundCloud | YouTube