Rising like the desert sun is Mojave Grey, who dropped by to chat about their origin story, latest track, and multi-instrument love affair!
---
Mojave Grey is a fascinating live electronic music act consisting of Zander Bleck and Michael Pozzi, two dreamers bitten by the entertainment bug long ago. After a laundry list of individual accomplishments like signing to Interscope and creative involvement in HBO's Silicon Valley, the two came together to develop something special for electronic dance music lovers across the globe.
They call their sound desert dance music. The kind of music that makes you want to kick up the dust as the grandeur of the open land overwhelms the senses. Mojave Grey integrates Western cinematic themes with an eclectic blend of rock, pop, and electronic to make the concept come to life. In just three short years, the duo has made an indelible mark, performing at their very first Mayan Full Moon Party, as well as taking it to the tropics for Miami Art Basel before flipping the script for a chilly Aspen residency at The Snow Lodge. This weekend they're taking their tunes to Electric Zoo, where you can catch them at the Secret Garden.
The duo has taken their project further by creating their Origins micro-series. This three-chapter visual fantasy takes fans on an edge-of-your-seat adventure while weaving in tracks along the way – "Thunderbird," "Things We've Done," and "Chasing After You" will remain timeless and cherished as Mojave Grey shifts into a flourishing future in this industry. Most recently, they delivered "House Of The Sun," and with just one listen, you'll be begging to hear this on the big speakers as the sun creeps its way into view.
Mojave Grey is a duo you need to keep on your radar if you're looking for music with personality. Their unique sound palette combined with off-the-charts imagination confirms that we've only just scratched the surface with these two. So, get to know the ins and outs of Mojave Grey by smashing play on their exclusive guest mix below, and then continue for our chat with Zander!
Stream EDMID Guest Mix 386 || Mojave Grey on SoundCloud:
---
Zander, Thanks so much for taking time out to chat with us. Let's kick things off with Mojave Grey's origin story…. In 2022, you kicked off your cinematic series called Origins. The first chapter popped with fantasy when your characters crawled through a cardboard box, from a city bar to an old western watering hole, bending time and space. Can you talk about that juxtaposition in your real life and maybe the subliminal message that the box was meant to express? 
Hello, thanks for chatting!  We created the Origins series to try to tell our story in a unique way. It's mostly a metaphor that captures a lot of what we deal with as both artists and human beings. We also wanted to shine a light on the different sides of our personalities as well. It's been a really fun journey so far! And also just beginning.
Chapters two (split up into parts A and B) and three follow your characters as they try and decipher whether they're dimension-hopping, having psychological breaks, or still based in reality, all the while transforming into the Mojave Grey alias. Can you dive deeper into this part of the story, specifically the chase scene? What did that represent in terms of your lived experience?
Being in this industry can be very strange. It's a wild and oftentimes bizarre experience. We wanted to playfully capture that ride and personify it with some good vs. evil. It often feels like a battle between your ego and soul as you try to navigate the waters. Also, we think there's an inherent creativity inside all of us, and we wanted to showcase that discovery. 
Your latest track, "House Of The Sun," reminds us that so much inspiration can be soaked up from the environment that surrounds you. Can you give some sound element examples of how the desert is reflected through your music?
The desert has been our rock (literally) to our launch of Mojave Grey. It served as such an inspiration musically as well as spiritually. It's this alien, blank canvas that's really beautiful to create from. When you're out here you're almost forced into some kind of meditative state that when you're in the hustle and bustle isn't always as easy to achieve. Something we also wanted to explore in our Origins series.
From the hot desert all the way up to the frigid mountains of Aspen, you've performed in some pretty epic locations. What are some other unique environments you dream about performing in?
The earth inspires us and our music immensely. We want to keep performing in incredible places. Listening to and performing music in Mother Nature is a very special thing. The jungle would be great. The beach. We talk about performing in ancient Egypt or other historic ruins. We see a lot of that in our future.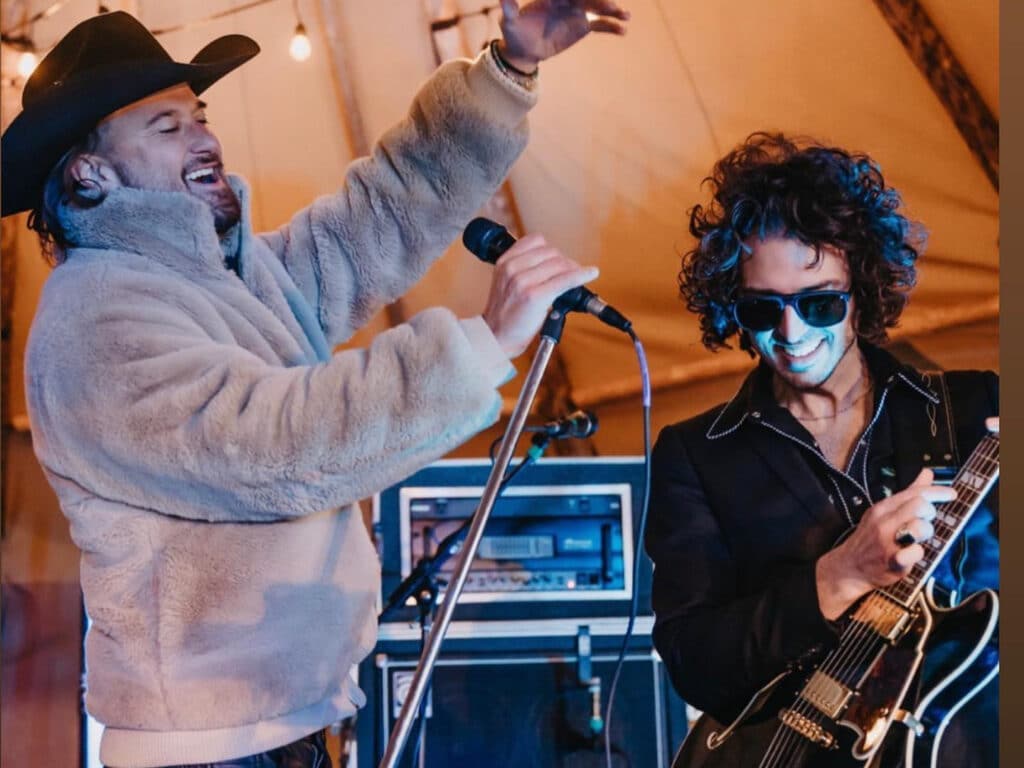 Similar to industry counterparts like RÜFÜS DU SOL and Monolink, you bond the DJ decks with other instruments like guitar and live vocals. Blurring the lines between electronic and indie rock must come with its challenges. Can you touch on a few?
To us, it's all upside. Performing as an electronic duo does away with all the less fun aspects of performing and adds such a powerful modern element to it.  We've really loved the process of embracing technology in all of its glory to amplify our sound. We believe we're just touching the tip of the iceberg of how Mojave will evolve sonically and in regards to our performance. Live human voice and guitar solos will never go out of style, though.  
As innovators, I'm sure you always have your eyes on items that will bring your sound into the future. Are there any unique instruments that you'd like to incorporate into your performances down the road?
Mixing organic sounds with these high-tech drums and synths we love. We'd love to hear hand pan, sitar, organic percussion, and maybe some violin. The sky is the limit.
At the end of the day, what do you hope fans take away from their experience with Mojave Grey? 
We want to provide an unforgettable experience. We want people to feel a collective connection to themselves, the earth, and to each other when they hear us or watch us. A lot of electronic music already lends itself to an almost spiritual experience, and we want to dig deeper into that and see how we can push boundaries. We're living in wild times, and we feel a responsibility as artists to lead the way into the unknown and help guide people through this moment. And to have fun and feel as one. 
We always love to end on a fun one, so, in honor of your cinematic origins, what's your favorite old western film as well as your favorite sci-fi film, and what makes them stand out as the best?
Wow, such a great question. For me, I'll go with Tombstone and Interstellar. But it's hard because they're both favorite genres of mine! 
---
Follow Mojave Grey:
Facebook | Twitter | Instagram | SoundCloud | YouTube