Wraz solidified a name for himself in dubstep for the last decade, so it was about time we picked his brain about his process, goals, and more.
---
As traditional dubstep becomes increasingly popular in the US bass scene, artists in this realm who have been silently grinding for years are finally getting more of the spotlight they deserve. Among the many who have been making serious music moves post-pandemic is Canada-based dubstep producer Wraz. With a keen ear for his craft, he's solidified his sound over the years, from his self-releases to his appearances on major imprints like Artikal, DUPLOC, and Deep, Dark, & Dangerous.
Unreleased Wraz tracks have been popping up everywhere in dubstep sets all summer, and he always keeps plenty more in the vault. One gem released late last year was his collaboration with the popular drill vocalists PAV4N and Strategy, "Mash Dem Down," which has rightfully blown up since its release. Wraz's deep basslines and meticulously-timed distortions pair too well with their UK-style rhymes, and the track's simple structure allows for endless blend potential in live sets.
Following Wraz's recent Sound Haven back-to-back Shambhala weekend, we got the chance to chat with him about recent festivals, his upcoming compilation, Wraz and Friends, Volume 2, his growth as an artist, and plenty more. Be sure to grab your best headphones or speakers and listen to his featured mix to get the full taste of Wraz's signature sound for yourself, and keep reading for our interview.
Stream EDMID Guest Mix 382 || Wraz on SoundCloud:
---
Hey Wraz, thanks so much for taking the time to chat with us today! While there's a lot to talk about regarding recent accomplishments and releases, let's start with some context on where it all started for the Wraz project! Can you give us a little backstory as to how it all came to fruition for you and who inspired you early on?
I've always been very passionate about music. I started playing the drums early in my life, then went to college to study piano, got my bachelor's degree in music composition for video games and movies, then my Master's degree in conducting. It was when I was in college that I really started getting into electronic music with my friend Motus (part of the Monsters crew), who was already into it and showed me Ableton in the beginning. When I started making beats and discovering the amazing possibilities of the DAW, there was no going back.
The name Wraz was officially created in 2013 when I started posting beats on good ole SoundCloud. Never stopped producing since then, and even though I've always liked producing many genres, my main sound was always dubstep. Another big factor in my passion for electronic music was when I went to my first festival in 2014, Motion Notion, in BC, Canada. Since then, my focus has been to create music with the end goal of playing it on massive sound systems in festivals one day. I was amazed by the power music can have on your body in these contexts.
You've been grinding for a decade now with tons of support from major labels, but it seems that Wraz started seriously taking off post-pandemic. Was there any specific moment or opportunity that made you realize you were doing something good and that people were catching on?
The legendary Quarantine Sessions with Deep Dark & Dangerous definitely put me out there during the pandemic. Lots of fans come up to me saying that's where they first heard of Wraz! I didn't have a streaming set up before then, so it forced me to get going, and that was a great decision. I've now been running Gunfingaz Thursdays with the homie Substance for two years now, with amazing guests every week for the Twitch crew to enjoy.
2020 is also the year I finished my Master's degree, so that's when I started going full-time wrazzle dazzle! All of these elements together made the momentum ideal to fully push my music and start playing shows internationally. Big ups to my agent Mike Stew from Triple A Talent, who made all these shows possible! He's been amazing, and I'm grateful to have him on my team. I wouldn't be where I am without him!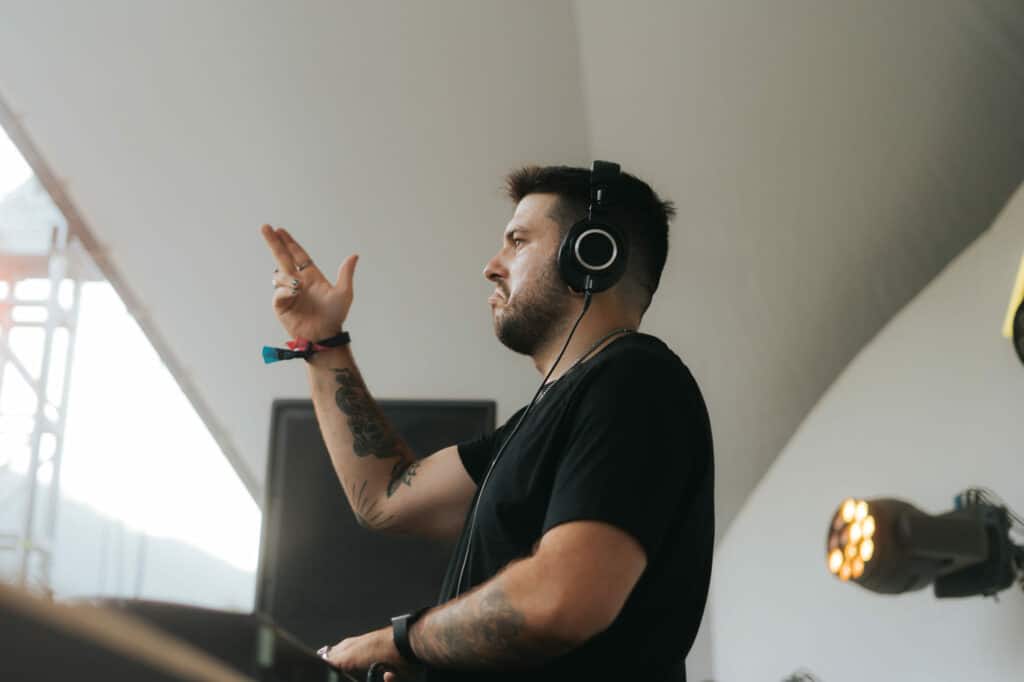 What were some unforeseen challenges you experienced early on in your artist journey, if any, and how did you overcome them?
The first big challenge for me was the fact that I'm from Québec, Canada, which is a mainly French-speaking province. It made it a little bit more complicated at first to get out there and connect with people, with French being my first language, considering that I operate in an English environment.
Québec artists will usually get more known inside the province or in France for example, where there are already a lot of connections culturally. So I'd say that connecting with the US community and the rest of Canada was my first challenge, but it went well; it just took a bit more time! The Internet tends to break barriers, and it did for me!
Let's switch gears a bit to the present and future of your project! Last year you started your own collaboration compilation series, Wraz and Friends, with the next edition landing soon. It seems that every collaborator you've worked with compliments your sound perfectly, so what's your process like in choosing and working with these pairings?
I usually always meet and discover other producers through exchanging dubplates. For this release, I have collaborations with Detoor, Torcha, Criso, and IDHS. I've been playing so many of their tracks in my past sets that I HAD to do something with them. It just made sense! Make sure to check them out if you don't know them! Wraz & Friends 2 is coming out on August 3!
You've been touring in the US a lot this year, having played festivals like Lightning in a Bottle and Sound Haven, with shows in Denver, Kansas City, and Tampa on the horizon. What is your take on the state of the US bass scene compared to Canada's?
Well, the US certainly has the biggest scene in the world in terms of dubstep or bass music in general. So many shows all the time, with amazing lineups and crews pushing proper sound to massive audiences. In Canada, there are ten times fewer people than in the US (30M vs. 300M), so it makes things move a little slower. I'm so grateful to be able to play for my American fans in so many great venues! Lightning in a Bottle was one of my favorite sets of the year, no doubt.
I gotta say, though, the energy/vibe in Canadian festivals and events is often unmatched. Shambhala (BC) and DOCD (Toronto) are some of the best moments I've experienced in my raving life. So many amazing humans coming together to dance and have the best time fills my heart with love every time!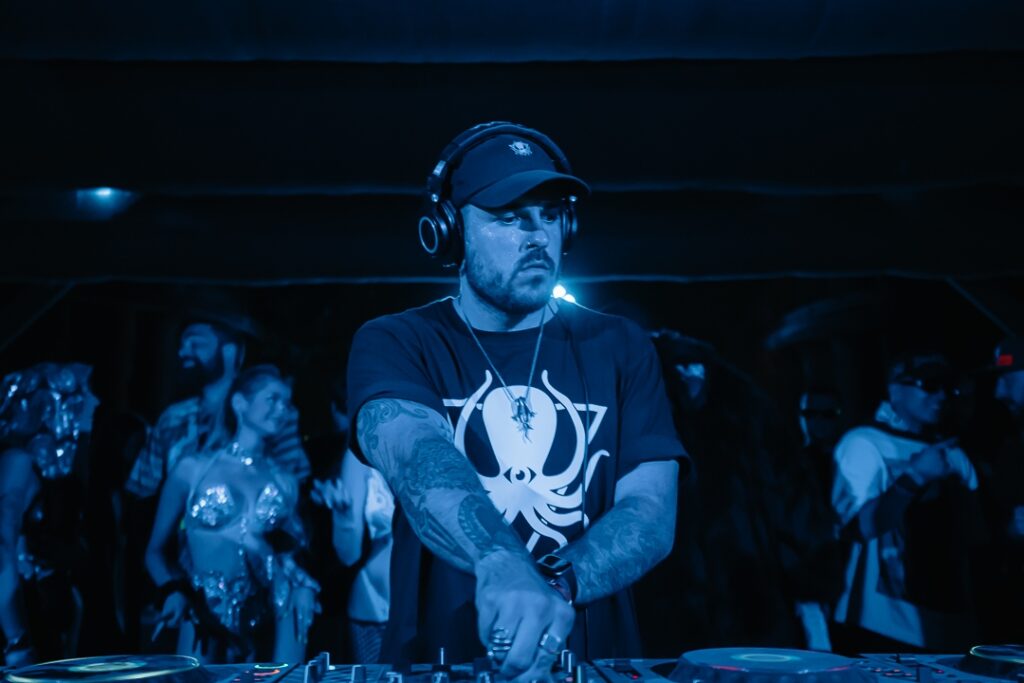 How do you feel the energy differs from event to event, and how do you go about crafting your sets to match the vibe or the crowd?
I will usually play mostly originals in my sets, so when you book Wraz, you have to expect the Wraz sound. I always like to create an evolution throughout my set, going from dark to melodic or from dubstep to drum and bass, for example. I'll have some variations depending on the time of the night or who plays before or after me, but you can always expect to hear the full spectrum of my sound or as much as I can fit inside my timeslot. [Laughs]
In 2022, you played your first Shambhala, which you said had been a goal of yours since the start of your musical journey. How did it feel to accomplish that and then get to immediately return the next year for this past weekend's edition?
Last year's Shambhala was the accomplishment of ten years of hard work for me. It was the biggest crowd I had ever played for at the time, in the best festival in the world, surrounded by artists that I admire. I still feel emotional thinking about it!
Returning to Shambhala this year was an unexpected surprise, and it was once again an unforgettable experience. I was playing at 7:30 PM, which can be a bit early, but people showed up, and we PACKED the Amp. I had so much new music to show everyone, and the crowd was ready for it. So many fans came to me to show me love, and I'm extremely grateful for everyone who was there! I also heard so many legendary DJs playing my tunes in their sets during the weekend. Spreading the Wraz sound everywhere!
Finally, what other goals do you have, both big and small, for the Wraz project?
My next goal in terms of shows is to start playing in the UK / Europe in 2024. To all of my European promoters out there, let's make it happen! In terms of releases, I'm always trying to expand the Wraz sound by releasing on new labels. I already have some legendary opportunities brewing in the shadows, and I can't wait to share the news with y'all!
---
Follow Wraz:
Facebook | Twitter | Instagram | SoundCloud