Lightning in a Bottle's 20-year celebration was fueled by memorable music, thought-provoking art, and, most importantly, the people!
---
Lightning in a Bottle has become a staple in my festival calendar. After attending my first edition in 2016, I have made an effort to go each year, and it continues to grow on me with each passing experience. This year marked my sixth attending Do LaB's flagship festival, and it was even more special as they were celebrating the 20th anniversary of the event. In fact, this one was arguably the most magical yet.
Of course, the music always sparks my interest in making the trip back, but it's also how the production team transforms the festival grounds. Lightning in a Bottle's larger-than-life stages and installations, the thought-provoking art scattered across the venue, the mind-opening workshops, spirited vendors, and general shenanigans are always a treat. But the community and people made Lightning in a Bottle stand out this year.
The music lineup attracted me back to Lightning in a Bottle, and several sets left me elated.
The Woogie is an iconic part of Lightning in a Bottle. The pulsing rhythms of House and Techno permeate the air luring attendees in from all directions. The Woogie trees dance alongside you and add a saturated pop of dimension to the groovy peninsula they stand stall on. As soon as I saw the trees come into view, I could feel a sense of overwhelming happiness take over me. It felt so good to be back and to immediately see attendees embracing each other, smiling, and beginning the many miles of dancing that would ensue over the weekend.
The first set I saw at Woogie was Nala. Although I had never seen her perform, it was not long into her two-hour set that she had a new fan. She played an artfully curated set that steadily raised the energy throughout before she passed the reins to LP Giobbi. She was one of my most highly anticipated sets to see over the weekend, especially because I loved her recently released debut album, Light Places. LP Giobbi's stage presence is unlike any other artist. You can tell she enjoys performing and sharing music with her ear-to-ear smile and genuine interactions with the crowd. She played a handful of tracks from her entire discography, but what got me dancing the most were my favorite songs from Light Places, "All In A Dream," "Can't Let You Go," and "Follow The Loop."
Although I know I missed some great sets at Woogie because I spent time at other stages, I'm really happy I started my weekend off there. It almost felt like the unofficial Pre Party as the Lakeside Desert Hearts takeover didn't happen this year, but I had an equally fun time dancing under the multi-colored misting Woogie trees as I have had in the past at the lake launch parties.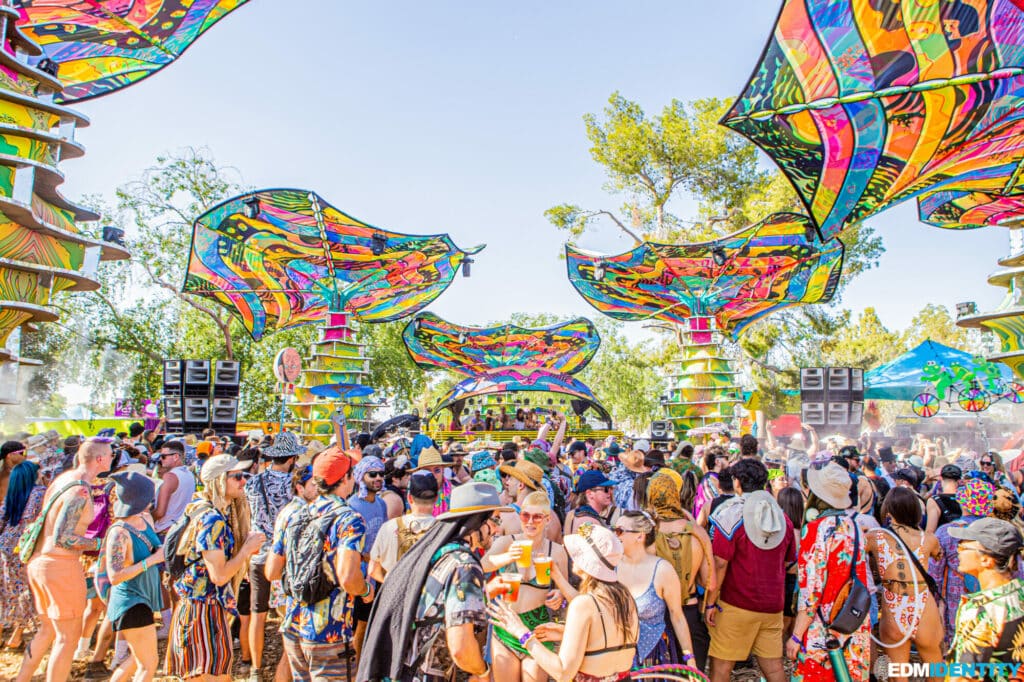 I spent most of my time on the Lightning stage throughout the weekend because I love the larger live acts that Lightning in a Bottle booked.
This year, the Lightning stage was completely reimagined and built out of colorful shipping containers. The design stood five containers tall and was about five containers wide, with top-tier lighting and audio production mounted all around. There were a lot of sets I was excited to see at Lightning, but who I was most excited to see was Caribou on Friday evening. I've seen them play multiple times and will never miss a chance to catch their performances. Dan Snaith is an incredibly talented multi-instrumentalist, and the band is equally talented. It was one of the few performances where I knew every song, sang every word and was fully immersed in the experience.
Caribou played "Sun," "Odessa," "You Can Do It," "Home," and more, but I will say, I haven't been able to let it go that they were told to cut their performance short, right before they played their last song, and my absolute favorite, "Can't Do Without You." I was, and still am, a little salty. That song holds such a special place in my heart because it reminds me of my brothers, and whenever I hear it, I feel like they're with me. Since they don't attend camping festivals with me anymore, these are the moments I look forward to the most so I can dance my little heart out and vibe away. Adding to the salt was that they were cut short for SOFI TUKKER, who started 30 minutes late. Although SOFI TUKKER was plenty of fun, I just couldn't believe they wouldn't give Caribou four minutes to play their most coveted song.
Since I spent most of my time at Lightning, I think giving a few shout-outs to other artists is proper because I had such a blast dancing to all the live music. ZHU, Phantogram, and Mindchatter all ripped the live stage performing incredible sets that left me elated as I walked away. Also, although I call it the live stage, I have to give a huge shout to Rezz because she absolutely brought down the house to close out the festival. Her discography is stacked with dark and ominous bangers, and it's been insane to see how much she has grown since playing 2PM slots at festivals like CRSSD years ago.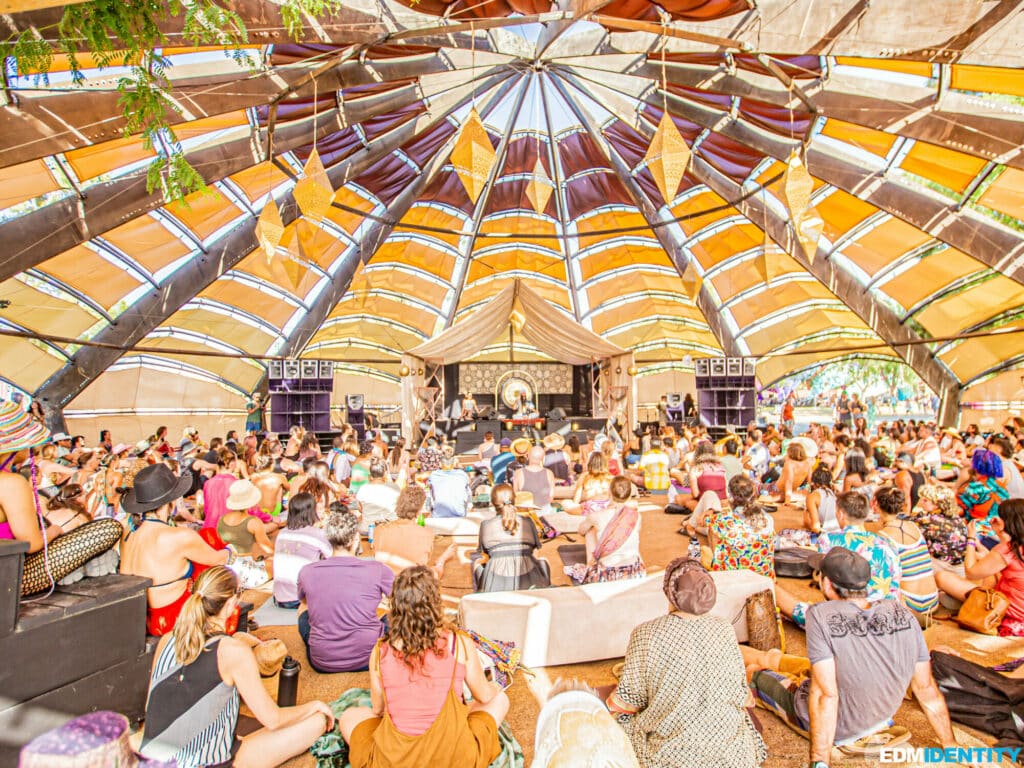 Whenever I wasn't at Lightning, you could find me in Frontierville at Grand Artique, where the vibes are consistently immaculate and the music discovery is plentiful.
Grand Artique feels like a second home to me at Lightning in a Bottle. Over the years, I have connected with a lot of the people that bring Frontierville to life, so I feel a special pull to visit and vibe at Grand Artique. Plus, who doesn't like pickles, performers, and leaving with a few nick-nacks from the Trading Post to commemorate the weekend? Not to mention the lineup at Grand Artique is always incredible; there is seriously no shortage of great music to see and discover at this stage. Artists like Moontricks and Mindchatter played additional DJ sets, ZHU's guitarist and saxophonist played with their band Hello Yes, there was a Strawberry Disco Circus and Spacehall Sound Machine, a talent show, and of course, the annual pickle launch.
As synonymous as "when in doubt, Woogie out" has become with the Lightning in a Bottle experience, I think you'd have the same success riding that mantra at Grand Artique. There was a beautiful full circle moment where I got to see Kiyoka (who also had her own set at Grand Artique!) dancing on stage with her dad, Burkey, who performed as Red Giant Project at 4 AM on Saturday. This is important to me because in 2016, I discovered Burkey and Robbie's fusion group Vokab Kompany at Grand Artique, and the moment that stood out to me most then was when Kioyka came out to sing "Lately." It was so wholesome then, and it's even cooler now to see her perform on the same stage as her family and share those moments with them.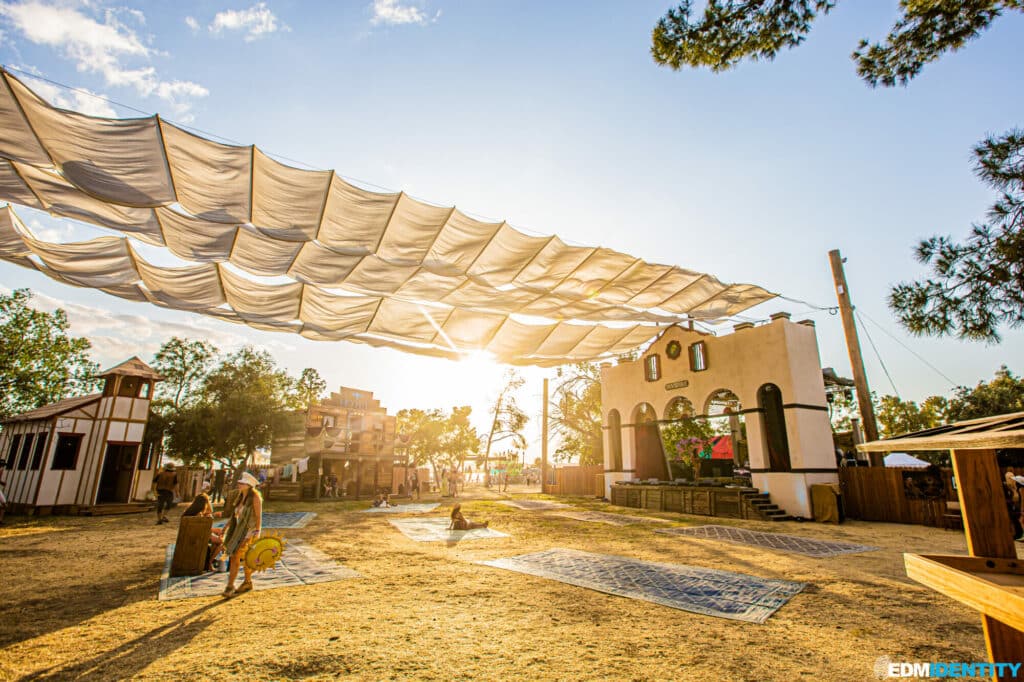 I got my full dose of bass to the face at Thunder, where I was able to catch performances from LSDREAM, TOKiMONSTA, Wreckno, Zingara, and my favorite of the weekend, Balkan Bump.
Balkan Bump is an incredibly talented musician and producer, and I was really excited to start my day at his set on Friday. He performed alongside Mah Ze Tar, who plays Persian guitar, Mayvn, who plays clarinet, and Juliano Wade, who interpretive dances. Together, they reel you in with their collective energy and had me dancing, kicking up dust the entire set. I couldn't name all the songs off the top of my head, but the one I do know always gets me levitating, and it was insane to hear it go off at Thunder. The song is called "Step In Time," and it's probably one of Balkan Bump's most dubstep-forward songs. I don't particularly like dubstep, but the way he puts this track toward the end of his set after all the funky trumpet dancing gets me juiced every time.
In addition to all the body-shaking bass at Thunder, there was a specific hour where it all subsided on Sunday afternoon for LSDREAM's LIGHTCODE. After a few days of dancing and covering tens of miles of the venue, taking a load off and participating in a sound bath was absolutely necessary. This year I was able to find some shade alongside my friends, and we all got horizontal, closed our eyes, and drifted off into the guided mediation curated by LSDREAM. It was beautiful, and although there were technical difficulties initially, Sami simply worked with production to ensure the experience would be as he planned and started it over. Then, it was off to the heavens.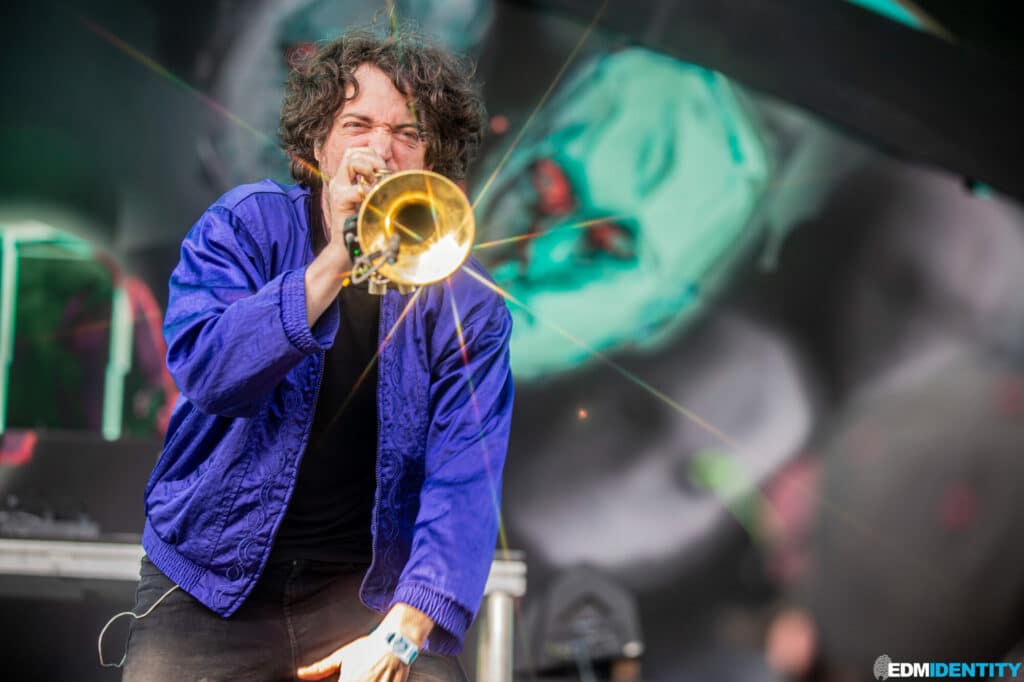 There is so much to explore at Lightning in a Bottle, from the vendors and workshops to live painting, art cars, martian circuses, roller rinks, and my favorite, The Mixtape.
You never know what you might stumble upon at Lightning in a Bottle – whether it's the Fungineers serving fresh waffle cones of acai out of their mobile rig, the out-of-this-world vibrant blacklight full band martian circus, or people of all ages getting down at the roller rink. There are also wacky shenanigans and easter eggs to discover all over the festival grounds. One installation that drew me in was called The Mixtape, a small building that could easily be overlooked unless you were drawn in by blaring 80's music, which I was.
The moment I entered The Mixtape, I was transported back to another era, but everyone was still outfitted in their festival gear. The first song I heard walking in was "We Built This City" by Starship, and what a moment. Not only that, one of the volunteers of the installation was mixing cassettes on an old-school mixer which added an element of nostalgia. It's moments and installations like this that make me want to keep coming back to Lightning in a Bottle to find all the other hidden gems around the festival.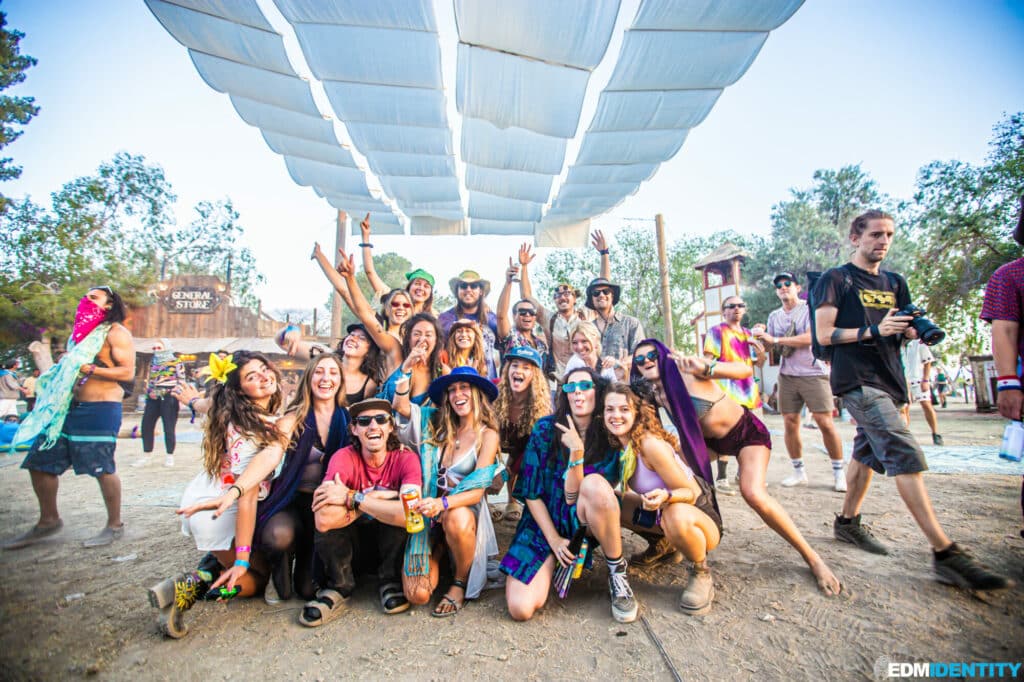 But, to my main point, the incredible community I spent the weekend with made the 20th anniversary of Lightning in a Bottle stand out.
As I mentioned previously, I used to attend Lightning in a Bottle with my brothers and even found my roommates of six years (and counting!) at Lightning in a Bottle 2016. Over the years, I have missioned back to LiB with new groups getting adopted by some of the best people I didn't know yet. This year was no different. Until about a day before the festival, I was under the impression I would attend by myself, and I was actually really excited to lean into that.
While I make friends easily and I run around the festival by myself a lot anyway to capture photos, part of me really wanted to have that community at camp and to be able to share beautiful moments at sets. Well, the Lightning gods struck, and I was adopted by a wonderful group of festival veterans, with the common denominator being a friend that adopted me at Electric Forest last year.
I could not have asked to be taken in by a better group. They welcomed me into their camp with open arms and enjoyed the festival in many of the same ways I do. Not to mention anytime I took a lap around the festival, I ran into old rave fam, connected with many of the spirited and entrepreneurial vendors, networked with people I took photos of, and connected with old friends on a deeper level. These experiences all unfolded before my eyes and culminated together to create my favorite experience at Lightning in a Bottle.
I may have arrived at Lightning in a Bottle alone but I never felt alone. I want to thank all the inspirational and wonderful people who made this Lightning in a Bottle extremely special. To the Do LaB team, creators, builders, volunteers, artists, teachers, and attendees, thank you so much for creating such a wonderful space for everyone to be comfortable and free. The energy this year was palpable, and the connections I made with everyone will be long-lasting. It was a great reminder to myself that although I go for the music, I come back for the people. See you next year!
---
Follow Lightning in a Bottle: