Soukii swung by ahead of his upcoming sets at Sound Haven and Elements Festival to chat about his creative processes, future goals, and more.
---
Rising sound system music tastemaker Soukii hails from Gainesville, Florida, and has made quite the name for himself just a few short years into his DJ career. With an unmatched love for UK genres and classic electronic sounds, his unique selections bring a certain type of energy that is less common within the American bass music scene. Heavy on the club-energy dancefloor side of sound system music, Soukii always brings a wide range of genres with UKG, jungle, breaks, halftime, and the occasional dubstep tune in the mix.
Soukii's sets make for a refreshing change of tempos to bass-heavy lineups as dubstep fans find themselves grooving to many classic two-step beats and high-energy sounds. His unrivaled love for the culture surrounding club and sound system music drives his passion for playing to crowds and ultimately led to the quick rise of his DJ career that's truly only just getting started.
While you may have caught Soukii at this year's Okeechobee, he has plenty more in store for 2023, with festivals like Sound Haven and Elements on the horizon. Not only did he make us an exclusive mix to provide a taste of his sound before those sets, but we also chatted with Soukii to give fans some insight into how he got started, his future goals, and more, so click the mix on SoundCloud to listen and keep reading for the interview.
Stream EDMID Guest Mix 380 || Soukii on SoundCloud:
---
Hi Soukii, thanks for taking the time to chat with us ahead of Sound Haven this week! So there's plenty to chat about with your recent accomplishments and upcoming shows, but first, can you give us some background on how it all started for you with the Soukii project? How did you decide to pursue music, and who were some major inspirations for you early on?
This answer tracks back all the way to when I was in middle school digging for new music on YouTube. I remember stumbling upon a video of Benny Bennasi playing at Ultra, and I was completely enamored by the sea of people watching him, all dancing in unison. I had never seen anything like it and instantly became obsessed with learning more about the music and the culture surrounding it.
Fast forward to 2020, after spending my college years going to his shows, I decided to shoot my shot with my now good friend and mentor Rahel Faruque about joining his promotional company "Grow Operation." Rahel brought me under his wing and taught me the ropes about the hospitality and promotional side of the music industry. Through this experience, I realized I would eventually want to work in the music industry full-time.
With that being said, I truly had no intention of being a DJ until early 2021 when my friend Josh bought me a DDJ-400 and told me to do something with my music taste. Considering it was quarantine, I locked myself in my room, taught myself to DJ, and started posting mixes on SoundCloud. After I felt ready for a live setting, I hit up promoters around FL. My first real opportunity came when Amy Nicole Sabas from the Alliance Events team decided to have me open up for Jantsen, and I haven't looked back since.
Riz La Teef, Ben UFO, and Ternion Sound heavily inspire my mixing. Watching these three acts mix flawlessly with seamless transitions is truly a pleasure for any enthusiast.
You've received some incredible support and major bookings, like your recent appearance at Okeechobee, not long into your music journey. Was there a specific moment or opportunity that made you realize you were on the right track to achieving your goals as an artist?
I would definitely say the opportunity that propelled my career the most and made me realize I was on the right track was, like you stated, Okeechobee. Being from Florida, playing at that festival was a huge dream of mine, and I never expected it to come so early in my career. It was a true honor to be selected to represent the underground scene on such a huge stage. Looking into the crowd as the set went on and seeing more and more people fill in and get down with me was all the reassurance I needed to know that I was on the right track as a DJ. Forever grateful that Shai and the Okeechobee talent buying team trusted me with that slot.
As one of few US artists heavily pushing classic UKG, jungle, and breaks sounds to predominantly dubstep crowds, your sets are a fun change of pace and tempo(s) to dubstep-dominated lineups. How do you feel your sets are received by new fans and/or fans who might be less familiar with those genres?
Throughout my years of being involved in the underground bass music scene, I've noticed that the consumer's taste has become much more refined and mature. I feel my sets are well-received as fans have become a lot more eager to explore new sounds, new genres, and new emotions in recent years. I feel like we really started to see a significant change during quarantine when everyone had ample time to dig for new music. With that being said, it is, at times, difficult to dig for genres you are less familiar with due to not knowing where to start, and that's where I come in as a DJ.
I confidently feel my style is well-received by these American dubstep crowds because the genre itself (dubstep) was pioneered when producers like Mala and Plastician took the UKG two-step sound and made it darker, moodier, and deeper, basically creating a movement leading to what we know as dubstep in modern times. In my opinion, most American dubstep fans will love two-step and breakbeats, even if they don't know it yet.
What does your curation process look like when you're prepping for a set or a mix like the one you created for us today? How do you go about crate digging?
For this mix, I wanted to show how expansive UKG can be and showcase my range of selections throughout other genres as well. I decided to include some tracks that have been staples in my previous sets this year, tracks that I'm excited to play in my upcoming sets, and tracks I don't really get to play out often. When curating a playlist for a set, I always like to keep in mind what slot I'm playing or what type of crowd I'm playing to while still keeping it authentic to myself and my taste.
I feel like my job as a DJ is to present underground bass music crowds to genres or tunes they wouldn't really listen to in their day-to-day selections. My favorite quote about DJing states, "It's not about playing the songs they wanted to hear. It's about playing the songs they didn't know they wanted to hear." That quote describes perfectly how I prep for a set.
What can we expect from your upcoming sets at Sound Haven and Elements Festival?
I truly wish I had a better answer for this question, but the only way to find out is to be there! I can promise you can always expect high energy, a wide range of selections, and a whole lot of passion and soul that leads to an energetic dance floor.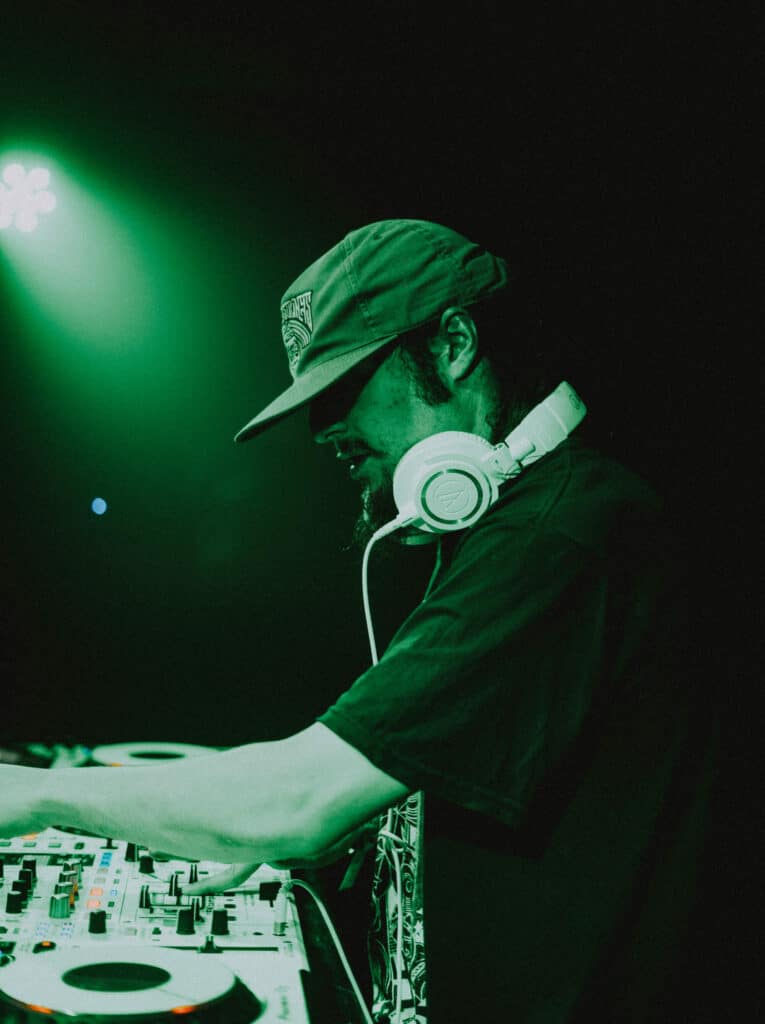 As you continue to check off playing more shows and festivals, what are some future goals, both big and small, that you have for Soukii?
Currently, my main goal is finishing the year strong and playing the best sets possible at my upcoming gigs. Moving into 2024, I want to bring my sets to cities like New York and Chicago that have a deep history of club music and culture. Mainly, I want to continue being a trusted tastemaker for the scene and putting on a unique dancefloor experience that isn't really seen much in the underground bass music scene.
Lastly, I recently partnered with one of my long-time friends, Rhett, also known as Gonzo, and his company, "The Proper Hub". We are looking to create an outlet for all things UKG, whether it's in the States or beyond, where enthusiasts or everyday fans can find the freshest cuts and/or producers. Be on the lookout in the near future for updates on this!
Finally, if you could only listen to three albums for the rest of your life, what would they be?
This question is going to absolutely haunt me, and my answer will probably be different each time this is asked, but as of today, the three albums would be Calibre's Second Sun, Yussef Dayes Trio's Welcome To The Hills, and Billy Strings' Turmoil & Tinfoil.
---
Follow Soukii:
Facebook | Twitter | Instagram | SoundCloud