Sound Haven is nearly here, and we've got all the information you need before heading out to Jaceland for your bass-filled weekend.
---
While it seems like just yesterday that the Sound Haven lineup dropped, the festival is officially upon us this week as attendees plan their return to Jaceland in Gruetli-Laager, Tennessee, on July 20-23. With countless reasons why this festival should be on every bass music fan's bucket list, the excitement is setting in for fans as their weekend preparations are being made.
The set times have dropped for the festival's main UFO stage and the Planetary late-night stage, with near-flawless curation for each daily lineup. Sacred Hive has also continued to reveal cool new additions as the weekend gets closer, like an IV booth to help any attendees who might find themselves easily dehydrated from the Tennessee heat.
Visual artists, live painters, and muralists were also announced, giving fans plenty to look forward to on the art side of things. With the visual artist roster curated by Actualize, tons of notable talents will be on live-pixel duties like Glass Crane, VJ Kobra, and Ivy Visuals, and you'll find local favorites like Chill Will, Chris Fun, and Sanzone creating brush-to-canvas magic throughout the festival.
Limited tickets for Sound Haven remain, so grab yours ASAP if you haven't already via Ticketing Co, and keep reading for all the important information you need to know before you go.
---
Sound Haven 2023 – Essential Info:
Dates: July 20-23, 2023
Gate Hours: 12pm-12am, Daily
Venue Address: 18 Ross Creek Spur, Gruetli-Laager, TN 37339
Tickets: Purchase HERE
Facebook Event Page: RSVP HERE
---
Sound Haven 2023 – Planetary Stage Set Times: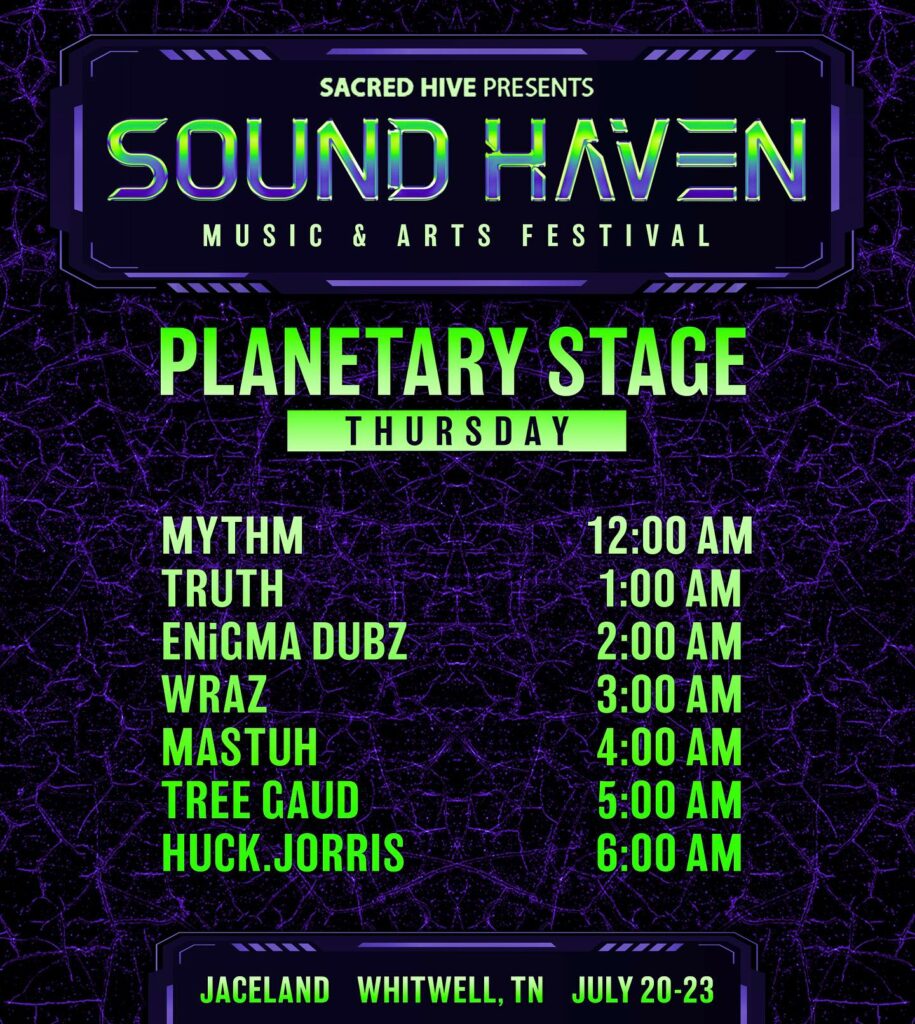 ---
Sound Haven 2023 – UFO Stage Set Times: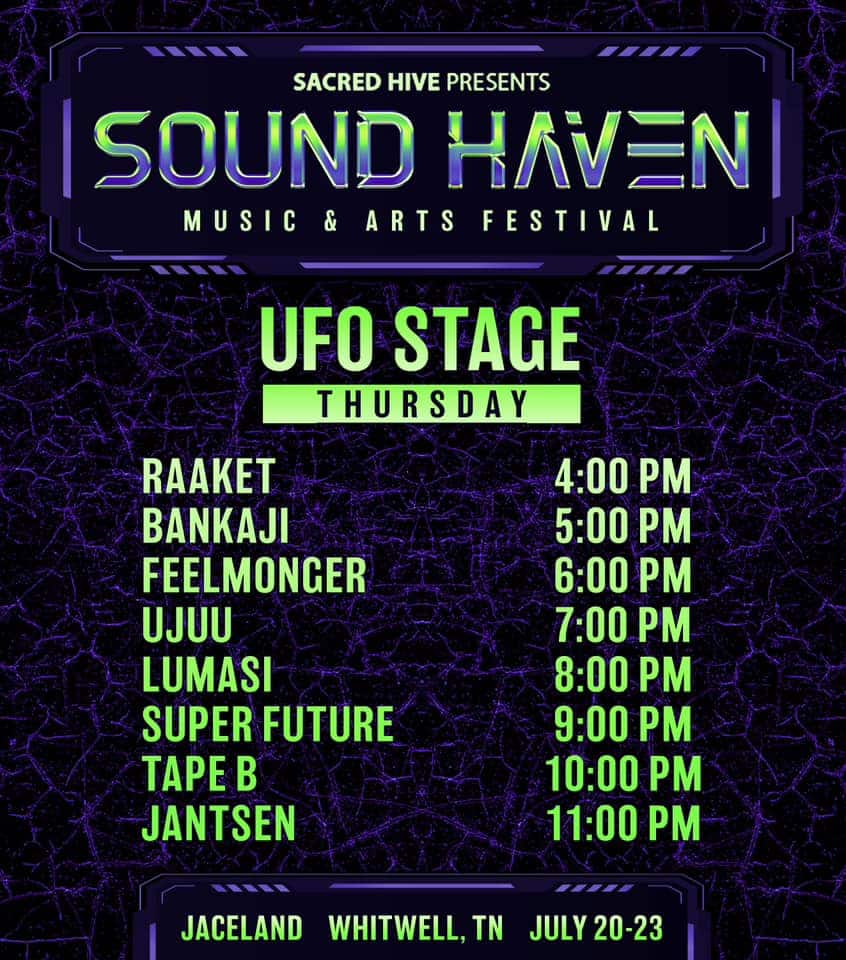 ---
Sound Haven 2023 – Workshops Schedule: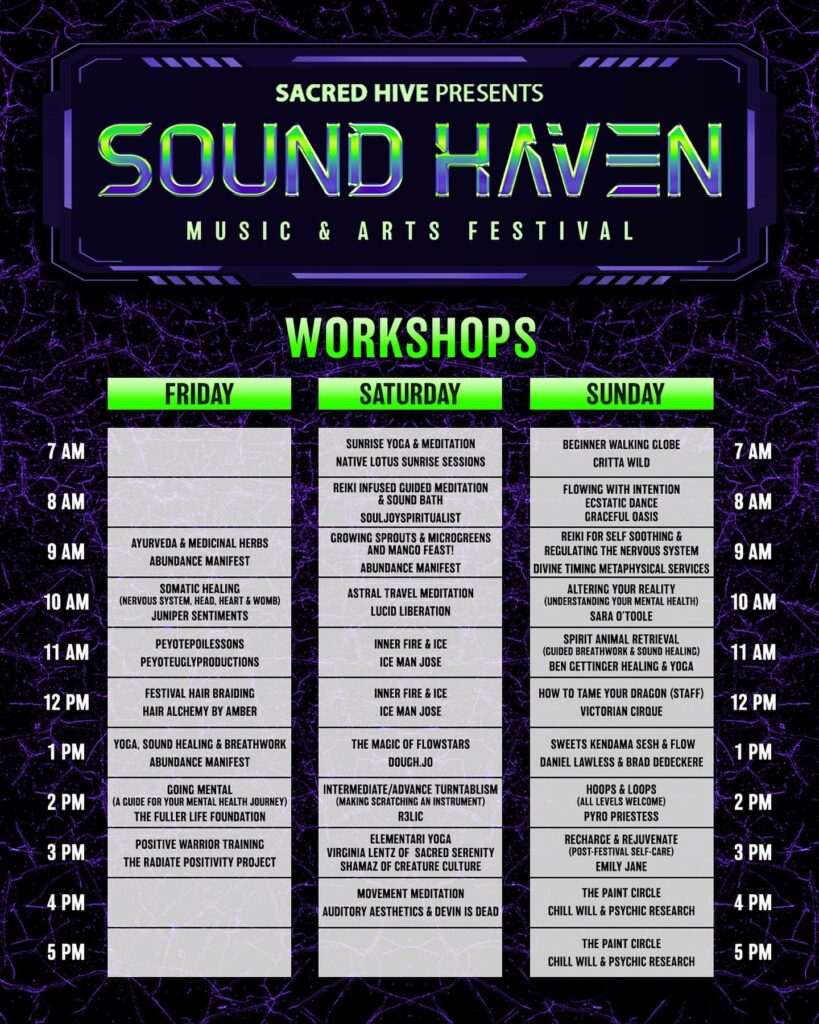 ---
Sound Haven 2023 – Festival Map:
Coming soon!
---
Reminder To Mind Your Belongings:
Unfortunately, many people have reported pickpockets, bag slashings, and theft of wallets, smartphones, purses, and other valuables during this festival season. While this small number of bad apples in the bunch doesn't define an entire crowd, some opportunistic people come to these events to take advantage of unsuspecting partygoers, and it's important to be mindful of your valuables while at Sound Haven.
Looking for tips to keep your belongings safe? Check our post highlighting some ideas!
---
Sound Haven 2023 – Do's & Don'ts:
Prohibited Items
NO Pets
NO Professional photo, video, or audio recording equipment (no detachable lenses, tripods, big zooms or commercial-use rigs)
NO promotional flyers or posters
NO Toy guns, water guns, slingshots
NO Weapon or weapon accessories of any kind, real or fictional (including lightsabers, pocket knives, pepper spray, fireworks, fake weapons/props, etc.)
NO Drugs or drug paraphernalia
NO Gas masks
NO Helium balloons
NO Illegal substances
NO Costumes that resemble public safety uniforms (police, SWAT, fire, security, or medical) in any way
Allowed Items
YES Inflatable couches and chairs at the stage if kept to the outskirts of the dancefloor
YES one case or bottle of alcohol per person (no glass)
---
Follow Sound Haven:
Website | Facebook | Twitter | Instagram | SoundCloud | Twitch