PhaseOne takes his musical passion to the next level with the launch of Sounds Of Mayhem Recordings and its first compilation.
---
PhaseOne is a veteran in blending bass and metal faultlessly, bringing the marriage of sounds in many headbangers fantasies to fruition. Perfecting his craft, it only makes sense that he would want to provide a space for "rocktronic" enthusiasts to gather and create magic. Now, he's officially put his idea into motion and announced the opening of his label, Sounds Of Mayhem Recordings.
Get your heads ready to bang because Sounds Of Mayhem Recordings not only announced the official opening of their doors but also unlocked eight new tracks to indulge in, Sounds Of Mayhem: The Uprising, as a taste of the heavier sonic energy that is to come from the label. Found inside are solo tunes from DVEight and AVEON, along with collaborations from Akeos & Lusumi, YUSSI & Neotek, Bainbridge & High Zombie, JEANIE & Dino Shadix, and PhaseOne's track with In Hearts Wake, "Bringer Of Death." And if you're looking for a proper foursome, then your hunt will be over as "Second Left To Breathe" brings Fransis Derelle, CRaymak, Tea Timerz, and Frank Zummo along for the ride.
With many successful bodies of work over the years, including his hard-hitting Double Up EP, PhaseOne has the background and experience to match his passion for running a successful label. Listeners can expect a slew of music focused on forward-thinking sounds flirting with anarchy and fun, just like the artists' previous works have portrayed. With a deep desire to discover new artists alike, PhaseOne fans can be overjoyed to know more rock-infused bass tracks are on the horizon.
Listen to Sounds Of Mayhem: The Uprising on Spotify or your preferred platform, and stay tuned for more from PhaseOne's new imprint by following him on social media!
Stream Sounds Of Mayhem: The Uprising on Spotify:
---
Sounds Of Mayhem: The Uprising – Tracklist:
PhaseOne, In Hearts Wake – Bringer Of Death
JEANIE, Dino Shadix – Fatal Flow
Akeos, Lusumi – Razor Sharp
Bainbridge, High Zombie – Burial Recipe
Fransis Derelle, CRaymak, FRANK ZUMMO, Tea Timerz – Second Left To Breathe
YUSSI, NEOTEK – Move Over
DVEIGHT – Prevail
Aveon – Hell Burnt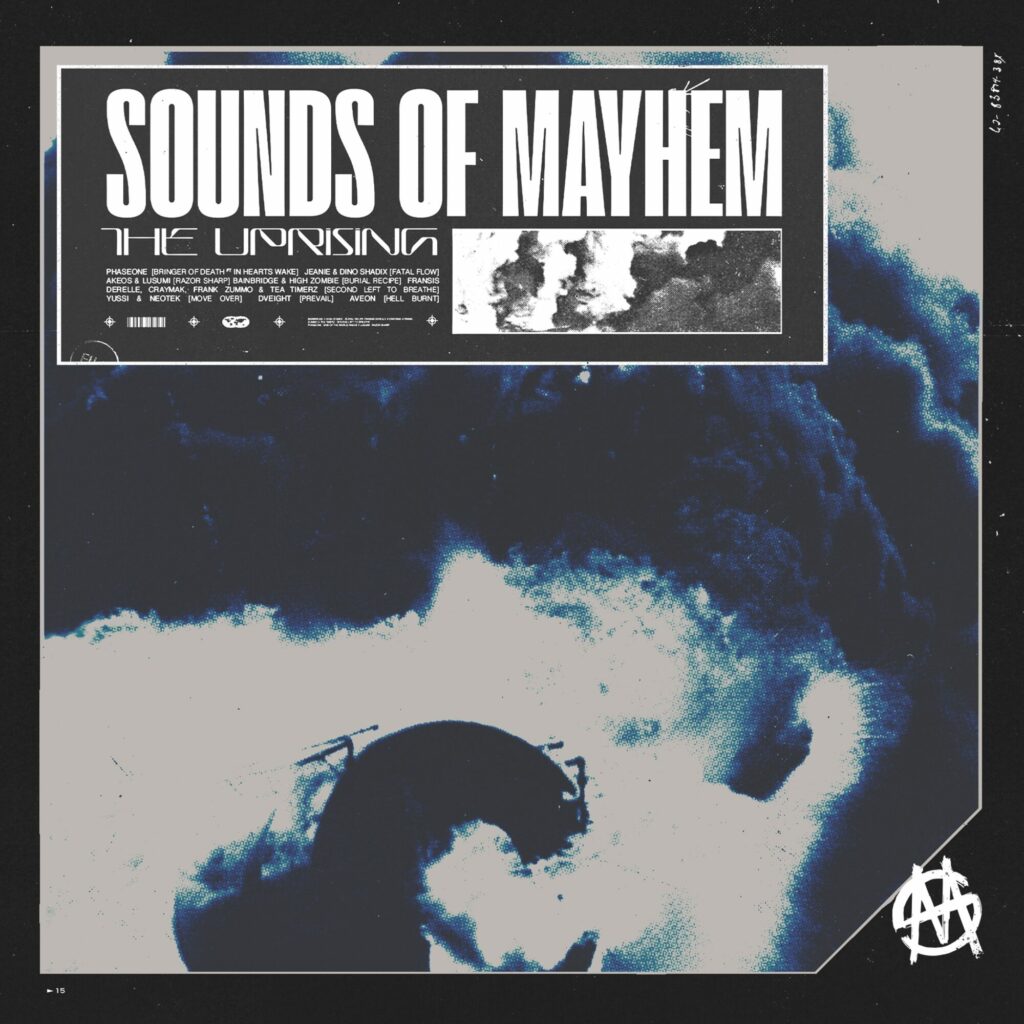 ---
Follow Sounds Of Mayhem Recordings:
Website | Facebook | Twitter | Instagram | SoundCloud
Follow PhaseOne:
Website I Facebook | Twitter | Instagram | SoundCloud