HoneyLuv and Seth Troxler combine forces on Sex & The City, marking a new chapter for Tuskegee Records following a four-year break!
---
Tuskegee Records was introduced to the industry back in 2014 with the spicy psychedelic vibes of "Space & Time" by label owners Seth Troxler and The Martinez Brothers. They proceeded with a fairly light release schedule, with an average of two releases a year up to 2019, their most active year being 2015. The label offered a platform for rising BIPOC artists to flex their skills, making it imperative that the label return after a four-year hiatus.
Tuskegee was founded in 2014 when The Martinez Brothers and I realized that there was not enough representation in dance music of our communities. Being from Detroit and NYC, two scenes that birthed this culture, and made predominantly for people of Black and Latino backgrounds; we felt it was our duty to launch a platform to inspire a new generation of minority house music musicians, and show these new artists that dance music was a possible path for them. The label also served as an outlet for the overlooked originals and legends, the foundation builders of the scene.

During the pandemic we took a hiatus. And now we felt that it was again time to relaunch the label, with a new impetus and focus on young, new and emerging artists of color and to empower the next generation.

Seth Troxler
Today the wait is over with HoneyLuv and Seth Troxler lifting the veil on Sex & The City. The track features a sample from Paul Johnson's 1998 classic "So Much" and the EP comes with both dirty and clean versions of the single, as well as an edit and an extra special remix from house mainstay MK. Listeners will find their heads bopping and their feet gliding to the slick rhythm as HoneyLuv and Seth Troxler circle back to their roots. The vocal is deliciously sultry and as it intertwines with the instrumental you'll feel your body tingle with electricity.
MK responds with a delightful punch to the tempo and a few flavorful tweaks to the top-end. With this energy shift, he takes a sexy track and turns it into a lighthearted party pumper. Whichever version you land on, be prepared to feel twitterpated and inspired to grab your lover and make a beeline for the dancefloor. Speaking of, HoneyLuv is currently on her Summer Of Luv tour taking her all around the globe, as well as here in the States including Hangout Festival, Sunset Music Festival, Get Funky, Life Is Beautiful, and more! Do yourself a favor and don't sleep on your chance to see this future industry leader in action!
To even be in the same room with Seth is an honor, but to collaborate with him on a track is a dream come true. Seth has been one of many of my inspirations during this journey of mine. This song is definitely the essence of what house music is and what the future will be, and I'm so happy Seth was able to help create that with me.

HoneyLuv
Without further ado, grab your digital or vinyl copy of Sex & The City on your favorite music platform, stream the album on Spotify, grab your tour tickets, and let us know what you think of the groove on Twitter!
Stream HoneyLuv and Seth Troxler – Sex & The City on Spotify:
---
HoneyLuv and Seth Troxler – Sex & The City – Tracklist:
Sex & The City (Dirty)
Sex & The City – MK Extended Remix
Sex & The City (Clean)
Sex & The City – Edit
Sex & The City – MK Remix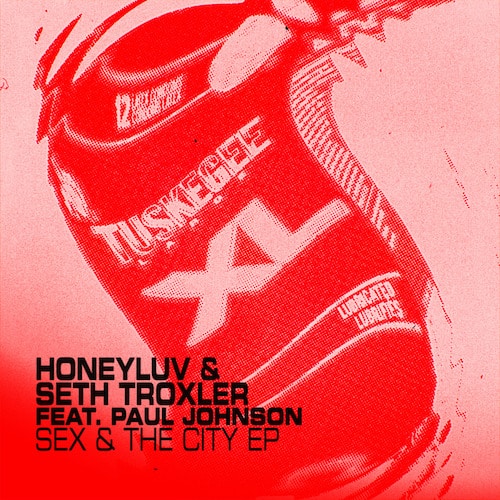 ---
Follow HoneyLuv:
Website | Facebook | Twitter | Instagram | SoundCloud | TikTok
Follow Seth Troxler:
Website | Facebook | Twitter | Instagram | SoundCloud