The energy was immaculate as John Summit played a speechlessly diverse, two hour set on Mother's Day at Red Rocks Amphitheatre.
---
The "real life meme" global superstar, John Summit, has shaken up the electronic music scene. From his eight-hour sets at Miami's Club Space, to playing some of the world's largest festivals, he is not an artist to be reckoned with. Taking the world by storm, John Summit is a success story for what it means to truly chase your dreams. Captivating his crowds with tracks like "La Danza" and "Show Me" featuring Hannah Boleyn, it is nearly impossible not to get up and dance, let alone hear any of his music throughout clubs and festivals around the globe.
Even curating events of his own, his record label Off The Grid recently hosted a two-night event in The Caverns. Arguably one of the most booked artists in the house music realm, he is set to play a massive b2b with Dom Dolla at Movement Music Festival later this month. It was only a matter of time before John Summit would headline the legendary Red Rocks Amphitheatre. With artists Lucati, Sosa, and Green Velvet heating up the stage with stellar house and techno sets, the crowd began to buckle up for a wild ride.
The rain poured down on thousands of smiling fans as John Summit opened his set with GRiZ's remix of "Where You Are," and things only progressed from there.
Some may let the weather stop them from having a great time, but raving in the rain during a John Summit Red Rocks set felt magical. The stage production was nothing short of breathtaking and amplified the energy felt in the crowd tenfold. Red Rocks Amphitheatre is a nearly ten-thousand-capacity venue, and the show was completely sold out. This really puts into perspective how desirable of an artist John Summit is.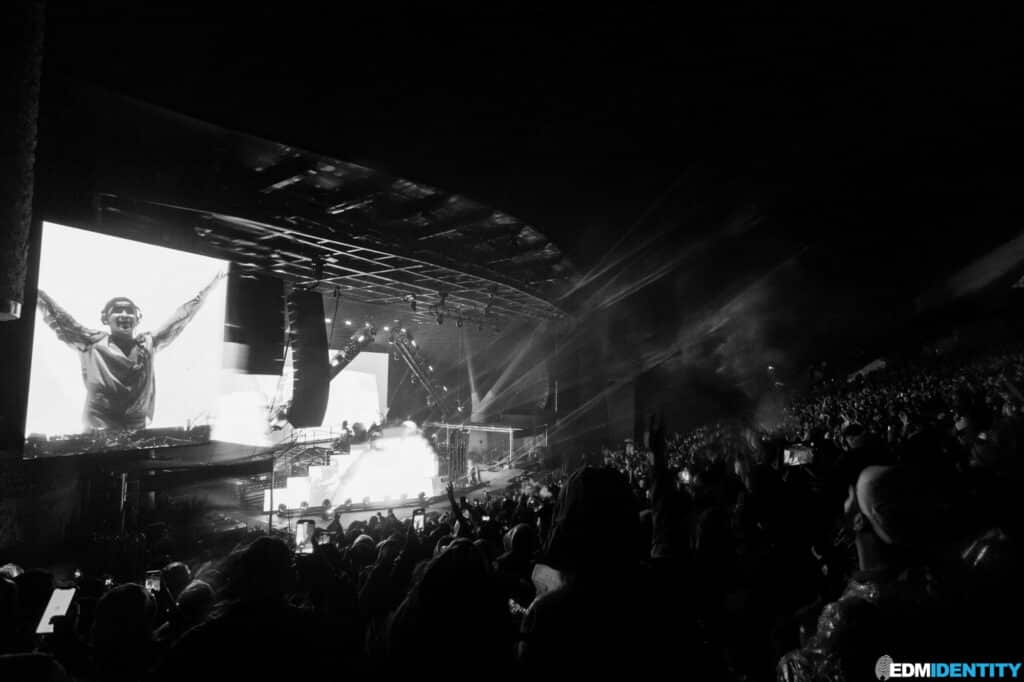 Jaws hit the floor when John dropped a massive unreleased dubstep tune by Subtronics, stating to the crowd, "That was for the mom's, baby."
If one thing is certain, John Summit never fails to surprise his crowds in one way or another. Throwing in some iconic bass tracks into his set had everyone in a chokehold, which included the highly anticipated "Counting" by Hamdi featuring Princess Superstar. Despite the techno snob backlash, he knew his crowd and credit should be given where it's due for incorporating so many subgenres into a single set. We fully support it!
John Summit staples heard throughout his set included his collab with Sofi Tukker "Sun Came Up," as turquoise lasers hit the raindrops so perfectly they looked like glitter. Another fan favorite ,which we also found out is also John's mom Tamara's favorite track, "Human," was exceptionally special. One particular aspect that stood out was that the energy never once slowed or came remotely close to diminishing during the entire set. Whether it was John Summit hits, bass bangers, techno, or house, the energy of the crowd and the set itself was immaculate.
The night ended beautifully with John Summit bringing out the talented vocalist Hayla for an encore of the original version of "Where You Are." Drenched in what felt like pounds of water, every single person in the amphitheatre was glowing with happiness. Concluding an unforgettable evening, it is without a doubt that John Summits' presence in the electronic music scene is impactful and not slowing down anytime soon.
---
Follow John Summit:
Website | Facebook | Twitter | Instagram | SoundCloud | Spotify | YouTube