Sofi Tukker have been having an incredible year in 2017 – learn more about their Grammy nomination, upcoming tour, & more!
---
Sofi Tukker is a New York-based duo made up of Sophie Hawley-Weld and Tucker Halpern. The two have crafted a unique sound that has landed them a support slot on ODESZA's A Moment Apart Tour as well as a handful of festival gigs across the country. The duo also released their debut EP, Soft Animals, which has garnered over 50 million streams on Spotify and a Grammy nomination for Best Dance Recording with their track "Drinkee".
If you haven't caught one of their sets we highly recommend you check them out! Combining a vibey electronic sound with live elements makes for a really fun set to get into. The future looks bright for these two best friends!
Keep your eyes peeled for when they come to a city near you and read more about the duo below. Tickets for their upcoming tour can be found here!
---
How did both of you find a passion for music, and what led you two to begin working together?
We both found our passions differently! Sophie has been writing music and dancing since she was in middle school. Tuck always loved music but was super focused on basketball. When he got sick and had to stop playing basketball, he turned to music and taught himself how to produce and DJ his junior year of college. Shortly after that, we met, and merged our very different influences together!
In the past interviews, you've stated that you have different influences and are actually fairly opposite. Does this ever impact the creative process when producing music, and how do you find a compromise in your sound?
It definitely impacts the creative process – we are listening to different things and come at the sound from different angles. But we actually never really "compromise." We both have to absolutely love it – there is no compromising!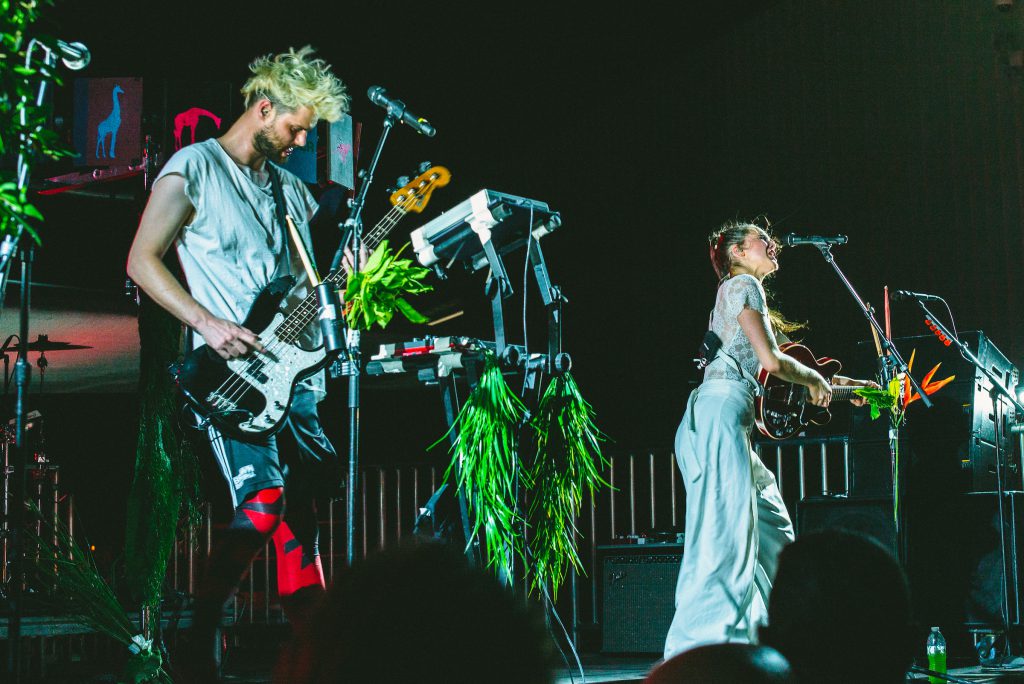 Having been recently nominated for a Grammy, what did it feel like to receive the news?
It was crazy!! We were in shock. We had no idea that was even an option!
Sophie, you've mentioned that you really enjoyed when someone called you a "Joy Ambassador." In addition to joy, what other emotions would you want fans to take away from your music?
Haha yes, I did love that! I would love for people to feel "in their bodies" – moved to move. In their authentic way. It's always really delightful to look into the crowd and see people totally immersed in the sound and free of self-consciousness, just moving in a way that feels good.
The song "Best Friend" was a group collaboration with many artists contributing verses to the final track. How did you come up with the idea, and is it something we can see happen again in the future?
Yeah, definitely! We love collaborating! It happened organically. We made the base of the track and then sent it to Nervo because they were managing Alisa and we wanted to put a Japanese rap verse on the song. When they heard it, they decided to hop on too! So at that point, we thought, since it's about friendship, let's get our best friends The Knocks to hop on too! It was a great spirit and really random!
We loved that the Best Friend Challenge tasked fans to show "why they love their best friend." How did that positive energy impact relationships in your personal life?
Expressing gratitude and love is such a fun thing to do! We try to take every opportunity/excuse to do so. We get to see it every night when we play best friend, we ask the audience to hug their friends. Feeling that energy is contagious.
The track also caught the eye of Apple, as it was used in a commercial for the iPhone X. What was it like hearing your track on television, and do you both use Apple products too?
Haha yes, we do use Apple products! It's absolutely insane to hear the track everywhere we go, not even intentionally!
After touring with ODESZA you'll be setting off for Europe and then South America! Is there a stop you're most excited for that you can share with us?
We are truly excited about all of the stops! Brazil is definitely always a favorite since it is the inspiration for so much of our sound!
Creating music and touring together means spending a lot of time together. What is it like on the road? Do you have pet peeves of each other, and how do you deal with them?
Hahahaha yes, of course, we have pet peeves, but they're not that bad. We are really good at communicating and even better at laughing. Plus we both have really bad memories so we forget pretty quickly! We are both really happy people in general so that helps a lot!
What are the three most important things you need to bring with you while touring?
Foam roller – water bottle (The Mobot!), we both love them!
Hairspray, a Tucker answer
Yoga Mat, a Sophie answer
---
Connect With Sofi Tukker on Social Media:
Website | Facebook | Twitter | Instagram | SoundCloud