Will you be dancing to the beat at EDC Las Vegas' Art Cars this year? The lineups that just dropped are filled to the brim with talent!
---
If you thought an overwhelming number of artists were set to take over the nine stages at EDC Las Vegas this year, Insomniac has added even more madness into the mix. Today, the lineups for the three art cars and Allegiant Rave Hangar have been revealed with another hearty helping of DJs who will keep you moving and grooving from dusk to dawn.
This year, the Parliament art car will receive a 2.0 upgrade for Insomniac's 30th Anniversary, boasting a lineup filled to the brim with legends. This includes Christopher Lawrence, DEMIGOD, DJ Dan, Frankie Bones, Jason Blakemore, Bunny/Rabbit In The Moon, DJ Trance, Fester, Thee-O, and more, all of whom were instrumental in the early years of the brand.
Those checking out the Titanics End art car will be treated to sounds from the minds of Emo Nite and Bassrush Records, who are bringing the likes of CHYL, Connor Q, Habstrakt (who is playing a Distorted Reality set), Hamdi, Oddkidout, OG Nixin, and Glittrcat, among others. Additionally, there will be some special surprises in store, with ARMNHMR playing a house set and Slander bringing their Before Dawn concept to the stage on Sunday.
The Boombox art car has become a home to countless artists showing their best since it first made its way to EDCLV, and this year is no different. RNBW is bringing Blake Webber, Le Twins, Crespo, and more on Friday, while IN / ROTATION is hosting Bexxie, Carola, Fredy Lane, Max Low, and others on Saturday. Sunday sees Grafix, Skellytn b2b Dr. Apollo, No Etiquette, and more bring a hearty dose of DnB during the Bassrush takeover.
If you find yourself wanting to take off and soar among the clouds, then the Allegiant Rave Hangar should be your first stop. This stage will see the likes of AIRGLO, Capozzi, Rohaan, Softest Hard, Nurko, Pauline Herr, Odd Mob, Manolo, Kaysin, and Corrupt (UK) perform. Further, TSU NAMI is showcasing her Club Tsu concept, Yetep is playing a throwback set, and ARMNHMR will make an appearance there with a progressive trance/house set that surely hit you in the feels.
GA passes for EDC Las Vegas are sold out, with limited GA+ and VIP options available. Head to their official website for more details, and let us know which art car you'll be vibing at the most on Twitter!
---
EDC Las Vegas 2023 – Art Car Lineups: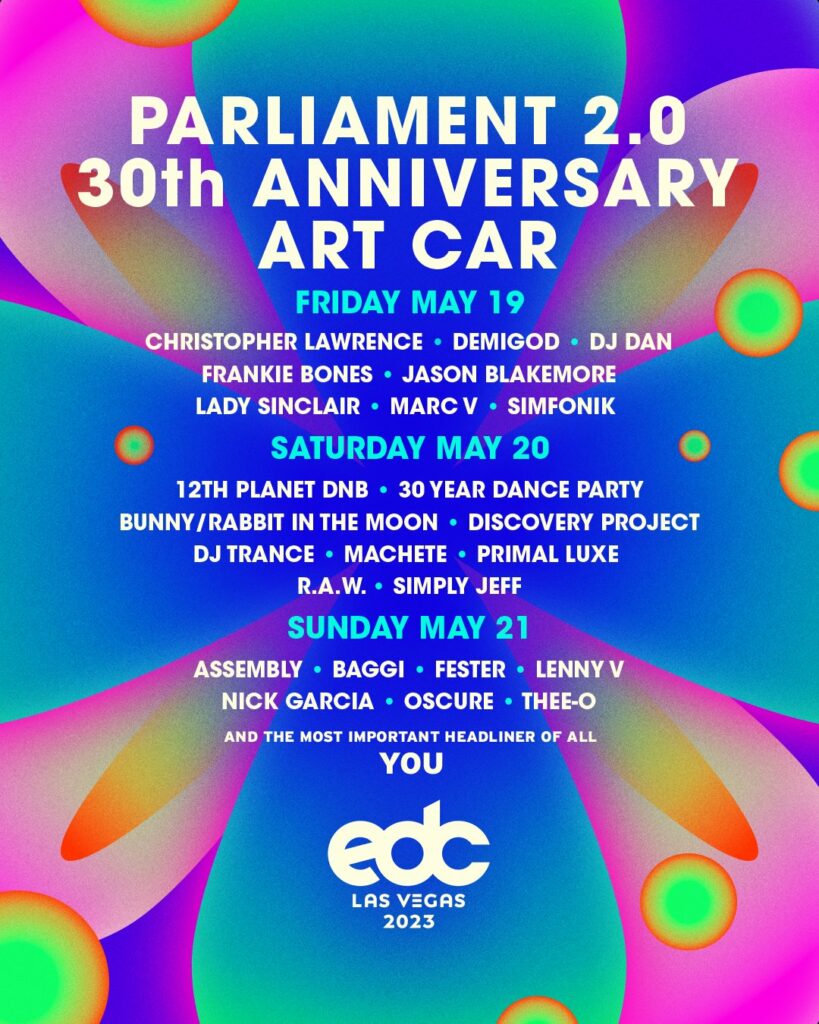 ---
Follow EDC Las Vegas: