Grafix sat down with us to chat about music, the current DnB landscape, mental health, and more before his killer set at Beyond SoCal!
---
Grafix, aka Josh Jackson, has been taking the drum and bass scene by storm since his early teens – probably before anyone reading this article could even drive! Previously known for his role as half of the well-loved Fred V & Grafix duo project with, you may have guessed it, Fred V, which endured for over a decade, he has focused on growing his solo career over the past few years.
In 2020, Grafix gave audiences a full taste of what that solo career might look like with the release of his debut solo album Half Life on Hospital Records, and his accelerated growth has only continued since. This year, that growth manifested in at least one way – playing a primetime set at Beyond Wonderland SoCal on Space Yacht's curated Sea of Wonder stage.
Described both by himself and critics as "dancefloor," Grafix's style of DnB is an inherent mix of heavy drum patterns and joyful musical elements that never fail to hit right in the sweet spot. Walking into his set, you're hit with a blast of high-energy DnB that tells you right away – oh yeah, this is a party, this is where it's at. What is it exactly that's grabbing you? It's fat horns. It's gorgeous vocals. It's sharp snares. It's everything.
For artists like Grafix, the concept of a 'life cycle' of an artist's career can take on new meaning. Although he has already lived an entire lifetime within the electronic music industry, seeing and feeling his exuberance towards the genre and the future of his career, in general, was truly refreshing. That characteristic jaded attitude that you might come to expect from artists that have seen the type of early success that he has was markedly absent in his demeanor, and that's a special thing to experience. So give Half Life a spin and read on for our conversation at Beyond SoCal.
Stream Grafix – Half Life on Spotify:
---
Hey, Josh! Let's get straight into it! Hailing from Bristol, it must be quite a change of scenery coming to Beyond Wonderland SoCal. In preparing your set today, was your approach different at all?
Yeah, it's obviously always very different coming to the United States and playing drum and bass, but it's a very special time for it. It's starting to make an impact on the whole dance scene over here. So, in terms of preparing a set for something like Beyond Wonderland, I just come and play everything that represents what I'm into.
And it's important to represent all the bits of DnB that are special to me, but also to play stuff that people are going to want to get down to. Because, as you said, it's quite a different audience, and you want to make sure people are having a good time. So I'm not going to embellish my own sort of weirdness too much and also make sure to play stuff that I think will resonate and connect with the specific audience in front of me.
Is there anything that you wouldn't get to play in the UK and you felt excited to play here for your set?
Actually, not too much, but only because the subgenre I produce in, "dancefloor," already carries quite a big room, main stage kind of feeling, and I think that sound goes down very well in the U.S. like, inherently. So it's not a hard job for me to just play what I want to play. It's just big, energetic dance floor anthems, basically.
I know you've just arrived at the festival, but how have you enjoyed your Beyond Wonderland experience so far? Is there anything that has stood out to you already?
Definitely! One thing that jumped out immediately is that the backstage is incredibly fun, cool, and quirky. It's a very unique artist experience.
I love that – do you feel like you're falling into the rabbit hole?
Absolutely.
Speaking of how fun it is backstage here at Beyond, this festival is a raver's playground, and for many, it's their start to discovering electronic music. How did you find your way into this culture, and what are your 'raver roots'?
I got into it quite young – I'm 31 now, but I was starting to listen to electronic music and got into it when I was about 14. Drum and bass has always been quite a pinnacle part of the UK, so when my friends and I were first dabbling into the world of dance music, it was already all about DnB. That was what we wanted to rave to, party to, and eventually produce. So it was always a really special thing for me. It's crazy because it's now half my life ago when I started the journey.
And with DnB – it's really starting to work out here. People see it's got quite a cult following, if you know what I mean – it's like the Stanley Kubrick of dance music. I'm proud to still be making it.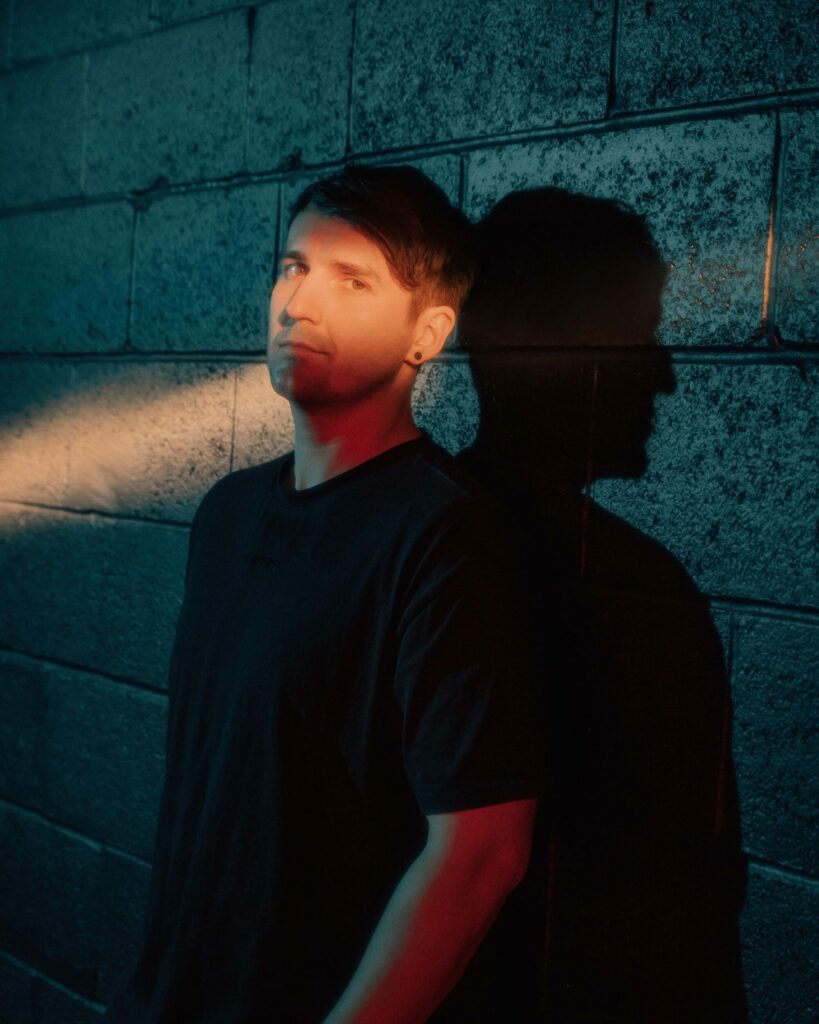 Let's fast forward from your roots to today – your debut album, HALF LIFE, was released last year, along with other standout tracks like your popular remix of "Hooked" by NOTION. Can we expect more new music from you this year, or are you more focused on touring right now?
Yeah, my album came out about a year ago now on Hospital Records, and that was actually my last release with Hospital Records as part of our deal when they originally signed me to the label ten years ago. So I've spent ten years working with Hospital, and I love them so much. They are family to me. But now that my contract is over, I'm jumping back out to see what else there is for me and my musical journey.
So I'm starting it with a new release in April on Sleepless, which is Wilkinson's label, and then we'll see from then onwards. But I have a truckload of unreleased new music prepared, and we're just waiting to see what we will do with it – there are many more options now.
And that's an incredibly exciting time for someone's career – to be able to see all those options and develop what you want to do!
Yeah, exactly.
I can't be in the same room as you without acknowledging the iconic remix of Sub Focus' "Endorphins" from your past duo project with Fred V. Coming into a place like Beyond SoCal where that's one of the historical hits the crowd expects, is that something you find daunting or a fun expectation to play with?
What's interesting about that song is the last time I played Beyond Wonderland ten years ago was the first time we ever played that tune. It was basically a remix for Sub Focus, so Fred V and I started working on it while we were out here in America playing some shows, and we played it for the first time at Beyond Wonderland exactly ten years ago.
That's crazy.
I know. How mad is that? And you bringing up that question just reminded me of that story. After we started the file, Fred and I worked on it a bit more, and Nick (Sub Focus) said, "Hey, boys, I really want to help you out with this." And so we turned into a collaboration with him – that's how it ended up being an official Fred V & Grafix remix of Sub Focus. 
I do love that tune, for sure. I don't look at it as something I wouldn't want to play. So yeah, I wouldn't say I play it every set or anything. It's an incredibly old tune now, but I know it's one of the highest streaming tunes, and I think, as an artist, people are always going to want to see the things that are your biggest tunes, and given the backstory, I think I will definitely play it tonight, for that reason.
Drum and bass has its ebbs and flows in popularity, and right now, the genre is having a big movement here in America, but we see sparks globally. What is your take on this? How can artists that have been pioneering in this genre take advantage of this moment?
Yeah, it's a special time for drum and bass – everywhere. There are a couple of notable mentions of why. There's a tune by Luude called "Down Under" featuring Colin Hay, which recently went viral and reached number one everywhere, including double platinum in Australia. And there's another. There's a lad called Goddard who just had a track in the top ten in the UK. These moments are really important for any genre – when they have one pinnacle tune that extends its outreach and gets people hearing this genre that they might not have been into before. 
All that has positive ripple effects for every artist in that scene because more and more people get switched on to the genre and want to investigate it more and maybe broaden their knowledge. So it's really positive. And that kind of thing is really helping the scene so well, pushing it to the biggest audiences the genre has seen.
I won't be surprised if people walk away from your set tonight converted to drum and bass for life. And that's a beautiful thing.
I'm really hoping I can convert some fans for sure.
So what's been inspiring you musically, outside of drum and bass?
I listen to a lot of techno, just like non-DnB genres – for example, I also love nu-metal. I was a mad nu-metal kid in the late '90s and early '00s. So I try and draw influences basically from everywhere else other than DnB, which I know, you know, everyone does. Still, for me, rock, nu-metal, techno, indie dance, and electronica, it's interesting to bring those vibes into DnB. 
After all, you're forever trying to carve out some more originality in your sound. And I think it's just like the fun of it. And it's the ongoing saga of being a producer in any genre – that continuing push for innovation. And people love it when you nail something original and innovative but still within the confines of the genre. Because, you know, you've got to tick certain boxes – it has to be a playable tune, you want it to be good for the DJs to play out but also nice for DSP listeners to stream well, things like that. And if you tick those boxes and nail those other things that create originality, you have quite a proud moment with the tune.
Yeah, that's amazing. Well, thank you so much for being here. I like to end my interviews on a note of positivity and mental health in our community is an important topic right now. Can you share some things you do to maintain yours and why mental health is important?
Definitely, I stay off social media for a start. [Laughs] No, but seriously, I think too much social media can negatively affect mental health. And I also stay active. Producing can be quite a lonesome, non-active job – sitting in front of your computer all day and listening to a snare drum over and over. So, definitely get a nice routine. 
Do some meditation in the morning, go and play tennis, you know what I mean? Just do some stuff outside of the studio to reset and get you focused when you're back in there. And yeah, live in the moment. 
That's a really important thing for everyone to hear, and it's why festivals like this are so great. We're right here, present with each other.
Yes, exactly. Keep your phones away and surround yourself with loved ones you care about and trust. Have a good foundation and a network of people who have your back.
---
Follow Grafix:
Website | Facebook | Twitter | Instagram | SoundCloud | YouTube | Twitch