G Jones unveils his debut headlining event at Red Rocks with Amon Tobin Presents: Two Fingers, Digital Mystikz, Luke Vibert, and Curra!
---
This year has been blessed with G Jones events and new music already, and that's barely even scratched the surface of what is to come. With his debut curation at The Caverns going off without a hitch and a new album on the way, what could be next? Making mind-blowing announcements left and right, G Jones added one more hefty helping of exciting news for fans to add to their plates.
Over the weekend, many attendees at Wobble Rocks were curious to find an all-black van with the announcement of a private presale QR code. Fans were delighted to discover this was the soft launch of G Jones' world premiere of PATHS at Red Rocks on October 15. With an unofficial announcement, this allowed fans a fair chance to get their hands on a ticket before greedy third-party scalpers. Today, the event has finally reached an official status, and the excitement is through the roof.
Not only will attendees experience PATHS before it graces any other eyes, but they will also be a part of G Jones' first-ever solo headlining slot at the renowned venue. On top of an already incredible night, the artists leading up to the main event are just as delectable. Setting the tone for the evening is just as important as the main act, and you know the event came correct with sets from Amon Tobin Presents: Two Fingers, Digital Mystikz (Mala + Coki), Luke Vibert, and Curra.
It's clear to see that a lot of passion and hard work has already gone into this monumental event. From the music to the visuals, you can count on this curated night to have the best to offer. So gather all your fellow portal explorers and prepare for an evening full of mind-altering moments with your best pals.
Registration for pre-sale is on G Jones' website now! Use code "PATHS" for pre-sale access Wednesday, May 10 at 10am MDT. The general sale will begin on Thursday, May 11 at 10am MDT. Don't forget to follow G Jones on all of his socials below to see album updates and what he's up to next! 
G Jones Presents: The World Premiere of Paths Live at Red Rocks: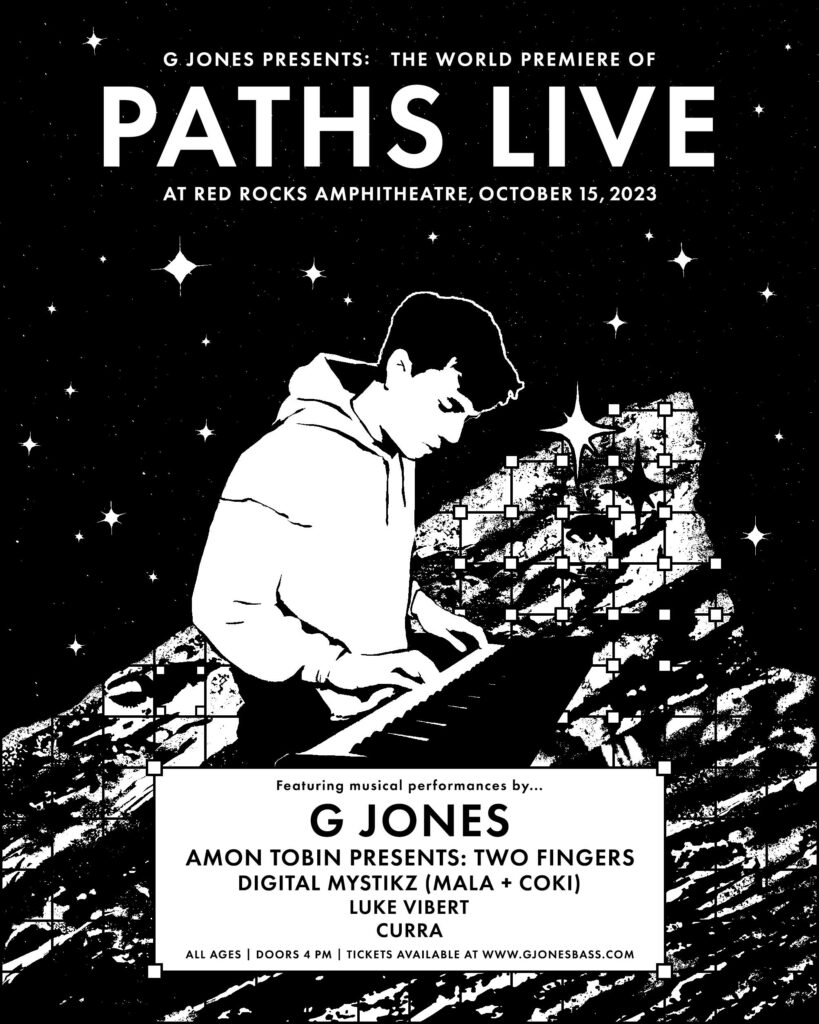 ---
Follow G Jones:
Website | Facebook | Twitter | Instagram | SoundCloud | YouTube