G Jones, Eprom, and more will head to the Caverns on March 31 and April 1 for a two-night curated event, Allegory of the Rave.
---
G Jones has long won over the hearts of critics and fans alike for consistently pushing the envelope with his music, but his live shows and curated events have become another point of admiration over the years. Whether it's his beloved New Year's Eve shows or tour stops at renowned venues like Mission Ballroom, his performances never cease to impress with their breathtaking audiovisual elements and star-studded lineups of supporting artists. Now, adding to his track record of impressive spectacles, G Jones has announced Allegory of the Rave, a two-night event set to take place March 31 – April 1 at The Caverns in Pelham, TN.
The first night will see the experimental bass behemoth go b2b with frequent collaborator Eprom, with other acts including Luke Vibert, Nikki Nair, and GRRL. Even more magic will fill The Caverns on the second night as G Jones delivers a solo set, in addition to Coki b2b Chee, A Hundred Drums, and Lord Genmu. Lovers of leftfield frequencies are in for a real treat as Allegory of the Rave will allow them to tune in to the sounds of UK bass, breakcore, and everything in between.
Anyone who's attended G Jones curated events in the past will agree that they're not just your average events – they're portals to alternate realities, and Allegory of the Rave is sure to prove no different. For those looking to ponder the metaphysical while music and mystique reverberate through the cave walls, the Caverns beckon you forth this spring – don't miss out.
Limited presale is available starting January 27 at 10am CT – sign up via Hive to receive an exclusive password, or grab tickets when they the general sale begins on January 27 at 2pm CT.
---
G Jones Allegory of the Rave at The Caverns – Lineup: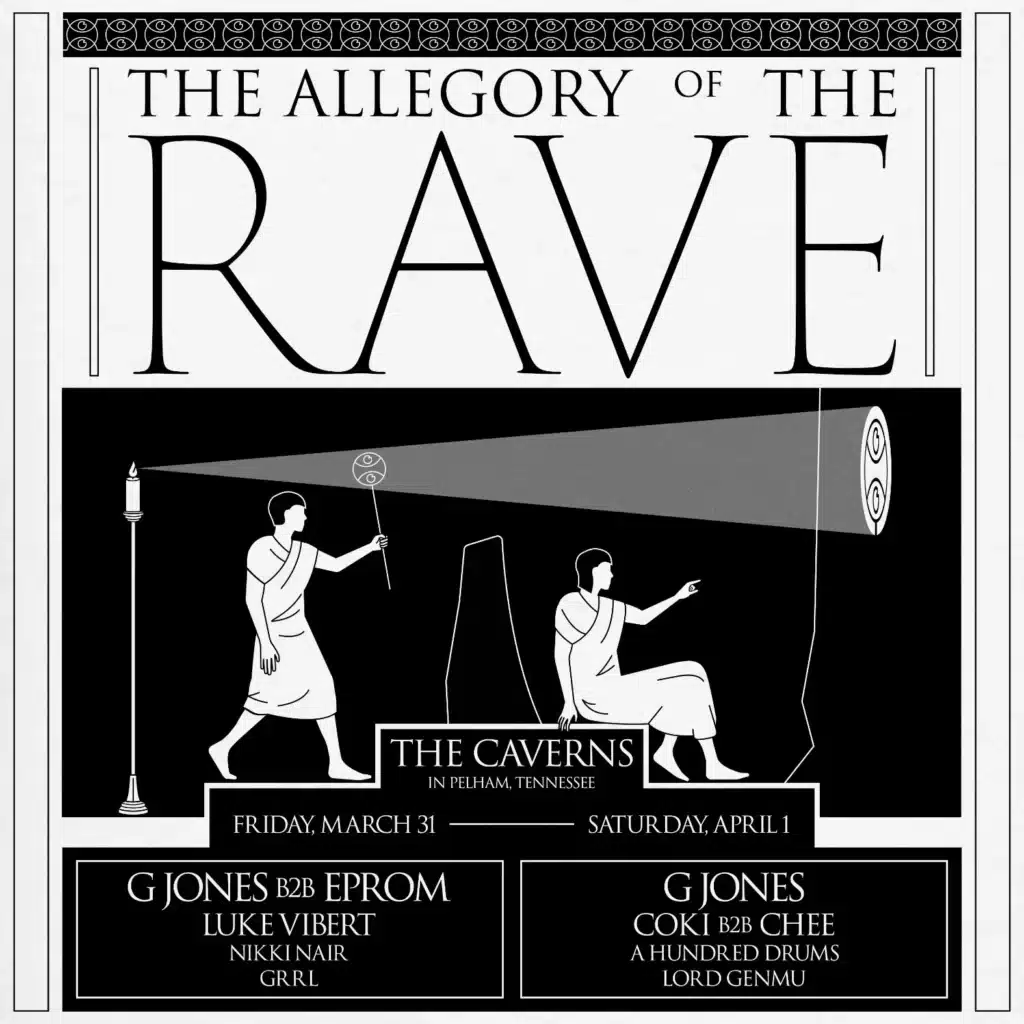 ---
Follow G Jones:
Website | Facebook | Twitter | Instagram | SoundCloud | YouTube