Dutch producer Julian Cross dives into his new collaboration with AFROJACK, what it was like playing Ultra Miami, and more.
---
Whether you love radio-friendly, feel-good tunes or mainstage anthems that are packed with energy, Julian Cross is an artist who will satiate your cravings. Born in The Netherlands but raised in Belgium, this rising star in the dance music scene has continued to carve out space for himself with each passing year. While many of his earliest tracks landed on New Breed Records, this year has seen him join the growing family of artists at AFROJACK's WALL Recordings, and he's already begun to impress with his tunes.
In March, Julian Cross dropped "Antidote," a track that's a perfect fit for the largest stages on the planet. This was made even more clear by AFROJACK, who dropped it at Tomorrowland Winter and multiple editions of Ultra in Miami, Taiwan, Mumbai, and Bangalore. But that's just one side of Julian Cross' productions as he teamed up with the WALL Recordings boss on the feel-good summer tune "All I Need," which has finally arrived and is out now for your listening pleasure.
Just before the release of his latest single, we caught up with Julian Cross to dive into his production process, his experience with the WALL Recordings family, what's in store for the future, and plenty more. Listen to "All I Need" on Spotify or your preferred platform, and read on for the full conversation.
Stream Julian Cross ft. AFROJACK – All I Need on Spotify:
---
Hi, Julian. Your new single, "All I Need," is a stunner, and you team up with AFROJACK, an absolute legend in the scene. How did this collaboration come to life? What was it like working with legendary artists on this tune?
To be honest, one night, we were in the studio, and we had good vibes in the air. The chemistry was there, and we were just enjoying ourselves. Then, after a couple of hours, we had the first demo of "All I Need," and it's literally the same ID. But over the months, it evolves, and it gets better.
And to work with Nick [AFROJACK]. He's been my mentor for the last two years, and that has been amazing—lots of tips and tricks and great feedback to work on. I feel like I've evolved as a producer to get better and try to push myself every day.
Yeah, what are some of the biggest pieces of advice that you've gotten from Afrojack so far?
Always stay focused and work towards something but with a mindset. So keep it straightforward, visualize what you want to do, and then work it out how you picture it.
That's amazing. Many artists in the scene sometimes lose their direction when they're producing. They get distracted or whatnot. How do you stay focused when you're in the studio?
I like to work at night, of course, I also work during the daytime, but I like to spend my hours at night. So it feels like I'm in a cave making music without disturbances. Then, I'm just by myself, mostly on my computer, and I watch the time, and then I'm like, "Oh, it's 5am in the morning. What should I do now?" Then I still finish it, because then we can work on something new the next day.
That's funny that you like working at night. I love writing at night because I'm not bombarded with emails or text messages. You get that flow of information straight from your brain.
Just you yourself, the studio, your computer, that's all I need
Yeah. [Laughs] You also dropped the absolute banger "Antidote" on WALL Recordings earlier this year. I love the track. It gave me 2012-2013 vibes in terms of what I loved about the festival scene back then. What was your production process for that tune?
I was looking for a track I could play in my sets as well because I can not only make radio-oriented music, of course. It's not like I'm focused towards making [radio-oriented tunes], it just happens in the music, how I feel at this moment and this day. With "Antidote," the first demo took me a few hours, and I just got inspiration from all those old vibes. What I used to listen to and what I thought was so cool about this, and I brought it back into my own kind of space.
That's awesome. I remember seeing you posting the video of AFROJACK playing it at Ultra Taiwan.
Yes, yes. But my first time seeing it live was at Ultra Miami because I also played there earlier this month. That was also one of the sickest experiences in my life so far. It was awesome to hear the track because you don't know if he will play it. You're not sure about it, but then it comes on, and you're like, "Oh, damn, this is actually my track." So it feels really cool. It's like the cherry on the cake if you know what I mean.
Yeah, and speaking of Ultra Miami, that's one of the biggest festivals on the planet. Everybody in the industry is in Miami during Music Week. It's one of the biggest festivals broadcast around the world. What was your experience like playing at that festival?
It was actually kind of funny because I'm from Europe, so I have a different time zone. I used to stay up to watch this at 4-5am to see all the headliners finish. And now I was actually experiencing it myself there with the crowd. You see them live. When you watch the live stream on YouTube, it's always different. But when you watch it in real life, you're like, "Whoa, this is it." And I will never forget, like the flames from the mainstage, the sound and the heat it makes. It's insane.
I agree with you there. Being at the festival is a different experience than watching it on a live stream; there's just a different type of energy that you get to experience overall. You're also playing several other festivals, including Kingsland and Just Me Milano. What's your preparation process like for these upcoming sets? Are you planning to drop any new IDs?
At Ultra, it was the first time I played some of the tracks from my album to test them out. And tomorrow is Kingsland, and next Friday is Just Me Milano, and I'm also going to try tracks out, see how they are live, and get different reactions. It's also good for me [to hear it] on the speakers because it's different. Studio speakers are good; if it sounds good on the laptop speakers, that's good. But in the club, it's different because you have like a lot of low-end and all this kind of stuff. So it's always nice to see this for yourself.
Yeah, definitely. Do you find yourself taking that feedback and making some drastic changes to tracks in the past? Or is it something where it's more like minor tweaks?
It's more minor tweaks. By now, sometimes I lower it by two dB, for instance, or cut a little bit more of the low end because it's too much low end on the speaker system. If I hear this kind of stuff after my set, I write it down for myself, and when I go back to the studio, maybe even the same night. But it's difficult to hear at night because you've been listening to loud music at the festival all day. Of course, you wear earplugs, but if you listen to loud music for about 15 minutes, it's really difficult to get a clean mix instead of trying it in the morning and starting fresh.
Your ears are exhausted. That's why all the festivals crank up the volume as the night goes on. So it's interesting you brought that up because it's true. For instance, I can't listen to things the same way I usually do after a weekend at Coachella.
But it was nice. That's the most important thing. It's worth it, right?
Yeah, totally. Something else that I noticed is you've been hanging out with many members of the WALL Recordings family. What has it meant to be part of that family in dance music? 
Well, it's funny that you mentioned this because it's actually like this. It's not scripted at all. It's one big happy family with Nick and all the other guys like Chasner, Chico [Rose], DISTO, and Sven [Fields]. It feels like one big happy family just having a good time with each other and working with each other for the same goals. We're going for the same ambitions in life and perspective, so we all push each other towards these goals. That's really nice. We have multiple people to get feedback from and multiple people to push you as well, but also push each other.
Definitely. Do you guys have open communication on feedback for tracks or collaborations?
Yeah, we're open about everything. Right now, I'm also in the studio at WALL Recordings, and next to me is Chasner, he's also in the studio. And in the other studios, there are also people, and we eat dinner together, have a good time, and work. But even when we work, we just walk in, check it out for a few minutes, and say our thoughts about something or how we feel about it. And maybe we don't say anything because we're like, "Whoa, this is really good." Of course, this also happens, but it's just nice to get general feedback, have good people around you, and have fun at the end of the day.
Yeah, that feedback loop is really important. You might not hear something in a track that somebody else hears, or there might be a small idea or something that comes out of it or even a collaboration.
Yeah, especially this, it's one of the most important things because you've been working on the same track over and over again, on the same eight bars, maybe a different day, different time. So it's always nice to get feedback from other producers and music-minded people to get the same idea so we can go for the best result at the end of the day.
Do you ever find yourself experiencing Writer's Block? Or is it easy to break through?
To be honest, everybody has their own Writer's Block in their own way. But I haven't experienced it so much that I'm like, "Oh, what should I do now?" I always get new inspiration. I go outside to the woods. I take a walk. I also have a dog who is my best friend, so I take him for a walk.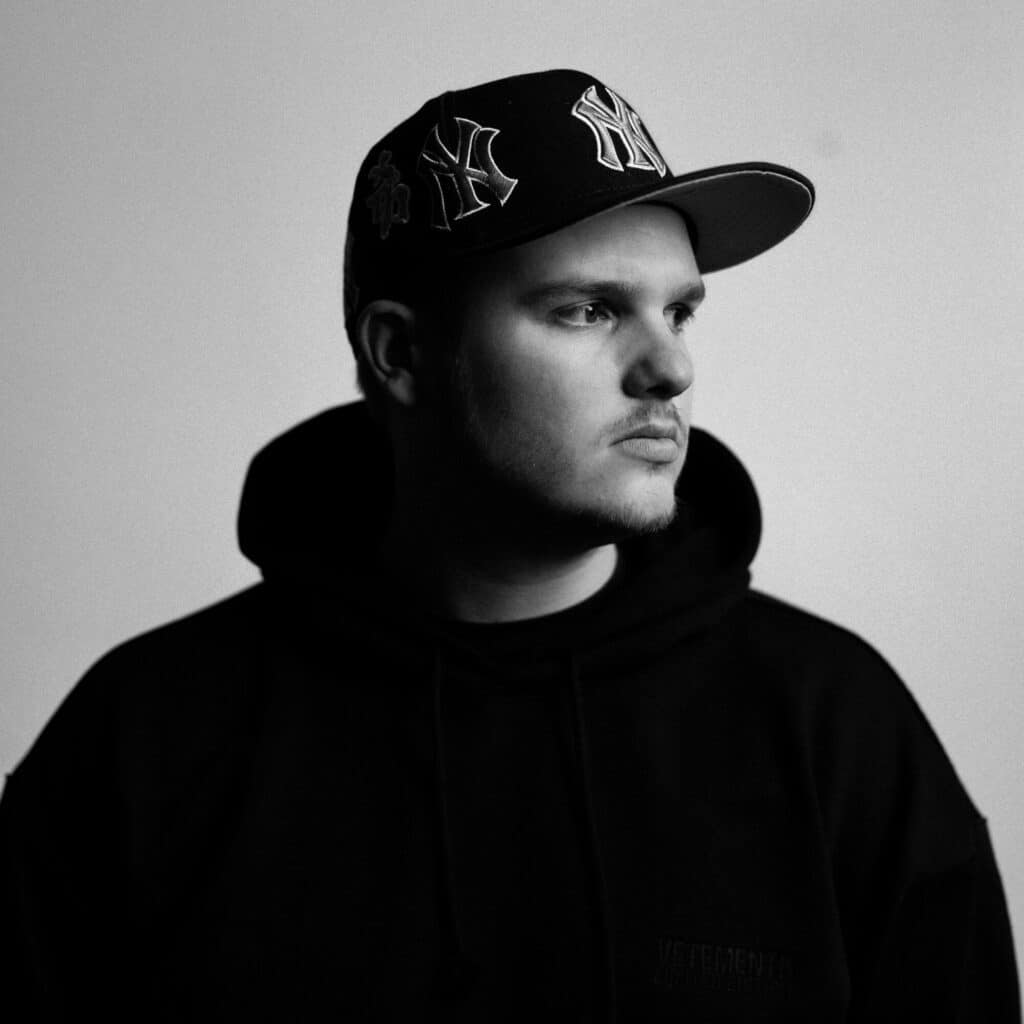 What goals do you have coming up for the rest of the year?
Right now, the most important goal is to finish my album Stories Of The Nebula, release it, and just put it out there. I wanted to do an album for ten years already, and now I'm in the right mindset and in the right zone with the right people around me and the right team. It feels like it's not complete, but it's all meant for each other, and this is how it should go. I'm also having a good time, and this is the most important thing.
With the album, are you creating all of the tracks with that album in mind? Or is it something where you will dig back into your past singles as well?
Well, the album is like a wide genre of music for everybody. I like to be diverse, and I'm diverse when I listen to other people's music. I like a lot of styles, and I'm also trying to implement them on the album. I don't see a lot of albums these days from a lot of DJs. Of course, there are some, but I don't see them very often. So that's why I thought this would be like a cool idea to do this like ten years ago, and now it just feels complete.
That's cool to hear because over the past ten years, with the rise of streaming platforms, there's been more of a single-driven, maybe EP-driven, release schedule for many artists. So it's nice that you're doing an album. 
And then I have one more fun little question for you. When we visit you in The Netherlands, where would you take us out on a night out on the town?
Oh, dangerous, dangerous. I would probably show you around. But depending on where you want to go in The Netherlands. If you want the real "This is The Netherlands experience," we can take you to the old part of The Netherlands. But if you want to go to Amsterdam, I can also show you around, get some food, and eat some pizza, because I'm an Italian food lover. It's not Italian. I just call it Italian. I just like pizza in general. [Laughs] We'd go out for pizza, get some drinks, and have fun. Maybe even check out some music if you want to.
That sounds like a fun time! I'll have to hit you up when I take a trip to Europe. On that note, that's all I got for you. Thank you so much for chatting with us. I'm super excited to see your single get officially released. I'm sure it's going to blow up. I've listened to it like 15 times already.
We will see, we will see. But the biggest compliment for me is that you like it. So we will see what happens!
---
Follow Julian Cross:
Facebook | Twitter | Instagram | SoundCloud | YouTube