Sven Fields swung by ahead of the summer months to chat about his remix of "Polkadots" with Chasner, working with AFROJACK, and more.
---
Dutch artist Sven Fields might be one of the newest producers to arrive on the scene, but the years he spent honing his skills in the studio and behind the decks has already begun to pay off. Early releases saw him grace labels like Caballero Recordings and GOONS Music, but in the midst of the pandemic, he caught the ear of AFROJACK after meeting him while playing Call Of Duty Warzone and sending him a demo soon after. The result was "Ey," a collaborative tune that saw Sven Fields work directly with the legendary artist to bring it to life under his Kapuchon alias.
Since then, Sven Fields has only catapulted himself up the ranks of the house music scene even further. In 2022 he released "Mysterious Feeling" with Black V Neck and Millean., along with another stunner, "Never Knew," with Jan Liva that same year. This year, he took on the remixing duties with another budding talent from The Netherlands, Chasner, and the two put their spin on one of AFROJACK's biggest hits, "Polkadots," just in time for festival season.
Fresh off the release of a bootleg edit of Metro Boomin and Future's "Superhero," Sven Fields swung by for a quality chat. He dives into his backstory of how he fell in love with producing and DJing while also touching on his recent remixes and the advice that AFROJACK gave him during their sessions together. Read on for the full conversation!
Stream AFROJACK – Polkadots (Sven Fields & Chasner Remix) on Spotify:
---
Hi Sven, thanks so much for sitting down with us for a chat today. Looking at your earliest years, were any specific artists influential in developing your passion for house music? Was there a specific moment you realized you wanted to produce and DJ?
I think my parents played a big role in developing my passion for music. My mom likes a lot of pop & my dad often listens to a lot of classics and older songs. So from a very young age, I got to know the best of both worlds, from Earth Wind & Fire to Afrojack and Snoop Dogg to Calvin Harris.
When I was 14, my parents gave me a DJ Hercules RMX Controller, and naturally, I started 'mixing' music. Looking back at that now, I realize that that was a key moment. At 16/17, I knew I wanted to do something in or with music. Naturally, you start by playing birthdays and invite friends over after school to mess around with my RMX Controller.
A friend and I started to sneak our way into the school party's DJ booth every month and play some tunes before the party started to try and figure out how the pioneer DJ set worked. The more we did that, the sooner we realized that tracks were divided into 4/8/16 bar loops, which was really important because, from that point on, we knew how to mix break into break or drop into drop.
You've been producing music since you were a teen, and you've honed your skills in the studio with each passing year. Diving into your studio setup, what DAW and other equipment do you currently use?
'Producing' is a 'big' word here. I think it was basically just me throwing sounds in Garage Band and making it sounds less shit. [Laughs]
Right now, I use Ableton, I've been using that for the last five years or so, and sometimes a MIDI keyboard. That is basically it; a Macbook, Ableton, and plugins, everything's inside the box.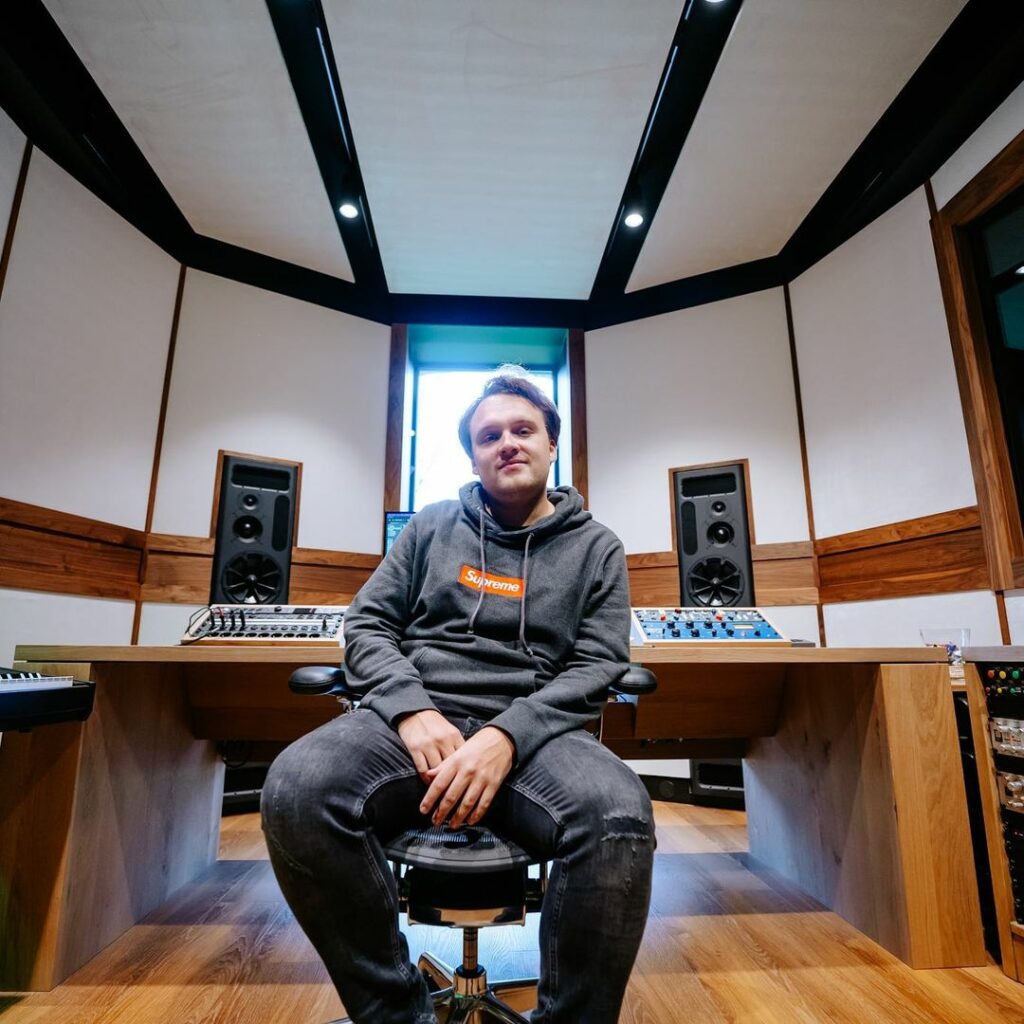 You recently worked with Chasner to remix one of AFROJACK's most iconic tunes, "Polkadots." What was the production process like while working on this remix, and did you feel any pressure to make sure it was perfect, considering the track's legacy?
Well, a couple of weeks ago, I made a first idea (V1) for the Polkadots Remix in the studio at WALL. It was very techy, with groovy drums and a bassline, that's it. I took a break outside and had some small talk with Chasner about our day and how the studio day/session is going for both of us. 
As I went inside, Chasner said, 'By the way, if you need some feedback on anything, just send it to me already!'. I went inside, exported the first version I made, and sent it to him for feedback. He said he liked it, he had some ideas on how the track should sound and asked me if I wanted to collaborate.
Extremely skilled as he is, that same hour, he made his take on how the collaboration should sound. We went over the track and met in the middle, which resulted in a festival tech house track with an electronic twist.
We saw you teasing your edit of Metro Boomin and Future's "Superhero" and can't wait to hear it finally drop. What drew you to give this track a touch-up, and can we expect more cross-genre edits?
That's awesome! I made a drum and bass loop of 16 bars and was actually scrolling through Splice looking for a sample, vocal, hook, anything. When I took a break, I listened to some hip-hop. The intro started playing, and that's when I knew what the track needed.
You can definitely expect more cross-genre edits of me, especially rap/hip-hop samples in tech house.
In 2021 you made quite a splash in the scene by dropping "Ey" with AFROJACK (under his Kapuchon alias). Can you share what it felt like to work with such a legendary artist? Was it a bit surreal?
It was super surreal. I actually met Afrojack through Call Of Duty: Warzone during the COVID lockdown, and until two to three years ago, I was mostly just making 8/16 bar loops, but I had no idea how to actually make a full arrangement and finish a track. 
'Ey' was one of the first 'V1's' that had more arrangement, FX, vocal, and drop. I sent it to Afrojack for feedback; he said he liked it and asked if I wanted to collab and to come over to his studio to work on the track.
While showing me his process of making music and finishing the track, he asked, 'Am I going too quick?' I laughed and said, 'Yes, though I understand what you're doing.' He laughed and said, 'That's because I did it thousands of times, so that's what you should do as well.' And that's what I started doing.
Have you ever dealt with a bout of writer's block when producing a tune? How have you overcome it?
Afrojack once told me, 'I don't allow myself to have writer's block,' and I thought, 'If he can, why can't I?'. Nick is a very creative and way more skilled producer than me, but I took a lot of inspiration from that. 
I feel like these days there are so many options, not necessarily to 'overcome' a writer's block but to stay busy and focussed. YouTube tutorials, splice, analyzing DJ sets, and checking which record works best on the dancefloor. Something as simple as taking a small break or going outside sometimes works as well for me.
With the summer months on the horizon, what are you most excited about in the near future? Are there any shows we can catch you at soon?
Yes! Really excited about all my gigs. Some highlights are; Kingsland, Crazy Sexy Cool, JACKED in Milan, Paris, ZEUS, and Den Haag Outdoor. Can't wait to play and test all of my new music at the shows.
Finally, aside from producing music and DJing, you also like to play video games and have even competed in e-sports. What's your favorite game to play at the moment, and what's your favorite of all time?
Lately, I've been putting in more hours in the studio, so I don't play as much anymore. Still, I love to play a couple of Call Of Duty Modern Warfare or Fortnite games with friends every now and then.
No doubt, my all-time favorite game is Call Of Duty Modern Warfare 2. Give me an 'Intervention' sniper, and I'll show you every corner of the map. [Laughs]
---
Follow Sven Fields:
Facebook | Twitter | Instagram | SoundCloud | Spotify