Skysia draws from a palette of melodic bass elements and paints a moving picture of how time and memory play a role in our lives.
---
Skysia has emerged as a darling of the melodic bass / downtempo world in recent years, and his new album Here is the natural evolution of the storytelling artist's music. The album is a 13-track journey through time and space, exploring poignant themes such as the role of memory in tying us to this plane of existence and the ebbs and flows of key relationships we build throughout a lifetime. Though it features a couple of collaborative tracks, one with Kumali and another with Amethyst, this project represents almost all solo productions from Skysia and is replete with his signature style.
Skysia's artistic mediums include music and filmmaking, and he displays both on this project, coupling the album's release with the debut screening of its companion film, Here: Memories of a Soul. The film screening took place at a private album release party hosted in DTLA, and it was an intimate celebration of the hard work and love that was clearly poured into this project. The film itself was written and directed by Julia Delbourg, with production support from Tectonic Team and Substorm Productions, and seamlessly tied together 13 thematic music videos.
When I was making the album, I knew that I wanted to take it a step further by creating this film, because it can be hard for people to really visualize the story without it. Since my music is centered around storytelling, but it's also nearly all instrumental, I recognized that having the movie aspect would allow people to understand the album fully.

Skysia
Each video on its own, and the body of work taken as a whole, was incredibly narrative-driven, with a few parallel storylines playing out at once, including the story of a young girl growing up without parents, raised by her grandmother, who then loses her grandmother and subsequently struggles with life obstacles that range from processing grief, first-love-and-heartbreak, and finding technological solutions for human connection. In other words: life and death. Youth and decay.
Aesthetically, the film's colorways were warm and organic, featuring strong desert imagery, transformational bass motifs such as goddess-like dancers and psychedelic art, and abstract references that draw heavily from indie filmmaking styles.
Here: Memories of a Soul will not be officially released for another year, but the album Here can be listened to today. One of the early highlights on the full LP is "Running Back," a breathy, melodic song that brings in a lullaby-style beat that will lull you into a hypnotic trance. "Emerge," another favorite, brings in a faster tempo and growling basslines that are also hypnotic but with an attitude and even more of a sense of adventure.
The ending tracks, "Breathless Voyage" and "Return," are the perfect cap to the listening experience, using orchestral and ambient elements to bring the album to its thoughtful conclusion. Skysia is well known for utilizing deep vibrations and psychedelic harmonies to create a sonic experience that "transcends the ordinary," and here, he has achieved that mission.
Listen to Here by Skysia on Spotify below, download/stream it on your favorite platform, and follow Skysia at one of our social links at the bottom of this article!
Stream Skysia – Here on Spotify:
---
Skysia – Here – Tracklist:
Time (Intro)
Memory
Running Back
Waiting In The Sky
Moonflower (with Kumali)
Emerge
Aurora
Beyond The Mist
Spaces (with Amethyst)
Older Spark
Reverie
Breathless Voyage
Return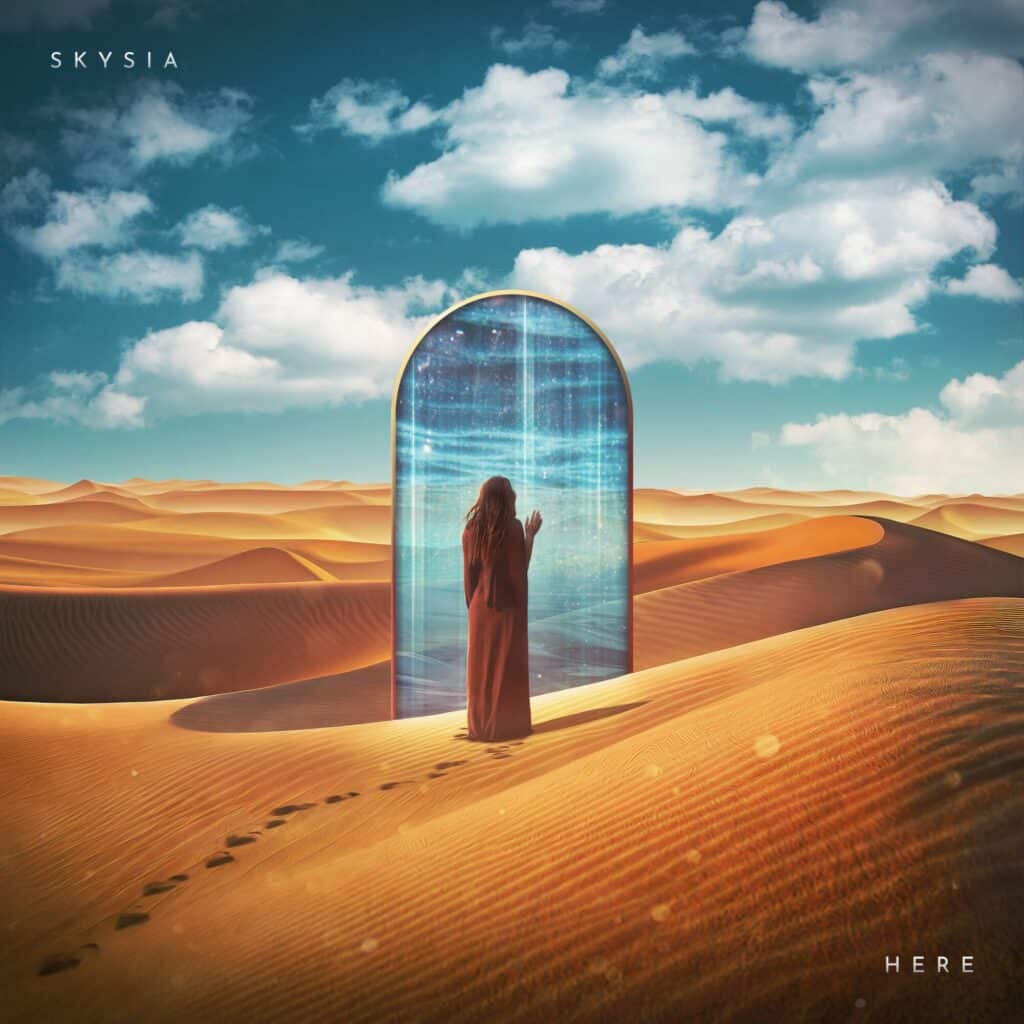 ---
Follow Skysia:
Website | Facebook | Instagram | SoundCloud