Skysia stopped by to chat about his nomad life, share some recent highlights, and tell us what's to come in the rest of the year!
---
Skysia is known for his earthy, replenishing sounds as he fuses all the best elements of downtempo, melodic, and experimental bass into a perfect display of peace through soundwaves for many. With a world in desperate need of healing, music like his is wanted by many. Luckily he has a lot still planned for 2022 to catch his energy if you're in need of an uplifting moment.
Skysia has caught the interest of many over the years with his music, making him sought after as an opening act by artists known well in the bass scene like CloZee, Of The Trees, Liquid Stranger, TroyBoi, An-Ten-Nae and more. Keeping busy this summer, he made his appearance on the main stage at Serenity Festival and stole the show at Frameworks, to name a few stops. With a track record like his and the endless support of fans and peers, there's no telling how far his replenishing sound will reach.
The inspiration of nature within Skysia's tracks is something that brings people to their center. When therapeutic soundscapes meet organic bass, it creates a perfect space to release energy through dance. Skysia and illoh have the formula down to a science with this marriage of sounds, and you can hear it for yourself in "Fragments," their latest track together. Get lost in the sounds of flowing water as you press play and melt into bliss as the build-up of highs and the breakdown of lows tug on you through this track's runtime.
With the year's excitement flowing abundantly for Skysia and a new track making a buzz, we thought it would be a perfect time to shed some light on the brilliant mind behind the music. He took the time to chat with us about his nomad life, highlights of his year, what is yet to come in 2022, and more. Listen to his latest track, "Fragments" ft. illoh, on Spotify or your preferred streaming service and read on for our conversation.
Stream EDMID Guest Mix 341 || Skysia on SoundCloud:
---
Hi Skysia, thanks for taking the time to talk with us. To start us off, where did it all begin for you? When did you know you wanted to take the plunge into making music? 
Thanks for having me! It's a pleasure to chat with y'all. I don't think I ever made the conscious decision to start making music. I was dedicated to filmmaking for such a long time. I was convinced that I had found my path and that making films and visual art was what I was meant to do. But one day, while I was in film school, I decided I wanted to learn the piano, so I went and bought myself a cheap keyboard off craigslist and got super deep into creating my compositions. It all flowed out naturally.
Time passed, and I got deeper into music. I ended up dropping out of college to go travel. Slowly but surely, I started spending more time playing piano than I did making videos which eventually led to learning how to produce. I will never forget this specific day when I suddenly realized that I was no longer making films. I was shocked. Something I had dedicated my life to totally vanished without me even realizing it. So my entry into the world of music felt pretty natural, and more took me by surprise.
At one point, you were living out your days in a converted van. Are you still soaking in the nomad life? 
I am still living in my converted school bus. The decision to live this nomad life started as a means to an end, but I grew to really love the freedom. Back in 2019, I was working a typical 9 to 5 job. I had an awesome apartment on the beach, a really nice car, financial security, etc., but I was extremely unhappy being in an office every day. All I wanted was to make music and travel, but I was stuck in a job that didn't fulfill me. I realized that paying rent was the main thing keeping me stuck in this loop, so I decided to get rid of my apartment, sell my car and buy a bus. This allowed me to go all in on music. I gave myself a three-year goal: 'If I'm not making money and supporting myself through music by the time I'm 30, then I'll quit and go back to the 9 to 5 life.' 
It's safe to say that I won't have to quit music. [Laughs] I love my little home, but I am ready to start grounding down somewhere and looking to start renting a place in Denver soon. 
Do you feel like your time living encapsulated in nature has helped morph your music into the earthy textures it portrays today? 
I think nature has always played a huge role in my life. I've always felt best wandering around by myself in the forest. Those moments definitely inspire aspects of my sound. 
You recently released "Fragments" with illoh. Can you tell us a little about the creative process behind the production of this track? 
Illoh started an idea and sent it over to me. I got super inspired and ended up getting the composition out fairly quickly. We sent it back and forth a few times, and our creation process was insanely smooth. Our sounds meshed together perfectly! We both really love this track, and we will definitely be making more tunes together in the future. 
You have such a beautifully calming sound; some might call it melodic medicine. Is there a certain state of mind you put yourself in when sitting in the studio to create music?
There is a Buddhist term that I have always resonated with called 'Shoshin". It refers to having an attitude of openness, eagerness, and lack of preconceptions when studying a subject, even when studying at an advanced level, just as a beginner would.
I try to put myself in this beginner's mindset, where everything is based on play and exploration. Anytime I sit down to create music and say, "Today I'm going to make a song," I never end up getting anywhere, but when I sit down and say, "Today I'm just going to focus on sound design," I end up creating a full track. I think much of this has to do with expectations and putting more focus on a future moment instead of staying present with each moment of the creation process. I think I allow myself to enjoy every aspect of production, which puts me more in a play state. I feel like this lends itself to making calming music because it's all fun and play instead of work.
What has been the biggest challenge you've faced in your career? Have you been able to overcome it yet?
The biggest challenge has been trying to find balance within this crazy industry. Being a full-time producer is a lot of work. You have to wear so many different hats. Creating album art, designing/updating the website and social media, handling bookings and negotiations, creating promo material, editing clips, learning ads, and marketing, etc. It never ends. I recently started working with a manager, which has helped a ton, but for years I was doing all this by myself, and at times it can feel exhausting and disheartening. You end up pushing yourself so hard that you lose sight of what's important. Your friends, family, and social life all take the back seat while you focus on your goals. I quickly realized how crucial it was to find balance because burnout is real!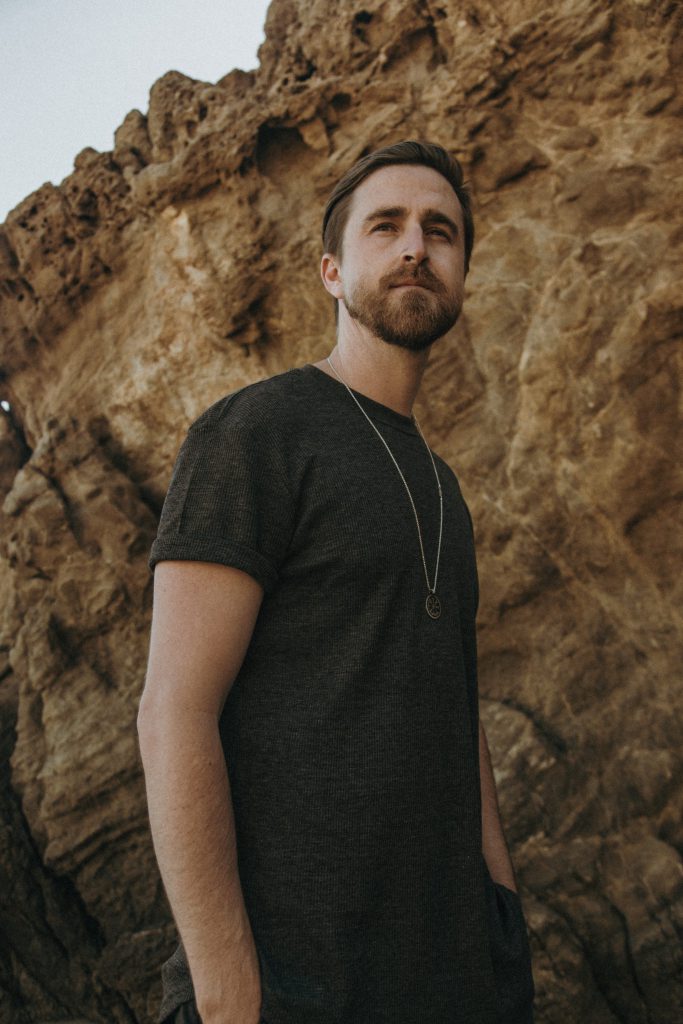 In addition to being a producer/DJ, you are also crafted in filmmaking and production. That's quite a spread of talent. Do you get to utilize those talents ever now that your main focus is the music? 
Yes! Recently I made a feature film for my debut album. It's kind of like a music video but for the entire album. We had a full script with consistent characters and a complete storyline. 
This was the first time I could combine my love for film and music. It has been quite the project, and we are still in post-production. The story covers a woman's life and is mainly about memory and its roles in our lives. I hired an entire team of incredible filmmakers to help me pull this off – a director, DP, lighting crew, etc. It was a full-on production! We had multiple filming locations, including Los Angeles, Big Sur, Death Valley, Palm Springs, San Luis Obispo, and more. This was the most challenging project I have ever worked on, but the product is turning out amazing, and I'm extremely excited to share it with the world!
You have been busy playing alongside many amazing artists this year. What has been your biggest highlight of 2022 so far? 
Lucidity Festival was one of my big highlights this year. This one has always been a personal favorite of mine. I attended this event before I started making music, so that experience was extra special for me. 
I played a couple of other big festivals this year, but I'm starting to realize how much I love intimate gatherings. Some of my favorite moments this year have been with smaller festivals. June Jam in Arizona will always have a special place in my heart. The crew is awesome, the lineup is always top-notch, and the attendees are all amazing people. Another fest that felt extra special to me this year was Sonic Springs in Ontario, Canada. Such an amazing crew of people throwing events purely for the love of it. My happiest moments were at these festivals!
Finally, what next adventures do you have up your sleeve for the rest of 2022?
I'm ready for a little break. I've got a couple of smaller shows planned, but most of my time is going to finishing up some music and working on a new live set for next year! I've finished my debut album, which is fully downtempo, so I'm working on an EP exploring my experimental bass side. More along the lines of 'Fragments'!
---
Follow Skysia:
Website | Facebook | Instagram | SoundCloud