Fresh off his first-ever Coachella performance, Turkish producer Minus the Light details his dark, melodic sound, career journey, and more.
---
Every artist in the world dreams about performing at the Coachella Valley Music & Arts Festival. The annual April tradition has been home to some of the most unique and memorable performances in music history, and receiving an invitation to play at the festival is viewed as a career milestone by many undercard acts. This year, one of the rising talents on the lineup is Minus the Light, a multi-instrumental artist who moved from Turkey to Los Angeles to pursue his passion for music.

The Turkish producer initially made a name for himself through his early techno productions but later honed his dark sound with atmospheric, deep-house elements in his 2022 EP, This Belief. On top of playing at some of LA's hottest clubs, Omer Mesci's talent earned him a residency at the pristine Sound Nightclub in Hollywood, and he's shared the stage with other dance colleagues such as Maceo Plex, ANNA, and Cristoph. 
While initially slated to perform at the SoCal event under his techno moniker, Kynda Black, in 2020, the electronic producer is returning to Coachella as a more pronounced artist, Minus the Light. Ahead of his desert performance, the LA-based producer released his latest single, "In2u," which puts a futuristic, deep house spin on Ariana Grande's top-40 hit. After opening the third day of Coachella on its second weekend, we spoke with the LA-based producer about his career journey, artistry, and what's in store for his project.
Stream Minus the Light – In2u on Spotify:
---
Hi Omer! Congratulations, you're here at Weekend Two of Coachella. How do you feel now that you've added Coachella to your resume?
I'm feeling amazing! I was supposed to play in 2020, and then the world decided to get sick, so this is sort of my comeback to Coachella, and I'm really happy to be here. I'm really happy that I got reconsidered to play Coachella, so that's a really great feeling. Both weekends were great. I had great sets. I tried to showcase two slightly different styles each weekend—and it went great!
Awesome! Now that you've experienced both weekends, do you prefer Weekend One or Weekend Two? 
Weekend Two all the way because I feel [that] it's more relaxed, and everything feels slightly better Weekend Two because even the artists learn from Weekend One and try to fix things [for] Weekend Two.
Now, the Yuma tent is a home away from home for you because you have a residency at Sound Nightclub in Los Angeles. How did it feel performing in the Yuma tent? Tell me a little about the set you envisioned for 2020, the set you performed this year, and why this performance best represents your artistry and yourself.
First of all, Yuma [tent] is home to me. I mean, the disco shark is up there. If you go to Sound [Nightclub], you'll see the disco shark up there, too. It makes me feel [at] home. [In] 2020, I was under a different name back then. I was playing a more techno-ish style back then, but I went through a whole rebranding through covid, and I rebranded as Minus the Light and played less techno but kept the image of playing dark music [and] playing more [of a] deep house style, so it was a different style for me to play this year at Coachella. I really enjoy the rebranding. It's going well. And people thankfully accepted it really fast!

I watched your set, and what you just said was very on-brand. You did a great job of balancing the dark tones of techno and brought more melodic, deep house vibes with your music. Now, the latest record you released is "In2u," which is your take of Ariana Grande's "Into You." What inspired you to rework that song?
The track "In2u," I played it both weekends, which came out on April 14. And I heard [Ariana Grande's] track, and I heard the vocal line, and [I felt] this track needed an electronic dance-floor flip, so that really inspired me, and I wanted to use that vocal line. I looped it and made my own version out of it, and it seems people are enjoying it, and I'm happy to hear that.
Yes, "In2u" has a very futuristic vibe to it, and it has a very head-bumping, dance flair beat. So, something about yourself, you're one of the few Turkish artists to play at Coachella. What does that mean to you? What's the response from your family? And how do you feel that you're representing a community?
It's awesome! As you said, not a lot of Turkish artists have played Coachella over the years, so it's been an amazing success for me. Obviously, my family is really happy for me to be playing Coachella because they know my story about music. I picked up my first guitar when I was 12 years old. I was inspired [by] my dad because he used to listen to a lot of [music from] The Beatles, Dire Straits, and Pink Floyd, and that's what pushed me to be more involved in music. From my parents to my friends to my people seeing me play at Coachella, it's been amazing for me. I got really good feedback [from] the Turkish press as well, so really great for the country and for me, and I just want to keep doing it because I want to represent my country as much as I can.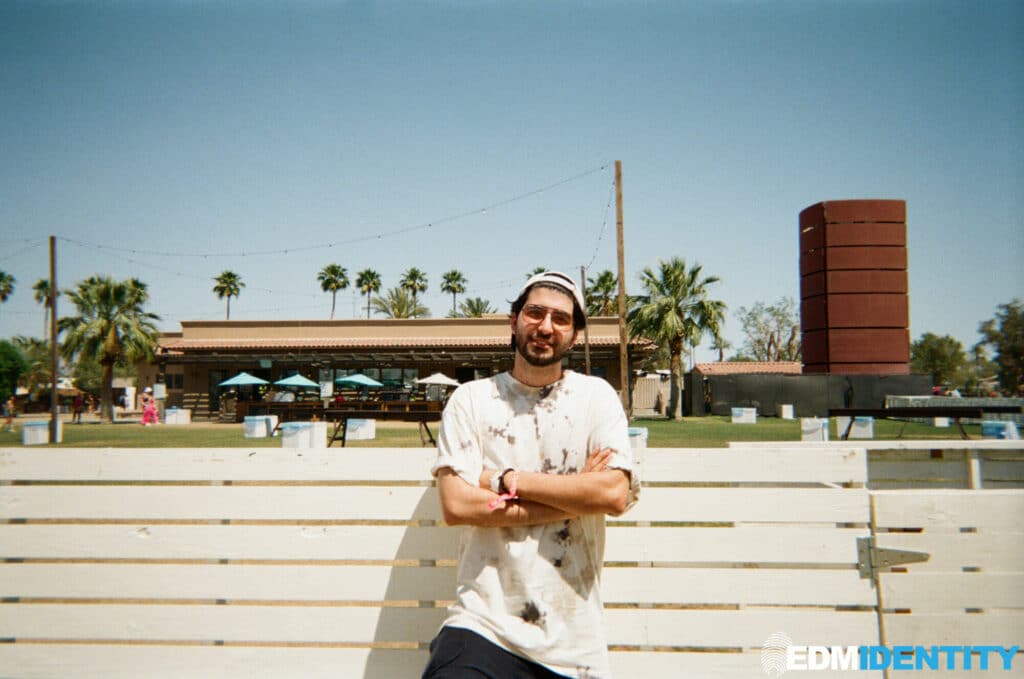 I know you mentioned in your past that, when you were younger, you used to ditch school to visit music record shops and browse music. So my question for you is, if you had to "ditch" your own set—obviously, you would never do that—but who is an artist that is a must-see on your list or someone you enjoy?
That's a great question. I was really happy to share the same stage with John Digweed. He's one of the DJs and producers that I look up to. I collect all [his] music from Bedrock Records as well; just really inspiring to share the same stage and be able to chat with [him] backstage and exchange ideas about music. I would definitely say John Digweed.
That's a great choice! And for my final question, what does the rest of the year look like for you? What can fans expect in the next few years?
My full EP is going to come out later this summer; just finishing the last little details on that. I have a few shows coming up at Sound Nightclub as part of my residency, and I'm planning [to have] a tour in Turkey and the surrounding areas later this summer, and then I'll be back in LA and just keep working on music and releasing more music to connect with my crowd even further. Just looking forward to it.
Awesome! Well, thank you for your time. Maybe next time, we'll be catching you at the Sahara tent or the Outdoor stage. Best of luck to you!
Thank you very much. Thanks for having me!
Parts of this interview were edited for clarity purposes.
---
Follow Minus the Light:
Facebook | Instagram | SoundCloud | YouTube