Camp EDC is almost here, so grab your gear and trippy tapestries – we've compiled all the essential info you need to know!
---
EDC Las Vegas is right around the corner, and as the countdown to reuniting under the electric sky continues, it's important to prepare for all that is to come, especially for those who plan to stay at Camp EDC. While camping in the desert heat might bring its own challenges, it's the ultimate way to get the most out of all that EDCLV has to offer for anyone who comes prepared.
From wellness activities and pool parties to exclusive DJ sets and carnival rides, there is never a dull moment at Camp EDC. The partying starts on Thursday with a massive kick-off celebration, and each day has pool parties featuring top-tier artists – not to mention that when the festival grounds close with the sunrise, the after-parties will keep the vibes going.
Related: Be sure to check out our festival camping essentials and meal-prep ideas to help you elevate your spot and feel extra prepared.
Whether you're new to festival camping or a vetted pro, we are here to help you succeed. Below you can find all you need to not only survive but thrive on the speedway this year. Additionally, it's important to note that Camp EDC provides round-the-clock medical and security services. Don't hesitate to seek help if you or someone needs it. See something, say something! Please reach out via the text line for assistance at Camp EDC! Have an emergency? Text or call – 223EDCHelp or (223) 332-4357.
---
Camp EDC 2023 – Essential Info:
Camp EDC Hours: May 18-22, 2023 (All campers must be fully packed and vacating the campground by 5pm on Monday, May 22)
Daily Festival Hours: 7:00pm–5:30am
Location: 7000 Las Vegas Blvd N, Las Vegas, NV 89115
Box Office: 475 S Grand Central Pkwy, Las Vegas, NV 89106
Camp EDC Check-In:
Thursday, May 18: 8am – 2am
Friday, May 19: 8am–2pm – please note festival traffic begins arriving at 2pm so wait times could be longer.
Saturday, May 20: 8am–2pm – please note festival traffic begins arriving at 2pm so wait times could be longer.
Sunday, May 21: 8am – 2pm – please note festival traffic begins arriving at 2pm so wait times could be longer.
Plan to arrive only during the check-in hours posted, and allow extra time for unexpected delays, as closing times are strict. If you arrive late, they will not be able to admit you into the campground until check-in opens the following day.
Ins & Outs
All campers will have in/out privileges to and from the festival (during festival hours) and a dedicated campers-only festival entrance.
Campers must scan in & out when going from the campground to the festival and vice versa. This is required in order to gain re-entry.
Campers with a valid Camp EDC wristband are allowed to leave Camp EDC on foot or via rideshare.
Festival goers who do not have valid Camp EDC wristbands will not have in/out privileges from the festival to the campground or access to the campground at any time.
For more information regarding both ShiftPod and RV Check-in, please refer to Camp EDC Entry & Hours.
---
Camp EDC 2023 – Thursday Night Kick-Off Party, Pool Parties, After Parties: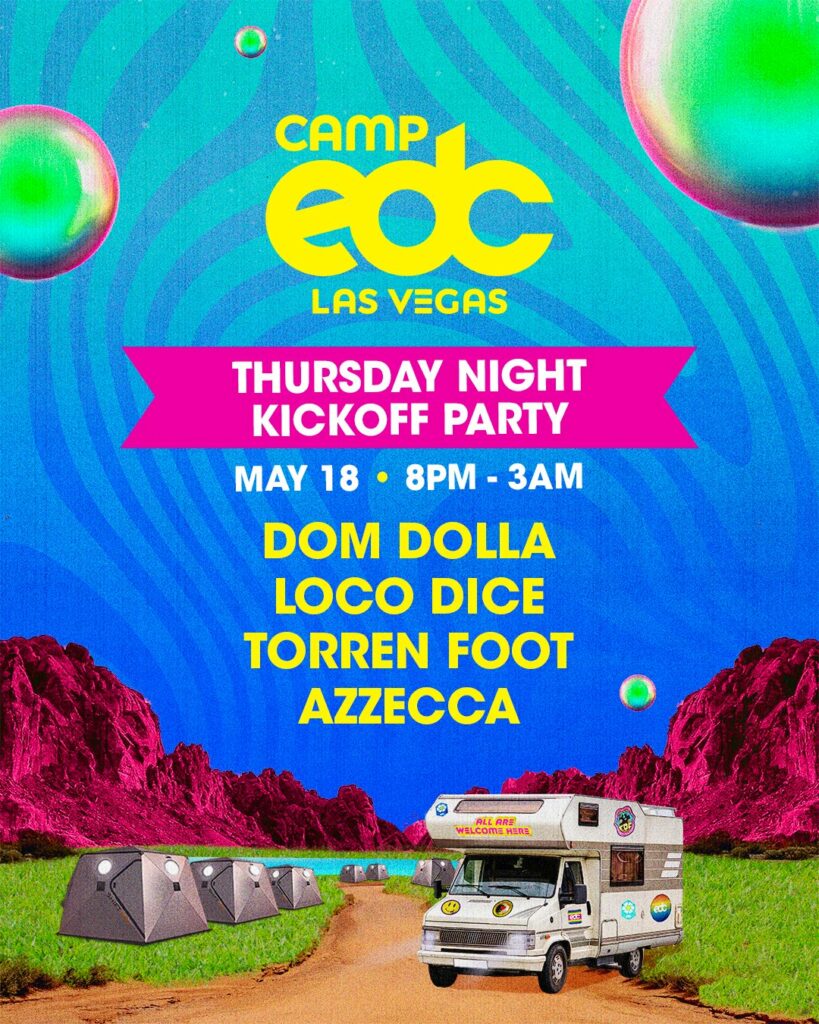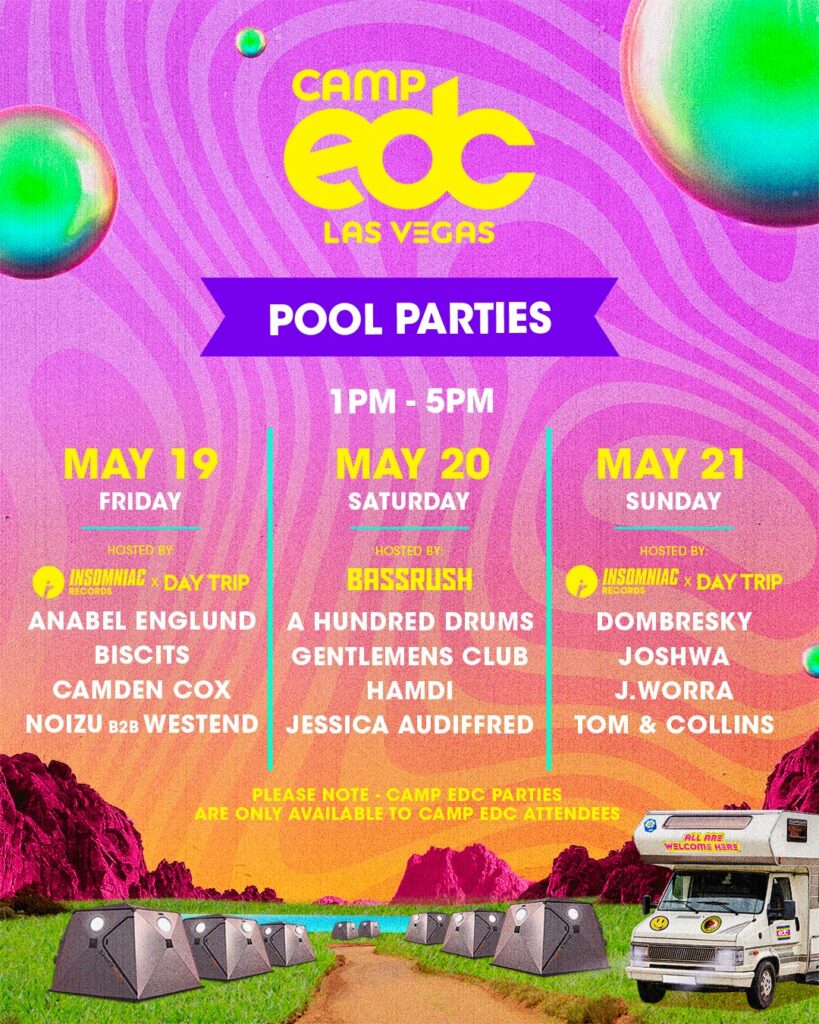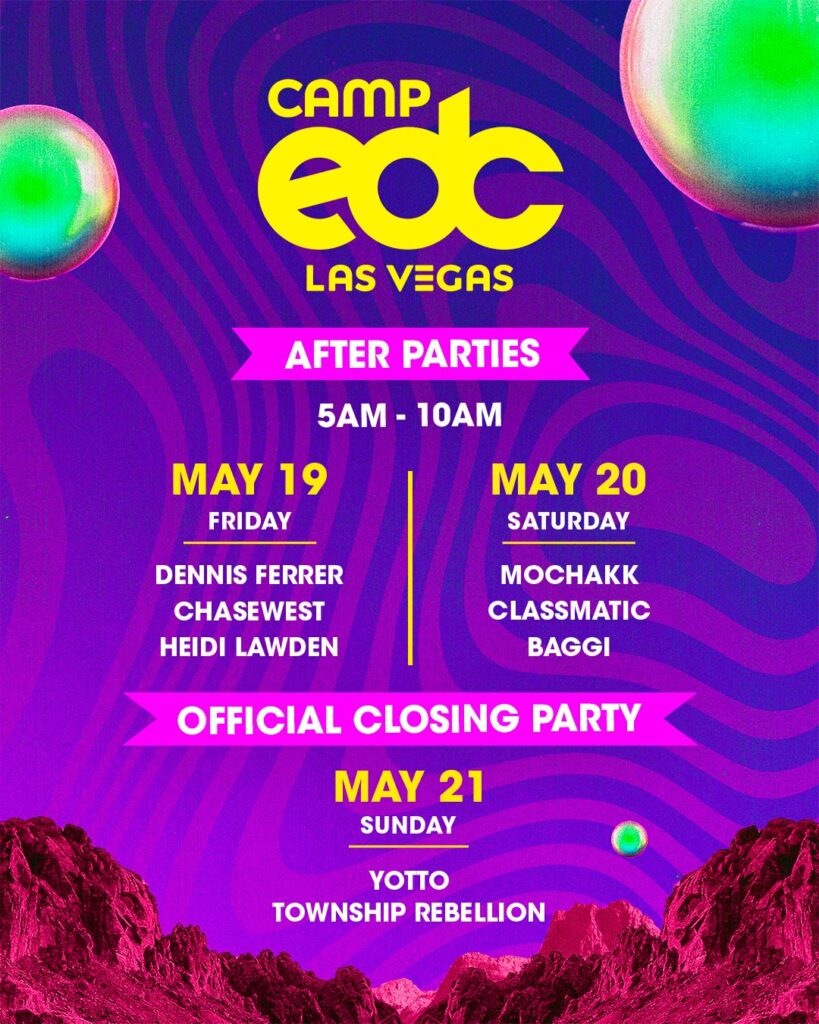 ---
Camp EDC 2023 – Campgrounds and Mesa Maps: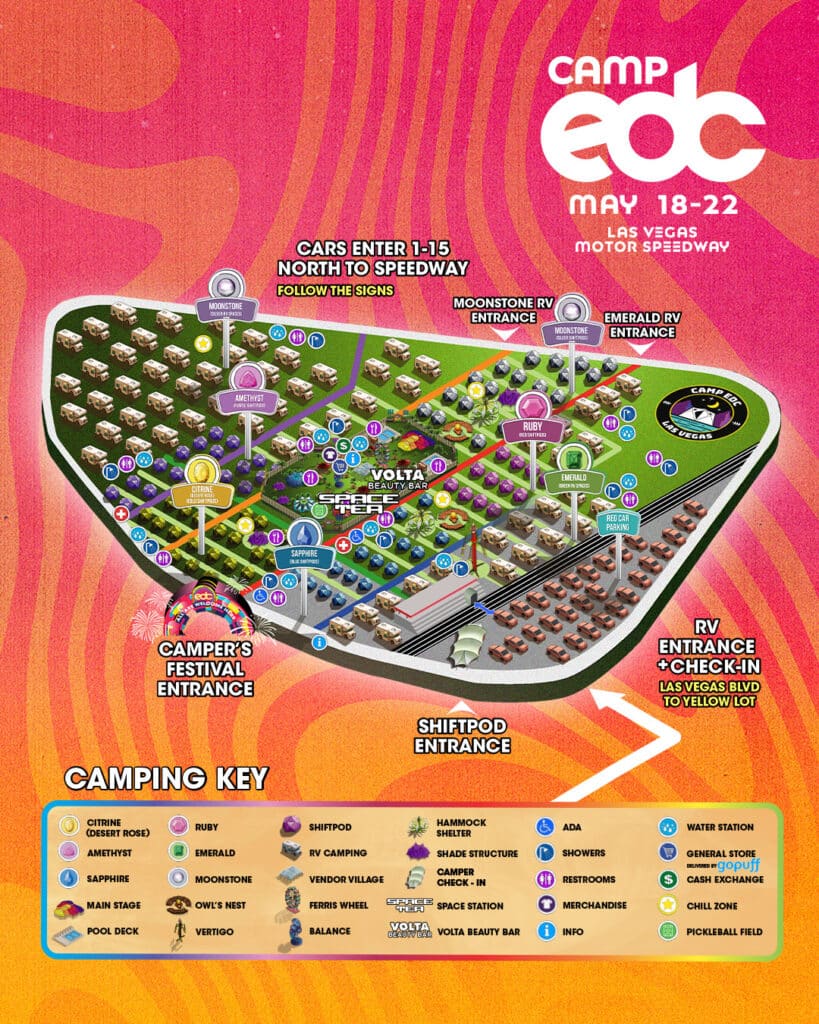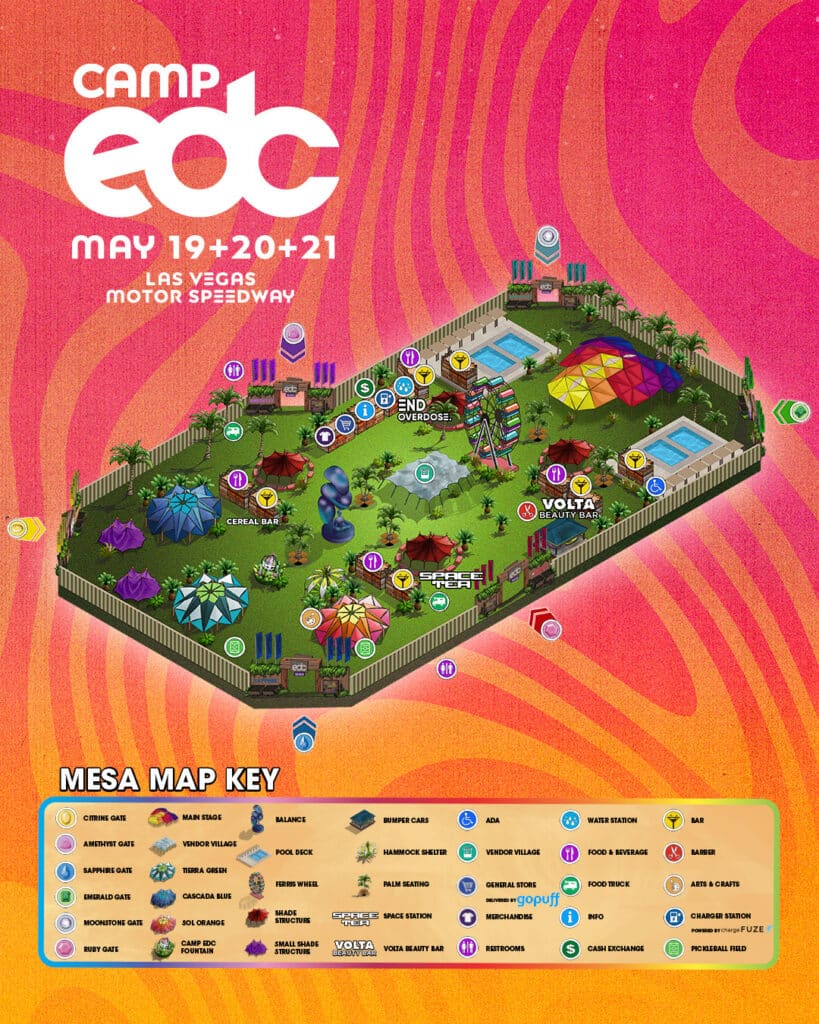 ---
Camp EDC 2023 – Activities Schedule: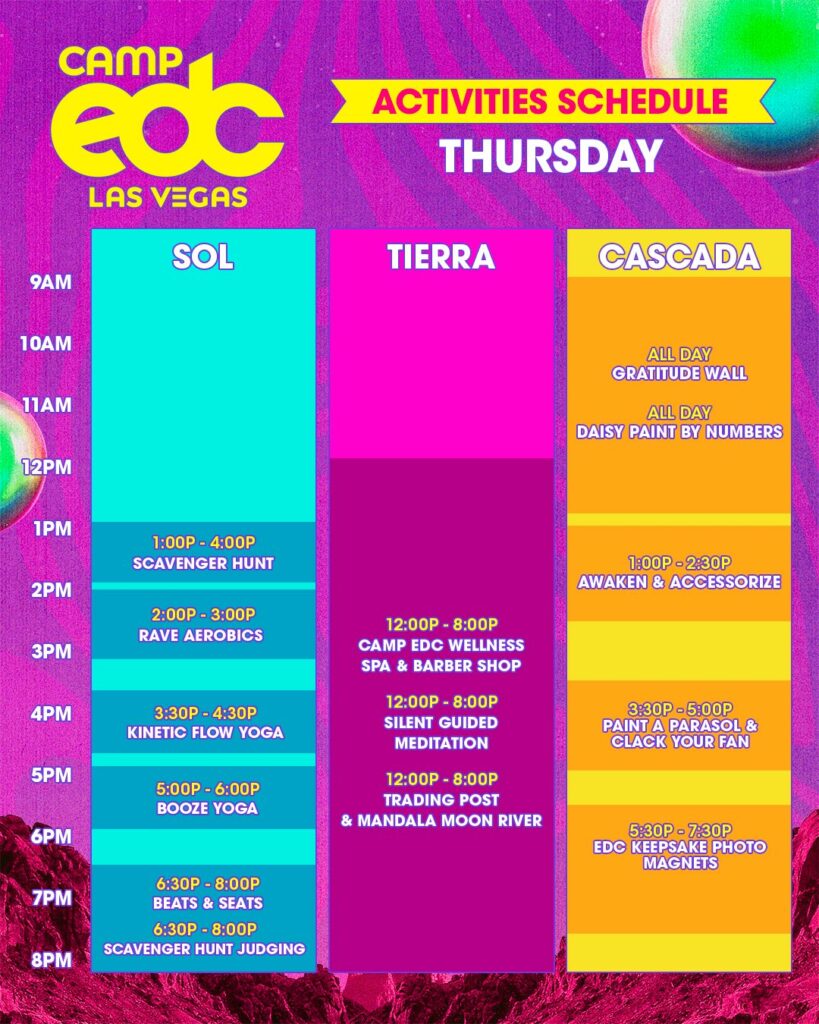 ---
Alcohol Policy
You must be 21+ to consume alcohol in the campground.
If entering with alcohol, you must present government-issued identification. Law enforcement will frequent the campground and randomly card campers seen drinking alcohol. Underage drinkers risk receiving a citation or even being arrested. 21+ campers are advised to carry their government-issued identification AT ALL TIMES.
Prohibited: Liquor above 16% ABV or glass of any kind.
Acceptable: Beer and alcoholic drinks under 16% ABV, up to 24 cans per person (under 12oz), or up to 5L of wine.
---
Reminder To Mind Your Belongings:
Unfortunately, many people have reported pickpockets, bag slashings, and theft of wallets, smartphones, purses and other valuables during this festival season. While this small number of bad apples in the bunch doesn't define an entire crowd, there are opportunistic people who come to these events to take advantage of unsuspecting partygoers and it's important to be mindful of your valuables while at Camp EDC.
Looking for tips to keep your belongings safe? Check our post highlighting some ideas!
---
Camp EDC 2023 – Do's & Don'ts:
Essential Packing List
YES 2 travel-size locks for your tent
YES Bicycles—don't forget your bike lock! (Only 1 bike per person. Bring at your own risk. Bicycles left in unauthorized areas or fire lanes will be removed.)
YES Earplugs
YES Eye masks
YES Flags/banners/totems to distinguish your tent (see guidelines)
YES Folding chairs
YES Food and beverages/water
YES Ice chest/coolers
YES Phone charger
YES Reusable, official Insomniac water bottles
YES Sleeping bags, blankets, pillows, air mattress (Note: these items are provided with a Desert Rose camping pass).
YES Sunglasses, hats, and sunscreen
YES Towels and sandals (for use in the shower)
YES Trash bags
Permitted Items
YES Battery-powered candles and lanterns
YES Beer and alcoholic drinks under 16% ABV, up to 24 cans per person, or up to 5L of wine. No glass allowed.
YES Cell phones
YES Cigarettes (must be sealed upon entry)
YES E-cigs/vapes (refillable liquid chambers OK—must be empty upon entry)
YES E-juice (up to one bottle per person—must be factory-sealed upon entry)
YES Fanny packs
YES Glowing/illuminated costumes or jewelry
YES Glowsticks (string glowstick/LED pois, orbitals and whips are permitted but must be performed 5 feet away from others)
YES Gum (must be sealed at entry)
YES Hula hoops (especially LED hoops!)
YES Hydration packs with no more than two main compartments and one smaller compartment—must be empty upon entry
YES Ice (must be packaged at entry)
YES Juuls (one 4-pack of Juul Pods per person OK—must be sealed upon entry)
YES Lighters
YES Lip balm/gloss (must be sealed upon entry)
YES Makeup
YES Manual scooters, skateboards, longboards, bicycles
YES Non-amplified (acoustic) musical instruments
YES Non-professional flash/still cameras and hand-held video cameras (e.g., Sony Action Cam, GoPro, Polaroids)
YES Personal food
YES Personal misting fan with a bottle no larger than 1.5L (must be empty upon arrival)
YES Personal-size battery-powered speakers
YES Personal-size pool floaties (made for no more than one adult)
YES Plastic mirrors
YES Small, portable propane grills/stoves* with small tanks, up to 4 lbs per group
(Propane bottles that are part of your RV/camping trailer's internal system are OK, even if they exceed 4 lbs)
YES Sunscreen lotion (inspected upon entry)
YES Tampons and pads (must be sealed at entry)
YES Wind chairs/sofas, deflated at entry
Prohibited Items
NO Aerosol products/cans
NO Bota bags
NO Breakable glass or acrylic mirrors (Compact makeup and shatter-proof plastic mirrors measuring less then 8″x8″ are OK)
NO Butane grills or accessories, such as torches
NO Camping wind turbines
NO Candles
NO Canopies, E-Z UPs, large umbrellas or shade structures (We will be providing plenty of shaded areas at the Mesa for you to enjoy)
NO Dollies or hand trucks
NO Drones or remote-controlled aircraft
NO Drugs or drug paraphernalia
NO Fireworks
NO Gas generators (Solar-powered Generators are OK) – (Generators onboard an RV are OK, please see RV Check-in guidelines for more info)
NO Gas masks
NO Glass bottles (Small bottles of perfume/cologne are OK)
NO Hammocks
NO Helium balloons
NO Hookahs
NO Illegal substances
NO Large chains or spiked jewelry
NO Large speaker systems (Sound systems are limited to USB-powered/personal portable speakers. No amplified sound systems allowed. Insomniac reserves the right to remove sound systems that do not follow these guidelines, and repeat offenders of noise complaints are subject to removal from the campground.)
NO Laser pointers or air horns
NO LED gloves or LED microlights used for light shows
NO Liquor above 16% ABV (Beer and alcoholic drinks OK for 21+. Must be under 16% ABV, up to 24 cans per person (under 12oz), or up to 5L of wine.)
NO Loose cans or beverages (Must be packaged and sealed at entry)
NO Loose pills without a prescription, or expired medications of any kind (All medications, prescription or otherwise, must be in their original container)
NO Medical or recreational marijuana
NO Metal stakes or hammers
NO Manual scooters
NO Motorized vehicles of any kind, including off-road motorcycles, Segways, electric bicycles, hoverboards, powered skateboards, or scooters
NO Open campfires or fires/flames of any kind (Propane grills OK)
NO Open packs of cigarettes (upon entry)
NO Personal gas tanks for refueling RVs
NO Pets (except service animals)
NO Professional recording equipment—photo, video or audio (detachable lenses, tripods, big zooms or commercial-use rigs)
NO Promotional flyers, promotional/corporate branded banners, or vehicles displaying sponsorships or ads
NO Solar camping showers
NO Spray paint
NO Steel knives or other utensils deemed as weapons
NO Stickers, flyers
NO Stuffed animals or dolls
NO Tool boxes
NO Unauthorized vending of food or merchandise, including alcohol
NO Weapon or weapon accessories of any kind, real or fictional (including whips, lightsabers, pocket knives, pepper spray, fireworks, fake weapons/props, etc.)
NO Wooden items
---
Follow EDC Las Vegas: