Spencer Brown, Eli & Fur, P.O.S, Nox Vahn, Leaving Laurel, Enamour, and more are set to perform at Anjunadeep Explorations this summer.
---
Looking for a sign to make this summer the dreamiest one yet? Well, look no further. Perched along the Albanian Riviera, Anjunadeep builds an oasis for adventure seekers and music lovers alike to come together in celebration to dance, connect and play. Anjunadeep Explorations wakes the sleepy village of Dhërmi from its slumber, bringing fans from all over the world to the Ionian Sea for six days of intimate Gjipe Beach Parties, excursions, wellness activities, extended sunrise performances, and an absolutely stacked lineup.
Previously announced artists set to play Anjunadeep Explorations 2023 include the mix-masters themselves. James Grant and Jody Wisternoff, along with Yotto, Dosem, Durante, Joseph Jay, Jeremy Olander, OLAN, Nils Hoffmann, Franky Wah, and Tinlicker, among others. Now, following the release of Anjunadeep 14, the full lineup has arrived, and it's a perfectly cultivated blend of talent set to bring the album to life with notable mainstays of the label such as Leaving Laurel, Spencer Brown, Eli & Fur, Jon Gurd, Braxton, and P.O.S.
Many other Anjunadeep artists are coming to turn up the heat on the beach from June 8-14. Rezident, Dusky, Hosini, HANA, M.O.S, Volen Sentir, and Warung will be setting the mood for all those morning yoga sessions, beachside massages midday dips in unreal turquoise waters. Attendees are also encouraged to explore all that Dhërmi has to offer, whether it be exploring the local beaches or enjoying the local hospitality with some of the best seafood in the Mediterranean.
The final sale for Anjunadeep Explorations 2023 takes place on Thursday, April 27. Sign up now for access to tickets before it's too late!
---
Anjunadeep Explorations 2023 – Lineup: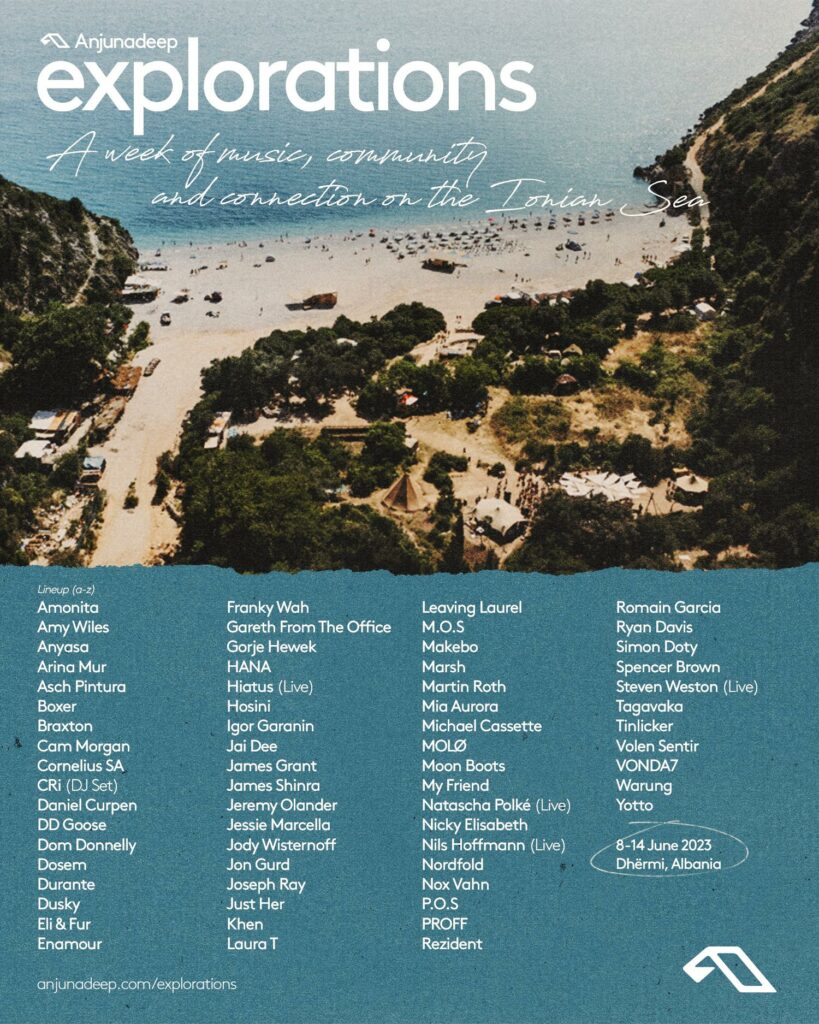 ---
Follow Anjunadeep:
Website | Facebook | Twitter | Instagram | SoundCloud | YouTube
Follow Anjunadeep Explorations: