The Bass Coast lineup features Clozee as the headliner with support from tastemakers like DJ Lag, Little Snake, Skeptical, and Justin Martin!
---
Bass Coast Electronic Music & Art Festival has dropped their 2023 lineup and it's their biggest, baddest yet. Taking place every year near Nelson, British Columbia on the traditional, ancestral, and unceded territory of the Nlaka'pamux and Syilx people, Bass Coast is a festival breaks typical industry norms, and sets an example for what a truly curation-focused, community-minded event should look like. As one of the last standing, large-scale, independent music festivals (founded by two women no less), the dance music industry looks to Bass Coast's lineup for tastemaking leadership, and this year they've dropped one that can't be missed. So if you're thinking of grabbing tickets for Bass Coast this year, and you're ready to plan your trip to mecca from July 7-10, read on for a peek of what's in store.
Prominently featuring Clozee as its top headliner, anyone descending onto the best coast – ahem, Bass Coast – this year will get a beautiful snapshot of the most exciting sounds being pushed in forward-thinking electronic music today. Its top tier direct support includes up-and-comers that have made big noise in the underground, broken beat world like Bianca Oblivion, Sicaria, Little Snake, and Oakk, and also more old school legends that created foundational trends like Skeptical, Eprom, Justin Martin and DJ Lag. Excitingly, there's also a strong representation of avante-garde, open format artists known for the unconventional ways they deliver sets like Mat The Alien and Lazy Syrup Orchestra. And of course, we can't forget one of the festival's co-founders herself, The Librarian.
Read our review from Bass Coast 2018 to get a taste of what's in store!
This year's Bass Coast lineup also features a standout showing from its opening and support acts. From Los Angeles-based house duo Joluca, to artists like Handsome Tiger and Max Ulis, we see the Bass Coast team dig deep into the sounds of the future, and to who is pioneering within those cultures and spaces. It's unsurprising to see both so many known and unknown names receiving a spotlight this year, as it's in keeping with Bass Coast's annual trend of putting community first in all aspects. It's not unusual for Bass Coast to mix together superstars and local legends alike to create a four-day, three-night experiment in camaraderie and creativity that cannot be replicated anywhere else. The fact that this year's call to arms is not just bass-music focused, but is broadened to encompass the forward-thinking electronic music community, shows Bass Coast doesn't just talk the talk, it walks that walk.
Right now, tickets to Bass Coast 2023 are sold out, but you can still grab a spot at the official Pre-Party in Victoria BC, featuring a headlining set from The Librarian on April 21 at the Capital Ballroom. Still hopeful to find your way into the full festival and looking to also contribute to the cause? Bass Coast is also hiring for on-site positions like Main Gate Manager, On-Site Office Manager, and General Store Manager. If you're interested in learning more about how you can obtain a position to work at Bass Coast, visit their Now Hiring page.
Tickets for Bass Coast 2023 are sold out but car passes and add-ons are still available on their website – see you there!
---
Bass Coast 2023 Lineup: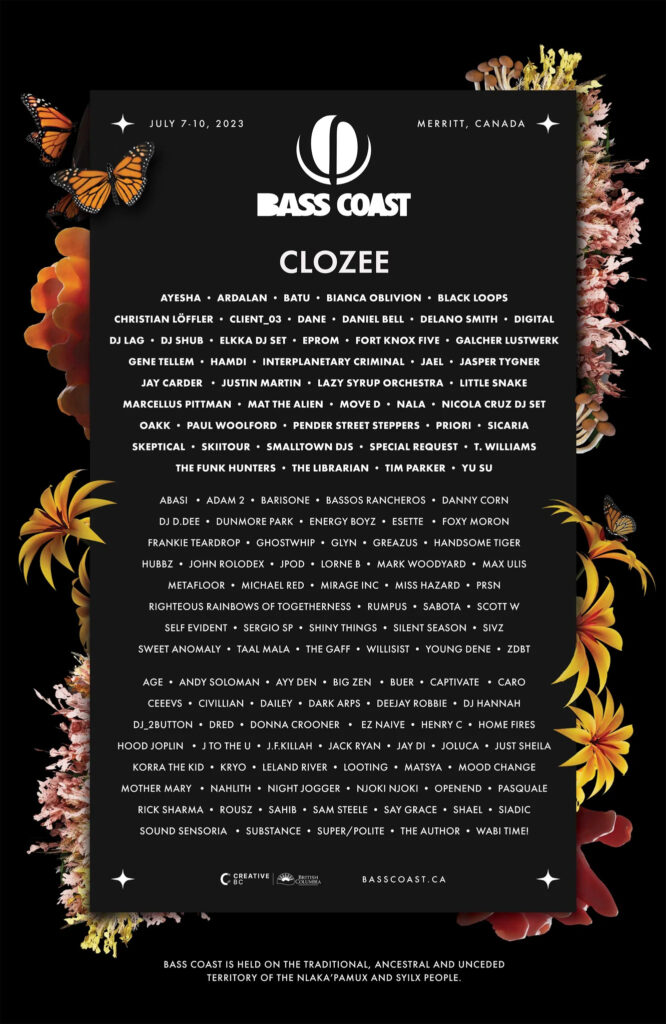 ---
Follow Bass Coast:
Website | Facebook | Twitter | Instagram | SoundCloud