Bass Coast is a festival at the apex of fun, safety, conservation, and equality. It's a grassroots, art-driven platform for the vibrant talent on the periphery of the mainstream. 
---
Bass Coast is an electronic music and art festival that also serves as an incubator for connection, creativity, and self-expression. Much like the theme of its tenth year, Bass Coast itself acts as a prism, refracting devotion and ingenuity into a spectrum of thoughtfully interconnected pieces more vibrant than the sum of its parts. It is an intimate, immersive environment, in which every element is an active component of its dynamic infrastructure.
This festival's dedication to respect and equality resonates through just about everything, permeating the community itself. It draws a more mature crowd that's generally predisposed to reciprocating those ideals, which greatly helps Bass Coast's conservation and safety efforts. Guests were genuinely willing to sort their trash, pack out what they packed in, or dispose of their cigarette butts in special recycling bins. 
You can instantly feel the depth of attendee participation through everyone's 
contagious energy, colorful costumes, and amusing means of interconnecting. 
Though it has an overarching culture, there isn't one type of person that this festival attracts. Everyone I interacted with was awesome and down to earth, whether they were staff, security, attendees, or otherwise. Bass Coast seems to bring the best people, or bring out the best in them. It offers them the freedom to weave their quirks into the playful absurdity of the weird and wonderful festival fabric.
Keeping the festival small just makes everything better.
The 2018 edition accommodated 5,500 attendees, Bass Coast's largest crowd to date. Smaller festivals enable a stronger sense of intimacy and safety, and make the event more manageable in general. This also allows you to take in as much as possible, and there was so much to experience at this festival.
Through a generous art grant, Bass Coast was able to feature dozens of interesting electronic art installations throughout its art village. Some were more earthy, like the giant glowing mushrooms, and others more abstract. 
Regardless of style, most of the installations were interactive, and many of them were musical.
Interesting gizmos with colored lights and groovy backbeats to which you could add sounds through a combination of dials and buttons. You could sink your fingers in the topographical sandbox, run past motion-detecting video projectors, roller skate at the Galactic Roller Disco, or play with a giant Lite Brite at the edge of the forest. The possibilities were endless, and each object had a small placard explaining its purpose and intention. Everything at Bass Coast has some greater significance, even the goldfish in the water jug. 
You could also choose a number of places to perch whether you'd like to clamber into the net lounge, soak in the peacefulness of the Arcane Axis, lay beneath a luminescent rainbow canopy, or rest at any of the rustic Southern-style porches at the Radio Stage.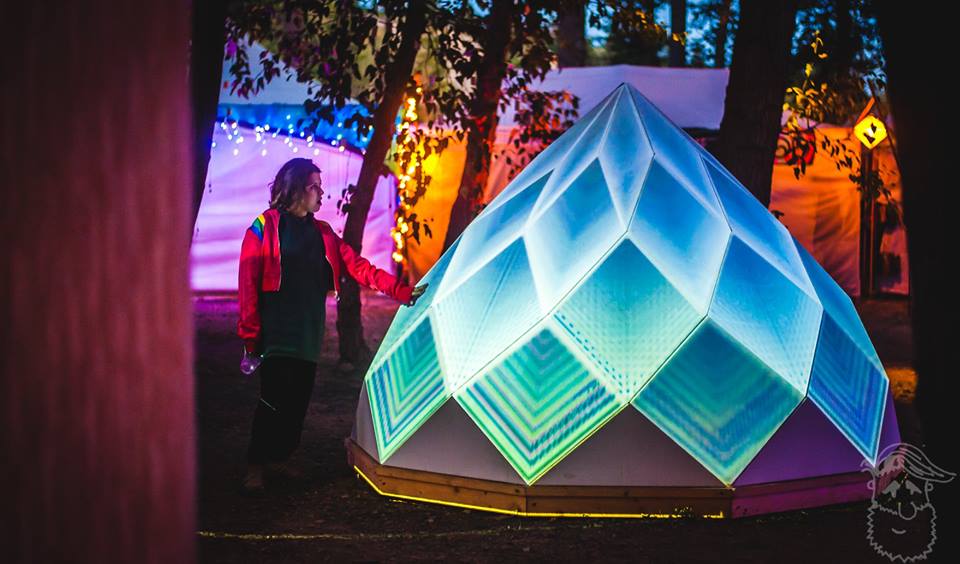 The environment was honored, not only through conservation efforts, but by embracing the natural beauty of the venue. 
The trees of the forest were bathed in multicolored light, and adorned with interesting fixtures, through the visions of the festival's separate but equally potent lighting and 'lamping' departments.
The river that ran right through the festival was an entity of its own. With which one could join the numerous floaty parades, cool off during the day, or reflect in its undulating surface. This venue was naturally stunning, and having a river at a festival is something quite special that adds so much more serenity.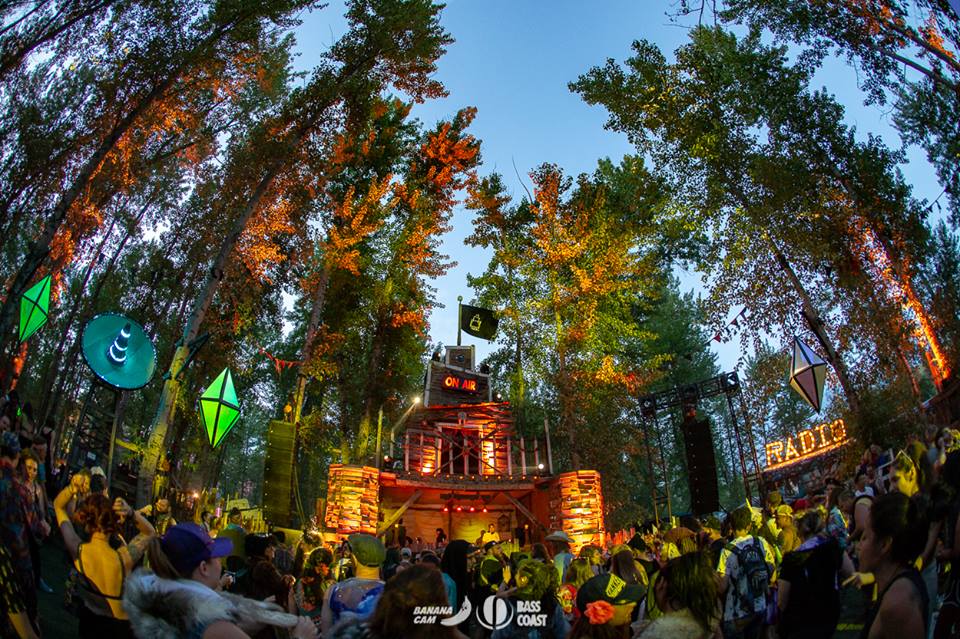 Bass Coast is a female artist owned and operated, homegrown endeavor whose heartfelt dedication and mindful attention to detail vibrates through every aspect of its design.
Aside from the breathtaking production, they go above and beyond in working towards preventing harm rather than reacting to it. Like providing services similarly to Ankors at Shambhala, taking advantage of technological resources to include emergency buttons in the festival's mobile app, or placing tall lifeguard chairs at the back of each stage for harm reduction to see more clearly into the crowd. Their interesting approach to alcohol prevented guests from bringing their own but allowed them to buy drinks at one of their three on-site bars, reducing the countless negative consequences that accompany over-consumption.
What's more, in the event of a medical emergency, there were more medically trained professionals on the festival site than in the entire city of Merritt, in addition having to friendly, attentive, and down to earth security and harm reduction staff.
I genuinely felt safe and comfortable at this event, and ultimately as if I was being treated like an adult. Being offered the freedom and resources to make the best of the experience. 
Though it had all the ingredients of an amazing festival, Bass Coast held a kind of gravity for me.

 

A sort of weight that I carried with me the entire event consisted of a variety of factors.
For one, this was my first real festival since my severe depression last year. A year during which I attended nearly a dozen festivals, most of them by myself, and after which I'd come to associate music festivals with isolation and exclusion.
The second and heaviest reason was learning that Cliff Moore, the person who'd connected me with EDM Identity (the very reason I was at this event), had unexpectedly passed away. Though he was someone I didn't know well, he played a profound role in my life. I learned of his passing on Friday evening, and it lingered with me over the duration of the festival. Knowing how to digest it was a legitimate struggle, especially with the knowledge that he died in the same way my little sister did ten years ago. The only resolution I could come to was that Bass Coast 2018 would be dedicated to Cliff. 
Though that dark haze was omnipresent, it helped immensely that I never really felt alone at this festival.
There were countless individuals open to connection, and I was camped with an all-around awesome group of people. 
I'd driven up by myself, and camped with a group that was primarily strangers with whom I'd been invited to camp by a new friend I'd recently made at a park in Seattle. Though I was hesitant to openly include myself in their group, they accepted me with open arms.
It was during their fruit salad, floaty cuddle puddle party during Lazy Syrup Orchestra's groovy Sunday morning set at Slay Bay that I accepted my place as part of the crew. I wanted to lean on the rainbow unicorn floaty next to me but was concerned with crowding the person already in it. When I asked if I could scooch closer, he likened the situation to a box of kittens. How they crawl on top of each other, sit on each other's faces, but still find ways to get comfortable, and ultimately don't really care. I was advised to "just flop in."  And I felt at one with the kittens.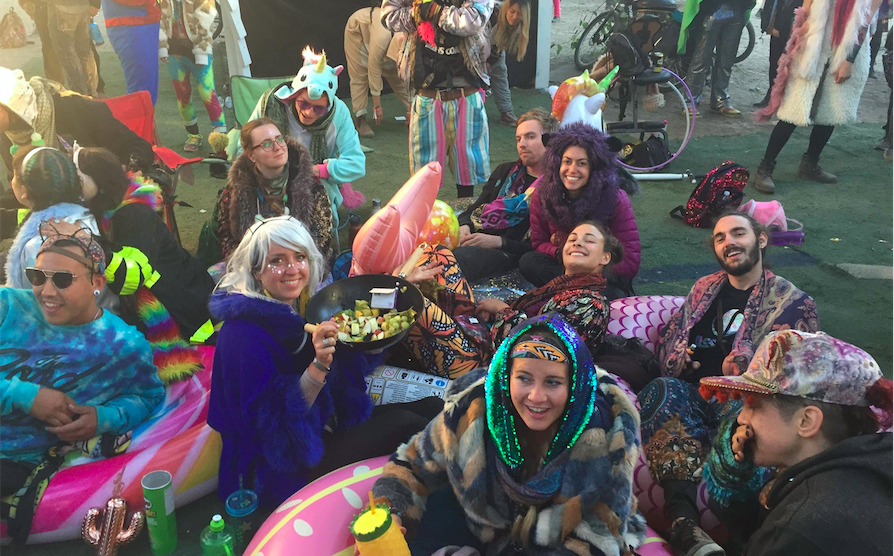 It's clear this festival is special in the way it allowed me to break free from my burdensome existential quandaries.
I generally struggle to get out of my head unless I'm viciously dancing to heavy, angry music. That type of music, however, was relatively few and far between at this event. The vibe was generally more low-key, though I sincerely appreciated the space it gave for introspection and connecting with others.
That being said, this event definitely had its moments. Midway through her set, The Librarian delved into dark depths that reached right into my soul and dragged me into another movement-induced dimension. I lost myself in the music and left the weight behind if even for that instant. Her set was among the most looked-forward-to, and she delivered a well-balanced performance, with plenty of feels at the end when the crew came up on stage to celebrate 10 years together.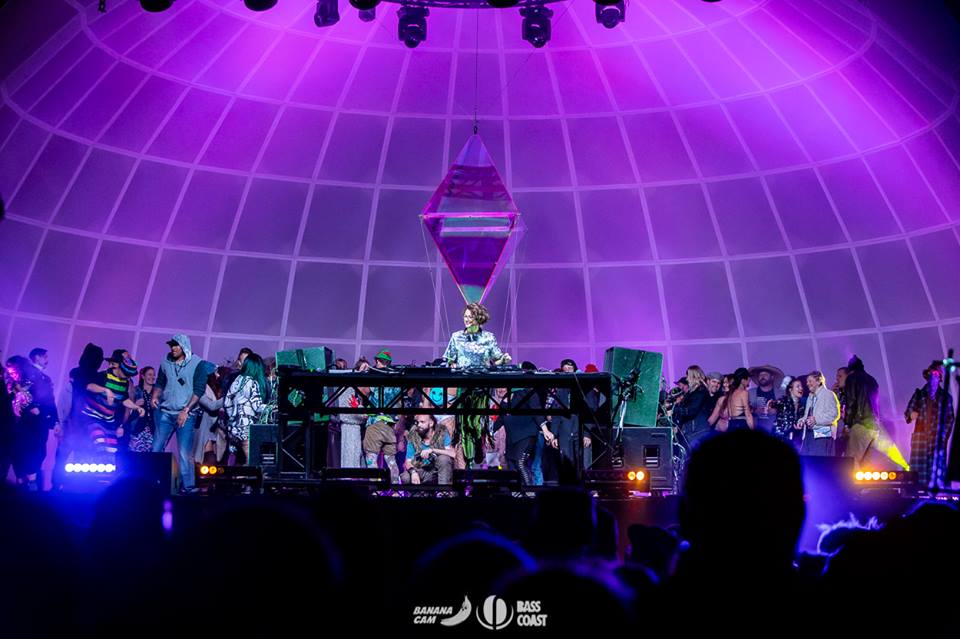 It was difficult to imagine anything effectively following that performance. But then, Ivy Lab took the stage…
A dark set soaked in deep red light, that happened at the height of the witching hour. As Blake of Digital Motion Events aptly put it, Bass Coast is certainly "The best place in the world to catch an Ivy Lab set." 
Despite the best efforts of my subconscious, I still had an amazing time at Bass Coast. Between The Librarian leading into Ivy Lab, to frolicking in the forest bonding with new friends, I sincerely assumed Saturday would be the best night of Bass Coast.
Then everything about Sunday pulled through. Splashing in the river during the day, checking out the merch line designed by Canada's Project Runway winner, meandering through the innovative vendor village, resting before the evening. An overall replenishing day, loaded with anticipation.
I knew the Funk Hunters would be a highlight but didn't realize to what extent.
The energy of their set was lubricated by the weird and heavy stylings of Bass Coast resident Mat the Alien. And they came on during one of those moments where everything cosmically aligned… when all of the friends from different worlds converged in the same place.
Their set was tastefully eclectic, unreasonably heavy, yet fiercely uplifting. It felt like the climax of the weekend, when I felt most connected to everything, and at peace with myself. Then it resolved with the eerie vocals of Pink Floyd's "The Great Gig in the Sky", from their album which famously bears a prism. A thoughtful resolution to an epic journey of a set.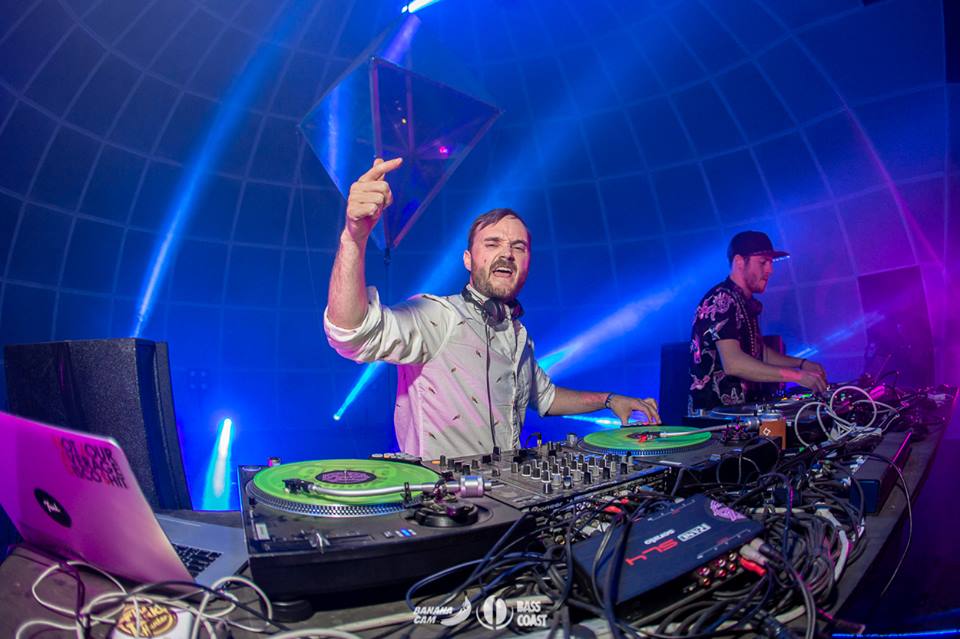 Once I thought the best was over, my favorite new-artist discovery occurred soon after at the Slay Bay stage.
I didn't know of dBridge prior to Bass Coast, and I was so wholly consumed in his set that I didn't have time to look up his name until he stopped and I was finally able to resurface for air. He played a bit of everything… and I mean everything. In gradual, organic progressions that had me so completely enamored, I hardly noticed the sun had risen while I was under.
Those that made it to the end were loaded with anticipation for the surprise closing set, when The Librarian stepped up to the stage in the best possible way for Bass Coast's co-matriarch finish out her festival. Looking so clean compared to the haggard animals still bouncing about. As we had each night before, we danced well into the daylight until the music finally ended.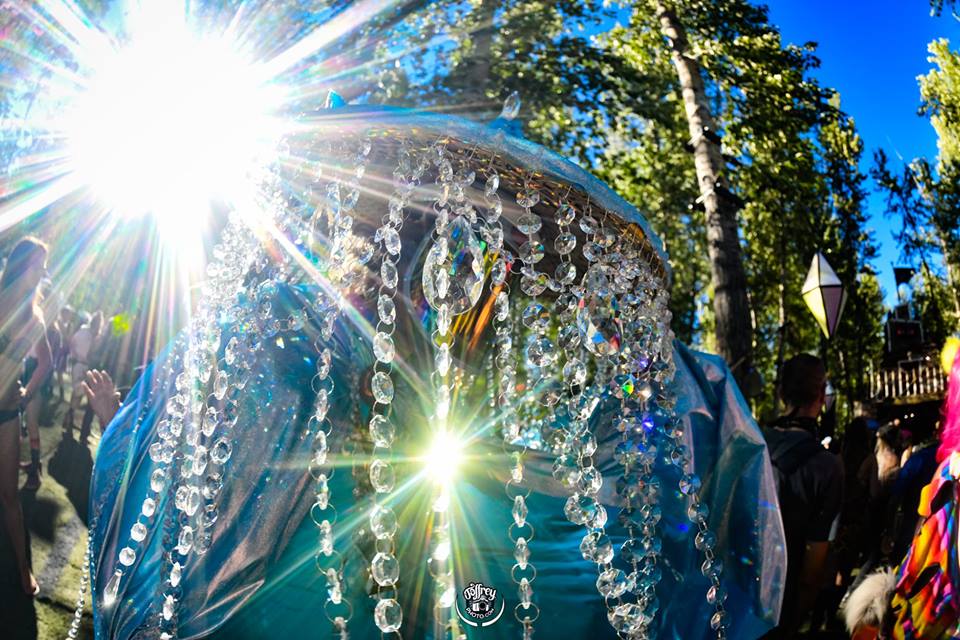 Though maybe tempting, it's unfair to compare Bass Coast to other festivals.
Beyond its music, vibes, and art, Bass Coast has a special energy that I still can't put into words. A feeling of unconditional inclusion, a willingness to accept the weirdness in everyone. There is clearly something much deeper that keeps people returning to Bass Coast.
The grassroots nature of this festival makes its sense of preparation and expert production all the more awe-inspiring. It's clearly not preoccupied with selling the most tickets, or appeasing corporate benefactors. Rather, it has room to expand, but remains intimate by design, growing incrementally each year with intention and purpose. Always ensuring that there's "room to dance".
This year was a particularly important milestone for Bass Coast. Its history of dedication to art and music was thoughtfully reflected through this year's bookings. Featuring artists from years past, whilst continuing to be a cutting-edge platform for international talent and Western Canadian favorites. This event is known for its expertly curated music, and it provides the best platform for artists to be heard through Canada-based powerhouse PK Sound. Regardless of style, artists continuously expressed that Bass Coast was not only one of their favorite festivals, but among the best in the world.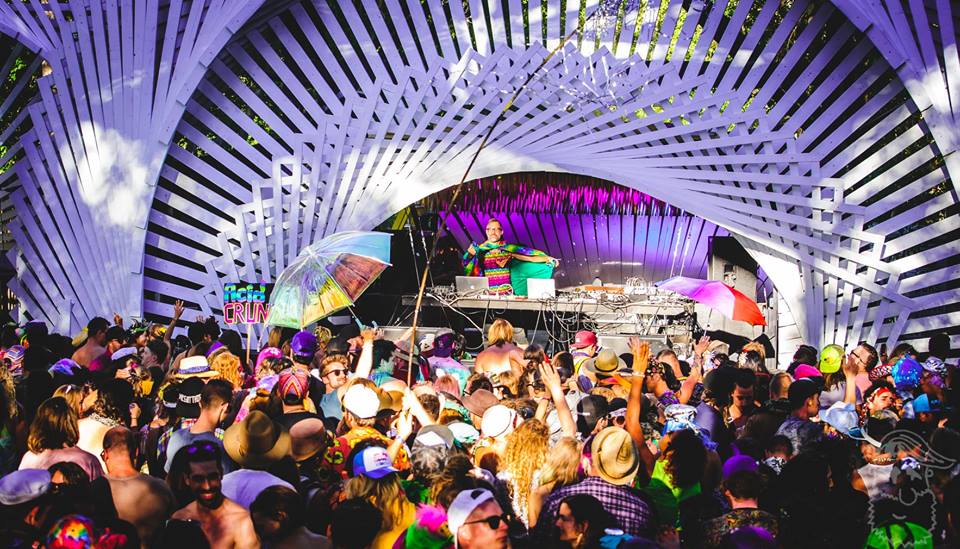 There are countless ways to make Bass Coast your own.
If you're not into the music or the installations there are seminars at The Brain to expand your mind, and movement workshops to nourish your body.
If nothing else this festival is amazing for people watching. Everyone is on the same level courtesy of the pervasive bizarreness and inclusive vibes. Bass Coast creates a playfully sophisticated space to open up and freely express. 
It's clear that those behind the wheel at Bass Coast are in this for the long haul. They've invested their time, energy and resources into cultivating something deeply memorable for everyone involved.
I believe that everyone, not just festival goers, should have the opportunity to have this kind of experience. One that exhibits what can happen when a crowd is treated with love and respect. To witness art, freedom, and fun at its best.
This article is written in memory of Cliff Moore.
---
Follow Bass Coast on Social Media:
Website | Facebook | Twitter | Instagram | SoundCloud