We caught up with Maddix at Ultra Miami and got the lowdown on his new sound, his plugin, the launch of EXTATIC, and more!
---
Many artists reinvent themselves from time to time, trying on new music, aesthetics, branding, and more. One of these artists delving into a new sound is Maddix. This Dutch producer has developed quite a fanbase over the years, so when the time came for him to explore the harder-hitting beats of techno, many wholeheartedly supported his transition. With heavy hitters like "Thrill" with Linka and Gregor Potter, "No Escape," "Heute Nacht," and, most recently, "Revolution" with Timmy Trumpet and Hardwell, Maddix has cemented himself in the scene and continues to impress with his bold sound.
Maddix has graced the decks of stages worldwide, like Ultra Music Festival, Mysteryland, Parookavilla, Amsterdam Dance Event, and even on the floating FriendShip. The time has come as well for him to pay it forward to rising artists, with initiatives like his new label EXTATIC, held under Hardwell's Revealed Recordings, and his new Maddix Rumble Plugin. With Maddix at the helm, mentoring, and offering tools to new artists, the future of techno surely looks bright.
We caught up with Maddix before his performance at Ultra Music Festival and talked about techno, new music, his production process, and much more. Listen to "Revolution" and read on for the full conversation.
Stream Hardwell, Timmy Trumpet, Maddix – "Revolution" on Spotify:
---
Thank you for chatting with us today! Is this your first time here at Ultra Miami?
This is my second time. I was here in 2018 – it was awesome, just as a visitor. I knew Hardwell was going to play three of my tracks, so I bought a ticket to watch his set.
That's amazing. So you heard him play your tracks on the Main Stage? How did that feel for you?
Amazing. I got goosebumps, seeing my music go from a small studio to this big festival.
I bet. And this year, you're playing on the Revealed stage takeover. How are you preparing for that special set?
Actually, not too much. I've been making a lot of new music. I've been trying it out in different shows, so I'm going to play six or seven unreleased songs. I just go and play it.
Do you get nervous at all?
Yeah, sometimes, it depends on the show. So I think for Ultra, I'll be a bit nervous. It's a big show. It's an important show.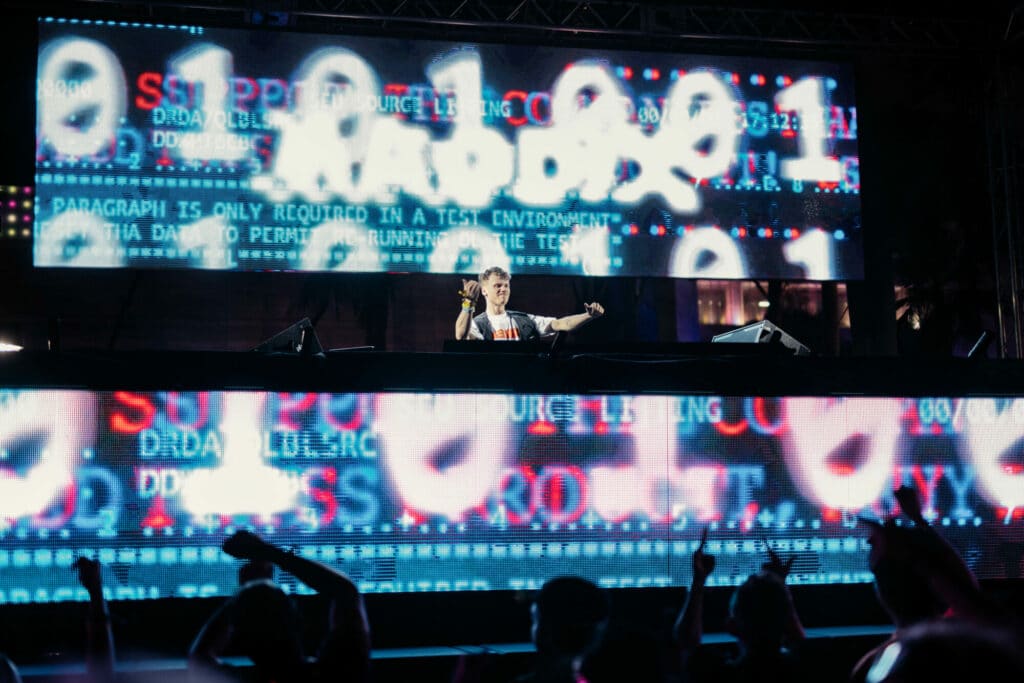 Yeah, definitely. You posted on your Instagram about playing Ultra Abu Dhabi on the Main Stage there and were pretty nervous.
[Laughs] That, I was very nervous. It was a livestream as well. So I realized, like, oh, wow, this stage is so big. I felt like a small puppet.
It must have been amazing seeing the crowd just love hearing your set. And speaking of Revealed, you've been releasing with them for quite some time now. How has the support been from Hardwell and the label itself?
Crazy support, especially lately. You know, Hardwell had his sabbatical and took some time off. I reinvented my sound, and he also came back with a sound that has similarities. But it's now perfect for me because he supports so much of my music. I was at his show in the Ziggo Dome in Amsterdam, and he played like nine of my tracks. I was just partying in the crowd like, "Oh my God." Revealed has been amazing as well.
And speaking of your new sound, you're focusing on techno's harder, aggressive sounds. What drew you to these harder sounds? And when did you realize you wanted to make that switch?
So in 2019, I realized I got a bit tired of the same old big room; I also realized my preferences changed. I was going to more techno parties, and I wouldn't even buy a ticket for pure EDM shows I was giving myself. I realized that's not good; let's go back to the studio and just make music that I truly love the most myself. That's the most important. 
So that's when I made the song "Ecstasy," and it's been an evolution. For every track, I tried to push it a little bit forward so I can also keep my old fans, and I'm super happy to see a lot of them converted. It's crazy to see that when I started, many people were complaining, saying, "What are you going to do? Are you gonna make techno?" And I'm said, "No, just wait for it." And so far, so great.
Yes, they're loving your new sound. You've also recently released "Revolution" with Hardwell and Timmy Trumpet. Can you walk us through what it was like to produce that together?
It was insane. I've worked with both artists before, but not on the same song. Working with Hardwell is always just epic. This guy's a genius; I love him. It came super naturally. I started out with a small idea, sent it over, and then the track was finished. But it took a long time to release because we premiered it at Tomorrowland. And actually, we'd been playing it a little bit before, but we knew we had to wait for a big show to announce it. Back then, Hardwell couldn't release it because he was working on his album and just releasing that kind of music. So finally, it's here.
It's one of our favorite songs for sure. Which one of your releases on Revealed so far are you most proud of, and why?
It has to be "Heute Nacht." It was kind of unexpected because it's more towards techno, and it's been an eye-opener for so many people. My fans loved it, but it also got picked up by a lot of techno DJs. It's been Beatport #1 on techno for like two months. It has like 18 million streams already. It's just crazy to see.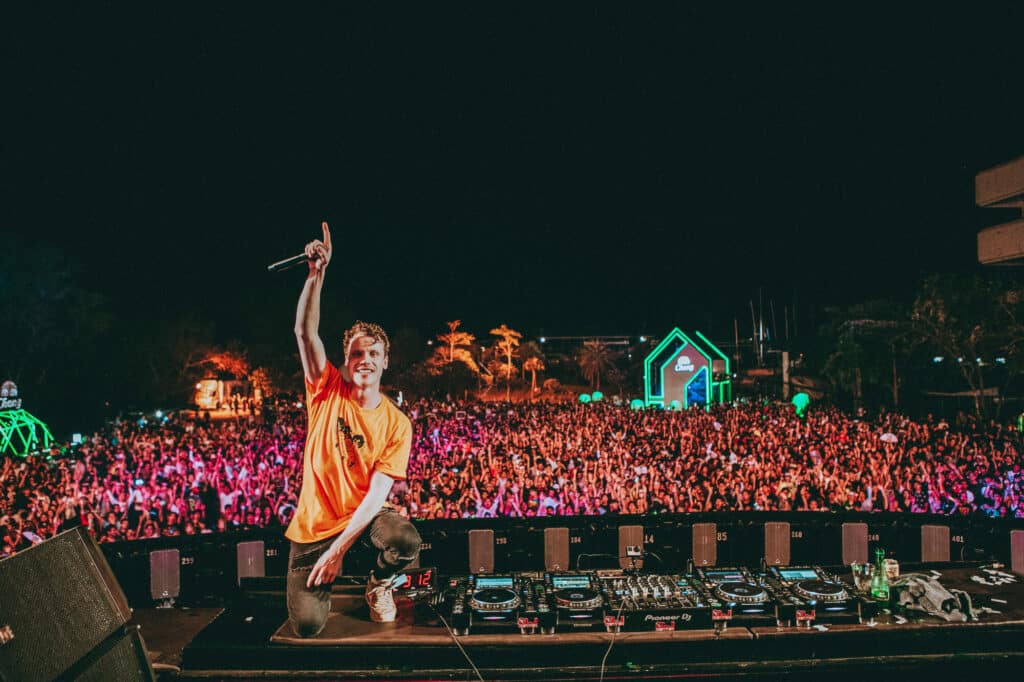 It must be so rewarding to see all the success from that, too. And the time has now come for you to launch your own label, EXTATIC. So, beyond giving producers a platform under the big room techno sound, what else can artists expect when they're working with you on your label?
I want to give them an opportunity because I get so much music sent to me, and it's always difficult. Because in my sets, I play a lot of my own music, and I want to start helping these other producers as well. I want to cater it a little bit more toward the darker, harder techno sounds. So for them, it's still possible to release it with Revealed because it's a collaboration with them, but a different brand targeted to this sound. 
I think I want to collect a group. I already have a few producers that always send me their stuff, and I want to help them further in exposing them. Maybe do the song mixing and mastering for them for the releases because I know Hardwell does this a lot with Revealed as well. And then slowly build a community around it.
Do you know the first couple of tracks you're planning on releasing?
Not yet. [Laughs] Well, I have a few tracks, but we still have to see exactly what we're going to schedule.
Yeah, it takes a lot of planning, for sure.
Yes. We want to do it in the correct way, so we'll take a little bit of time.
Your Maddix Rumble Plugin is also coming out soon. What do you hope artists come away with after using the software?
Well, since I switched to techno, I'm not sure if you're familiar with it, but in the kick drums, they sound like you're in a warehouse. Super messy and rumbly, so to speak. It's quite difficult to do this and to make this as a producer. So many people have asked me how they get this sound. So when Revealed approached me for a plugin, and five minutes after, I had this idea for them. If we can make this easy for [producers] to use but still be super unique, then we should try it. I've been running the beta version and using it in all my tracks. It's just amazing. So if people want to make the sound that I do or become techno producers, they should definitely check this out.
Definitely, and you use the software?
Yeah. All my new tracks have it included now. And it's not tracks that you guys know yet, by the way, because I'm always working on new tracks.
I'm sure you have a ton of unreleased stuff and a lot that we'll hear at your set at Ultra. So, let's end with a fun question. It's Miami Music Week, you're done with your set, it's after Ultra, and you're hungry. Where are you going to eat?
I was talking to my manager, Mano, about this. Like, which burger restaurant is the best in the U.S.? I don't know. What is the best?
Well, we'd say In-N-Out because we're from California.
Yeah. I've never tried it.
[Laughs] Well, you've got to come to California for that.
[To Mano] Reschedule the flights, man! [Laughs]
---
Follow Maddix:
Website | Facebook | Twitter | Instagram | SoundCloud | YouTube