Micah Martin sat down with us at Beyond SoCal to unveil current studio works, live performance thoughts, travel tales, and much more!
---
Flipping between rock n' roll and rave n' repeat, Micah Martin is a genre-fluid vocalist whose devout lyrics are layered within the synths and bass of several electronic masterpieces. This Iowa native's melodies have been featured by artists such as Zomboy, Jauz, PhaseOne, Ghastly, ARMNHMR, and many more. In the electronic dance realm, he has glided between genres like future bass, hard dance, and dubstep, to name a few, while his rock band, The Zealots, also shares his set of vocals atop several of their tracks.
Not only does Micah Martin work with several electronic artists in the studio, but he has recently popped up as a surprise guest at several shows and festivals globally to sing his featured tracks to a live audience. Earlier this year, he was also invited to perform at the once-in-a-lifetime X-Qlusive Rebelion in The Netherlands. More recently, his performance at Beyond Wonderland SoCal this year during Zomboy's set was insanity as he belted his heart out to the massive crowd.
With more and more vocal features from Micah Martin on the horizon, expect to see him singing his heart out more often. We jumped at the chance to chat with him at Beyond SoCal, and he gave us the lowdown on his recent performances, what's in store for the future, and more. Listen to his heart-twisting lyrics on DZMA and Nick Ledesma's "Fall Asleep," and read on for the conversation.
Stream DZMA, Nick Ledesma, Micah Martin – Fall Asleep on Spotify:
---
Hi Micah, thank you for sitting down with me. You were previously in a rock band called The Zealots, and now your voice has been atop tracks played by DJs worldwide. Can you highlight how and why you transitioned from the rock scene to the electronic scene? Is this a full-time gig?
I mean, honestly, yeah, but at the same time, rock n' roll…like my heart and soul will always be rock n' roll, you know? So neighbors were in my band. My bandmates and I have been best friends since five and six years old, so we grew up with this chemistry and stuff. Playing in a rock band is super fun and lit, but being able to come to these festivals and sing these songs in front of all these people and connect with people like this, it's insane. The transition was super cool because I've been doing a lot of vocal features since 2015.
I had an artist reach out to me to ask me to do an EP randomly. Well, here's how it started; let me go to the beginning: I joined a Facebook group called "EDM Bedroom Producers," and I posted a video mix of me and my studio recording my first EDM song. I said, "Yo, anyone that wants vocals, hit me up." I posted it before I went to bed, and when I was going to bed, everyone in Europe was waking up. 
I woke up the following day to 600 friend requests and just a bunch of people asking me to do the vocals. I was like, "Dude, I'm a kid," and I went down the line and went, "$200, $200, $200". It's funny because I ended up with one of my biggest collabs in some of those songs I did. It was with Brooks, and that was just from that group. The transition was super weird and unexpected, but when you see a spark and a flame, you just gotta go with it, so that's what I've been doing.
The band is still a thing; The Zealots is still alive and well. It's got a heartbeat. We have a few singles we haven't even released yet that we're sitting on. I'll shout out the boys right now; they have another band called The Fourty-Twos. It's basically The Zealots, minus me. We all have the same studio at home together, so I record EDM vocals after they're done with band practice. We're all still tight, brothers and stuff.
What inspires such gut-wrenching lyrics as a singer, and what has it been like writing lyrics for EDM producers and performing them to live crowds?
The experience of doing it live is better than any drug you can imagine. Just being in front of a crowd and singing something you wrote and made yourself. I mean, everyone has their stuff that they deal with in life, and I like to think of it as I'm dealing with my pain and the things I've gone through in my life to re-package it in a way that I can deal with it, then put it on paper. It's a way of being "carbon neutral," in a way. I'm dealing with this stuff that I go through, and if I can help someone else who's going through something at the same time while writing some heart-wrenching lyrics, then so be it. It's undercover self-therapy, kind of.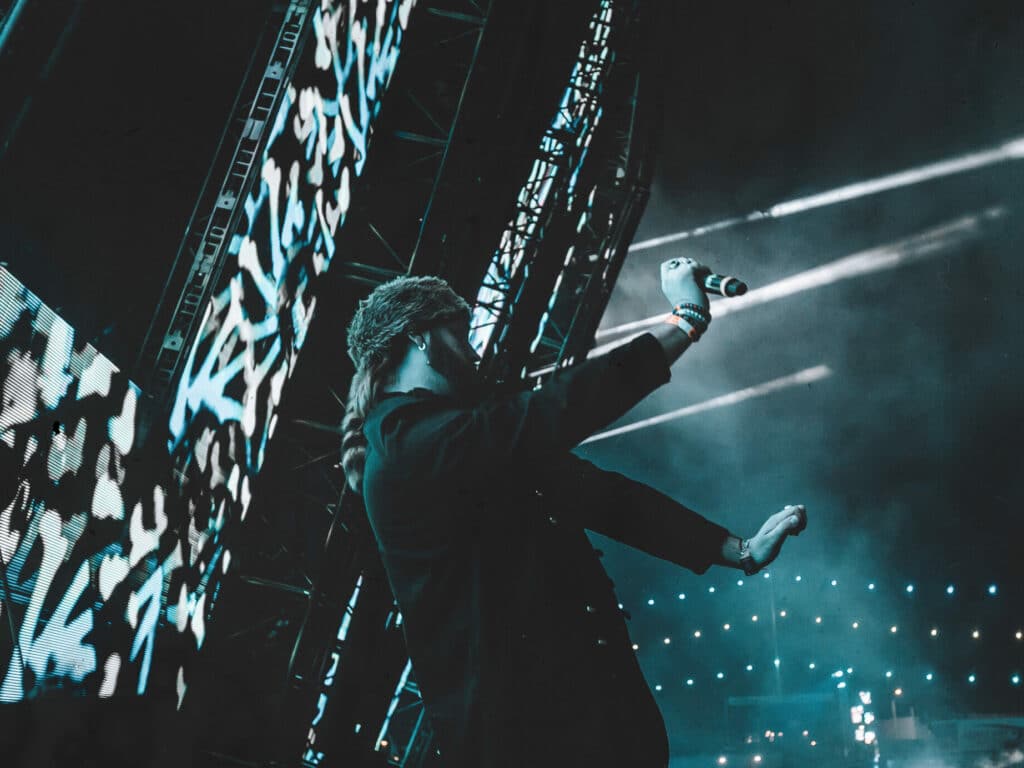 As a #RebelForever, "The Edge" by Rebelion was the first track feature you've sung that stuck with me. However, you've worked in a whole spectrum of sub-genres in electronic music. What are some of your favorite electronic sub-genres to work in and why?
[Imitates "The Edge" kicks and laughs] Honestly, right now, I'm working on some future bass stuff, a lot of DnB. But, my favorite stuff to work on, which my vocal really cuts through, is that slower mid-tempo, Rezz-y, dark mid-tempo, 90 BPM, straight to your heart. I can write the best stuff to that because it reminds me of rock n' roll. My rock n' roll band plays a lot of 100 BPM, which is super slow, vibey. You can vibe to that mid-tempo more so, you know, than anything else just because it's slower and cool, but it's also got that. [Hits fist] It's got that girth. [Laughs]
You posted on your Instagram that you have several collaborations this year that will "break down walls" of several genres. What genre-bending talent can we expect this year from you?
Oh my god, I wrote my first country song, which then goes into liquid drum and bass. One of these things is not like the other, but somehow we put it together, and it works, and I'm so happy. It sounds so cool. Honestly, I'm going to shout out TVBOO. TVBOO, we're the mullet gang, mullet boys for life. We wrote that song together. We had this idea of some EDM, some farm emo. "Femo," that's what we're going to call it. I don't know. [Laughs]
You sang as a feature at X-Qlusive Rebelion this year. Did you have any culture shocks when you were there in Europe?
YES! I've never had so much change in my pocket. They give you so many coins back for change. We have quarters here in the United States, but they have two Euro coins, and I threw them in my pockets, so my pockets were full of change. That was a culture shock. Having a bunch of coins is a culture shock. [Laughs] Figuring out the trains in a different language was cool.
Actually, I have a funny story. So I bought these $400 pair of RayBans with cameras on the side, and I wanted to POV my performance while I was on stage with Rebelion. I had them on, and I was recording, and then I got so into the song that I headbanged them into the crowd. They flew off my eyes and went into the crowd, so I never got the footage. So if anyone out there finds those glasses, just upload the footage. That's all I ask. I will probably find it four years later; I don't care. Whoever stole my RayBans, just upload the footage or return it to me. [Laughs]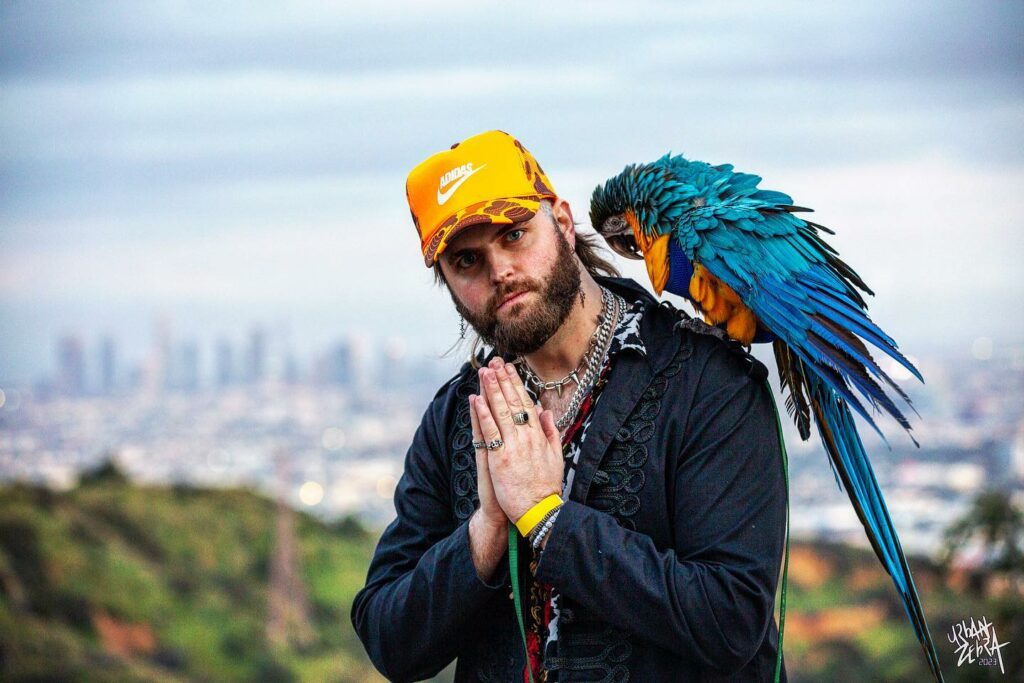 Although you have been featured on countless electronic tracks, you have a finished debut studio album in your pocket. Could you tell us more about it, what it means to you, and when we might be able to hear it?
So, there's a bunch of stuff going on right now behind the scenes for my solo project. It's not EDM. I'm trying to describe it the best I can because I'm a huge Blink182 fan–it's like Blink182 mixed Kid Cudi, Lil Peep, and Juice WRLD vibes. It's like that hip-hop-influenced, sad-boy, hybrid trap; I don't know. It's different. Pop-punk-something. It's a lot. Since I finished that album, I've recorded the next album. I have so many more songs I'm sitting on right now, and every time I write, it's just getting a little different, bending more genres. I feel like I'm a balloon artist, inflated with genres.
Let's end on a fun note. Lightning speed round of questions. Don't think too hard about these:
Screaming lyrics or melodic singing?
Ah, screaming lyrics.
Traveling or staying in one place?
Traveling.
Attending or hosting a party?
Attending. 
Live it up or prepare for the future?
Live it up!
Hard dance or Dubstep?
[Yells with indecisiveness] Dubstep! Sorry, Rebels, sorry!
---
Follow Micah Martin:
Facebook | Twitter | Instagram | SoundCloud