The second edition of Wire Festival is bringing plenty of techno heat with Jeff Mills, 999999999, Marcel Dettmann, and more on the lineup.
---
Knockdown Center, and especially its BASEMENT NYC space, has made a name for itself as a premier space in New York's techno scene. This is precisely why the names behind BASEMENT NYC are at the helm of Wire Festival, a one-of-a-kind, two-day, two-stage takeover of the venue on May 19-20. Téa Abashidze, GeGa Japaridze, and Tyler Myers are curating a weekend of techno that no grimy clubgoer should miss!
Detroit legend and Movement Detroit headliner Jeff Mills will be among the boldface names at the top of the Wire Festival bill, along with the UK's Luke Slater, US-based DVS1, and Berlin's Marcel Dettmann. Rounding out the international talent on the lineup are 999999999, CEM, MCMLXXXV, and Salome, all of whom are sure to impress with their performances and draw in plenty of techno lovers.
The festival will otherwise focus on the deep bench of local talent in NYC, including Akua, WTCHCRFT, KYRUH, Matas, Jek, and Rose Kourts. Further, two BASEMENT NYC residents, Newa and Lydo, will take to their home court to showcase the best the local scene has to offer in an ideal local space. The main stage will be in the sprawling Atrium, while the BASEMENT will house programming from Herrensauna and Fast Forward. This programming will follow the themes these collectives are known for – a defiantly queer underground rave culture.
The second edition of Wire Festival will also see it maintain its themes of community and conversation beyond bringing plenty of world-class techno artists to the stage. Resident Advisor will lead a free program of related talks and workshops during the festival – more details about these programs will be available closer to the event date.
Tickets for Wire Festival are on sale now through Resident Advisor. Let us know if you plan to attend on Twitter!
---
Wire Festival 2023 – Lineup: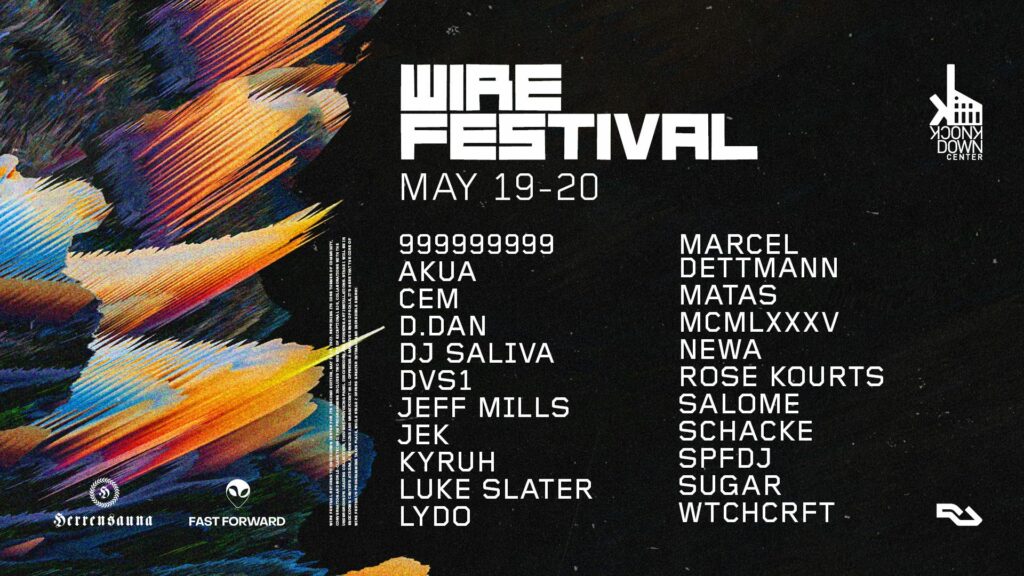 ---
Follow Wire Festival:
Website | Facebook | Instagram | Twitter
Follow Knockdown Center: