Lucas & Steve recently dropped their new single with Yves V, "After Midnight," and we caught up with them to talk about it and more!
---
Lucas & Steve have undoubtedly made a conquering comeback with their latest single, "After Midnight," alongside Yves V and Xoro. With this release, the duo has taken a bold step outside their comfort zone, showcasing their versatility as producers. The track exudes a captivating energy, blending a sultry pop anthem with a catchy, feel-good groove that will surely get listeners moving. From start to finish, "After Midnight" presents an irresistible, sophisticated, and danceable soundscape.
Following the release of their latest single, Lucas & Steve received creative input from friends TELYkast and VINNE, resulting in the release of their respective remixes for the track. In addition to those two, Lucas & Steve are set to release two more remixes on March 10. London-based drum and bass producer Aktive offers his unique take on the track with his signature sound. Lucas & Steve have also created their own club mix of the single, further showcasing their creative range as producers. With the addition of these remixes, their newest single continues to evolve and captivate audiences with its infectious rhythm and irresistible energy. 
For their future plans, Lucas & Steve have some exciting stops lined up for 2023, where they'll undoubtedly showcase their newest single along with a host of other hits. As for the standouts, coming up on Saturday, March 25, Lucas & Steve are set to turn the crowd up at Ultra Music Festival, performing on Afrojack's Jacked Radio stage, and then they're heading back to their home away from home this summer, Tomorrowland, to create new memories with their faithful fans!
To celebrate their recent achievements, we sat down to chat with Lucas & Steve about "After Midnight" and their upcoming plans. Grab your copy of the track on your favorite music platform, and continue on to dig deeper into the minds of the duo!
Watch Lucas & Steve, Yves V – "After Midnight" (feat. Xoro) on YouTube:
---
Hello Lucas & Steve, thank you so much for taking time out to chat with us today! First and foremost, you've just released your brand new track alongside Yves V, "After Midnight." Can you walk us through the production process? Who was responsible for the different elements throughout the track?
Yeah, so it's a sample of the track "Children" from the legend Robert Miles. It was nice to work with Yves V. We always see him at festivals, and now we finally had the chance to work together. It's more of a dark record, as we wanted to experiment a little bit.
Yves V sent us a demo that had some incredible elements in it that really inspired us to work on the track further. The first thing we did was dive into the sound design and arrangement to make it a bit more pop-oriented. We felt the potential of the record immediately. We really aimed for recognizable sounds and a mix that made it all stand out.
You mentioned that "After Midnight" pulled you out of your comfort zone. Can you dive deeper into that? 
Our most recognizable sound is melodic, energetic house, so we tried to get out of our comfort zone with a darker track than you would expect from us. For those waiting for more of our signature melodic tunes, stay tuned!
Moving on to performances, you just went back to Ministry Of Sound and brought along a few friends. Can you tell us how the night went, and in addition, how the other artists on the lineup impacted your own creativity behind the decks?
We combined two of our favorite things: Ministry of Sound is one of our all-time favorite clubs, and the crowd had a vibe that was very special. People experience the best nights of their lives in that place. Besides that, Lucas & Steve and Friends is always one of our favorite events because we invite our DJ friends for the lineup.
This edition, we had the honor of having Moksi, Dubvision, and Olly James at our event. All these acts bring a certain energy that's very different from each other, but combined with our set, it brings a perfect buildup throughout the night. After the warm-up, Moksi brought their signature bass house energy, getting everyone excited. Next, DubVision got a bit more melodic, creating the perfect atmosphere for us to take over. In the latest hours, Olly James took it deeper with his techno-set.
The best thing about Lucas & Steve and Friends is usually that many DJs stay till the end since we're friends and like to hang out, have some drinks, then have some more drinks. This resulted in a how-many-DJs-fit-in-a-van challenge on our way back to the hotel. I think we set a record. Definitely one for the books!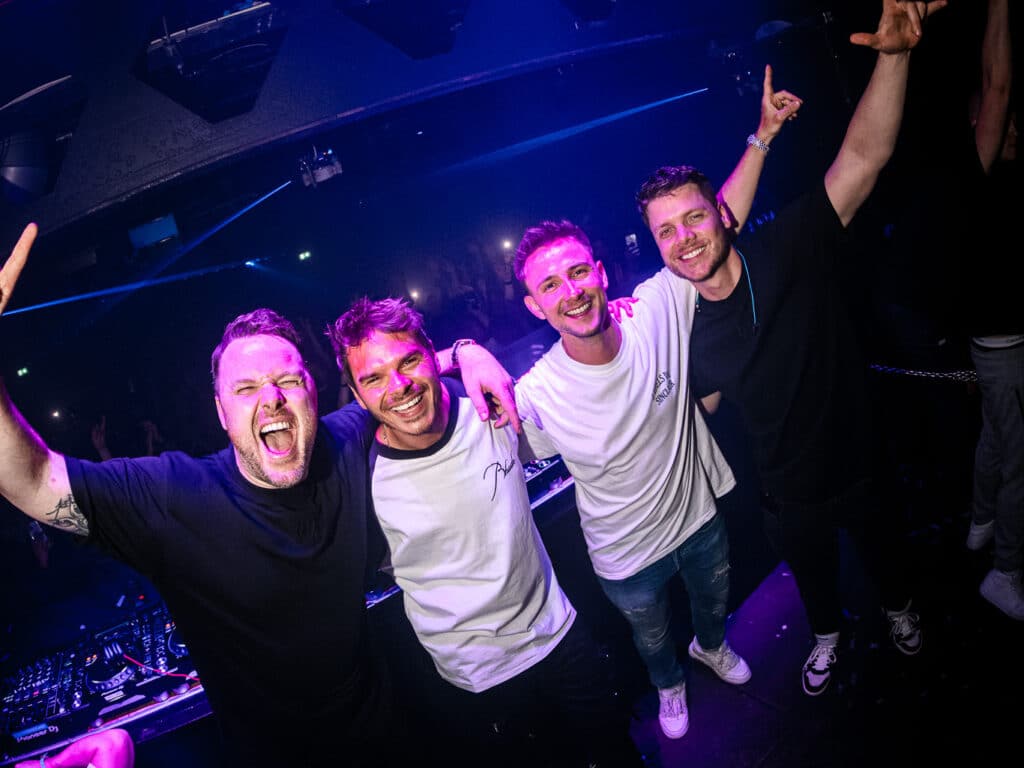 You also have an exciting booking coming up at Ultra Music Festival. How are preparations coming along? Can you give us a walk-through of everything involved in the lead-up, and how do you guys like to wind down after your performance?
We are so excited about this one. Afrojack asked us to play on his stage at Ultra Music Festival Miami – that was, of course, a straight YES! We can't wait to play some new club records there!
Winding down can be very challenging. Sometimes we cannot sleep after a show. It happens often that we make music after, because of that. Also, we stay at the club or event often because we're still hyped and cannot sleep anyway. There are worse ways to wind down [laughs].
Of course, you're also booked once again for the iconic Tomorrowland. You're no strangers to this world-renowned festival. Can you talk about some of your favorite experiences there and how your performances have evolved over the years?
Every year when we come back to Tomorrowland, it feels like such a warm welcome. Starts off in the artist village, having some great food and drinks with other artists, doing some press, and after that, smashing the stage! Last year we also did the Tomorrowland camping, that was such a great experience!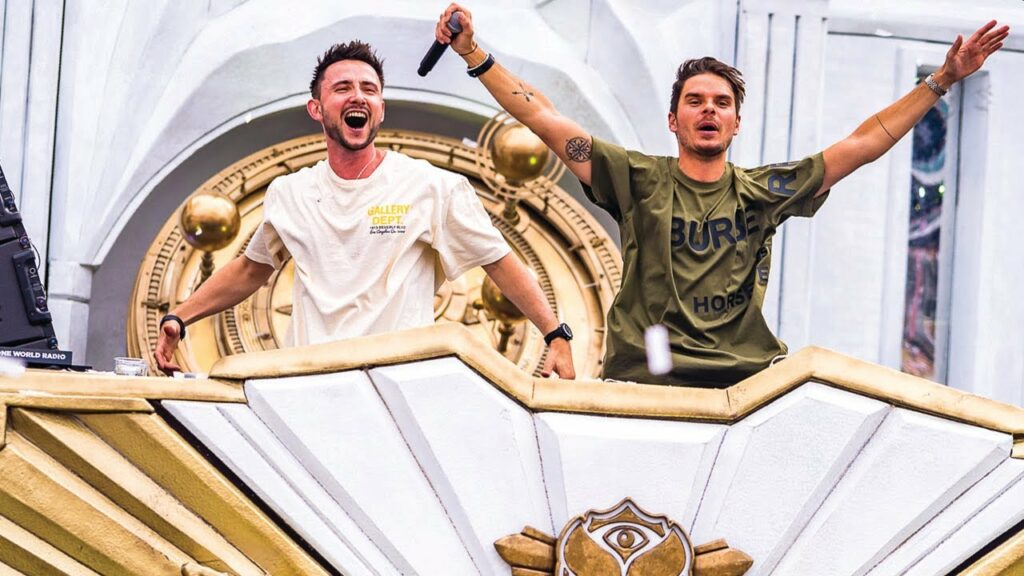 Now let's switch gears and get a little personal. The last time we talked you touched on how you've been playing music together for over a decade, but it goes deeper than that. You've actually both been friends since your teenage years. Such a lifelong friendship has certainly helped your career to flourish, but I wonder, has there been a time in which your close relationship created any speed bumps? If so, can you open up about it and explain how you overcame adversity?
We've worked together for like ten years now and it's always good to work with two people. It's fun on tour, you can do twice as much in a day, and we both have other qualities outside of music. We complement each other well, so that's a win-win.
Fortunately, there have never been any serious speed bumps. We're like brothers and have our little things every now and then, but nothing worth mentioning, really. More like the one annoying the other for fun and taking it too far every now and then. It keeps us sharp. Also, sometimes we don't agree on our music at the studio or during the set, but we always have the same goal; perform to the max, make the best music, melodies, mix, and show.
If you're aiming high, you should be critical of yourself and also the other person in this case. We both understand that, and we're both very aware of the privilege it is to be able to share our experiences on this journey together. It's something really special, and we wouldn't wish it any other way.
On that same token, how do you MAINTAIN a balance between your personal and professional lives as successful DJs and producers?
During Covid we learned to balance it a little bit – we had the chance to see our families, go to birthday parties with our friends, etc. Besides that, we spent a lot of time in the studio to still bring people joy with our music.
Finally, what is something you'd like to accomplish in 2023 that your fans might be surprised about?
We might go a different route with our music, but we will still release the classic L&S melodic house tunes – we can't wait to show everyone what's cooking!
Again, thank you so much for your time. I hope you have a fantastic time at your upcoming gigs!
---
Follow Lucas & Steve:
Website | Facebook | Twitter | Instagram | SoundCloud | YouTube