Richie Hawtin is set to embark on the From Our Minds tour and partnered with Aslice to share earnings with the artists who make the beats!
---
Richie Hawtin is officially throwing the From Our Minds tour into gear, prepped and ready to send Detroit, Toronto, and Vancouver into a techno tailspin this weekend. Coming along to set the grungy warehouse rave tone are brilliant tastemaking artists like Codec Recordings founder Decoder, TOCA Records boss Jay York, Heist Mode founder Barbosa, Direct to Earth's Lindsey Herbert, and more. Of course, with music being at the forefront of the underground experience, it's important to ensure that the artists who create the beats are taken care of as well. This is where Aslice comes in.
Founded in 2021 by American DJ and producer Zak Khutoretsky, Aslice is a fair industry service that allows DJs to share earnings that they make out on the road with their fellow producers. This is achieved through honest reporting, monitored by Aslice, who then distributes a portion of the DJ's income to the music makers whose tunes were used in each set. This comes to the aid of a broken pay system and helps to put money in the pockets of those who've also earned it.
The joint effort with the From Our Minds tour is another first; with all of the DJs agreeing to share via Aslice, we're able to capture an entire tour of playlist data; 8 clubs in major markets, over 50 hours total, from 11 different DJs with an unparalleled accuracy of over 99%. This collaboration is not only the blueprint for how communities can look after their own, but also the proof of how Aslice's technology can be a novel data source for publishers and collections societies to get playlist info that was previously unavailable.

Ethan Holben, Aslice CEO
All of the artists on Richie Hawtin's From Our Minds tour are proud to be part of the profit-sharing endeavor, putting the PLUR back in the party. In fact, just imagine if the entire industry adopts this ideology and puts it into action, shrinking the pay gap and opening up new avenues for fellow creatives to hit the ground running. If this is not all the more reason to get your rave on, then I don't know what is! Grab your tickets and hold tight, as venues will be announced to ticket holders on the day of each show.
---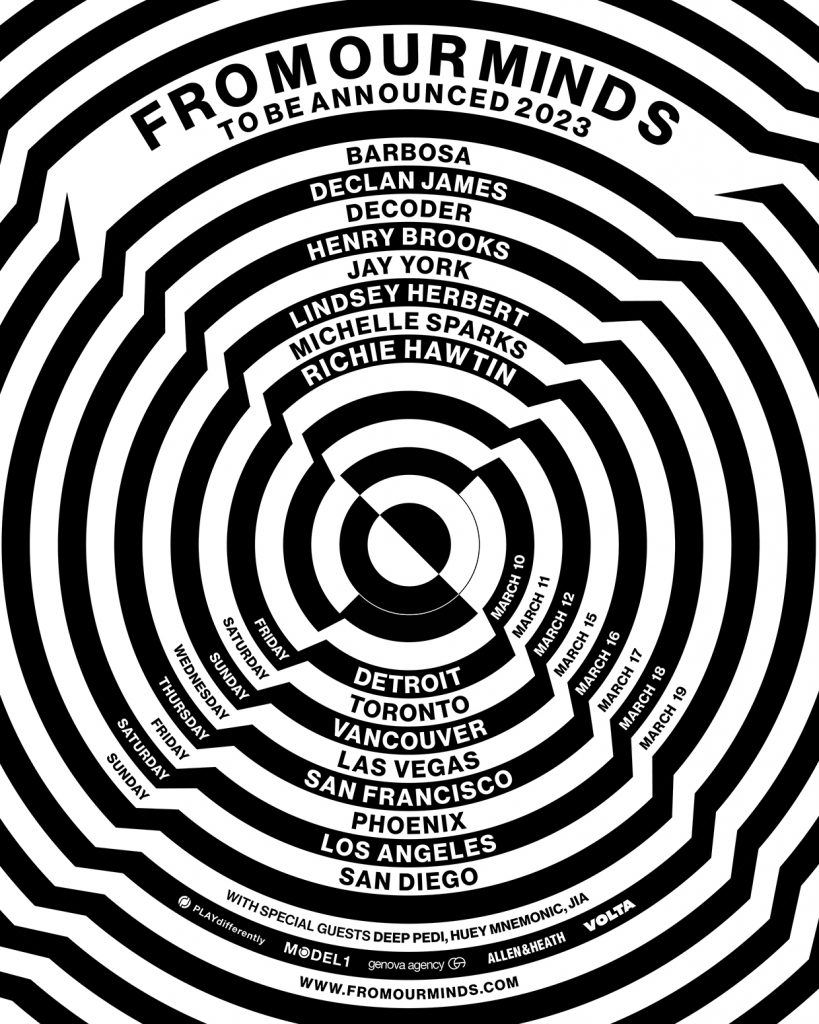 ---
Follow Richie Hawtin:
Website | Facebook | Twitter | Instagram | SoundCloud | YouTube