Some of the finest artists in the underground techno scene will join Richie Hawtin on the From Our Minds – To Be Announced 2023 Tour.
---
There are few artists in the scene who have a legacy quite like Richie Hawtin. Over the years, he's played some of the most beloved festivals on the planet and released countless tunes that have dominated the hearts and minds of dance music lovers, but he's also dedicated himself to the future of the community as a whole along the way. Now, he's helping usher in the next wave of talented techno artists with his latest tour that will take place in the spring, From Our Minds – To Be Announced 2023.
Acting as an evolution from the CNTRL tours that took place over the past decade, the run of shows for From Our Minds – To Be Announced will see Richie Hawtin continue to help educate the next generation of ravers and showcase some fresh talent that's been turning heads. Additionally, he's working with independent, forward-thinking promoters who respect the history of techno and its culture to host each stop.
March 10 is when this run of shows will begin in the birthplace of techno, Detroit, before it touches down in Toronto, Vancouver, Las Vegas, San Francisco, and Phoenix. The final two dates give techno lovers in Southern California plenty to be excited for, as Los Angeles will be treated to Richie Hawtin's sounds on March 18 and San Diego receives the final date the following night. The underground nature of this tour means that all venues will be announced on the day of the show itself.
Joining Richie Hawtin on this tour are a number of artists from across North America who have seriously impressed over the past few years. This includes Heist Mode founder Barbosa and rising hard techno phenoms Declan James and Henry Brooks, as well as Decoder, Jay York, Lindsey Herbert, and Michelle Sparks. Additional support ranges from city to city – so make sure to check the specific lineup for the stop you plan to attend!
Tickets for the From Our Minds – To Be Announced North American Tour are on sale now. Head over to their official website to make your purchase and if you're planning to attend the show in San Diego – use code "Veluda" for 15% off your purchase.
---
From Our Minds – To Be Announced North American Tour – Dates & Venues: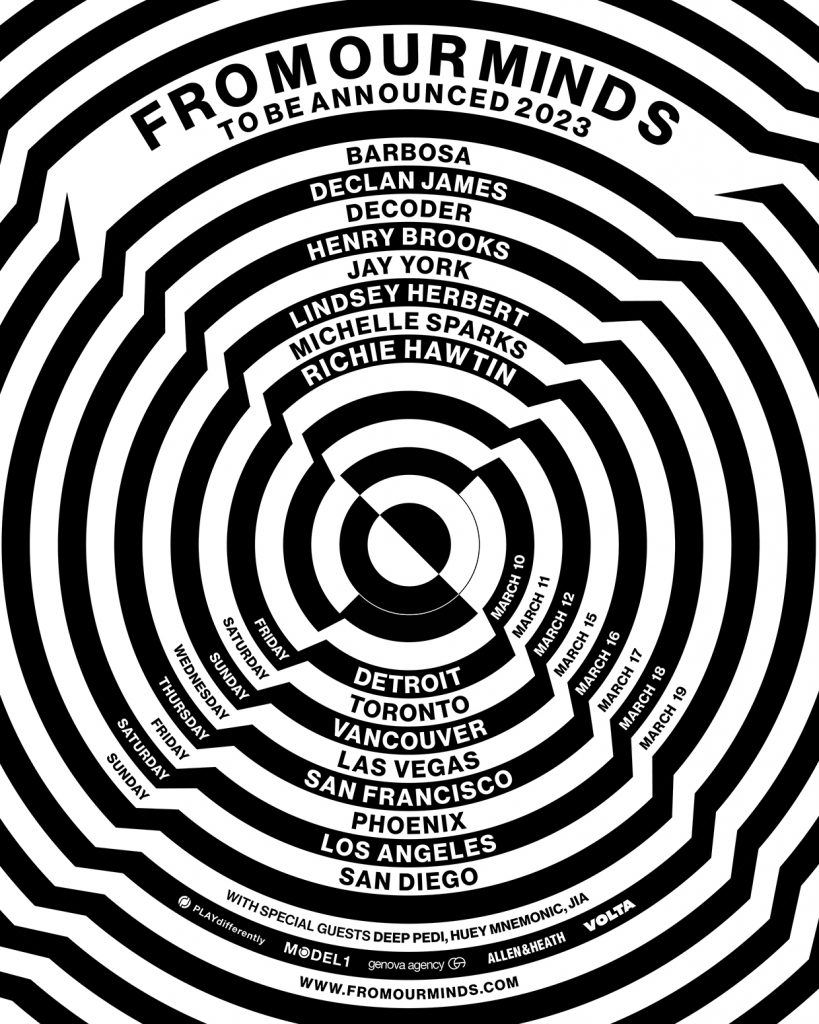 ---
Follow Richie Hawtin / From Our Minds:
Website | Facebook | Twitter | Instagram | SoundCloud | YouTube