Space Yacht's Tech My House Vol. 5 is here with fresh tunes from Mitch Dodge, Digital Nature, M4NR, Hakala, DEM2, Ian Allen, and more.
---
From curating well over one hundred of the finest shows in the scene annually to helping usher in the new wave of talent in a variety of genres, it's clear there's no stopping the ascent of Space Yacht as they reach for the stars. Headed by Henry Lu and Rami Perlman (LondonBridge), this Los Angeles-based brand embodies the essence of the scene in more ways than one and they've only further catapulted themselves forward with each release that graces their label-focused side.
Tech My House is just one of the compilation series that Space Yacht has championed since the launch of the imprint, and now it's reached its fifth volume with another hearty helping of tunes. This house-fueled collection of tunes is intended for the club and features 17 tracks that will give your shoes something to shuffle to on the dancefloor, many of which were sourced from their Twitch stream, Tune Reactor.
You might ask yourself "Which artists are gracing this round of Tech My House?" and the answer is some of the true talents that are bubbling up from the underground. Tunes arrive from the likes of Tony H and Dr. Jakyln Hyde, Digital Nature, Warren Blake, Braydon Terzo and Gio Lucca, M4NR, and NO STATIC and Noven, but there are some serious standouts as well.
The first track that should be on your radar is "Outta My Head," a collaborative tune that brings Ocean Roulette together with LondonBridge for a vibey jam that will infect your mind for some time to come. DEM2 will have you putting your "Stunna Shades" on for their offering on the compilation that keeps those hypnotic dancefloor-centric grooves front and center while offering a bouncy bassline that is sure to keep you moving before Hakala's "Lost" enters the fray.
San Diego-based artist Mitch Dodge throws down some serious heat for his track that will surely put you in a "Good Mood" as the hi-hats and percussion shuffle force you to shuffle forward into the night. Ian Allen's "King Strut" takes listeners on a trip with its desert-infused atmosphere that you can only imagine booming from speakers next to an oasis. And just when you thought you couldn't move your feet any longer, "Bumpin'" from ZOF and Moonlight Fiziks doses your soul with just enough energy to keep you going until the break of dawn.
Listen to Tech My House Vol. 5 on Spotify or your preferred platform, and stay up to date with Space Yacht's latest shenanigans by following them on social media!
Stream Space Yacht's Tech My House Vol. 5 on Spotify:
---
Space Yacht – Tech My House Vol. 5 – Tracklist:
LondonBridge & Ocean Roulette – Outta My Head
NO STATIC – Kill Em (ft. Noven)
DEM2 – Stunna Shades
Hakala – Lost
M4NR – The DJ is My Dealer
alltalk – Adrenaline
eta, Scrubs – Walk It Off
Tony H – Gotta Go (ft. Dr. Jaklyn Hyde)
Warren Blake – Pop
Braydon Terzo, Gio Lucca – The Rhythm (ft. Haylee Wood)
Digital Nature – I Believe
Mitch Dodge – Good Mood
COLOR.LOVE – Pricey
Ian Allen – Kind Strut
ZOF, Moonlight Fiziks – Bumpin'
Kygore, AK RENNY – Ambition
Wet Velvet – Do The Dance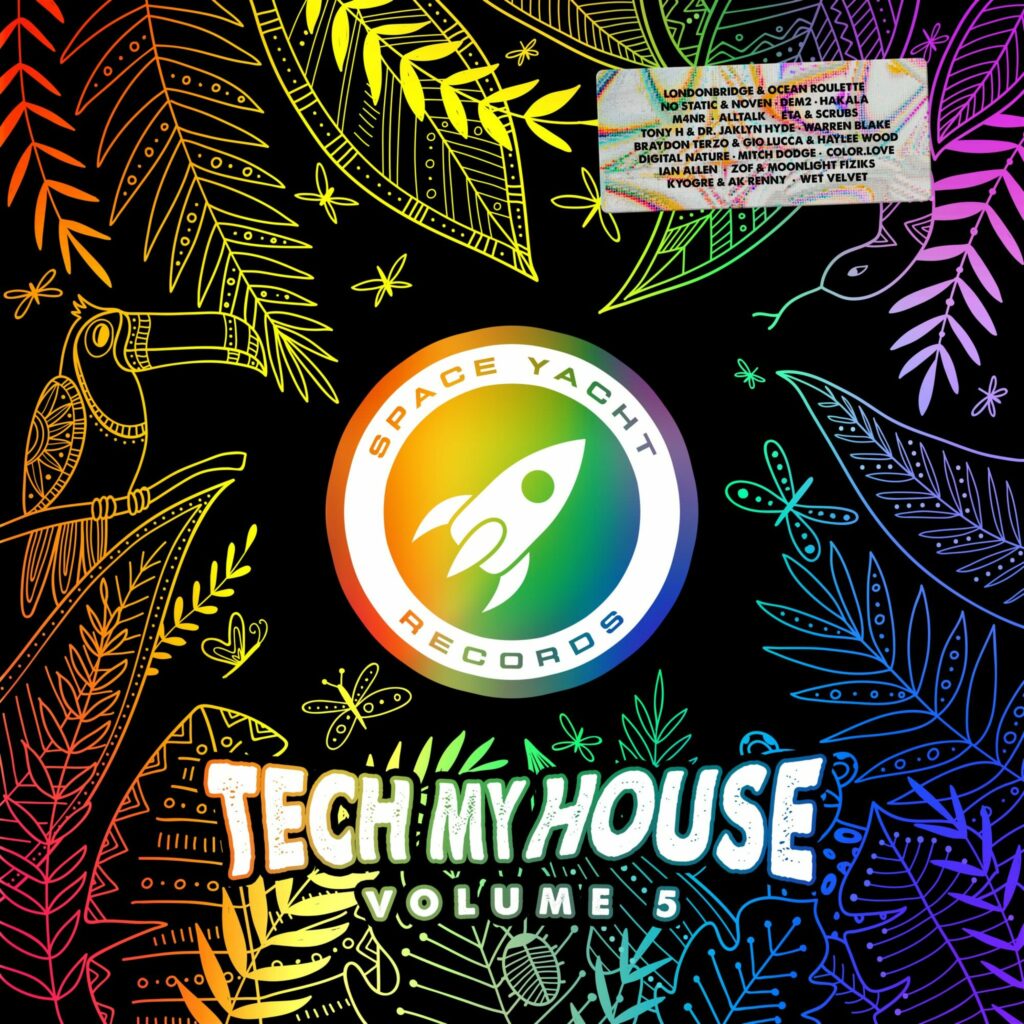 ---
Follow Space Yacht:
Website | Facebook | Twitter | Instagram | SoundCloud | Twitch